Some rules are meant to be broken, and so are some locks. If you find yourself in jeopardy because your iPhone is locked with a remote Mobile Device Management (MDM) system, iMobie AnyUnlock can be of great help. How? Check out this article to know more.
Why do you need MDM removal software?
Mobile Device Management refers to the profiles installed on mobiles, tablets, and laptops that allow organizations like workplaces and schools to monitor and manage these devices.
Thanks to it, they can restrict content, monitor usage, install/remove/update apps, and even troubleshoot the enrolled devices remotely. And while helpful, sometimes you'd want to get rid of this lock from your iPhone or iPad. For instance,
You've changed the school/company, and the new one doesn't require the MDM lock.
The second-hand device you just purchased is locked with a remote management system.
There is some issue with the device, the MDM password isn't working, and you can't even contact the supervisor.
Now, the usual solution to such a scenario is to either
Connect with the company/school. However, this might be a headache of its own
Contact Apple support. However, they'll ask for a lot of paperwork (proof of ownership, etc.)
Factory reset the device. However, you'll lose the data, and some MDM even restrict resetting the device.
Jailbreak. However, that's never an advisable solution.
So how is one supposed to work with so many howevers? You'll probably know the answer from the article title and introduction, so let's not make much ado and learn about AnyUnlock.

iMobie AnyUnlock review: Bypass MDM with ease
AnyUnlock is designed to free you and your device from lock. Whether you've forgotten the password, the phone is disabled, the screen is broken, MDM lock, and more, this can be the only master key you'll ever need.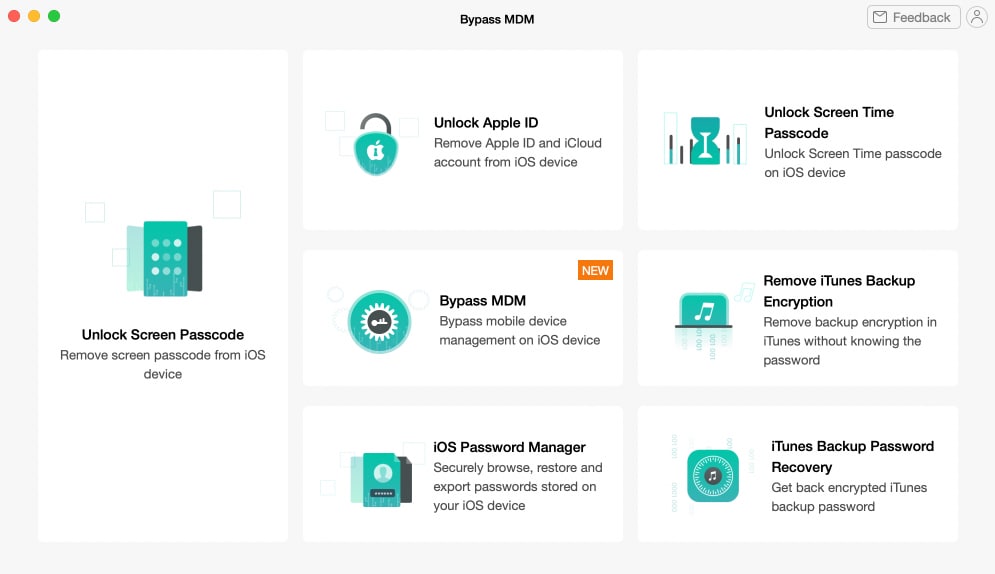 Furthermore, it is super simple to use. You won't have to jailbreak the device or need superior technical knowledge.
Remove or bypass the remote management lock on iPhone
Launch the AnyUnlock app and connect the iPhone/iPad with the Mac via USB.
Tap the Bypass MDM tab.
Here you can either select:

Bypass MDM – Resets the device and erase all content and settings.
Remove MDM – Completely delete the profile without hampering the data on your device.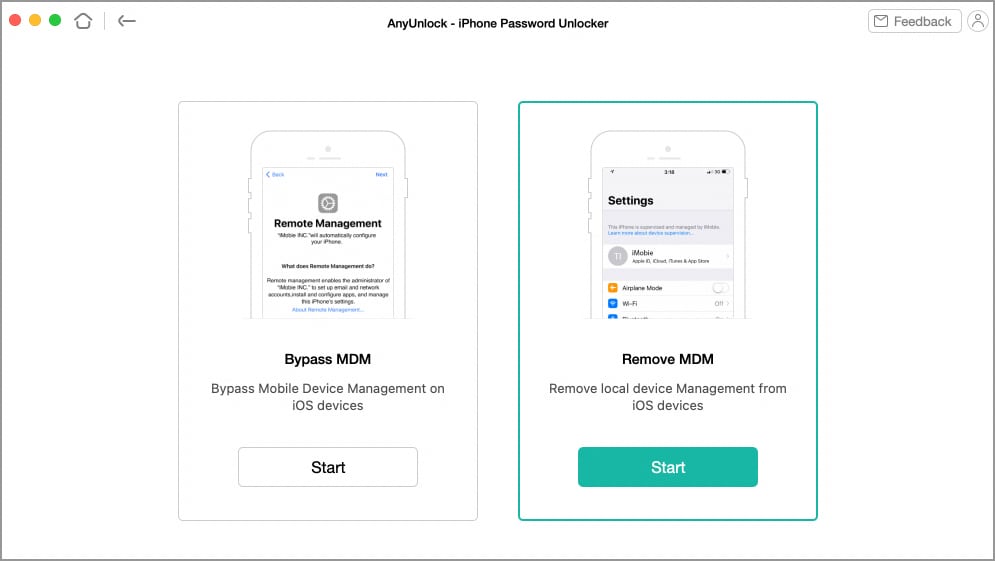 And that's it; the MDM lock will be bypassed/removed within minutes (if not seconds). Don't believe it's that easy? Check out the video below.
Note:
Turn off Find My iPhone/iPad before bypassing MDM remote management.
The device should be running iOS 7 or above.
Resetting or updating the iPhone after bypassing MDM will reactivate it (you can remove it again with the same method)

Why should you pick iMobie AnyUnlock over others?
First and foremost, because it's an iMobie software! I have tested and used various software by the developers and gladly found them adapt, easy to use, and secure, just like this one.
Then, you can bypass the MDM lock in three easy steps, without the MDM username and password or jailbreak. Interestingly, the administrator will not be notified or alerted that you have bypassed the lock.
So, it's a win-win situation overall. Additionally, when it comes to unlocking software, there's always an issue of compatibility, usability, trustability, and success rate. Thankfully, AnyUnlock is
Compatible with the latest iOS 15 update.
Super-easy to use; unlike many, there are no additional steps involved.
Boasts Apple and Microsoft Certified Developer, i.e., 100% free of malware or other threats.
A great (they boast it as the highest) success rate. (I tested it twice, and both times were a charm.)
Is iMobie AnyUnlock the right key?
iGeekometer
User interface
Features
Success and safety
Value for money
iMobie AnyUnlock performs really well and does what it promises. I even tested other options like unlocking Apple ID and decrypting iTunes backup password; they also worked quite smoothly.
What I love is that it makes removing/bypassing MDM so easy. You don't need special technical skills or wait for hours; the process is quick and efficient.
Notably, if your use case for such an app is rare, this might be an expensive solution. However, a worthy investment because you get a great success rate, privacy, and data security.
Pros
Quick and easy to use
Unlock any type of iPhone/iPad lock
Removes MDM without data loss
Great success rate
Cons
Slightly expensive for one-off use
Price:
3-month plan – $69.99
1-year plan – $99.99
Lifetime plan – $129.99
Readers like you help support iGeeksBlog. When you make a purchase using links on our site, we may earn an affiliate commission. Read Disclaimer.