Documents are an essential part of our professional and personal life. And as everything from contracts to invoices goes digital, we need secure, friendly, and dependable software to store and share our documents.
Wondershare Document Cloud promises to be the one for you! As the name suggests, it is a cloud storage system for files. But what the name doesn't disclose is that it can help you sign, collaborate, and organize PDFs digitally. Neat right?
The platform claims to be an all-in-one solution for all your PDF needs, but is it? Let's find out.
Wondershare Document Cloud: Streamline & simplify your workflow
Imagine you are on a business tour, getting ready to attend an important meeting. And your staff called saying they needed your signature or the shipment would be delayed by a week.
Fax could work, or you can print, sign, scan, and send the document. However, finding a fax machine or printer will be a time-consuming ordeal in the digital world. So, what to do?
Simple, ask the office to share the PDF via mail or cloud, and you can check, edit (if needed), and sign it digitally! But isn't that also a complex, time-eating process? Moreover, is it safe?
With Wondershare Document Cloud, it is simple, quick, and safe. The cloud-based platform allows you to share, collaborate, sign, and store PDFs digitally and securely.
Key highlights of Wondershare Document Cloud
1. Easily access your documents anywhere, anytime
They say that time and tide wait for none. And whether you are at home or office, traveling or restaurant hoping, you may need a file or sign some documents urgently.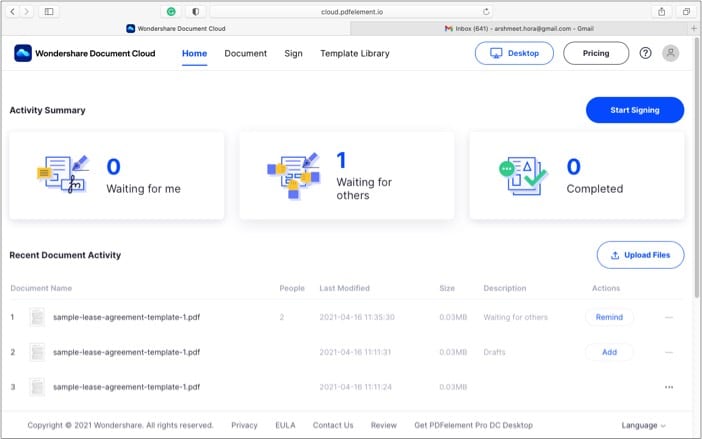 Wondershare Document Cloud offers up to 100GB of cloud storage space. And is accessible via the web across iOS, Android, macOS, Windows, Linux, and the PDFelement desktop app.
Plus, the platform offers secure and searchable storage. So as long as your document is saved on Wondershare's cloud, it is literally at your fingertips.
2. Securely sign documents digitally
Wondershare Document Cloud's key feature is that it can make electronic signatures faster, easier, and safer across all operating systems and browsers.
Whether permission slips, invoices, or legally binding agreements or contracts, you can sign or get PDFs signed quickly by following the below steps.
Go to the Sign tab in the Wondershare Document Cloud from the web.
Tap Initiate and upload the document you want to get signed.


Here, add email addresses of signers and select

If you need to sign the document
Signing order if any
Will you sign first or last?



Now add your company icon, Subject line, email content, and click Next.
Here, set Signature Fields, Date, Title, Company, or custom item for individual receivers.


Once done, click Send For Signature.
Now, every signer will receive a notification. What's great is that you can track their progress and send them reminders.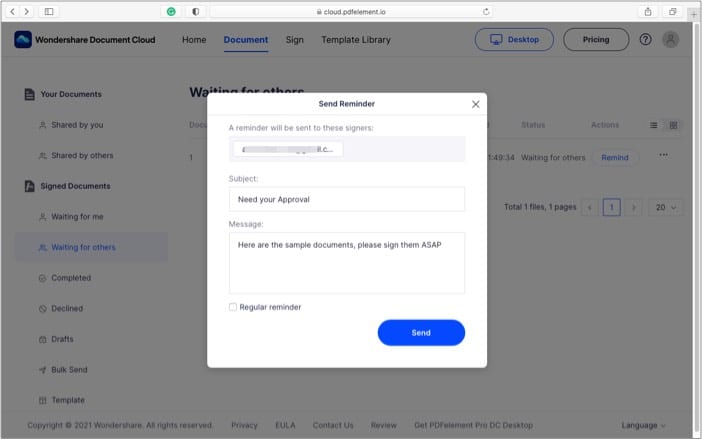 That's not it! Along with sending you a notification when someone signs the document, you can keep track of details like the signer's email address, timestamps, and IP addresses.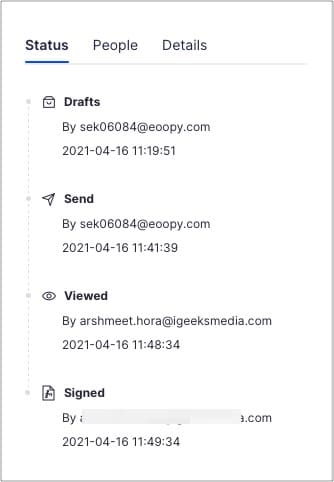 Moreover, the recipient can sign documents even without registering for an account or downloading any software. They just have to:
Open the mail they received and click Sign the Document.
Select whether they want to Type, Draw, use a Conserved or Upload a signature.


Sign and click Submit Signature.
Indeed Wondershare Document Cloud simplifies the whole process, and I love how every step was so easy to understand, even for a newbie.
3. Create collaborative projects on the go
Has this ever happened to you? Well, sharing files between team members and keeping track of all suggested changes or edits can be difficult.
Wondershare's Document Cloud helps you collaborate with your team better. You can easily add team members to your current plan and share files with them.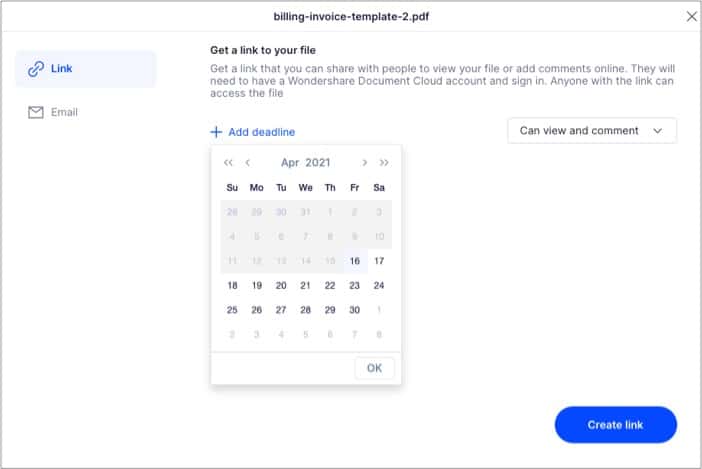 You can annotate, comment, add sticky notes, text, underline or strikethrough the PDF. So, all the talk is in one place to manage the project better.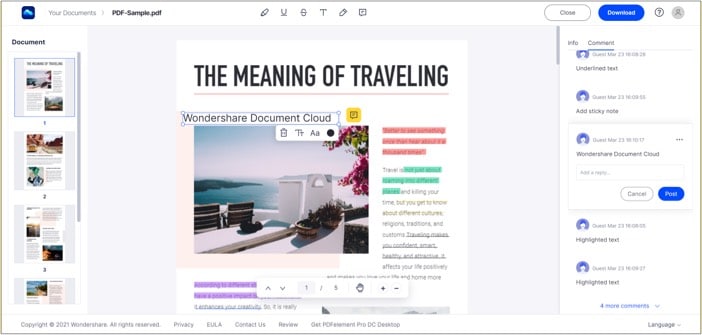 In addition, Wondershare is fully integrated with a handy PDF editor, PDFelement Pro DC. Thanks to this desktop app, you can edit and create new PDFs and save them to the cloud automatically.
4. An easy-to-use intuitive interface
For any platform that promises to simplify and organize your workflow, the user interface is crucial. And I am pretty happy with how Wondershare developers have built the app.
Everything is smooth, minimal, and well labeled. Things that could be a bit typical have a video tutorial that you can play as many times as you like.
Next, there are templates! OMG, a whole library filled with general PDF templates from agreements and invoices to military and tax forms.
You can also create and save customize templates to quicken your overall workflow. It will undoubtedly save me some time and effort.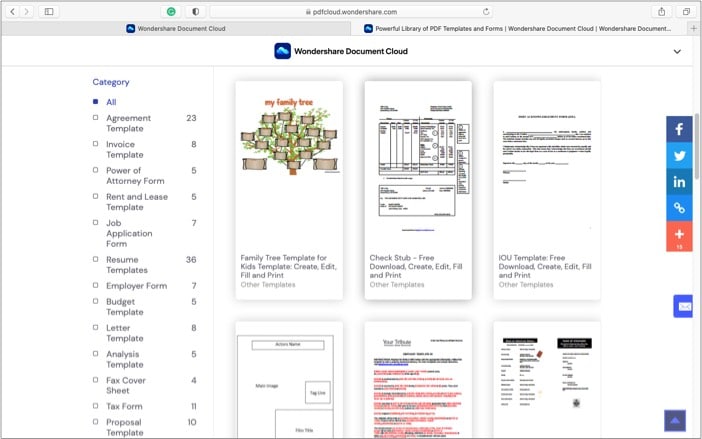 Why should you use Wondershare Document Cloud?
No matter who you are, what you do, PDFs are inescapable. If you heavily depend on them, Wondershare Document Cloud can surely help you out.
Let me illustrate with examples. For:
Everything from your resume, projects, doctorate citations to portfolio can be on the cloud. And you can retrieve them anytime, share, receive comments, get confirmation signatures, and more.
Contracts, agreements, invoices, leave applications, tax forms, etc., are a significant part of every professionals' life. And whether you are a business owner, entrepreneur, temp, or freelancer, Wondershare Document Cloud can be a great help.
We often keep tons of files secured in our laptops and mobiles. However, finding the right one in the nick of time is a super tricky job. By allowing you to organize your PDFs efficiently, the platform can make things faster and better for you.
Is Wondershare Document Cloud a one-stop document management solution?
In terms of managing, storing, sharing, and collaborating over PDFs, Wondershare does a fantastic job. It is fast, simple to use, and delivers what it promises.
My only issue with the platform is that it is limited to PDFs. It could have been pitch-perfect if I could upload a DOC file, edit it, and then convert it into PDF at my leisure (as this is way more convenient).
Well, I am keeping my fingers crossed that Wondershare soon adds such a feature into the mix. But even if they do not, it will be amongst the perfect PDF management & digital signature platform I have come across.
Price
The good news is that currently, you can get the semiannual and annual package for Document Cloud and PDFelement Pro DC at a 50% discount. Making it a steal deal!
For Document Cloud
Semiannually – $39.99 $19.99
Annually – $59.99 $29.99
PDFelement Pro DC
Semiannually – $128.99 $65.99
Annually – $188.99 $94.49
Readers like you help support iGeeksBlog. When you make a purchase using links on our site, we may earn an affiliate commission. Read more.
A self-professed Geek who loves to explore all things Apple. I thoroughly enjoy discovering new hacks, troubleshooting issues, and finding and reviewing the best products and apps currently available. My expertise also includes curating opinionated and honest editorials. If not this, you might find me surfing the web or listening to audiobooks.