watchOS 10 promises to be a substantial update, boasting significant redesigns across various parts of the system. Users will get to experience a new Smart Stack to organize their widgets, and apps like Fitness, Phone, and Maps have been revamped. In this comprehensive overview, I'll highlight every outstanding feature of watchOS 10 that you must take a look at!
New features in watchOS 10
Keep reading to delve into the exciting new features of the most recent version of watchOS.
1. Redesigned interface
One of the primary factors that attract me to my Apple Watch is its capacity to provide valuable information instantly without the need for excessive tapping or swiping. Apple has enhanced this feature with watchOS 10.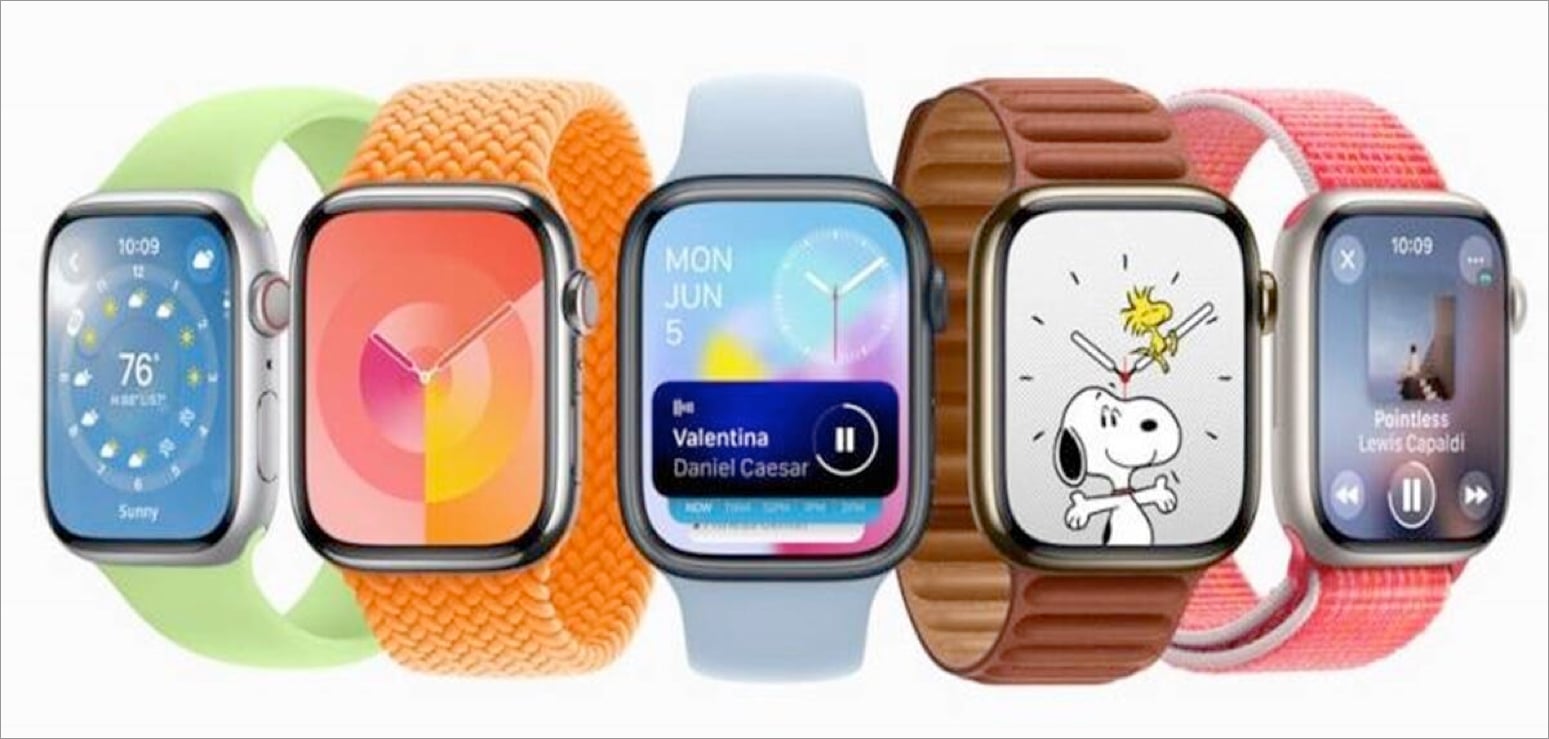 Additionally, the current honeycomb grid will be replaced with a more traditional grid of app icons arranged in rows and columns. This will make it easier to find and navigate apps. Also, as a greater portion of the screen will be utilized, it creates room for more comprehensive information within the apps.
There's another interesting introduction. The Control Center can be accessed instantly by simply tapping the side button.
2. Smart Stack
Smart Stacks are a collection of widgets that automatically get updated based on the time of day or your current activity. This gives users a new way to interact with their watch face.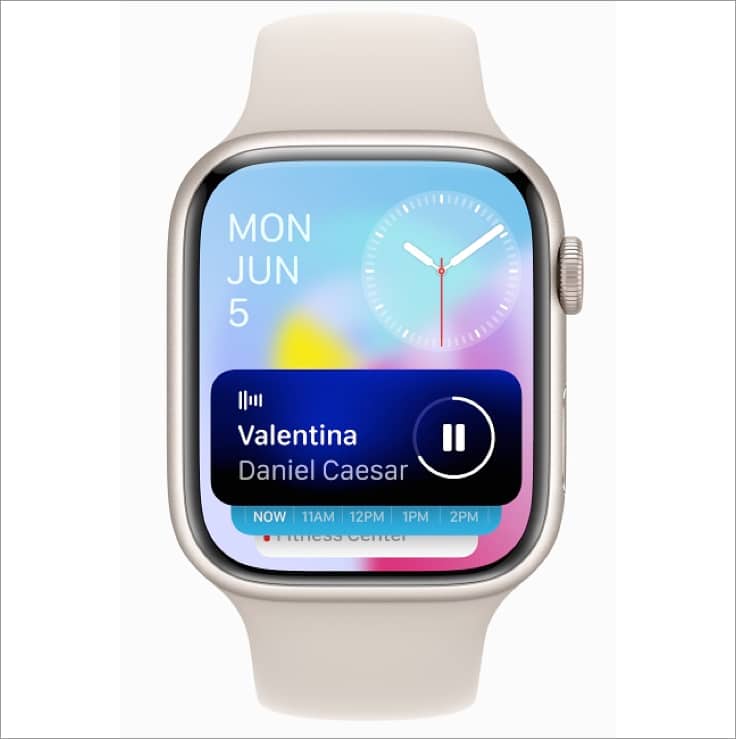 You can conveniently access the information you need from any watch face. All you need to do is turn the Digital Crown while being on the watch face until you see the widget notification of the app you're looking for in the Smart Stack. Wondering how to use Smart Stacks? Check out our article!
3. Two new watch faces
Apple also introduced two new watch faces for all the Apple Watch enthusiasts out there. There's a new Palette watch face that exhibits a captivating array of colors that dynamically change throughout the day, presenting different time zones within three intricately layered sections.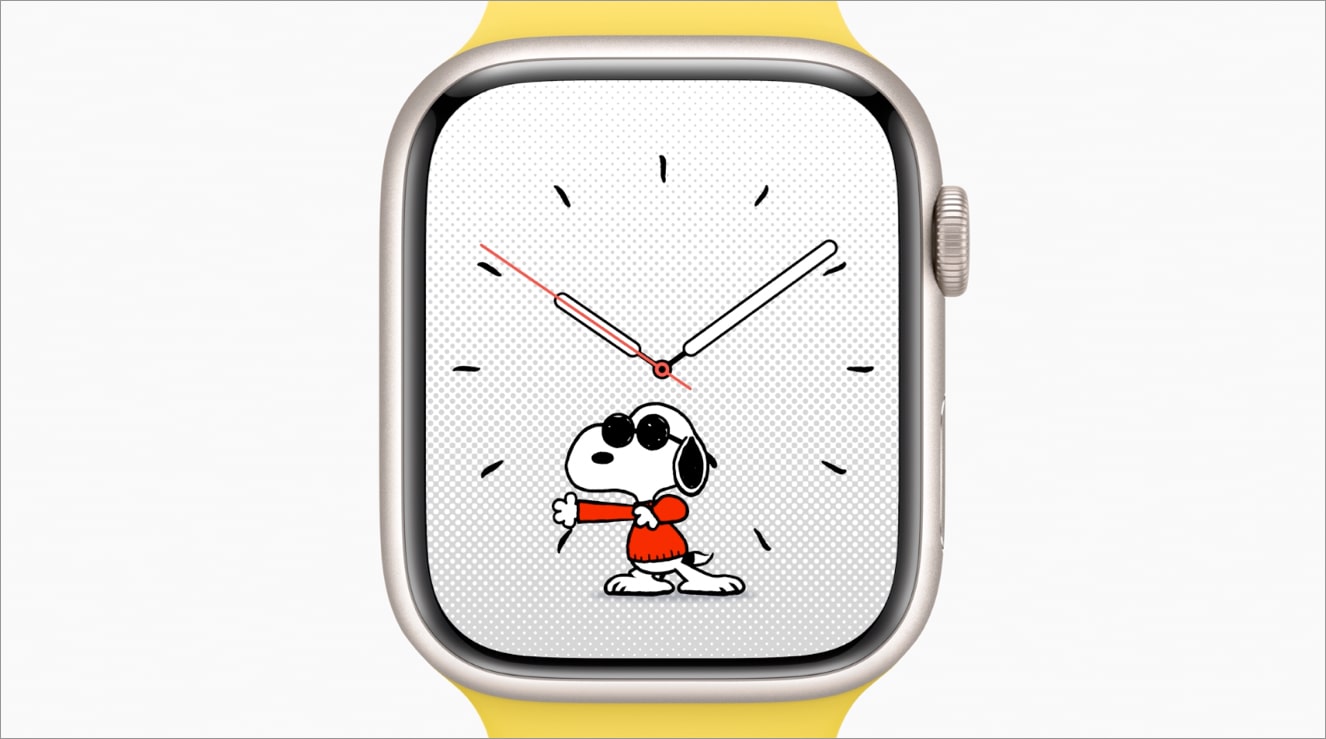 Additionally, you can now also experience the delightful presence of Snoopy directly on your wrist with the latest Snoopy and Woodstock watch face.
4. Cycling
The Cycling workout feature in the Workout app on your Apple Watch has been boosted with significant enhancements. You can now enjoy the convenience of seamlessly connecting to Bluetooth-enabled accessories that provide cadence, speed, and power data, all of which are seamlessly integrated into your Workout View.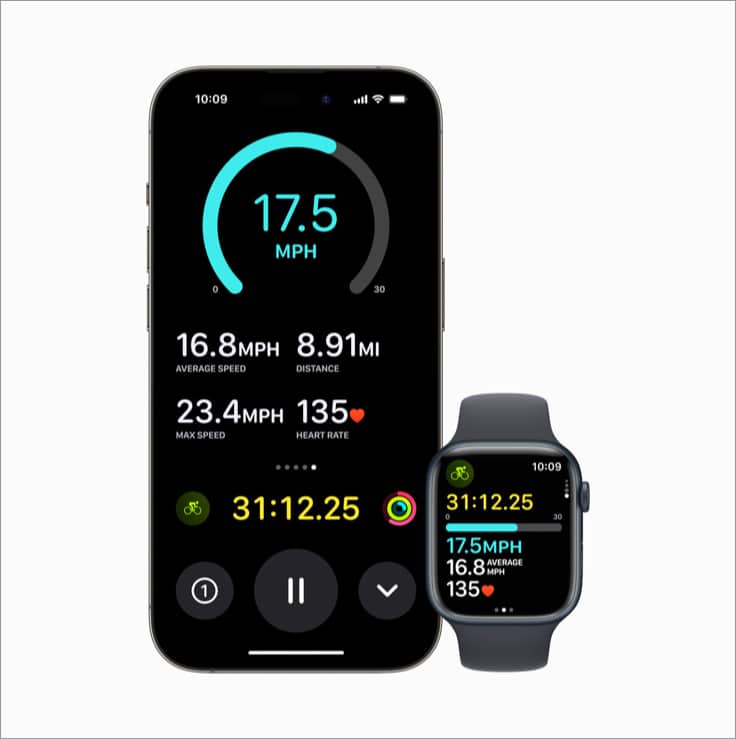 This update enables the Workout app on your watch to calculate personalized Power Zones by estimating your Functional Threshold Power (FTP). These Power Zones not only allow you to monitor your current zone effortlessly but also keep track of how long you spend in each zone. On top of that, your iPhone's Live Activity shows these metrics as well.
5. Hiking
Here are some encouraging tidbits for hikers! The Compass app is yet another app on your Apple Watch to receive significant updates. The app now enables you to see a three-dimensional representation of your travels with the latest Elevation Views feature.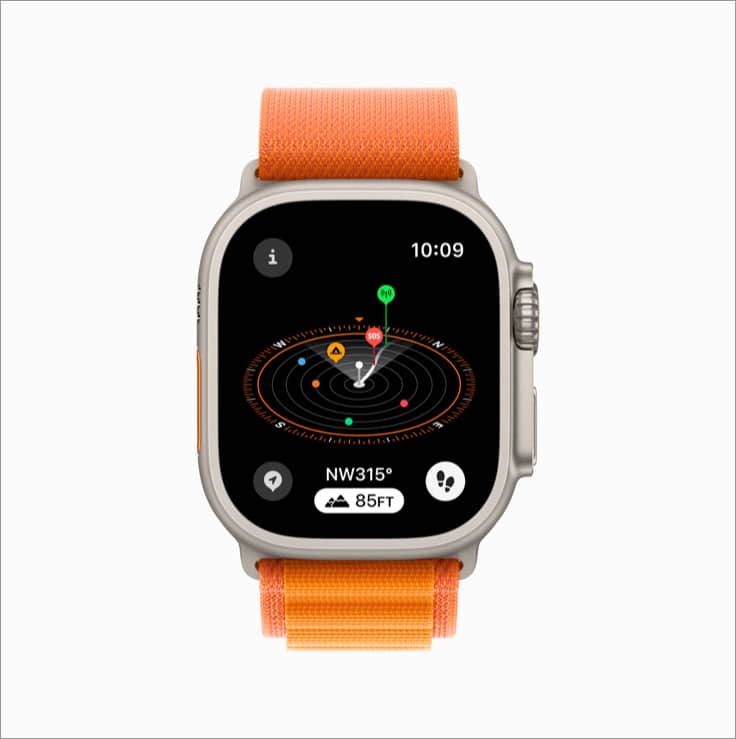 Additionally, Cellular Connectivity Waypoints allow you to estimate the location of your most recent reception. Additionally, it also keeps you in touch with a new waypoint that indicates where you can call for help in an emergency.
6. Mental Health monitoring
Apple has always placed a strong emphasis on health features, but mental health was at the center light this time. The Mindfulness app in the watchOS 10 now allows you to discreetly and conveniently record your momentary emotions and daily moods, encouraging emotional awareness and resilience.
7. Vision Health
Apple has addressed the issue of Myopia by incorporating Vision Health into its Apple Watch. This feature allows you to track your exposure to daylight by utilizing the ambient light sensor. Furthermore, you can conveniently access this data through the Health app on your iPhone or iPad.
8. Medications follow-up
Even though it may not be among the significant updates we have discussed thus far, it is unquestionably one of the most important ones. As a result of the recent update, the Medications app can now send you useful reminders if your medication isn't taken within 30 minutes of the scheduled logging time. That's sweet!
watchOS 10 supported devices
Apple Watch Series 4
Apple Watch Series 5
Apple Watch Series 6
Apple Watch SE (1st and 2nd gen)
Apple Watch Series 7
Apple Watch Series 8
Apple Watch Ultra
FAQs
When will watchOS 10 be released?
The stable version of watchOS 10 is expected to roll out with the latest Apple Watch series in September 2023.
What if I have problems updating my Apple Watch to watchOS 10?
There could be several possible causes if your Apple Watch is experiencing difficulties updating to watchOS 10. Insufficient storage space and compatibility issues are among the significant factors. I recommend you refer to our troubleshooting guide to resolve the problem of your Apple Watch not updating to watchOS 10.
Wrapping up…
Aside from the significant features mentioned earlier, watchOS 10 received several minor updates, such as Apple Fitness+, NameDrop, Offline maps, Video message playback, audio calls, Follow-up medication reminders, and various other enhancements.
While I find watchOS 10 to be satisfactory, I believe there is still room for further improvement. Please share your thoughts on the latest watchOS in the comments section.
Read more:
Readers like you help support iGeeksBlog. When you make a purchase using links on our site, we may earn an affiliate commission. Read more.
Bhaskar is a tech guru who turned wordsmith. Hiding his B.Tech degree in a closet, he ditched the corporate path to simplify tech for everyone. For the past 5 years, he's been dishing out how-tos, reviews, and sharp insights. But there's more! He's a witty interview champ and has been sharing his wisdom for 3 years. Furthermore, he has honed his editing skills for 1.5 years and is now delving into marketing to assist newcomers. When not jamming his fingers on those mechanical keyboards, you may find him on strings or engaging in sports. And by evening, his quotes will be appearing on your Instagram feeds.