A video is as good as its editing. Yes, videography skills matter, but editing can make a huge difference. And thanks to VideoProc Vlogger, you can give your videos a cinematic feel with ease and for free.
But how good can free video-editing software be? There's got to be some limitations. Join me as I test VideoProc Vlogger for Mac, explore its strengths and weaknesses, and share my honest review with you.
VideoProc Vlogger for Mac: For those Pro videos
Between YouTube, TikTok, Reels, and more, video is becoming an increasingly popular medium. And between iPhone, action cameras, etc., capturing videos is getting easier. Plus, an array of video editing software makes editing them a breeze.
However, professional video editing software is pretty expensive, and the free ones offer limited features. Now, cue the drum rolls because VideoProc Vlogger offers free, feasible, and feature-packed video editing solutions, especially for a beginner.
The best part is that there are no conditions applied, no freemium shazam, no watermarks, and not even a cap on the video length. But as they say, a video editing app is as good as the features and formats it supports, so let's check out how good VideoProc Vlogger is.
A beginner-friendly UI
What I love the most is its smooth and well-structured interface. You don't have to hunt; almost all features are visible on the main screen and can be accessed with a click.
Yes, it may look intimidating to see everything at first, but all it takes is one exploration to figure everything out. And you also have VideoProc Vlogger's guide to help you through the smallest of steps.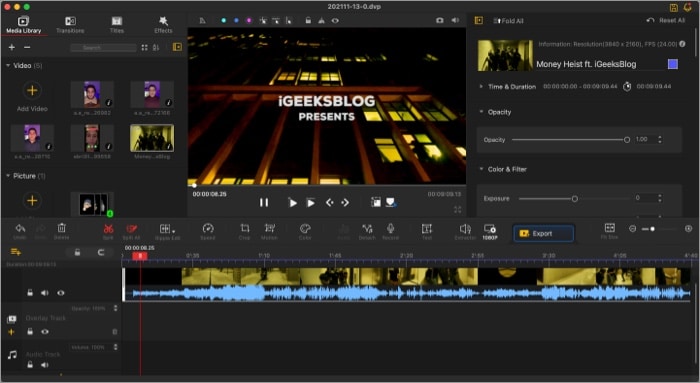 Creative features for all creators
VideoProc Vlogger has some impressive tricks up its sleeve and not just for vloggers as the name suggests. But it can also handle any long or short-form videos in the software, from home videos, transition, tutorials, gaming to side-by-side reaction videos.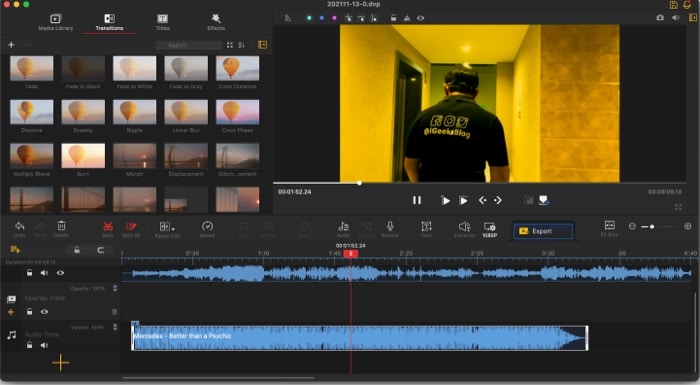 The timeline-based, multiple-track editing allows you to edit frame by frame. And a fantastic array of features lend you multiple choices to enhance your video.
50 video effects
60+ transition presets 
Split screen
Picture-in-picture
Video and photo collage
Video fixing – remove fisheye, A/V sync, deinterlace, etc.
Text overlay
Subtitles sync
Record voiceover
Extract audio
Snapshot to create freeze-frame
Time-lapse
Surprisingly, the list doesn't end here. In fact, these are not even the key USPs that the software claims, just bonuses. You are privy to some unique advanced features.
Visualized speed ramping
Whether an action, sports, suspense, or romantic video, a product promo, or even a fun Instagram Reel, speed effects can add so much to your storytelling. VideoProc Vlogger offers over 20 speed presets that you can apply over the video with one click.
Moreover, a flexible Bézier curve graph and automatic keyframing allow you to smoothly speed up or down any part of the video without splitting it into segments.
Motion editor for cinematic camera movements
Whether you desire a slight tilt, fast zooms, some shakes, or dolly effect, VideoProc Vlogger can handle it all. And all you have to do is click, adjust, and save.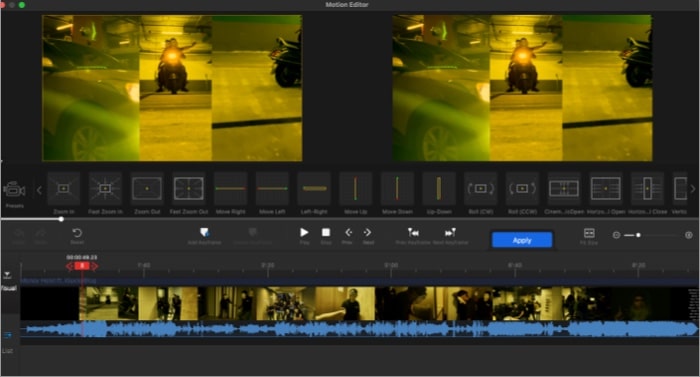 It boasts 28 motion presets, dynamic cropping, pan & zoom effects, frame rotation, and more.
Color Grading for different skill levels
Skills like color grading and correction are not usually a beginner's cup of tea. But the software brings that privilege to everyone. Thanks to 3D LUTs and 93+ color filters, you can achieve pro-quality effects quickly and quite easily.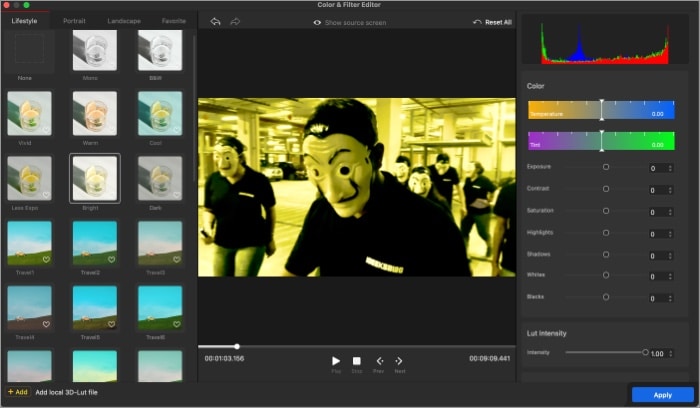 And if you seek precise color correction, it allows you to play with HSL color values, exposure, contrast, saturation, and more. You can even correct your low-light or overexposed videos and photos with great ease.
Studio-grade audio editing
Audio editing is complex, and thus, most video editors don't include many audio-related features. However, VideoProc Vlogger breaks that barrier and packs various helpful features, including a visualized audiogram, 14 EQ presets, and a handy audio analyzer with three modes.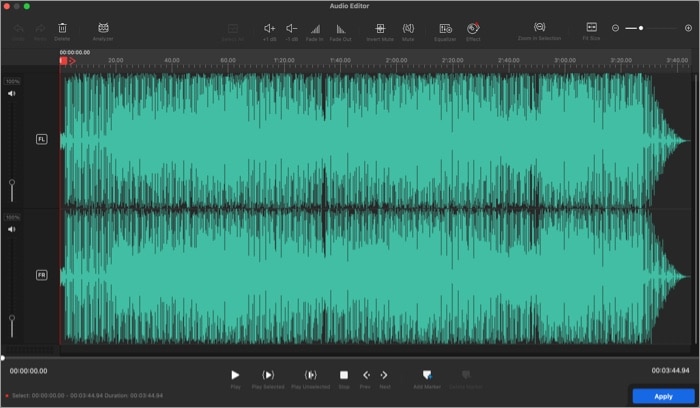 Thanks to it, you can reduce audio noise, sync audio with video, record voiceover, or even mute the audio.
VideoProc Vlogger: Tech specs
VideoProc Vlogger supports over 370+ input formats, including the most common media formats like MP4, MKV, MP3, M4A, and FLAC. That means you can edit videos captured from iPhones, Go Pro, DSLRs, action cameras, and more.
Further, it supports a variety of devices and platforms
YouTube
Instagram
TikTok
Facebook
iPhone/iPad
Android mobiles and pads
Xbox One/PlayStation
TVs
But what stands out most to me is its unique philosophy,

The software's efficient underlying framework runs smoothly on Macs, PCs, and even low specs computers. And between their hardware acceleration and advanced graphics rendering algorithm, it presents no limitations.
Should you keep or edit out VideoProc Vlogger?
iGeekometer
User Interface
Features
Speed
Format support
Value for money
So, is VideoProc Vlogger good for you? Whether you are a beginner, hobbyist, or pro on a budget; a YouTuber, Instagrammer, content creator, marketeer, or student; whether you own an M1 Mac, intel Mac, or a PC, it's a big yes.
For one, it's absolutely free. And it's feature-packed, easy to use, and exceptionally smooth. Moreover, VideoProc Vlogger enables you to explore various aspects of video and audio editing; and invites you to play with presets or custom settings that suit your bill.
And I love its no-barrier approach. You are not limited by a format, device, hardware, knowledge base, or even price. In fact, I would dare say that VideoProc Vlogger is a perfect match for any beginner or intermediate creator.
Pros
Features galore
Packed but easy-to-use UI
Great array of presets
Tutorials for almost everything
Totally free video editing solution
Cons
Rendering speed is a bit low
Price: Free
A self-professed Geek who loves to explore all things Apple. I thoroughly enjoy discovering new hacks, troubleshooting issues, and finding and reviewing the best products and apps currently available. My expertise also includes curating opinionated and honest editorials. If not this, you might find me surfing the web or listening to audiobooks.