UPDF is an all-in-one solution for all of your PDF requirements. It lets you convert, edit, annotate, and view your PDF files in a few steps. It does more than what a standard PDF tool can do.
Pros
Simple and easy-to-navigate user interface
Fast performance
OCR available
Advanced PDF editing tools
Cons
No significant cons found
Editor's rating: 🌝 🌝 🌝 🌝 🌜

Price: $29.99 Annual Plan | $49.99 Perpetual Plan
You might get annoyed when you have to use multiple software for various PDF tools, especially when your work involves navigating through many PDFs. On top of that, finding a tool for each specific task can be tiresome.
So, what if I told you that it's possible to get all the PDF tools you need in a single software? Yes, it's made possible with UPDF.
UPDF: The go-to PDF tool
UPDF is an all-in-one solution for all your PDF needs packed into a modern and easy-to-use user interface. You can edit, view, convert PDFs, and much more.
I've used it on my MacBook Air M1 to see how it performs in the real world and compared it with one of the renowned PDF tools. That aside, here's my full review of the UPDF app on macOS.
Features and user interface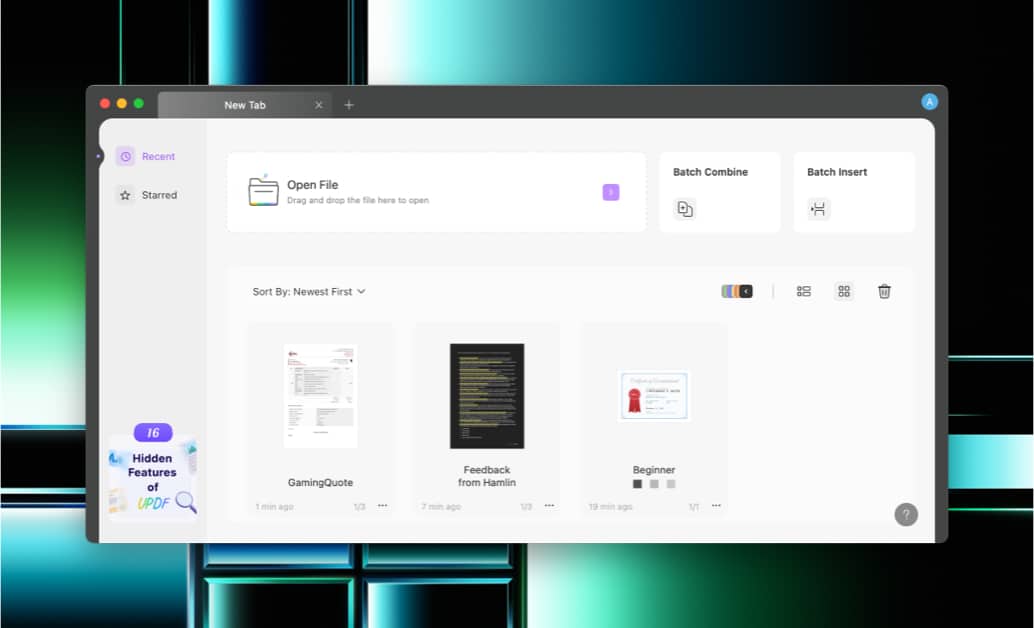 As soon as you open UPDF, it'll greet you with a new tab, providing you with options to open a PDF file, batch combine, and batch insert them. Below those, you'll find all the recent files you've opened.
The user interface was intriguing on both Windows and macOS. Even if you're a novice, you'll find it easy to navigate through the software. As simple as it might look, it comes with a myriad of features built into it. Here's an overview.
1. Edit and organize PDF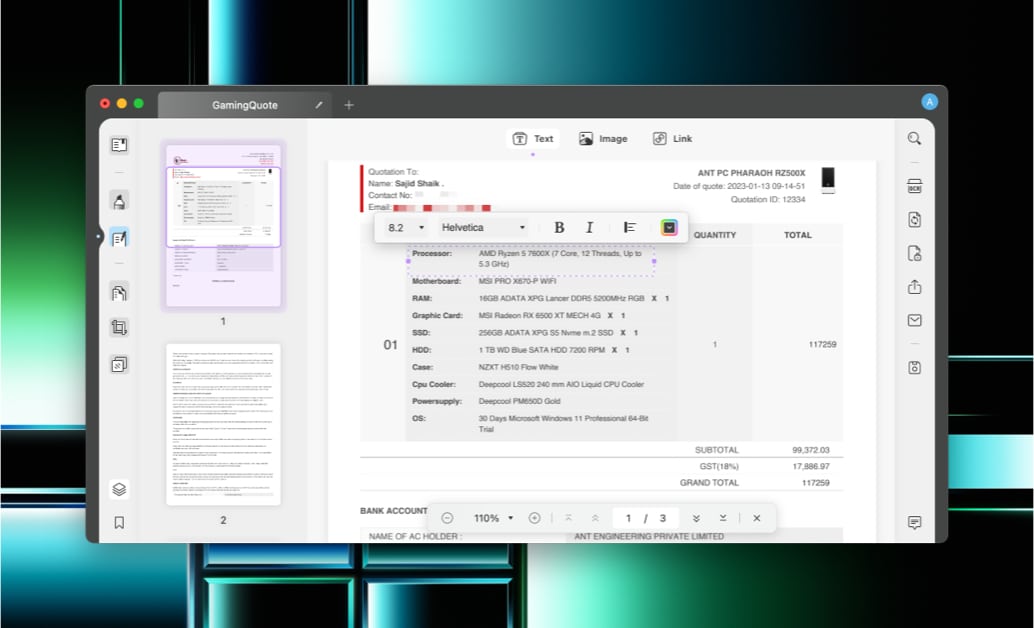 UPDF packs a powerful PDF editor that recognizes various texts and enables editing the same. You can control the individual properties of the text, meaning you can modify the text size, font, color, and more.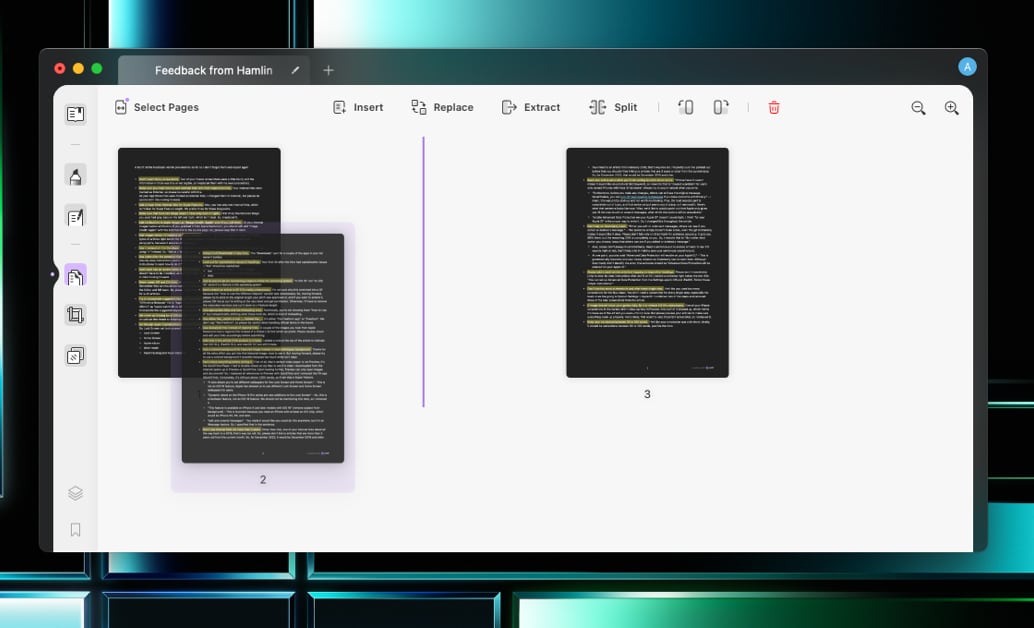 Moreover, it allows you to add or remove text, images, and links in any PDF file. You can reorder, rotate, resize, crop, insert pages, and even change the PDF's background. Furthermore, there's also an option to add a watermark to your PDFs in the form of images, text, and PDFs and control their visual properties.
2. Read and annotate PDF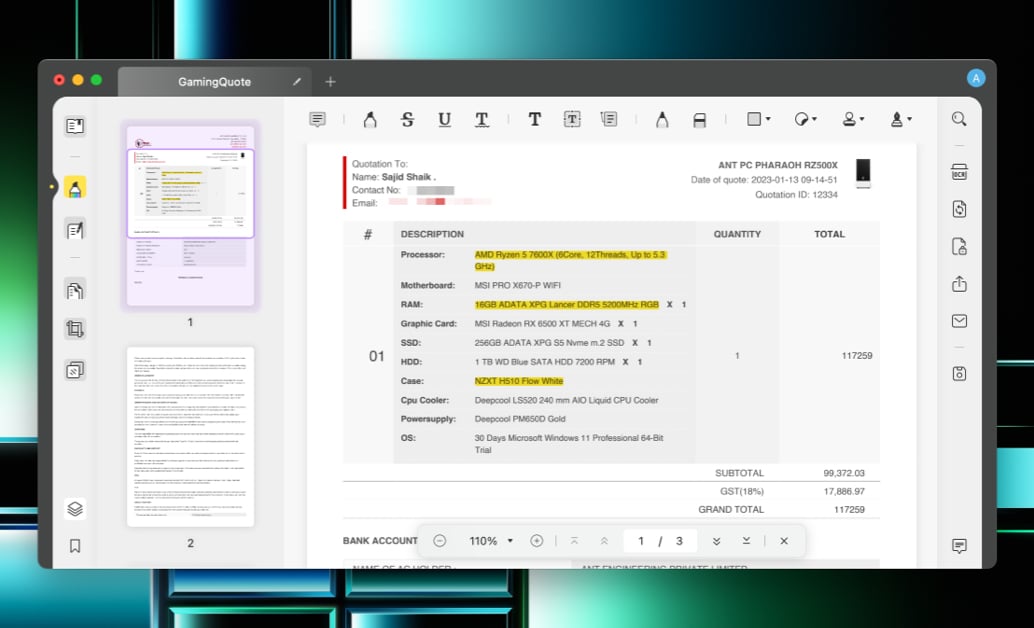 If you find anything important while reading a PDF, the markup tools in UPDF lets you highlight them. You can underline, strikethrough, and add text boxes, stamps, shapes, stickers, and more. These features are beneficial when trying to collaborate with someone else.
3. Convert PDF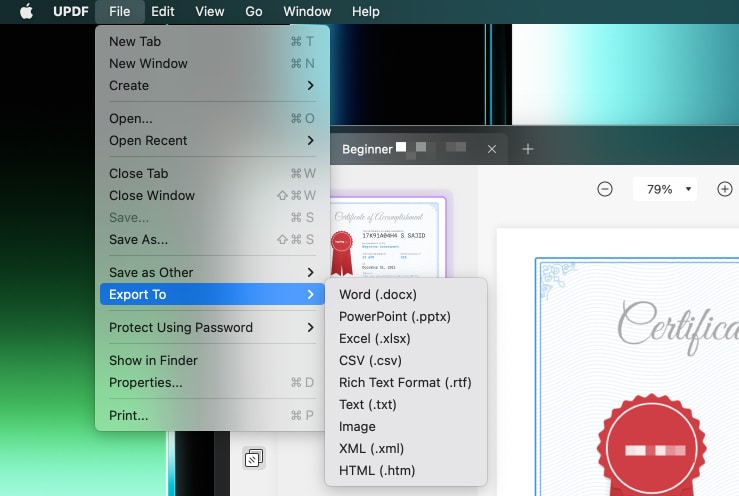 PDF conversion is one of UPDF's strong suits. UPDF supports conversion to a wide range of formats. Whether it is Excel, Word, PPT, Image, Text, or any other format, UPDF can do it for you.
4. SignPDF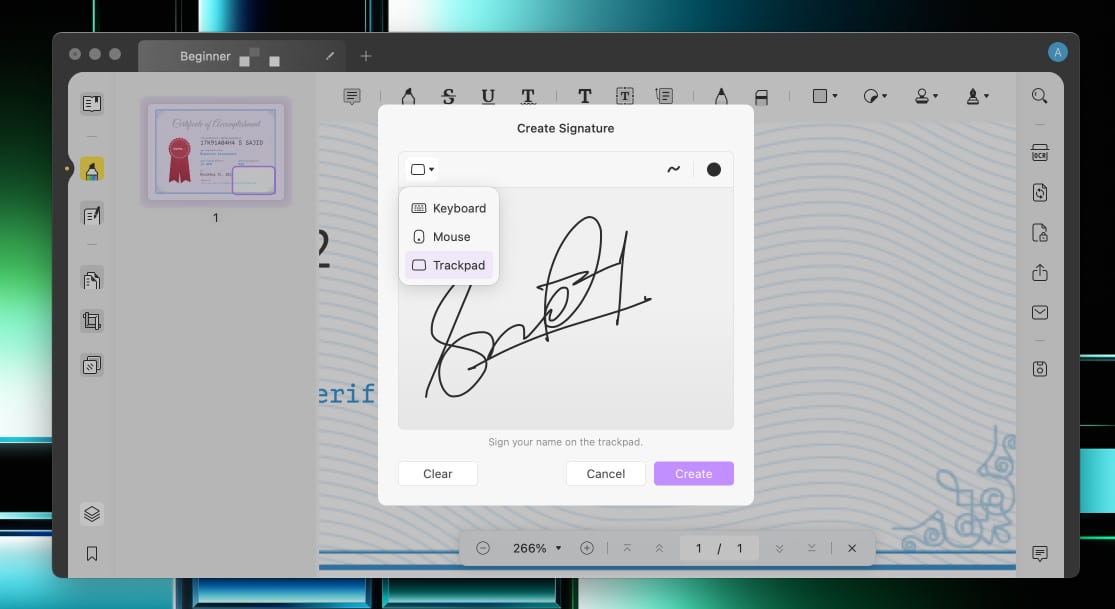 While other PDF tools allow you only to add your signature by typing or with a mouse, UPDF enables you to add your signature with a keyboard, mouse, and even a trackpad. You can add up to four signatures in UPDF. Furthermore, you can customize them to your liking by adjusting their stroke and color.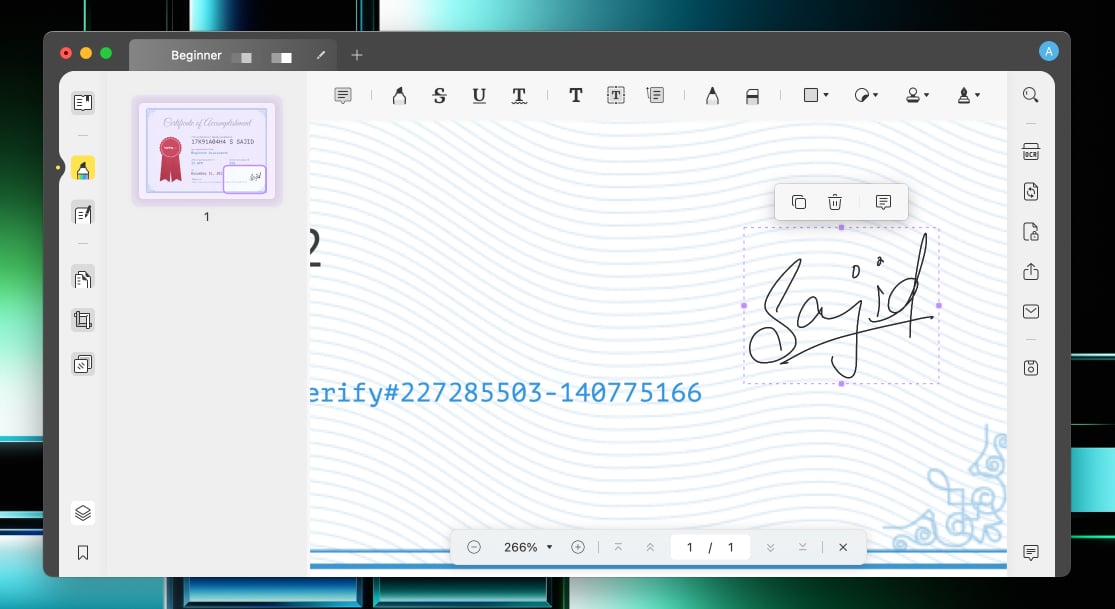 Once created, select the Comment option or press Cmmd + 2 → click the signature tool → pick your signature, and drag your mouse where you want to insert the signature.
5. Protect PDF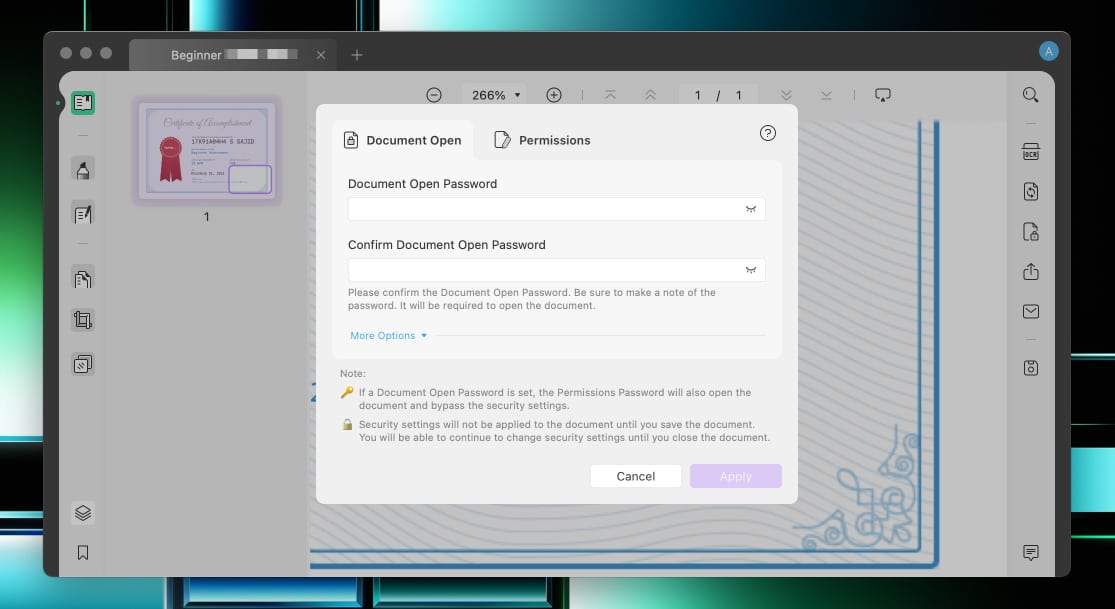 For better privacy, while sharing a PDF with others, you can protect the PDF with a password. You have the option to set a permission password or an open password as per your preferences.
How UPDF compares with Adobe Acrobat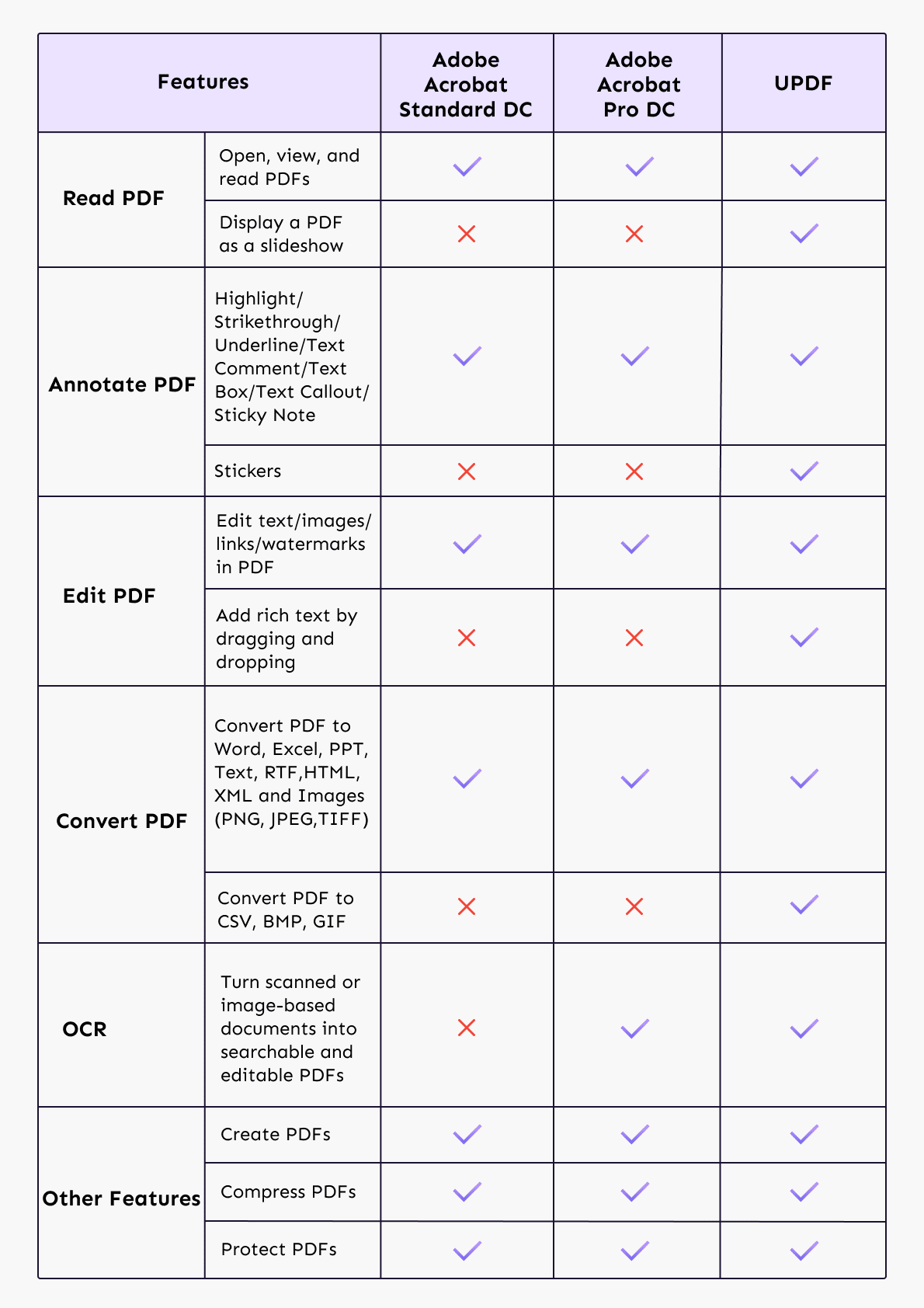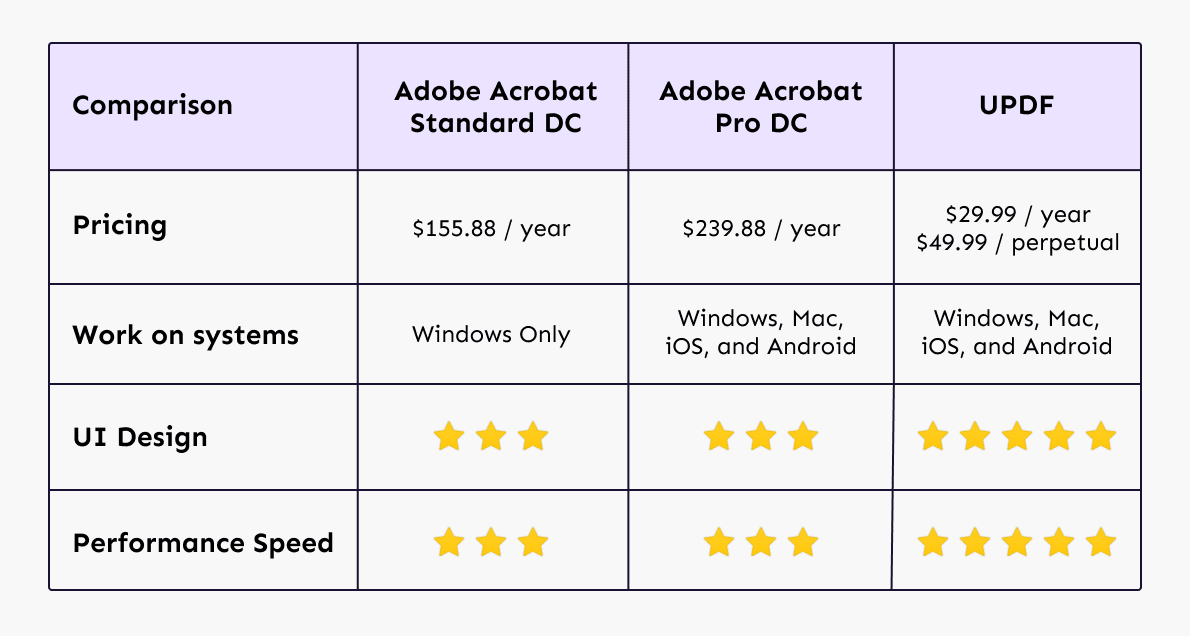 One of the popular software when it comes to editing PDFs is Adobe Acrobat. Even though it's popular, after using UPDF, I felt there was no need to go back to Adobe Acrobat again. 
First, UPDF has an excellent, interactive user interface. Adobe Acrobat has had the same interface for a long time, which still confuses me to this date.
On the other hand, Adobe Acrobat feels slow as a snail, whereas UPDF is as snappy as a flash. I never needed to wait while editing my PDFs, whereas I had to wait for a long time with Adobe Acrobat and sometimes even suffered crashes.
The worst part about Adobe Acrobat is its hefty subscription price of $239.88 per year for the Pro version. The standard version isn't cheap, either. It'll still cost you $155.88 a year. On the contrary, UPDF is a mere $29.99/per year, almost ten times less than Adobe Acrobat.
Furthermore, purchasing the Pro version of Acrobat will only work with Windows and macOS. The Standard version allows you to use it on Windows only. So if you've to get the macOS version, you'll have to purchase the Pro version forcefully.
On the other hand, you'll have to go through one subscription with UPDF, and it'll be available on all other platforms (Windows, macOS, iOS, and Android). So, one license works on all platforms and up to four devices simultaneously.
Regarding pricing, UPDF currently provides a 53% discount to the readers of iGeeksBlog! So you can enjoy all the benefits at half the price. If you thought the regular pricing was cheaper, it gets more affordable for our readers.
Should you get UPDF?
iGeekometer
Features
User interface
Supported formats
Value for money
The short and sweet answer is yes! You should get UPDF for your smartphone or computer. UPDF is a simple and powerful app that provides different tools to edit, annotate, convert PDFs, and much more. There's no denying that this is one of the best PDF tools I've used in a long time, and I'd recommend it to everyone without any second thoughts.
Pricing
Generally, you can purchase UPDF for an annual subscription of $29.99. If you're still skeptical (which you shouldn't be) about UPDF, you can download the free trial, and if you like it (I bet you will), get its 53% discount, which is only available for a limited time.
UPDF is a simple and powerful app that provides different tools to edit, annotate, convert PDFs, and much more. It didn't disappoint me since it provides all the essential features that a PDF tool should provide under minimal pricing.
UPDF is a simple and powerful app that provides different tools to edit, annotate, convert PDFs, and much more. It didn't disappoint me since it provides all the essential features that a PDF tool should provide under minimal pricing.
Readers like you help support iGeeksBlog. When you make a purchase using links on our site, we may earn an affiliate commission. Read more.
Sajid is an Electronics and Communications Engineering graduate who loves writing about tech. He's primarily interested in writing about Android, iOS, Mac, and Windows. You'll find him watching Anime or Marvel when he's not writing.