It's no secret that we at iGeeksBlog love Twelve South accessories for all our Apple products. The latest one in the house is the MagicBridge Extended, which connects the Magic Trackpad 2 and the Magic Keyboard with a numeric keypad. It's one of those nifty tools you didn't even know you needed.
We thoroughly tested it out, so here's our full review of the Twelve South MagicBridge Extended. Read on to find out if it indeed works like magic or not.
What is the Twelve South MagicBridge Extended?
Twelve South's MagicBridge Extended is essentially a tray specifically designed to fit Apple's Magic input devices, namely the Magic Trackpad 2 and the Magic Keyboard with numeric keypad. The accessories snap securely into place in the MagicBridge, forming one long control unit to use with your Mac or iPad.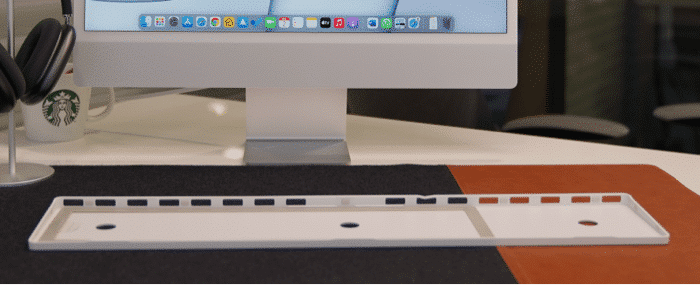 It is an updated version of the original Twelve South MagicBridge, which accommodated just the Apple Magic Trackpad 2 and the Magic Keyboard without the numeric keypad.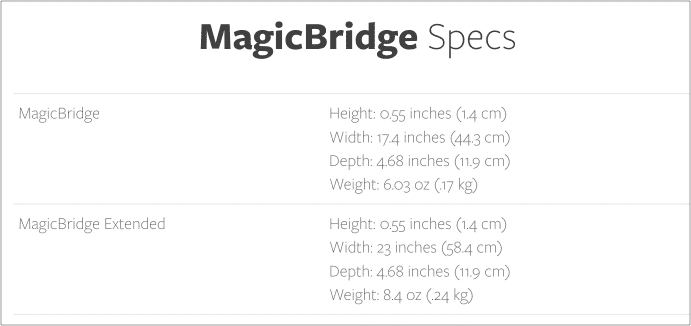 What's in the box?
MagicBridge
Keyboard Spacer
Installation Card
TwelveSouth Stickers
Design and build quality
The MagicBridge is made of precision-crafted polycarbonate that's lightweight yet sturdy. It comes in two color options, namely matte white and black. We received the former, and it blends beautifully with the all-white Apple Magic Trackpad and Magic Keyboard.
There are silicone feet at the bottom for a non-slip grip to the surface you place it on. And soft bumpers on the inside keep things firmly in place. Further, it's smartly designed to be set up for right or left-hand trackpad operation.
At the back, there are strategically placed openings to allow access to charging ports and on/off switches regardless of your left/right setup. The edges of the MagicBridge do not interfere with your hands, so it's almost like it's not there. It also provides just the right ergonomic elevation for your hands.
Overall, I loved the streamlined, user-friendly design that offers the ideal setup for the Apple Magic Trackpad and Keyboard.
Features and performance
The magic of the MagicBridge lies in the convenient keyboard and trackpad setup it provides. It may not seem like a great deal to have these two accessories attached side by side, but it makes a significant difference when you work with them every day. It makes the trackpad and keyboard work together as a single unit like on a MacBook.
At the same time, all the on/off switches and charging ports are easily accessible from the back for a hassle-free experience. I also loved how the rubber feet keep the MagicBridge in place. It creates an incredibly neat setup that's perfect for both the home and office. Plus, the edges are intelligently designed to barely rise above the device surfaces, so they are never in the way of your hands.
This is especially significant when using the MagicBridge on your lap rather than a desk. The MagicBridge makes it comfortable to operate your Mac from the comfort of your couch. It's super light and keeps the keyboard and trackpad balanced. We found it really convenient to have the trackpad right there instead of trying to find a flat spot on the couch for it.
Verdict: Value addition for pros
iGeekoMeter
Design
Functionality
User-friendliness
Value for money
The Twelve South MagicBridge Extended is the ultimate Keyboard + Trackpad setup for your Mac. MagicBridge connects your Apple Magic Keyboard and your Magic Trackpad 2, creating a singular control surface that helps you type and swipe more efficiently.
Of course, it's quite a niche product, but if you routinely use the Magic Keyboard and Magic Trackpad 2, it will add convenience to your workflow. Moreover, it keeps your desk neat and less cluttered. Enjoy reclining in your chair as you control your Mac!
Pros
Lightweight yet durable
Ergonomic design
Classic and elegant look
Designed for right- or left-handed use
Ideal for using on your desk or lap
Check out on: Amazon | Twelve South
Read more:
Readers like you help support iGeeksBlog. When you make a purchase using links on our site, we may earn an affiliate commission. Read Disclaimer.