The iPad is my favorite device, but it gets so much better with the right accessories. So I was excited to try the Twelve South HoverBar Duo – a 2-in-1 weighted desk stand and shelf clamp for the iPad, iPad Pro, or even your iPhone.
At iGeeksBlog, we had reviewed plenty of Twelve South products before, and I loved them for their premium quality and durability. So, I expected nothing less from the HoverBar Duo. Did it measure up? Keep reading to find out and learn my thoughts on every aspect of this product.
Twelve South HoverBar Duo at a glance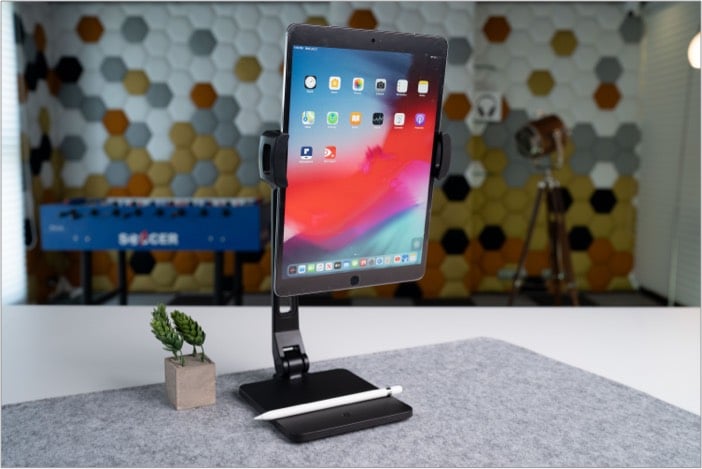 First off, here are the standout features of the HoverBar Duo:
Compatible with all sizes and generations of iPhones and iPads (and by extension, other phones and tablets too).
It holds your iPad or iPhone in infinite positions, heights, and angles.
Includes both a weighted desktop stand and a shelf clamp for convenience.
Lifts iPad to eye level for convenient video calls, recordings, and more.
Pros
Includes a weighted base and a shelf clamp
Easily adjust the viewing angle and switch between landscape and portrait modes
Sleek minimalist design
Devices can be charged while on the stand
Sturdy build quality
Cons
The clamp does not fit on shelf edges thicker than 1.4 inches
A bit complicated to switch from desk to shelf clamp setup
Price: $79.99
Now let's take a closer look at various aspects of this product to see how well it works.
HoverBar Duo iPad stand: Design and mechanics
Right from the moment I pulled it out of the box, the HoverBar Duo grabbed my attention with its premium build quality. It is made from a combination of metal and plastic in a sleek black color that blends into any workspace.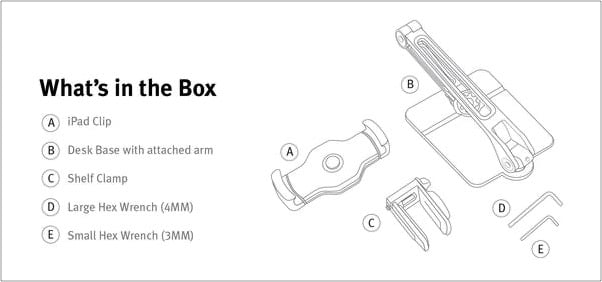 Components
It comes with a weighted base and a shelf clamp that can be switched over when needed using the included wrench. Everything you need comes neatly packed in the box with clear instructions about how to assemble it.
The weighted desktop stand is solid and covered in rugged, matte black plastic with a handy cutout for holding your Apple Pencil. I'm pretty impressed with the detailing because you won't want to keep your Pencil attached to your iPad as the force from the clamp might hurt it.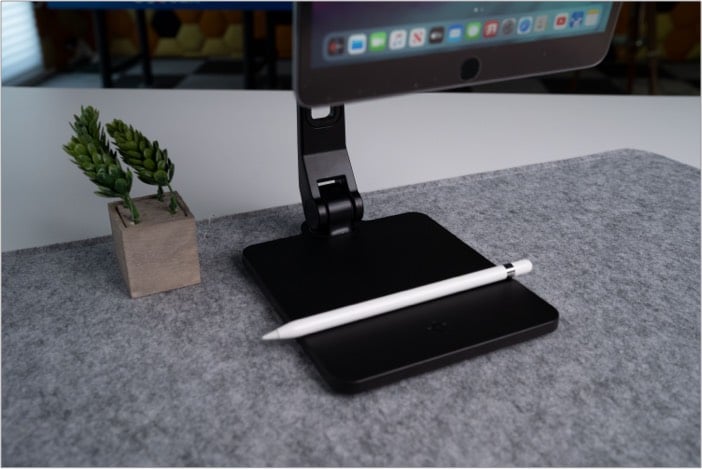 The weighted base can be placed on any flat surface, while the clamp can be attached to shelf or desk edges up to 1.4 inches thick.
Weight
It is heavy enough to support even the largest iPad yet light enough to move around if needed. For instance, I could move it easily from my work desk into the kitchen for a recipe video.
Flexibility
No matter which base you use, the HoverBar features a vertical arm that swivels from side to side and front to back. Then, there is a second, slightly shorter arm attached to the main arm. The connection point between the two can be adjusted to get the perfect viewing angle for an ideal ergonomic experience.
Finally, there's a connection point for the HoverBar Duo iPad clip at the end of the upper arm. This rotates a full 360 degrees so you can adjust your tablet to the most comfortable viewing position for varied needs.
How to set up and use the HoverBar Duo
The HoverBar Duo comes with a handy instruction booklet that's pretty straightforward and explains how you can set up the stand.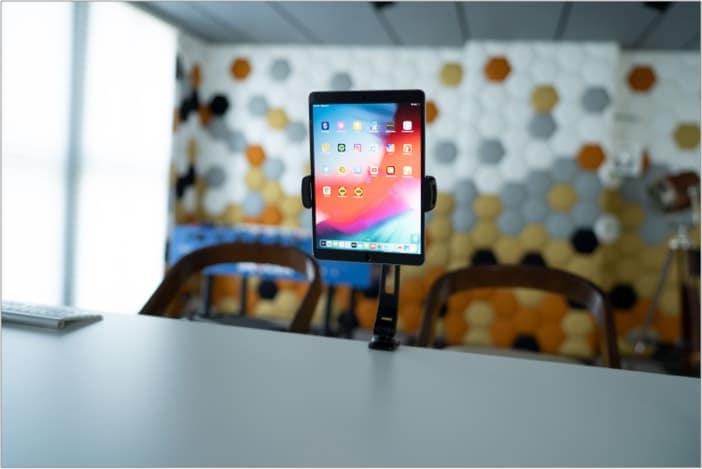 Assembly
The robust clip securely holds devices as small as 5″ wide and up to 8.68″ wide. In other words, the holder fits all generations of iPods and all current and previous iPhones. As for the shelf clamp, it can fit an edge as narrow as .4 inches and as wide as 1.4″.
However, despite the instructions, I found it a bit complicated to assemble, and it can be time-consuming to switch between the bases. So it's not something that you'll want to do every single day.
Weighted Base vs. Shelf Clamp
I prefer the weighted base setup that conveniently sits on my desk and keeps my iPad ready to use at a moment's notice. Moreover, it also seems safer and more steady than the clamp attachment that I feel is slightly precarious.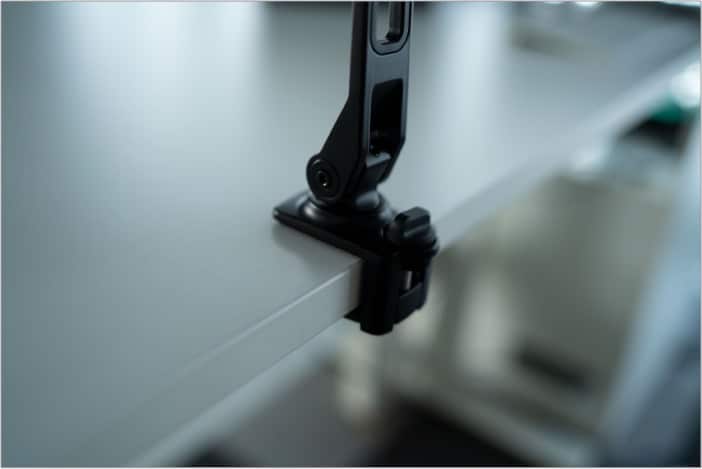 Ease of use
As for using it, I am blown away by how much flexibility the stand offers. You can adjust your iPad to any viewing angle you like, thanks to the movable arms and the rotating holder.
Plus, it stays in place once you find the angle you want to keep it at. Many stands cannot withstand the weight of heavier tablets, but the HoverBar Duo has no such qualms. It brings your iPad to eye level and keeps it there for you to carry on with your tasks worry-free.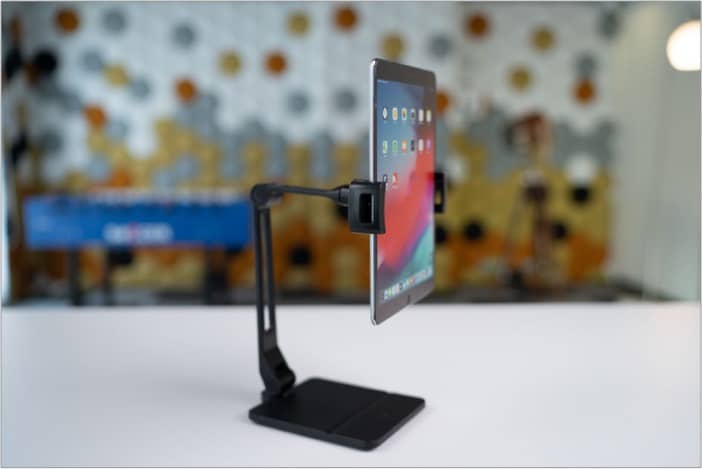 Why do you need the HoverBar? Here are some possible uses
The HoverBar Duo is quite a revolutionary dual-purpose stand that helps you unlock your creative potential using your iPad or iPhone. So there's no end to the kind of things you can do with it. Here are some of my favorite ways of using this versatile accessory:
1. To make the most of my iPad's camera
Whether it's for video calls or recording videos for my social media, the HoverBar Duo lets me get more out of my iPad camera.
When working, I set it up just behind my Mac so I can use it to talk on Zoom without cluttering my Mac screen. And when I feel inspired to make a fun Instagram Reel or shoot some selfies, I can just hit the record button and keep my hands free to express myself.
If you're an artist or chef, you can also use the HoverBar Duo to get perfect top-angle shots of your hands at work.
2. To keep myself entertained
I do most of my content consumption on my iPad, whether it's the latest Netflix show or my favorite YouTube channels. But I like how I can set up the HoverBar Duo to comfortably watch while relaxing in bed or following recipes in the kitchen, among other things.
It works for just about anything, thanks to the ergonomic adjustments and flexibility. This isn't easy to obtain with regular stands or cases, so the HoverBar Duo stands tall and stands apart.
3. As a secondary display or mini desktop
I often have a lot going on on my Mac, and it's handy to have an additional display. The adjustability of HoverBar Duo means I can position my iPad right next to my MacBook and use SlideCar to extend the display.
Moreover, I appreciate the convenience of using a wireless keyboard and mouse to create a nifty mini-workspace with my iPad screen.
Best of all, the iPad can even be charged while still on the stand, which is another plus point!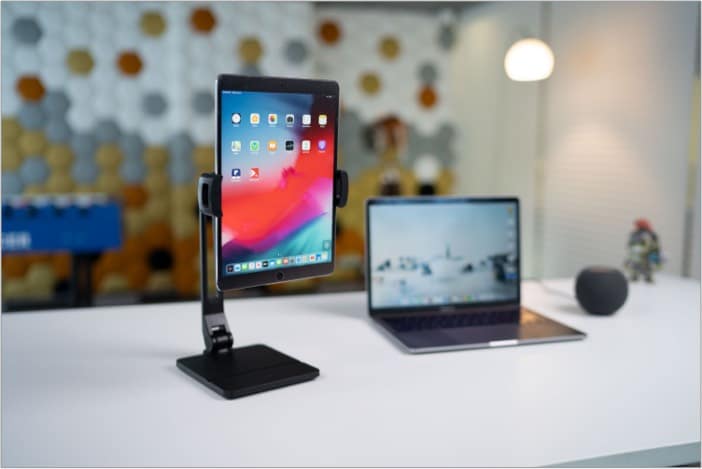 Our verdict: To hover or not to hover?
I've got to admit Twelve South's HoverBar Duo has won me over. It's quite a notch above other iPad stands I've tried. Thanks to its sheer level of adjustability while being incredibly sturdy and well-made.
It's one of those products that you never know you've been missing until you start using it and soon can't do without. It makes it incredibly convenient to hold your iPad steadily in place for all kinds of multitasking. Moreover, it makes it a breeze to use your iPad as a Mac replacement conveniently.
What I love:
Its multifunctionality: The Twelve South HoverBar Duo comes in an all-inclusive package with both a weighted base and a shelf clamp suitable for all kinds of phones and tablets. So, it's convenient to use your iPad or iPhone in both landscape and portrait orientation.
Great design: At the same time, it sports a minimalist design and sturdy build that you won't have to fuss about. You can even charge your device while it's in the stand, which ups the convenience.

Convenience: All in all, it's perfect for both work and leisure. Whether I'm on zoom calls or catching up on the latest episode of my favorite shows, the HoverBar Duo is my new companion all day, every day.
What could be better:
The shelf clamp: It would have been great if the shelf clamp could attach to thicker edges for a wider variety of kitchen counter taps or bulky tables.

Assembly process: It would be nice if the process of switching between the weighted base and the clamp were less complicated.
Nonetheless, these are some minor faults that hardly put a dent in this stand's impressive features and flexibility.
Video: Twelve South HoverBar Duo Review
Readers like you help support iGeeksBlog. When you make a purchase using links on our site, we may earn an affiliate commission. Read more.
Mehak has a master's degree in communication and over ten years of writing experience. Her passion for technology and Apple products led her to iGeeksBlog, where she specializes in writing product roundups and app recommendations for fellow Apple users. When not typing away on her MacBook Pro, she loves being lost in a book or out exploring the world.