There is a vast difference between excellence and perfection. And while I was using an excellent iMac stand, it was hunting for perfection. And as you might have guessed from the title, I landed on Twelve South HiRise Pro. But was it the best?
And should you be making the switch? Find out as I share my experience with Twelve South HiRise Pro and my honest review.
The problem with my old iMac stand
Before sharing my views about Twelve South HiRise Pro iMac Stand, I should tell you why I needed a change. And I can placate you with several reasons like I did my colleagues, but the crux of it all is that I got bored of my previous stand.
I have been using another Twelve south product, Curve Riser, for more than a year. And it was serving me quite well, kept the iMac safe and sound, looked good on the desk, even got space for some peripherals.
So, like I said, it was excellent. However, it wasn't height-adjustable, and the open storage space looked too messy by the day's end. And the search for perfection pushed me to switch.
HiRise Pro: A combination of comfort and smarts
HiRise Pro is yet another masterpiece by Twelve South. Crafted from gunmetal steel, the stand looks sleek and stylish. Plus, it is height adjustable and boasts a not-so-secret but hidden storage space.
Technically, it does check all my boxes on paper, so my hand automatically moved to the buy now section (at least that's what I had to say).
Assembling the jigsaw puzzle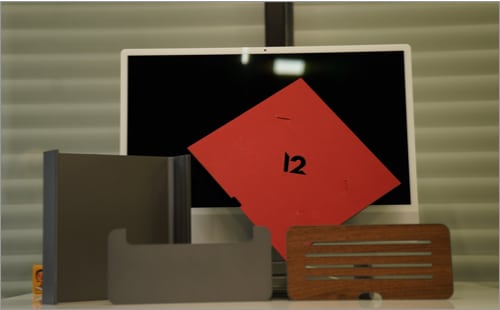 The HiRise Pro comes in posh and sophisticated packaging, as expected from Twelve South. And it might sound kiddish, but I loved the monogrammed protective foam; after all, it's all in detail.
I also low-key enjoyed the IKEA style DIY that you are presented with, alongside a fairly helpful guide. It only took about a minute to assemble all five pieces, and you don't need any tools.
It almost feels like a well-oiled modular kitchen cabinet that slides in and locks smoothly. So a big thumbs up to that.
Design
When assembled, HiRise Pro looks like a safety deposit box, albeit a sleek one. The metallic matt finish and curved edges match perfectly with iMac's design.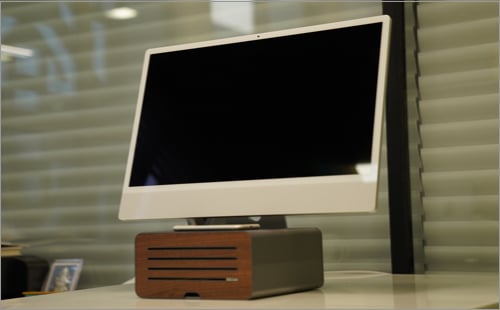 It does look a bit bulkier than the Curve Riser and surely weighs more. Although, in a way, that's a good thing as it can easily manage the weight of an iMac, iMac Pro, and high-end 4K / 5K displays.
The base also has small circular rubber feet that prevent slipping and don't scratch the table. Furthermore, the 'door to the storage' is a detachable magnetic metal plate that snaps on and off pretty easily.
So, you can stock up your peripherals and use them when needed, without much hassle. It even boasts a curve cutout on the bottom edge, allowing you a better grip when you pull up the plate.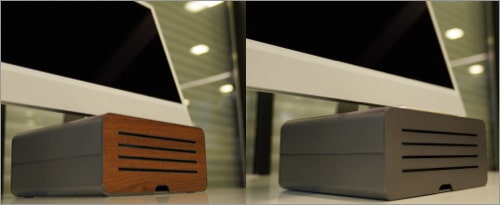 Interestingly, the cover is double-sided, with a wooden and metallic finish, so, your aesthetics are also taken care of. Personally, I am using the feature as a fidget spinner, switching the look when I am pondering something.
Another interesting design element is the cavity on the backplate that acts as a cable organizer. And between this cavity and the front plate's grille, the iMac gets ample air circulation.
The shelf that helps
As per me, the shelf mechanism is the masterstroke of HiRise Pro's design. For one, it can be used to adjust the height of the iMac (up to almost 4 inches). Just slide in the plate as per your preferred height and place the iMac over or under it.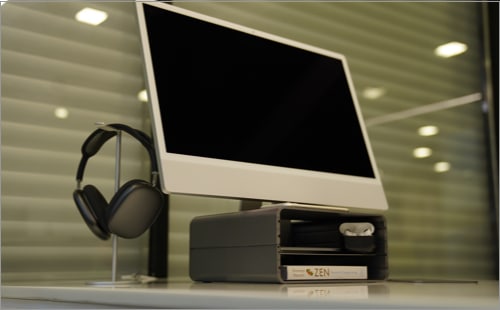 Then, it also acts as a drawer divider, so you have two levels to keep your stuff. And most importantly, the sliding mechanism is super smooth, and you can switch the levels as needed.
Apart from that, the HiRise Pro also offers a padded leather covering on the top. It is designed to keep your iPhone, keys, or other essentials.
This makes me a little greedy, as I wish that the top has some Qi or MagSafe compatibility, which can also allow wireless charging. I hope the designing Gods of Twelve South are listening.
Should you rise for HiRise Pro?
iGeekometer
Design
Functionality
User-friendliness
Value for money
Yes, you can openly call me out for being a Twelve South fangirl, but why shouldn't I be. The brand almost offers sleek and stylish products packed with utility and smartly designed elements, just like this one.
And yes, it does have a steep price point. But if you're looking for something that lasts more than a few years, looks great on your desk, can hide that mess of cables, and store some stuff, it is a worthwhile investment.
Although its boxiness might be a huge problem for someone with small desks or limited space, do keep that in mind before hitting that buy now button.
Pros
Looks sophisticated and posh
Height adjustable
Hidden storage space
Steady and dependable
Cons
Comparatively expensive
The top mat could boast a Qi or MagSafe charger
Looks bulky with the new iMac
Price: $169.99
Readers like you help support iGeeksBlog. When you make a purchase using links on our site, we may earn an affiliate commission. Read Disclaimer.