When you are typing your desired query in the Google search bar, it shows you trending keywords. Mostly these are useful. But if you do not care about what people are searching for, you can easily get rid of trending searches in Google on iPhone and Mac. Let me show you how.
What is a trending search suggestion in Google?
Let me explain this with two examples. When you type the word Apple in Google search, it will show a few suggestions like Apple iPhone, Apple Store near you, Apple stock price, etc.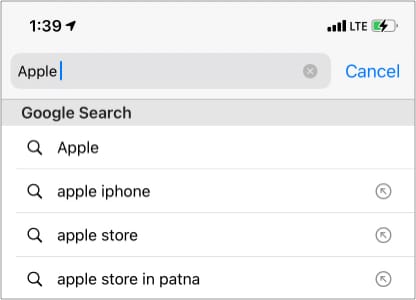 Similarly, when you search for a celebrity, it will suggest their salary, net worth, girlfriend, age, Instagram account, etc.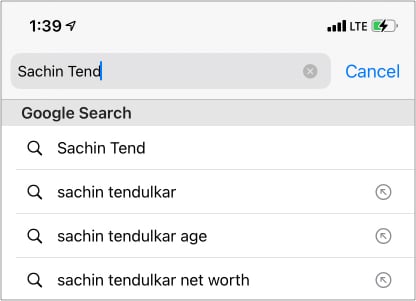 If you do not like them populating your search, here is how to turn this off and have a clean experience.
How to get rid of trending searches from Google on iPhone
In Google Chrome
Are you one of those who like Google Chrome as your default iPhone browser? If yes, here is how to disable trending searches in the world's most popular browser.
Open Chrome and tap your profile picture at the top right.
Toggle off Autocomplete Searches and URLs.
Finally, tap Done.


Pro Tip: Want to turn off trending searches on Google temporarily? Tap the three dots icon at the bottom right and tap New Incognito Tab. You will be browsing in the private mode that does not show trending searches and suggestions.
In Safari
If you prefer iPhone's inbuilt browser, here is how to turn off Google suggestions in it.
Open Settings and tap Safari.
Toggle off Search Engine Suggestions.
Optional: You may go a step further and turn off Safari Suggestions.


In Google website on any browser
Go to Google.com or your country-specific Google URL like Google.co.in for India.
Tap the hamburger icon at the top-left.
Tap Settings.
Under Auto-complete with trending searches, choose Do not show popular searches.
Finally, tap Save.


How to remove trending searches from Chrome search on Mac
Click the three vertical dots at the top right and choose Settings.


Click Sync and Google services.


Toggle off Autocomplete searches and URLs.


Report Google autocomplete predictions
If you don't like a specific prediction, you can report it rather than turning off the suggestions completely. Google may take action and remove it from predictions if it is something that goes against their terms.
Here is how to report Google autocomplete predictions:
When you see a suggestion on Google.com, long-press it.
Tap REPORT THIS.
Select the appropriate feedback and tap SEND.


If you use the Google app, tap the (i) button to report a prediction.
This is how you can turn off trending searches and predictions in Google on iPhone and Mac. I hope this quick guide was helpful.
Check out next:
Readers like you help support iGeeksBlog. When you make a purchase using links on our site, we may earn an affiliate commission. Read Disclaimer.