TRYO reinvents the existing online shopping system by bringing AR capabilities with products from popular brands, all combined in a funky, modern, and well-balanced UI.
Pros
Virtually try on offerings from popular lifestyle brands
Good UI
Easy to use AR mode
360° mode has high-quality rendering
Cons
More instructions could have been added
Rendering can be improved in AR mode
Rating: 🌝 🌝 🌝 🌝
Price: Free
Before the eCommerce revolution, there was only one way to shop – visit a store, try out things, and buy them. Fast forward to today, when you open the app on your device, check the images and product descriptions, and then buy them. How things have changed!
Although online shopping has helped us save time and access various options, it still can't beat the try-before-you-buy experience. What if you can enjoy the benefits of old-school and new-age shopping at the same time? That is what folks behind the TRYO app are promising! You can try items virtually and buy them if you like – old wine in a new bottle!
After spending some time with the app, I came up with some interesting conclusions. Trail (pun-intended) along to know more!
What is TRYO app?
A funky sunglass appeared on my face when I opened the app for the first time, reminding me of a Snapchat filter. It was fun, cool, and surprisingly good! But no, the app is not just about filters! It comprises actual products to shop from.
TRYO uses the power of AR to bring products to your smartphone. The library is also pretty big, consisting of over 500 products and counting across various categories.
How TRYO can help select the right products
While we may all have different perspectives on the future of humanity, we can all agree that AR is inevitable and will become part of our daily lives. Up until recently, hardware restrictions used to slow the progress of AR. That's no longer the case. With technological advancements, AR is becoming more generalized, with AR apps, AR games, and now AR shopping.
Instead of doomscrolling through shopping sites, trying out the product virtually on TRYO will allow users to make better purchase decisions.
Shopping for items with AR is not new; many e-commerce platforms have tried their hand at it. However, unlike the rest, TRYO focuses more purposefully on AR shopping. As a result, it has managed to bring some special features to the screen.
Features that make TRYO stand out
Easy setup: No matter how good the app is, if the setup is painful, it can force users away from the app. Thankfully, the people at TRYO have made the setup process as simple as checking out a product.
Try products without visiting the store: While talking about the app, how can we not discuss its key feature? The ability to try products in AR! Thanks to that, you will be able to know whether an item suits you are not.
World-class brands: While TRYO is a new market player, it houses recognizable brands. I entered with low expectations but was pleasantly surprised to see popular ones such as RayBan, Balenciaga, Gucci, Rolex, and many more!


Trendy products: With top brands come top products. TRYO's product catalog consists of more than 500 products, with more added regularly. The best part is that they will delight those looking for trendy products. Most users will feel like a kid in a candy store.
Easy to purchase: Another concern I had was the exit. I wondered if the app could only allow you to try these products. But thankfully, that wasn't the case. All you have to do is tap Buy Now, and you will be taken to the official product page!
Use TRYO app on iPhone to find the product of your choice
The process is simple. Open the app and select the product icon you want to choose from. After selecting the right category, swipe between the models to choose from. If you are confused, you can also check the trendy section, where you can see the latest trends, a delight for fashion enthusiasts.
There is also an option to change between the colors. Also, you can use the search button to open the brand and product catalog of TRYO, where you can choose the product of your choice.
Once a product is selected, depending on the product, the app will adjust the cameras accordingly and give you the necessary instructions.
For the camera shy (no, I don't judge) or those who want to get a 360° view, tap the Eye It button, and you can check every bit and byte of the product here. That's not all; you can share the product with your friends and let them share their thoughts.
The best, save the product and check for later (yeah, I know the pain of not having money and still looking at the product of your dreams 🥲). There is even the option to capture images with the products (Yeah, you can flex about Gucci without owning one in real life 🤓).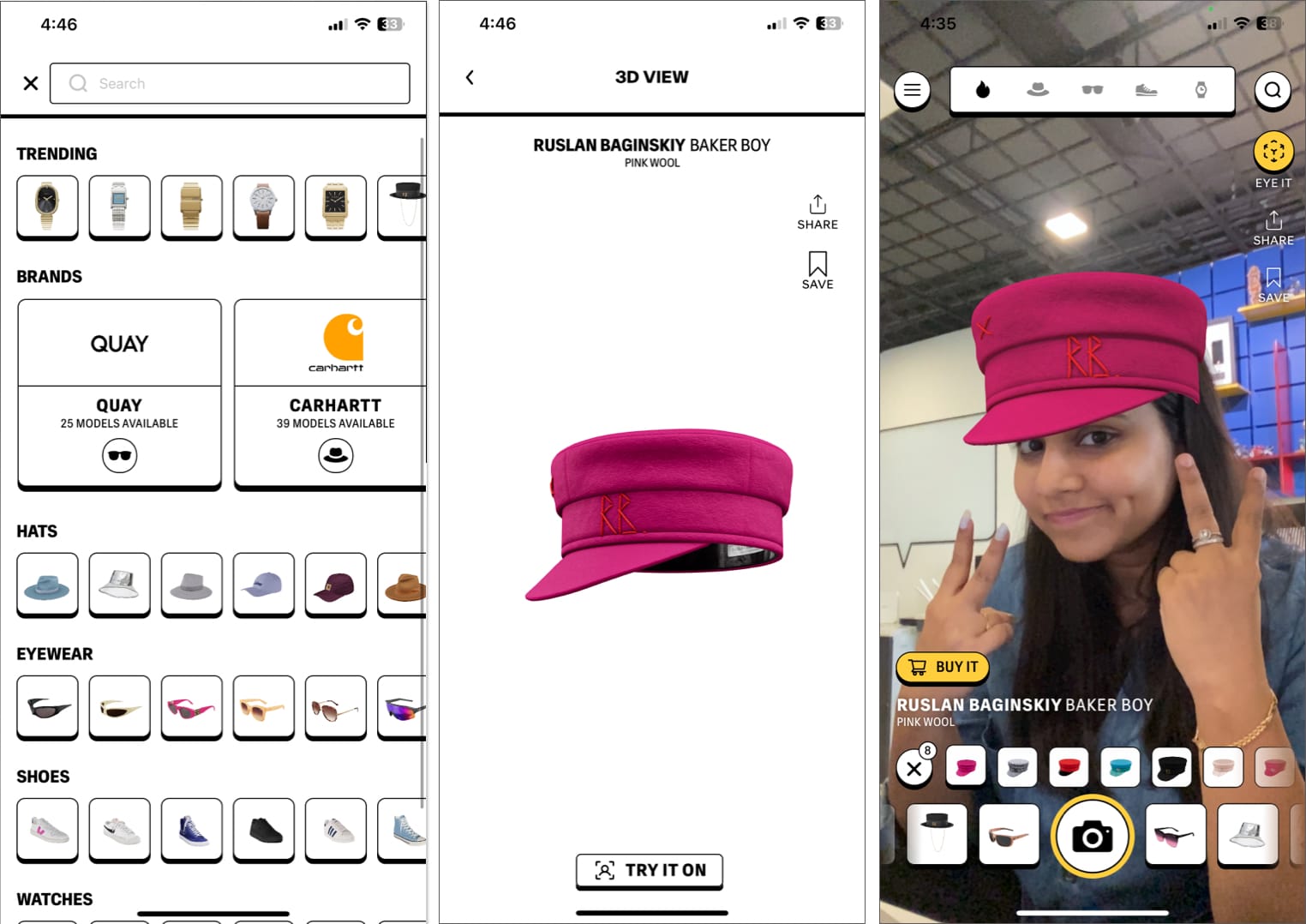 Things I liked about the TRYO app
In one line, the app is amazing and tempts me to try more products. The product catalog was vast, with recognizable brands. Once the app detects you, the product mostly adjusts well.
Funky UI makes the app feel fresh. It's futuristic and balances every critical aspect, thus making you applaud the UI. While using the app, you will know that the developers have worked hard to optimize the app and let AR function smoothly. AR Mode is easy to use and helps make purchase decisions.
Among the many other features of the app, I primarily liked the Eye It mode, which lets the users get a 360° view of their preferred item. Keep in mind that all of these features are available for free!
Room for improvement
Not everything is as pleasant as getting the right product on the first attempt, and the same goes for TRYO also.
While the UI is well-crafted, some might still prefer having more instructions on certain menus (or buttons) and how they function. Because for many, AR is still relatively new. They'll know how great the app is only when you show them how handy and easy to understand the features are.
Although I loved the simple catalog, I would appreciate seeing more detailed categories, such as necklaces, earrings, and much more. Additionally, the clarity of images shown in AR mode can be improved, if possible, as good as in the Eye It mode.
Another great addition would be a camera switcher. I wanted to see how a sunglass looked good on my friend, but I had to take my phone to him to let him check out. Along with that, the option to try multiple products at the same time will enhance the app experience a lot.
Who should get this app?
TRYO is an app that can be recommended mainly to users who want to try on products before buying them. The app is recommended for those bored with regular online shopping customs and wanting to try something new. Since the app is free, anyone can try it out without losing money (unless you are a shopaholic :P).
iGeekometer
User interface
AR mode (Try It mode)
360 view (Eye it mode)
Value for money
TRYO app review
TRYO app review
TRYO is a cut above its competitors. Its collection of huge brands with great products is a bonus. The UI is funky and keeps the user hooked to the app. For an app that's free to use, TRYO delivers a lot, thereby outweighing its minor cons.
TRYO is a cut above its competitors. Its collection of huge brands with great products is a bonus. The UI is funky and keeps the user hooked to the app. For an app that's free to use, TRYO delivers a lot, thereby outweighing its minor cons.
Readers like you help support iGeeksBlog. When you make a purchase using links on our site, we may earn an affiliate commission. Read Disclaimer.