MonoDefense by KeepSolid is a comprehensive cybersecurity solution designed to protect your digital life from a multitude of online threats, ensuring your safety and privacy online.
Pros
Wide compatibility
Password Management
User-friendly interface
Cons
Limited functionality
High pings
Requires a lot of space
Pricing: $11.99 – Monthly | $79.99 – Yearly | $199.99 – Lifetime
To address the ever-changing challenges associated with safeguarding digital assets for both individuals and businesses, MonoDefense was developed. It's the best cybersecurity tool for proprietors of small businesses, tech-savvy individuals, and users who value their privacy.
This review will provide you with a thorough analysis of MonoDefense, covering its features, pros and cons, design, and price. Without further ado, let's get started!
MonoDefense: An all-in-one solution for online security
MonoDefense is a cutting-edge cybersecurity solution that acts as a one-stop solution to safeguard your online presence. It offers advanced security against online threats such as malware, phishing, ransomware, and other cyberattacks. Furthermore, it ensures privacy to both the device and the network it is connected to.
The software's ability to continuously monitor your online activity and recognize any suspicious behavior or activity is one of its distinctive features. To defend against threats, it makes use of sophisticated threat detection algorithms, behavioral analysis, and machine learning.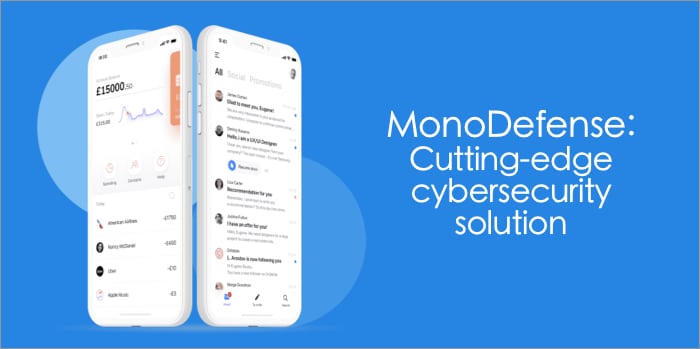 Why should MonoDefense be your go-to security solution?
Simplified Management: The software enables businesses to oversee all of their security precautions in one location, thereby helping monitor potential threats and take appropriate actions.
Cost Savings: MonoDefense combines multiple security solutions into one system and reduces costs associated with purchasing and maintaining separate security tools for an organization.
Enhanced Coordination: The tool ensures that security measures integrate seamlessly, resulting in more effective threat protection.
MonoDefense – Where design meets functionality
MonoDefense offers multiple apps that work together seamlessly to protect your online presence. While the apps can be found in a single bundle, they must be downloaded separately.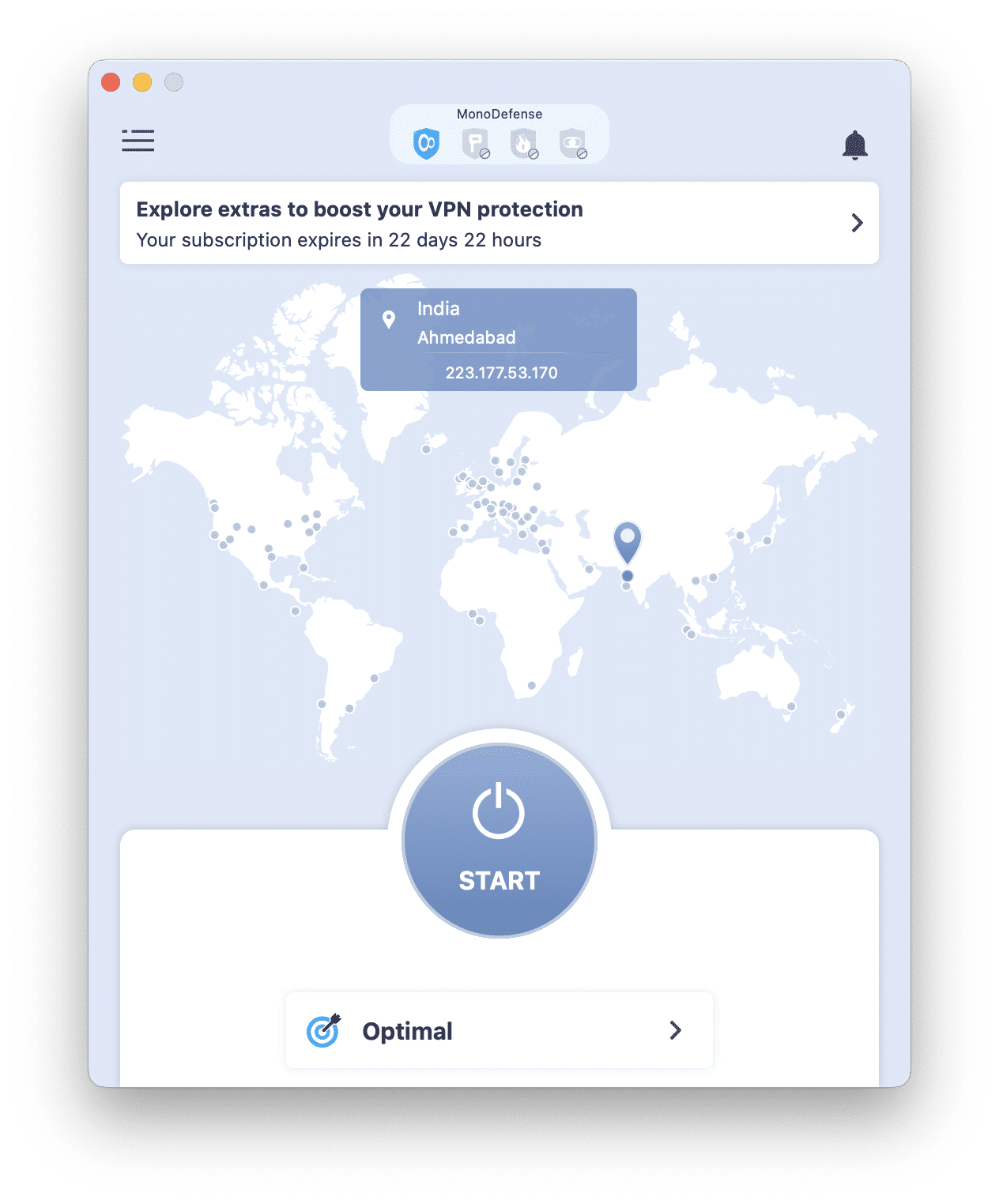 Although it may seem inconvenient, it allows you to choose only the apps you need and avoid cluttering your device with unnecessary software. However, the user experience is still enjoyable, with well-designed applications that are easy to navigate and visually pleasing. The smooth transition between screens in each app is also something that I loved.
What's in the package?
Below is the list of features that make the MonoDefense software bundle the ultimate solution for an online security solution for your devices.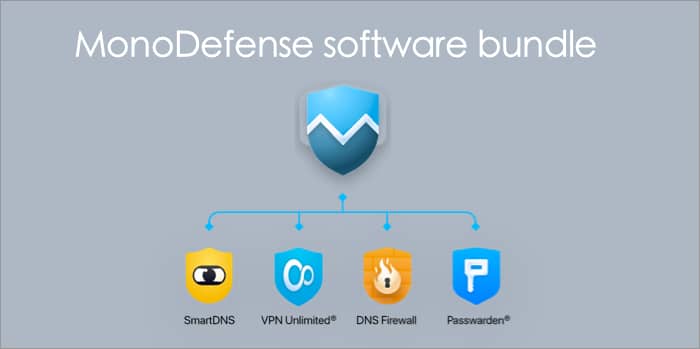 VPN Unlimited
MonoDefense VPN Unlimited provides modern encryption technology, protecting your online activities from unauthorized monitoring and data theft. This VPN application provides secure and unrestricted access to any website. This is made possible by the access it has to over 3000 servers around the world.
To further improve the surfing experience, the tool offers a number of protocols, such as OpenVPN, IKEv2, and L2TP/IPSec. Additionally, the app has a kill switch feature that immediately stops all internet traffic if the VPN connection abruptly drops.
DNS Firewall
KeepSolid DNS Firewall offers a reliable solution to safeguard your device against a wide range of online threats. Its robust defense mechanism actively combats malware, phishing, and other malicious activities. Additionally, it employs real-time website filtering to block harmful sites and prevent potential attacks.
The software's ability to use a variety of threat intelligence sources to find and stop damaging websites is commendable. Additionally, it gives users a tailored experience with the option to personalize the kind of content they want to block.
SmartDNS
Regardless of location, the KeepSolid SmartDNS software provides unrestricted access to geo-blocked content. What sets this apart is its fast and secure connectivity, which enables seamless streaming of well-known services such as Netflix, Hulu, Amazon Prime Video, and others.
Moreover, the KeepSolid SmartDNS software is simple to set up and works with various gadgets, including Mac and iPhone. Its quick and reliable connections will allow you to stream HD videos without buffering issues.
Passwarden
KeepSolid Passwarden can provide the necessary assistance if you need help generating a strong, unique password. Your passwords and private information are protected by the platform's encrypted vaults, which only you can access.
Additionally, Passwarden's exceptional Duress mode conceals vaults during stressful situations, and its Security Dashboard alerts you of weak or compromised passwords – making it a must-have! If that's not enough, the software also automates password entry on websites.
My experience with MonoDefense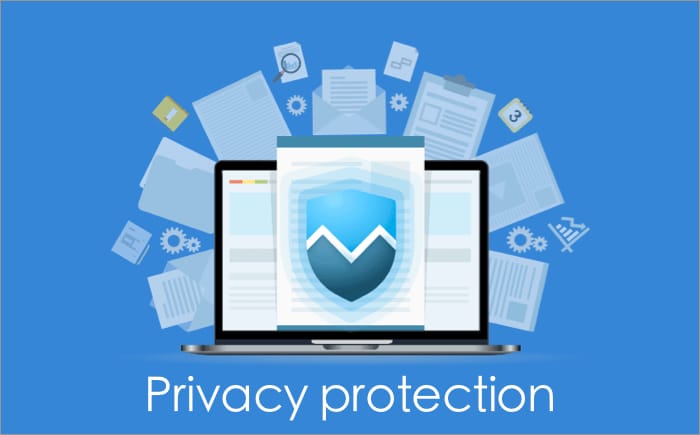 I recently had the opportunity to try out the KeepSolid MonoDefense app bundle, and I was satisfied. While the process of downloading multiple apps and logging in to each of them may seem daunting, the overall experience with the bundle of apps turned out to be quite decent.
One aspect that particularly stood out for me was the performance of the VPN app in the bundle. I noticed it works even more efficiently when used with an iMac connected to a LAN cable than a Mac connected to the internet wirelessly. Overall, I think the app bundle is a useful resource for anyone looking to increase their productivity and online security.
Areas that MonoDefense can improve
While the app has some good features, I believe there is still room for improvement to make it truly stand out among its competitors. If I may, I would like to offer a few suggestions to the talented developers and makers behind the app.
I've noticed that the bundled apps use up quite a lot of system resources, which causes a slowdown in the performance of the device.
It would be wonderful if the makers could bundle all the services into a single app to optimize performance and improve user experience.
While using the VPN app, I have observed that the pings can be quite high, which may negatively affect the gaming experience for users.
Who should invest in MonoDefense?
iGeekometer
Features and facilities
User interface
Value for money
MonoDefense is the ideal solution for anyone who uses the internet regularly, runs a business, stores confidential data, is a parent, or frequently connects to public Wi-Fi networks.
MonoDefense provides robust protection for all your online activities, ensuring the security of your personal information. Whether you're working remotely, conducting financial transactions, or simply browsing the web, you can trust MonoDefense to safeguard your data and give you the peace of mind you need.
Pricing: $11.99 (Monthly) | $79.99 (Yearly) | $199.99 (Lifetime)
Readers like you help support iGeeksBlog. When you make a purchase using links on our site, we may earn an affiliate commission. Read Disclaimer.