Cleaner One Pro is a disk-cleaning app that can free up storage space by removing unwanted and junk files to improve the system's performance. It also provides features like Startup Manager, App Manager, Disk Map, and more.
Pros
Simple and clean UI
Works faster when scanning and cleaning large files
Scans apps for vulnerabilities and uninstalls them without leaving residue
Quick access to various data in the menu bar, like memory, CPU usage, and more
Available on both Mac and Windows
Cons
Windows version misses some features
Editor's rating: 🌝 🌝 🌝 🌝 🌜
Price: $19.99 (1 device) | $29.99 (5 devices)
If you own a Mac, you might have been using it for a long time leading to junk files accumulated over time. Finding and cleaning these files can be a time-consuming and tedious task. You'll have to use command lines to achieve the same.
So, how would you clean such files with little to no time investment? The answer is Cleaner One Pro.
Cleaner One Pro: Keep your Mac clean
It's an all-in-one storage tool that takes care of your storage space. It scans your Mac, removes all the unwanted files accumulated over time, optimizes your Mac, and much more.
I've used it on my MacBook Air M1 with the base configuration to see how it performs, and here's my full review of the Cleaner One Pro.
Features and user interface
The user interface of Cleaner One Pro is clean and easy to use. It's different on Mac and Windows yet offers a similar feeling. It feels like they made the user interface for cleaning storage, leaving inconveniences you'd usually face.
Everything is well-categorized, so you don't have to keep looking for a particular feature. However, the Mac version offers more features compared to the Windows one. Since I've tested the Mac app, I have seen the following features.
Smart Scan
The Smart Scan feature quickly checks for junk files, apps you haven't used in a while, startup items, big files, and duplicate files providing you a brief overview of the current status of your Mac.
Once the scanning completes, you'll see a report where you can click View details to take action against the files. You can then choose which files to delete and keep on your Mac.
Junk Files
This section shows the unnecessary files you can delete, like browser and application cache, iTunes files, installer packages, language files, system logs, and more.
Once the scanning finishes, you can select and delete each file individually to free up storage space on your Mac.
Big Files
The Big Files feature sorts the files according to their sizes from 500MB to 1GB, 1GB to 5GB, and bigger than 5GB, so you don't have to do the tedious work.
Once scanned, you can check and select the files that you want to delete. In my case, I got rid of a 6GB file from my Mac which I had no idea was still on my Mac.
Disk Map
Cleaner One Pro comes with a handy Disk Map tool that visualizes what's taking up your storage. It gives you an idea of which data needs deletion to free up more space on your device. However, you'll have to select the folder location to scan.
In my case, I had 34.6GB occupied by the movies folder, and when I checked it, I found many cached files and folders, DaVinci Resolve's residue, and more. I deleted the unnecessary files to save around 15GB on my Mac.
Startup Manager
The Startup Manager scans all the applications on your Mac and shows you the apps that start as soon as you boot up your Mac. You can then select and disable them to speed up the performance of your Mac when booting up.
It is handy when you grant applications to start when your Mac boots and you forget about them. Also, it categorizes them into three sections: Login items, Launch agents, and Adware Startup items. The latter helps remove adware that boots up with your Mac and hogs on your Mac's resources.
Duplicate Files
The Duplicate Files option lets you see if you've created different versions of the same file. And if you have many files on your system, there's a good chance you might find some duplicate files on your Mac.
Generally, we would miss such files when we try to sort them manually, but Cleaner One Pro doesn't miss out on them and also gives you an idea of how much storage space you can save after deleting them. Once scanned, all you need to do is select the duplicate versions and remove them from your machine in a few clicks.
Similar Photos
The Similar Photos feature is helpful if you have a massive photo library. You might usually take multiple photos at a time leading to similar images, thus taking up more storage space on your machine.
Cleaner One Pro scans your library, finds visually similar images and shows them to you. You can select each image and choose which one to keep and delete from your Mac. Manually doing this task would take a lot of time.
App Manager
The App Manager page shows all the apps installed on your Mac and the last time you used the app. It helps you decide if you need the app in the future.
Once the scanning is complete, you can select all the apps and their residue files to delete them simultaneously so they don't leave any traces on your Mac.
File Shredder
Delete the files on your Mac but not like you'd usually delete files. This feature makes them unrecoverable by any software. Once shredded, you won't find these files.
All you need to do is drag and drop the file that needs shredding or select it manually. It comes in handy when you've files with sensitive information that you don't want others to see, access, or recover using any means.
More Tools
The More Tools section links to TrendMicro tools' other apps: Antivirus One, Unarchiver One, VPN Proxy One Pro, and AdBlock One. You'll need to download these tools and purchase a few separately.
I was disappointed looking at this page since I expected to see a set of tools like memory optimization and malware removal tools.
Menu bar toolbar
Cleaner One Pro has a toolbar that shows your Mac's current RAM, CPU, network usage, and battery status. Also, you get shortcuts to Junk Files, Dropbox Scanner, and System Optimizer.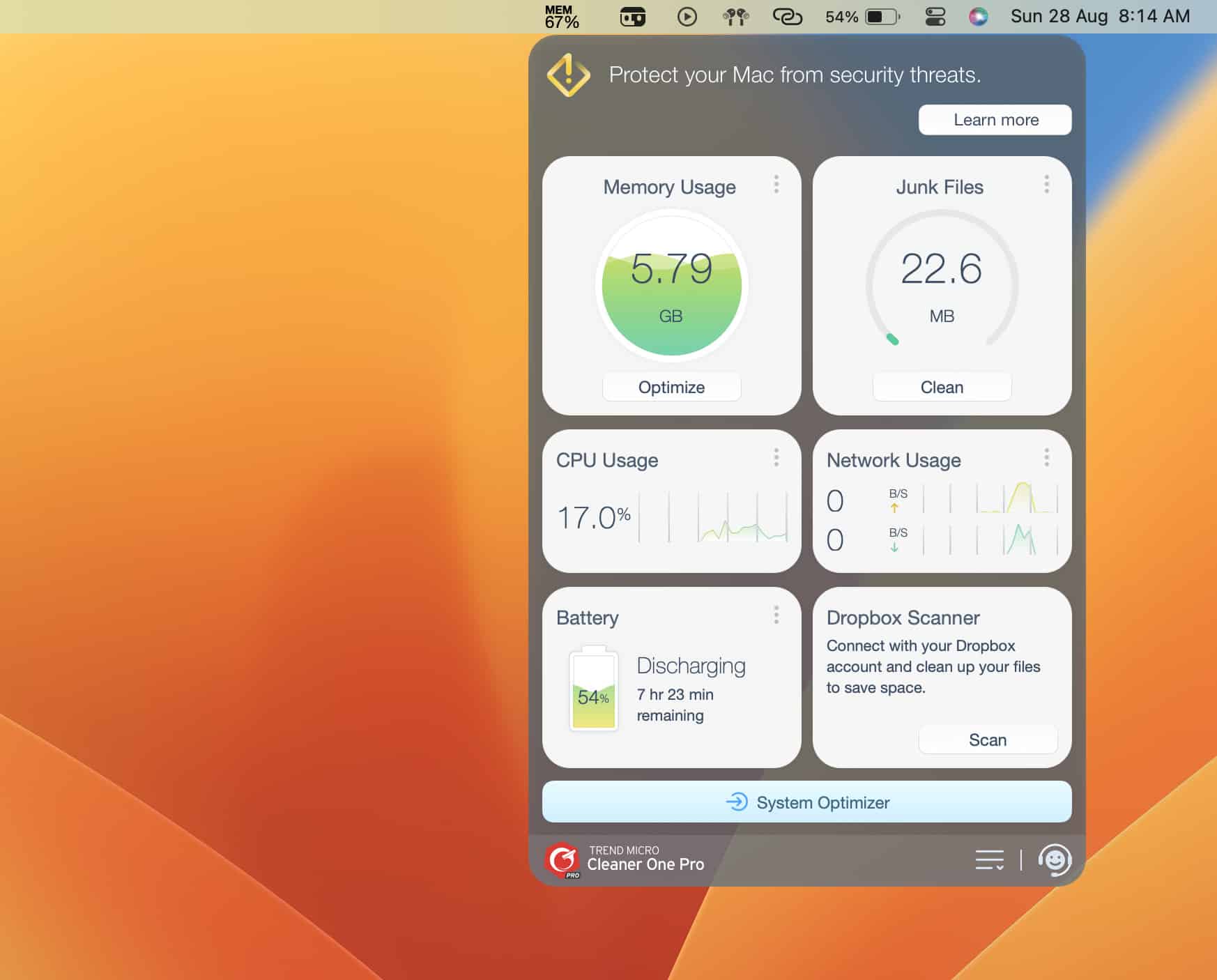 Tapping on the three-dots menu on each section reveals more details. I found this feature helpful in closing apps with a lot of RAM and CPU usage.
How to use Cleaner One Pro on your Mac
You can download Cleaner One Pro on your Mac from the official website or the Mac App Store. It's also available on Windows if you wish to use it there. Installing it on your Mac is as simple as any other application. Open the DMG file and drag the Cleaner One Pro icon into the Applications folder.
Once installed, perform a Smart Scan to look for big, junk, duplicate files, apps, and photos. You can then select and delete the files you feel are unnecessary once you've finished scanning.
Should you get Cleaner One Pro?
iGeekometer
User Interface
Features
Scanning and cleaning
Value for money
Cleaner One pro is an incredible cleaning tool for your Mac. It's easy to use and does the job when you want to remove unwanted and junk files from your Mac or Windows. I freed up around 30GB from my Mac which I couldn't do earlier because of the time it takes to sort and delete the files manually.
Furthermore, I felt the Windows version should have the same features as Mac. Also, most sections don't have the option to select all the files at once, and manually selecting files when you've many of them could be tiresome.
For the price and features it offers, I don't have any issue with what Cleaner One Pro provides for the price. However, I feel that the inclusion of malware removal could have been better.
Pricing
You can get the Cleaner One Pro subscription at $19.99 if you plan to use it on a single device. It'd be $29.99 for five devices. And the pricing is the same for both platforms.
Cleaner One Pro Review
Cleaner One Pro
Cleaner One Pro is a great cleaning tool for Mac and Windows. It does everything mentioned on their website. A couple of features were missing from the Windows version which are available on Mac, though. Other than that, it has useful tools to take care of your computer's storage.
Cleaner One Pro is a great cleaning tool for Mac and Windows. It does everything mentioned on their website. A couple of features were missing from the Windows version which are available on Mac, though. Other than that, it has useful tools to take care of your computer's storage.
Total Score
i

Our expert has curated the review after thoroughly testing the software on Mac and Windows.
Readers like you help support iGeeksBlog. When you make a purchase using links on our site, we may earn an affiliate commission. Read more.
Sajid is an Electronics and Communications Engineering graduate who loves writing about tech. He's primarily interested in writing about Android, iOS, Mac, and Windows. You'll find him watching Anime or Marvel when he's not writing.