With the recent release of the iPhone 13 comes the need for iPhone 13 cases. And whether you like to express yourself through your phone case with bright colors and cute pictures—or keep things simple and elegant—Smartish cases hit the mark.
From clever wallet cases to the statement-making Dancing Queen, Smartish has the polished phone protection you need. Let's take a closer look at their iPhone 13 case lineup.
Gripmunk: Smartish's MagSafe compatible case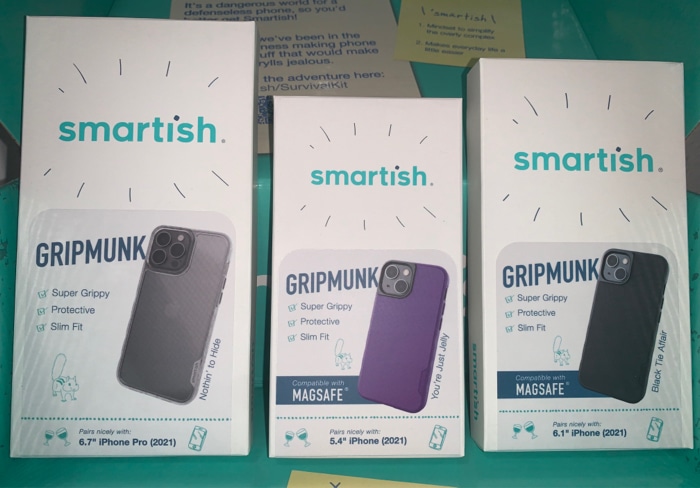 Smartish's Gripmunk cases come in a variety of styles with the majority being MagSafe compatible. Looking for color options? Take your pick between black, clear, purple, blue, or two patterned choices.
The sides of the case offer serious grip without sacrificing style. If you're worried about these cases being bulky and getting in the way, don't be; the Gripmunk lineup is comfortably lightweight.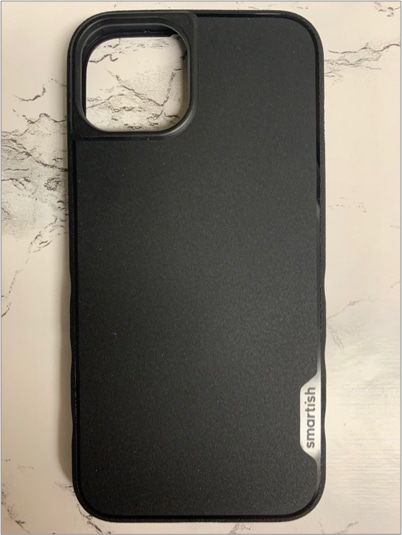 With corners that come equipped with protective air pockets, you can rest assured that your iPhone is safe and sleek in a Smartish Gripmunk case. It's easy to put on and take off, unlike some cases that have you prying your phone out of what seems to be a vice grip. This is due in part to the Gripmunk's raised edges, a built-in protection mechanism for your iPhone's cameras and screen.
Key features:
Grippy sides for easier handling
Lightweight yet protective
MagSafe Compatible
Multiple styles to choose from
Wallet Slayer: Keep your cards safe with a Smartish case
The Wallet Slayer collection, which consists of two volumes, is a nifty phone case that fits up to three cards (credit, debit, etc.) and some cash, as well as your iPhone 13.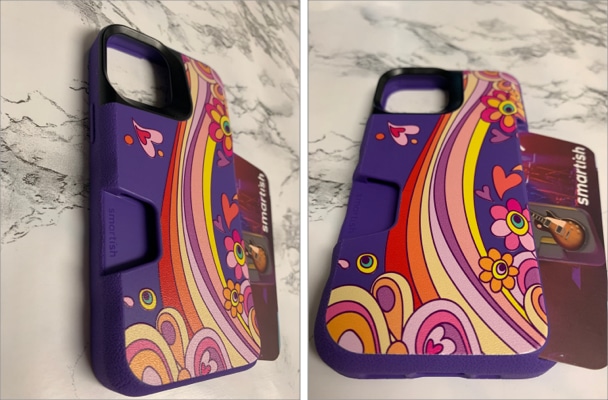 There's certainly no shortage of style options here—Wallet Slayers come in 11 different colors and patterns. From a simple stylish black to beautiful hearts and flowers, Smartish went above and beyond when designing the Wallet Slayer lineup.
More good news: it's not a bad case, either. Just because a case has a slot for your cards and cash doesn't give it a pass to leave your phone out to dry; Smartish knows this. The Wallet Slayer features raised, grippy sides, the same feathery yet durable design we've come to know from Smartish, and the second volume lets you use your credit card as a kickstand for your phone!
Key features:
Slot for your cards and cash
Textured, raised sides
Volume 2 offers a credit card kickstand
Multiple styles to choose from
Buy Volume 1 Now | Buy Volume 2 Now
Gripzilla: Never let your iPhone 13 slip through your fingers
You hate dropping your iPhone. We get it. Smartish gets it, too. That's why they made the Gripzilla lineup. With grippy, grooved sides for you to hold onto, your iPhone isn't likely to meet the ground's hard embrace anytime soon.
On the off chance that it does fall, the Gripzilla is the case you want to keep your phone safe. Its thick raised edges protect your iPhone's breakable bits, and with five colors and patterns to choose from, you don't have to worry about sacrificing style for security.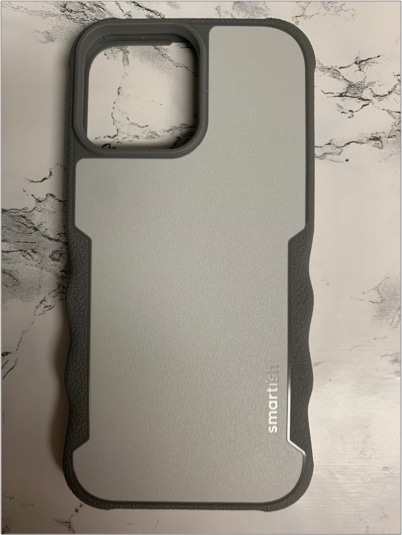 Key features:
Grooved, grippy sides
Extra protection
MagSafe compatible
Multiple styles to choose from
Dancing Queen: Cards, cash, lip balm, iPhone
Ladies, tired of lugging both your wallet and your iPhone around in outfits with no pockets? Tired of carrying your phone in general?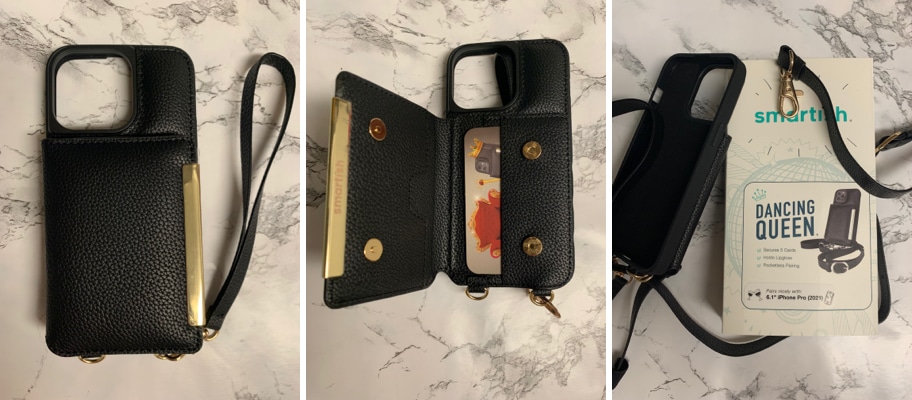 Try out the Dancing Queen from Smartish; with a compartment to hold up to five cards plus cash, a pocket for your lip balm, and a crossbody strap to turn your carriables into a fashion accessory, this case packs a serious punch.
Featured in four fashionable versions, the Dancing Queen will never go out of style.
Key features:
Holds up to five cards plus cash
Detachable and adjustable crossbody strap
Multiple styles to choose from
Smartish iPhone 13 accessories
What good are iPhones without their accessories?
1. Prop Tart
The comically named Prop Tart is a Smartish solution to a number of common problems that plague mobile phone users.
Can't get a good grip trying to text with one hand while sipping coffee with the other? The Prop Tart solves that issue. Need a kickstand so your arm doesn't get tired holding up the latest Netflix series? Prop Tart again. Awkwardly angled selfies because you can't hold your phone well while taking a picture? You guessed it—Prop Tart.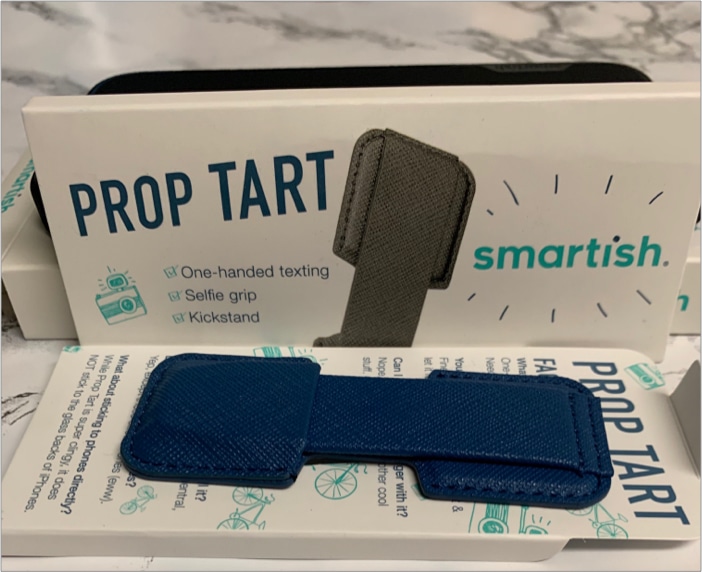 The loop folds down seamlessly with your case so as not to snag when coming in and out of pockets; it's also a much appreciated design feature. The Prop Tart's sticky back plate will adhere to nearly any surface (aside from silicone and iPhone's with glass backs and no case).
A seriously handy tool like this doesn't have any right to be this affordable; or this pleasing to the eye. 
2. Cable Wrangler
The Cable Wrangler keeps your cords in their places. One place, to be exact: the Cable Wrangler's magnet. Have a cord that isn't magnetic? Not a problem, use Smartish's thoughtfully included magnetic clips.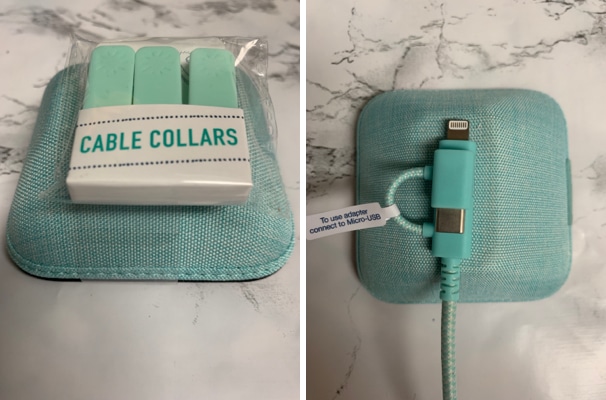 Keep your charger neatly on your nightstand or countertop with your choice of four colors: grey, beige, teal, or pink. No matter what color you choose, though, you're getting your hands on a sturdy piece of merchandise.
Like all of Smartish's items that we reviewed so far, the Cable Wrangler isn't something you'll use once and find signs of wear and tear the next day; its craftsmanship is perfectly apparent as soon as you hold it.
3. Crown Joule
If you're still battling three different wires to charge your daily devices, it's because you don't have a Crown Joule yet. Seriously, this accessory is a lifesaver.
Plug the Crown Joule in once and use it for devices with Lightning ports, Micro USB ports, and USB-C ports anytime you need.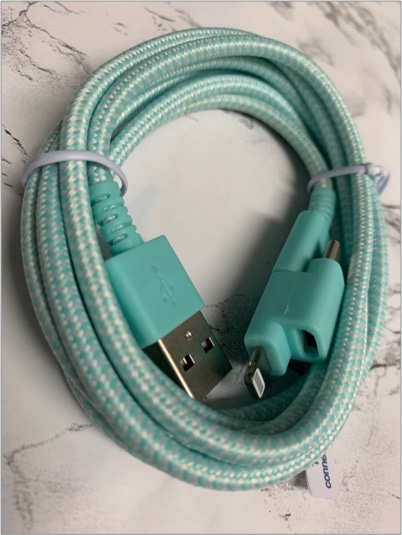 Aside from its main purpose, it's not a bad cable by any means—a braided cable means it takes more than a little bending to frey wires, its 6-ft length is long enough without getting in the way, and it doesn't take forever to charge your phone (like a 3-in-1 cord you'd find at the dollar store); it's actually pretty quick.
Smartish iPhone 13 cases: Our verdict
iGeekometer
Drop-protection
Design
User-friendliness
Value for money
Smartish cases leave little to be desired, and when you consider their budget friendly price ranges, this lineup is a no-brainer.
Pros
Styles for everyone's taste
Serious iPhone protection
Awesome packaging
Friendly staff
Well-priced
Cons
Some cases not MagSafe compatible
Which Smartish case caught your eye? Personally, I'm sold on the Wallet Slayer lineup; though if protection is your first priority, I could see why you'd reach for a Gripzilla. No choice is poor when you're shopping with Smartish!
Want to see us review something else? Leave us a comment and we'll do our best to fulfill your request!
You may also like:
Readers like you help support iGeeksBlog. When you make a purchase using links on our site, we may earn an affiliate commission. Read more.