Behind every successful multitasker and productivity champion is a set of apps that helps them with their tasks, organization, focus, finance, time management, and more. But finding, managing, and paying for all these apps can be a back-breaking task. Remarkably, Setapp brings all the apps you'll need together at one place and one price.
Intrigued? So was I, and my fascination further piqued as I explored and reviewed Setapp for Mac. Read on to know why.
What is Setapp, and why you need it?
We rely on various apps to accomplish and manage professional/personal tasks. These apps, or shall I say the needs, vary with individuals. And here arise two common problems:
You can't find the perfect app; something is always missing.
The app's price is too much, and you have to compromise with a free version or a substandard substitute.
Now, Setapp is a solution to these exact issues. The platform curates macOS and iOS apps that you may need. And you get to explore, choose, and use them all at a monthly subscription price.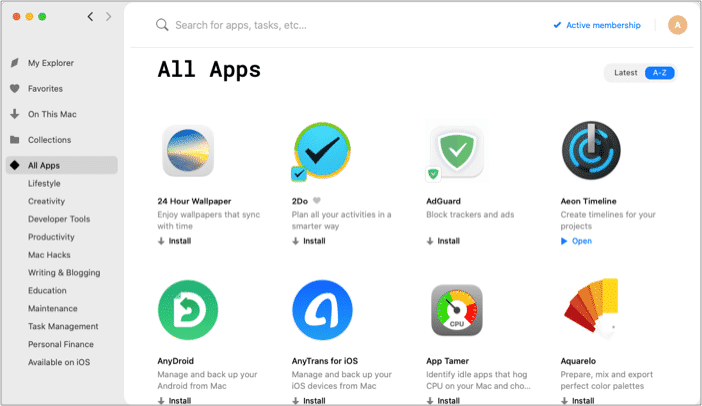 Hence, you are turbocharging your productivity without emptying the pockets for individual apps. Besides, you won't have to hassle with multiple accounts or profiles setup. Setapp's Cloud sync lets you use them with a single login.
Setapp: A curated App Store
There are a few things I absolutely love about Setapp. For starters, it has a super simple, Mac App Store-like interface.

Then an intriguing roster of over 210 apps, including some top-tier ones like AdGuard, CleanMyMac, Clear VPN, AnyTrans, and more. Moreover, they are all neatly divided into the following categories:
Lifestyle
Creativity
Developer Tools
Productivity
Mac Hacks
Writing & Blogging
Education
Maintenance
Task Management
Personal Finance
Plus, it also sorts the app in collections like Get things done, Streaming and gaming, Write it all out, and more, ensuring smoother app discovery.
It indeed seems that Steapp has an app for every task. And most importantly, there is something for everyone. Let me explain with some examples.
Writer & Blogging
I wanted to see and test what Setapp had in stock for me. And here's where I went a little bit crazy. I downloaded and tested each app in the category.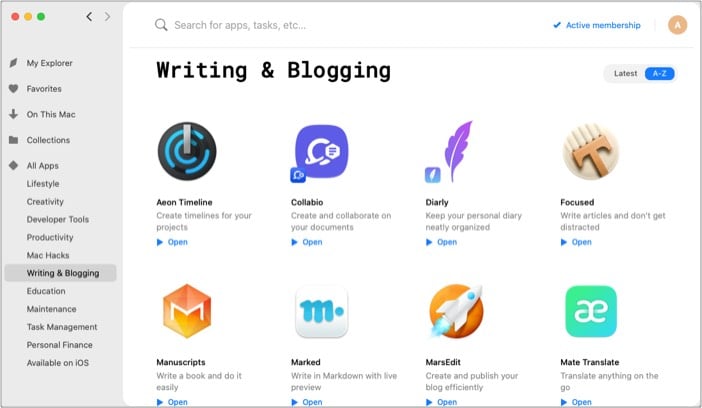 I loved that almost every app was ready to use as soon as you download it. Plus, all the effort paid off as I discovered some incredible gems.
Aeon Timeline – Visual timeline software for writers and project managers.
Focussed – Focus-oriented text editor.
Manuscripts and Ulysses – For writing books and other complex projects.
MarsEdit – Desktop blog editor for WordPress, Tumblr, TypePad, Micro.blog, etc.
Mate Translate – Understands 103 languages and teaches you correct pronunciation as well.
Rocket Typist – A text expansion app that saves unlimited text snippets, so you don't have to type them repeatedly.
Textsoap – Boast 100 built-in cleaners to check documents for extra characters, improper capitalization, etc., and auto-remove them.
As the buzz of finding new apps dwindled, I realized that some apps are missing from the list, like a cohesive task management tool. But not really! It was just hiding in a different Task Management section.
And I didn't have to dig deep to find the right app; all I had to do was search for the term within the Setapp app.
Productivity
My next stop was productivity, and this time I only downloaded some of them. For one, I learned my lesson, and two, it had too many apps!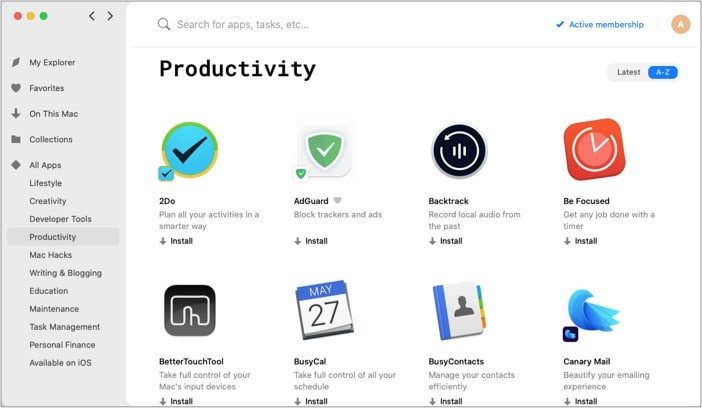 Everything from Adblockers, schedulers, VPNs, managers for mails, contacts, to-do lists, and files to collaboration tools, Setapp has got them all. Plus,
BetterTouchTool – Create shortcuts and triggers for all your input devices.
Cloud Outliner – Crafts beautiful outlines.
Dropzone – A faster and smarter drag-and-drop interface.
Ghostnote – Add contextual notes to anything on Mac.
Mosaic – An ultimate window manager
JustStream – Mirror and stream content from Mac
PDFpen – PDF editor with OCR.
Timeless – Reducing time anxiety by customizing clock ranges.
uBar – A more versatile Dock for the Mac.
I am an app fanatic; I just love exploring new apps, especially the ones that push the envelope. And Setapp is proving to be a fantastic app discovery platform.
There are even some productivity tools I didn't know I needed in my life. And now, I don't want to part ways with them for the foreseeable future.
How to search and download a suitable app on your Mac and iPhone
I claimed that Setapp makes app discovery pretty easy; it's time to walk the talk. Anytime you launch the app, it will show you an Explore page with app recommendations, the latest updates, and more.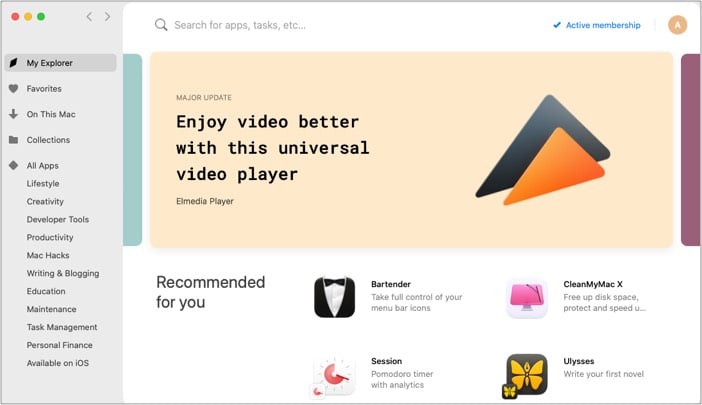 Search app – Now, to search an app for a particular task, click the search bar at the top and start typing. A list of related apps will instantly be ready for your perusal.



Download on Mac – Click the app to open it. Here also, the interface exactly matches that of a Mac App Store. Select Install to download and install the app.



Download on iPhone – If the app is available for your Mac, you'll see an iOS app button on the app page.

Click it and scan the current QR with your iPhone.


As the popup appears, tap Open in App Store, and tap Get to download the app.
Once done, click Unlock full version tab from your Mac.
Scan that QR from your iPhone.


Tap Open in the app, and your app is ready to use.
What's more? You can also check the downloaded app anytime from the Setapp app on Mac by clicking On This Mac from the sidebar.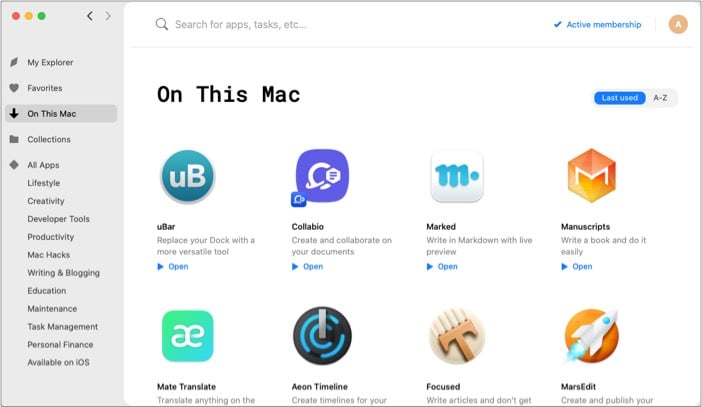 Setapp features: An app bundle subscription service with many perks
The idea of an app bundle subscription is not unique or new. Giants like Adobe, Microsoft do it for their software bundles. But what's unique about Setapp is that it brings apps from various developers under one umbrella.
Plus, it boasts a fantastic sense of humor as well. Check out the award-winning ad to know-how.
Savings Galore
Let's take five apps I have mentioned throughout the article to compare costs:
Subscription for Setapp – $9.99/month
Now, these are costs of 5 apps from over 200 apps, and Setapp already seems more pocket-friendly. Of course, the calculation will entirely depend on what apps you use, but in most cases, Setapp would win.
Now for teams!
With Setapp for Teams, you can share an entire software catalog of more than 170 Mac apps at the cost of one subscription. Currently, in beta, it will allow teams to save time and be more productive.
Accolades
Noonies 2020 – Most Exciting Collaboration Application
Noonies 2020 – Contributor of the year — Yaroslav Stepanenko, Product Marketing Manager of Setapp
Best SaaS Product for Productivity by SaaS Awards 2019
Named one of the top 10 most innovative companies 2019 in Europe by Fast Company
Setapp: Set or upsetting? Our verdict
When I started exploring Setapp, their tagline "Think tasks, not apps," caught my attention. And every time I interacted with it, this statement stood steadfast.
At times I was concerned about my device's safety and privacy as some apps are not registered on Mac's App Store. So, I did not blindly trust every app on the platform, and I would suggest you do your due diligence as well.
Also, before you sign up, do check the apps/tasks from setapp.com to ensure that the apps you need are accounted for. This is not a cheap subscription service, and while great for someone who uses tons of apps, it might not be as useful for others.
Price:
Monthly – $9.99/month
Annually – $8.99/month
Family – $19.99/month
You may also like: Setapp and Yac launch a remote work app bundle for Mac
Setapp Review Summary
Setapp
Setapp is a platter of assorted apps, including some top tier apps on the market. The interface is super simple, and the app does a great job of making app discovery easier. Setapp is a good example of how a curated app store can work on macOS. However, you may find limited iOS apps in the suite and using on multiple Mac devices will require a plan upgrade.
Setapp is a platter of assorted apps, including some top tier apps on the market. The interface is super simple, and the app does a great job of making app discovery easier. Setapp is a good example of how a curated app store can work on macOS. However, you may find limited iOS apps in the suite and using on multiple Mac devices will require a plan upgrade.
Pros
Easy to use Mac Store-like interface
Over 200 apps for a base price
Top tier apps
Free 7-day trial
Cons
Limited iOS apps
Additional devices cost more
Some major apps are missing
A self-professed Geek who loves to explore all things Apple. I thoroughly enjoy discovering new hacks, troubleshooting issues, and finding and reviewing the best products and apps currently available. My expertise also includes curating opinionated and honest editorials. If not this, you might find me surfing the web or listening to audiobooks.