Whether you are a TikToker or not, you can't deny the charm/addiction of short-form videos. But did you ever think of saving them offline for inspiration, safekeeping, or memories? Well, thanks to Qoob Clips, you can now quickly download bulk TikTok videos on your Mac with a click!
And that's not all! The software offers you many download options, allows you to copy the captions, search downloaded videos, and share them on other platforms.
But how exactly does Qoob Clips work? Can it fetch me a video from any TikTok account? Read this review for answers.
Qoob Clips: More than a TikTok Video Downloader
As per the developers, Qoob Clips is a smart tool, but I would call it a weapon. It helps you view and download videos and music from both – public and private TikTok accounts, silently follow TikTok profiles, and monitor anyone's account feed.
And most importantly, it is a hassle-free way to automatically backup your TikTok page on macOS, Windows, or Ubuntu computers. You can save these videos in MP4 format and HD quality of up to 720p.
Enough said, let's see the power of Qoob Clips hands-on.
How to use Qoob Clips on Mac?
Download all videos of a TikTok account
Download and install Qoob Clips on your Mac.
Now, enter the username and click Download.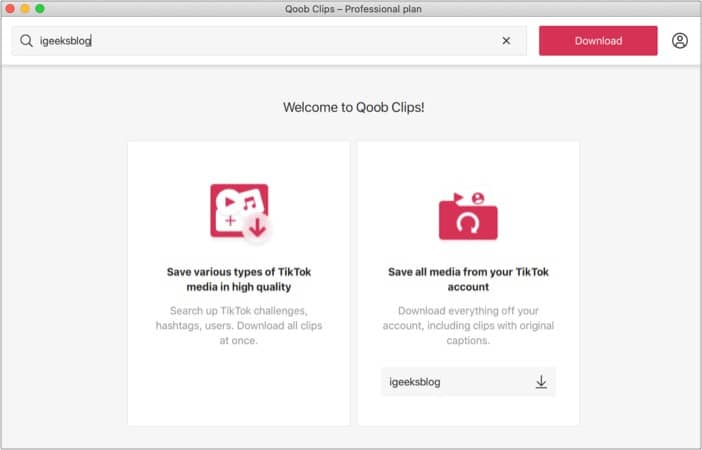 The app will instantly start downloading all videos and their avatars from the account. It may take some time, depending on the number of videos and internet speed.
Click Cross at the top right to pause and Update icon to continue downloading. To play a video in the default media player, simply click it.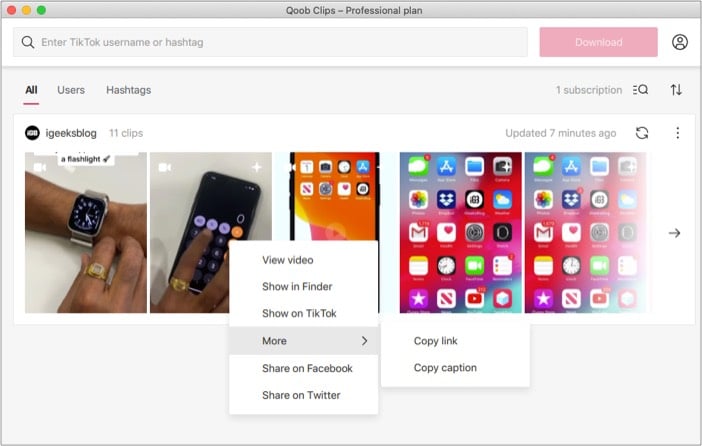 Double-click the three-dot menu or a video to invoke the contextual menu; from here, you can select:
View video
Show in Finder
Show on Tik Tok
More
Share on Facebook
Share on Twitter
Interestingly, the TikTok downloader not just stores all the video from the account, but it also separately stores the Cover of each TikTok Video.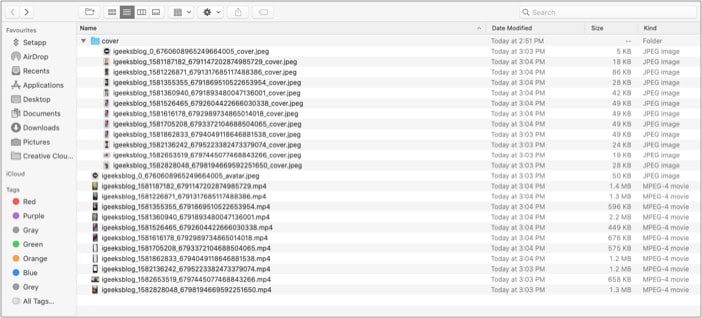 Download all TikTok videos by hashtags
Want to ace a TikTok Challenge, see what others did with it, or find what's trending? Open your world to new TikTokers and their work by simply typing in the right hashtag.
Like above, all you have to do is type the hashtag in the search bar and click Download. All related videos will display on your Mac.
Extra: Now, I would call this a very intuitive and intelligent move by the developers. The downloaded videos have their creator's TikTok ID in the title. So, finding the uploader is super duper simple.

Auto-download TikTok videos for accounts and hashtags
The magic is that you don't have to do anything. When you search and download videos from a user's account or hashtag, you are subscribed to them.
If Qoob Clips is running in the background, you'll get instant updates as videos are uploaded on TikTok. To remove an account from the subscription, click the three-dot icon and select Remove.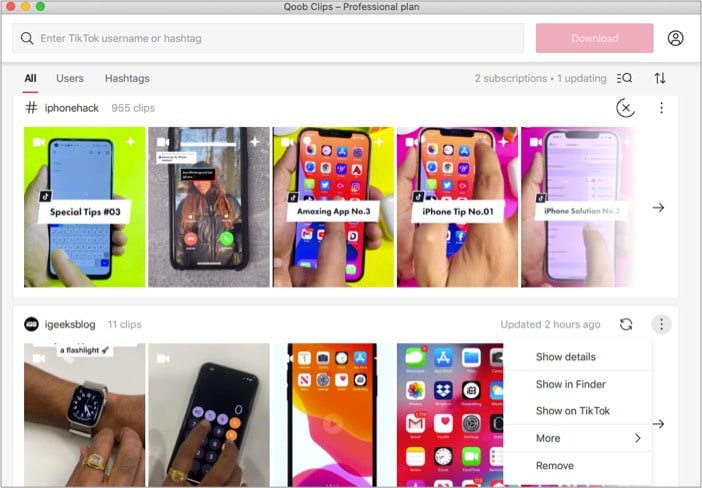 Also, to stop the auto-download feature, go to Qoob Clips from the Menu bar → select Preferences → click Update period → Disable auto-update.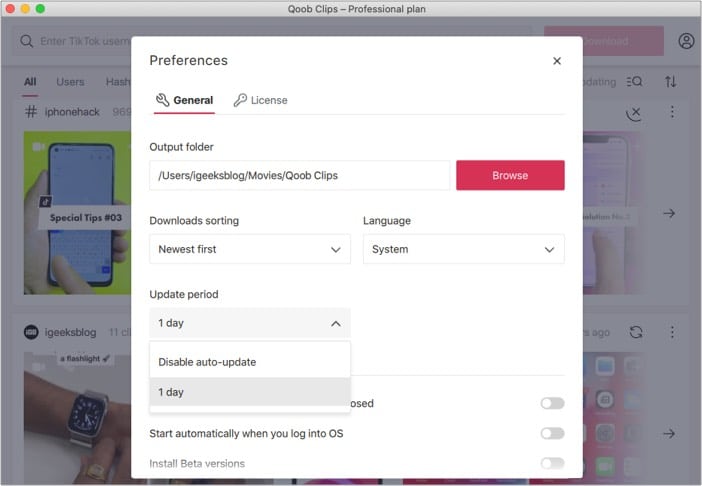 Backup your TikTok account
While some countries have exercised a ban on TikTok, some have threatened to do so. Why risk it when you can use Qoob Clips to automatically backup your account.
All you have to do is type your account ID in the search bar and Download to subscribe to your account. The great thing is the free version offers up to two hashtag accounts and 50 daily video downloads. So your TikTok account is definitely covered.
Qoob Clips: Features to expect in the future
If all this sounds awesome, wait till you read some features expected in the upcoming updates. It might blow you away.
Selective TikTok video download: While the Qoob website states that you could do that now, my app did not have the feature. So I am chalking it down to a future update.


An Options icon next to the Download button will allow you to set a specific time range, the app will fetch videos accordingly.

Download by link: A must-have feature as per me. Paste the TikTok video link and download that single clip.

Search by music: Get all videos that feature that particular track. Now that's magic, especially if you are the creator of that song.

Location/Region change: For all the global entrepreneurs out there, check out what's trending in a region and build your strategies accordingly.

Private & recommended TikTok video download: Now, this sounds a bit intrusive, but you can save TikTok videos recommended to specific users.
Qoob Clips: Pricing
In addition to the free version, there are multiple packages available that offer you more functionality. Check below: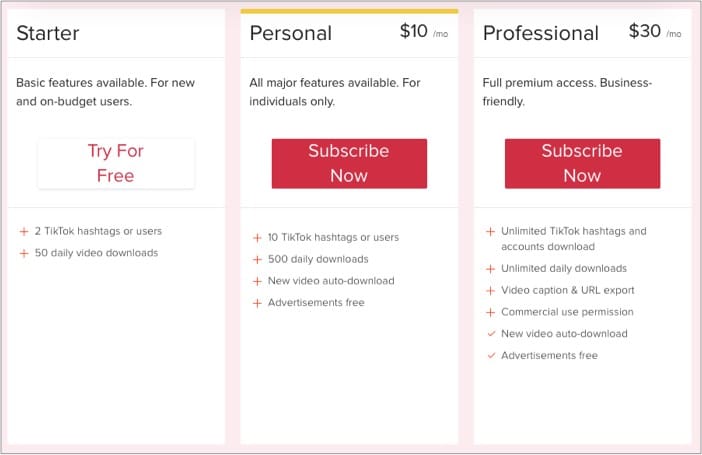 Our verdict: Is Qoob Clips worth clipping?
Absolutely, for one, you can create an auto-updated backup of your account. Additionally, keeping a keen eye on the competition has never been this easy.
Here's what I loved and didn't at a glance:
Pros
Clean, minimal interface
Smart download options
Downloads videos, avatars, and cover
Great free version
Cons
Subscription is slightly expensive
Eats bandwidth when running in the background
The best thing is that you can save videos offline and view them at your leisure. Besides, the app promises some awesome updates in the future. So, it is a win-win for all TikTok lovers.
iGeekometer
Friendly – 5/5
Features – 4.5/5
Value for bucks – 4/5
Readers like you help support iGeeksBlog. When you make a purchase using links on our site, we may earn an affiliate commission. Read more.
A self-professed Geek who loves to explore all things Apple. I thoroughly enjoy discovering new hacks, troubleshooting issues, and finding and reviewing the best products and apps currently available. My expertise also includes curating opinionated and honest editorials. If not this, you might find me surfing the web or listening to audiobooks.