The moment Apple re-introduced MagSafe in iPhone 12, I knew a slew of creative and fun accessories were to follow. And though it took some time, I found a compact, powerful and multipurpose charging station in Pitaka MagEZ Slider.
But what is it that I loved the most? And did I hate something? Is there something I'd like to change? Unfortunately, I am not a woman of few words, so you'll have to read the MagEz Slider review to know my exact feelings 😛.
Pitaka MagEz Slider: The rotating wizard for your Apple devices
The MagEz Slider is a rotatable multi-device wireless charger with MagSafe and Qi Charging support. Thanks to its modular design, you can simultaneously charge up to 4 devices, iPhone 12/13, the included power bank, Apple Watch, and AirPods.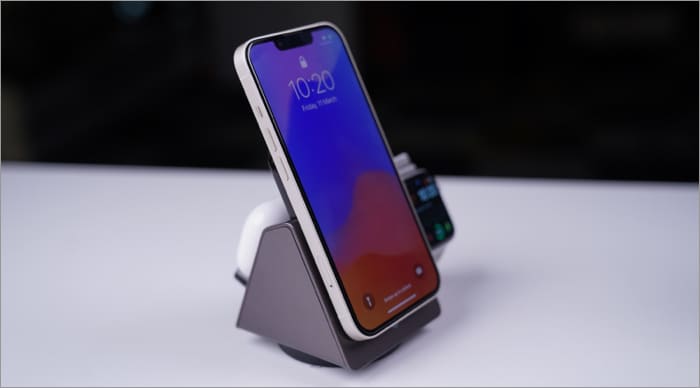 MagEz Slider design
In true Pitaka style, the MagEz Slider is sleek, minimal, functional, and precise. A pyramid-shaped block sits on a circular, 360° rotating base. Crafted from zinc alloy, the dock adorns a gunmetal shade, while the power bank and other accents are black.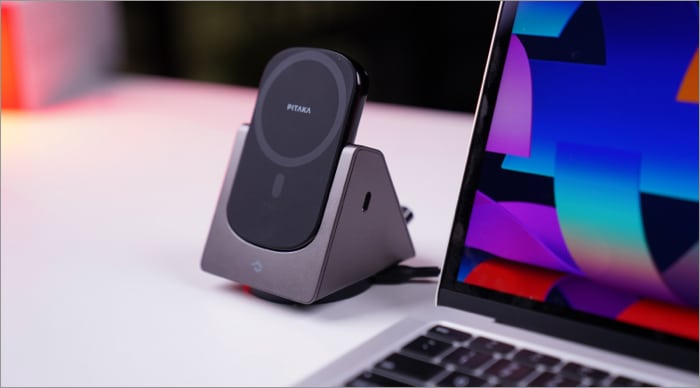 And that's where I have a bone to pick. I wish it could have been all in one shade, either gunmetal or in true MKBHD style, all black (matte or not can be debatable). It looks great in photos, especially when mounting a matching iPhone. But IRL, it looks a bit odd, more so on my pristine white table.
Other than that, I have zilch complaints. Everything in the design, from curves to mixing matte and glossy surfaces, is a vision.
Fun and functional
I must say the rotating base is a smart and interactive inclusion. While its initial purpose is to allow easy access to all charging devices, it doubles as a fidget spinner. Oh yes! The time I have wasted (read investing in thinking) rotating this.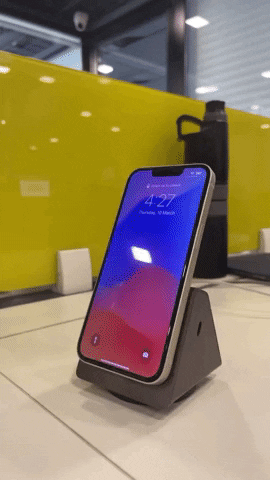 Interestingly, it even makes a nostalgic, clock-ticking sound that sadly (does not) makes you go round and round, hooked to the vicious circle.
Notably, I anticipated that the cable would interfere with the spinning, but alas, Pitaka has smartly managed that issue. The height of the pyramid is just right for a USB-C plug.
The dock that has it all
Pitaka MagEz Slider doubles as many things, a dock, stand, power bank, wireless charger, multi-device holder, and of course, fidget spinner. Let's break down each element to better understand its modular design.
MagSafe power bank for on-the-go users
Almost everyone at iGeeks office had a confusing moment with the Pitaka MagEz Slider until we realized that the dock plug doesn't accommodate an iPhone; it is only for the built-in power bank.
The petite, palm-sized 4,000mAh power bank weighs just 106g and is super pocket/bag-friendly. It boasts Pitaka's signature aramid fiber pattern at the back, which nicely appears when attached to your iPhone.
Thanks to MagSafe, the power back firmly snaps onto iPhone 12, iPhone 13 series, and Galaxy S22 in a MagEZ Case 2. And when docked in the MagEz Slider, it acts as a pass-through charger, phone holder, and stand.
The good thing is that you can keep the iPhone in both landscape and portrait orientation, so it is also great for a movie/video watching experience and video calling. The connection is pretty strong, and the phone doesn't fall off, even when you rotate the MagEz Slider.
Although the power bank can only pass 5W, no fast wireless charging is happening here. I tested it with an iPhone X, and while it was charging, the power bank kept on moving, or the phone kept sliding off.
Notably, when using just the power bank to charge your phone, you'll have to manually turn on the power bank. And while I would have loved a seamless connection, where you attach and power starts flowing, it is what it is.
The Magnetic bar for AirPods
In the box, you'll also find a cute, little, black magnetic slab. This goes on the other side of the pyramid and sticks up like a stand. You can place your AirPods or any other Qi-enabled wireless earbuds.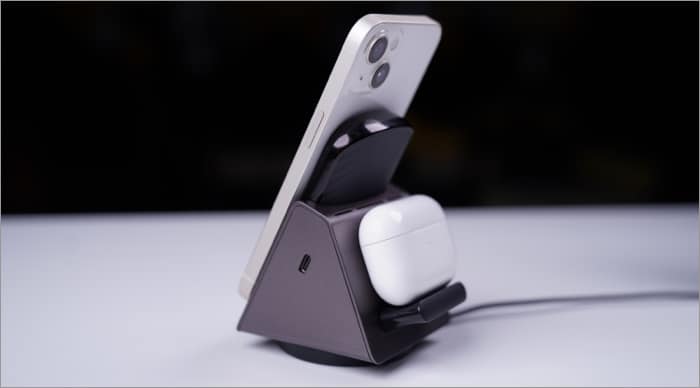 I also attempted to keep an iPhone X on the slab, although it could not bear the phone's weight with a cover. It was better when the cover was removed and the charge passed, but the stand situation wasn't that stable. In retrospect, the brand says that it is for earbuds.
The 'extra' Apple Watch dongle
Notably, the Apple Watch dongle is not included in the package like the power bank. You'll have to purchase it separately. I must say the dongle is damn good-looking and functional.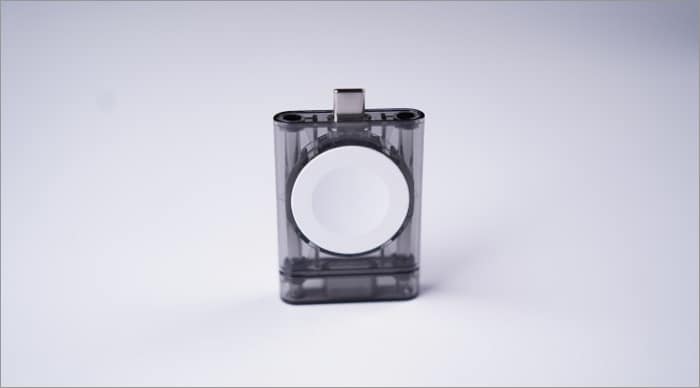 It boasts a translucent black body that lets you peek inside the interiors. But what I appreciate most is the strong magnetic cap. It snaps on efficiently on the top and bottom (so it does not go missing).
Since it boasts a USB-C port, you can also plug the dongle into a MacBook, although it will block the other port.
The 4-in-1 conundrum
So, Pitaka calls MagEz Slider a 4-in-1 charger, and while 2 devices, i.e., iPhone and AirPods, are easily accountable, the other two's scenario is a bit complex.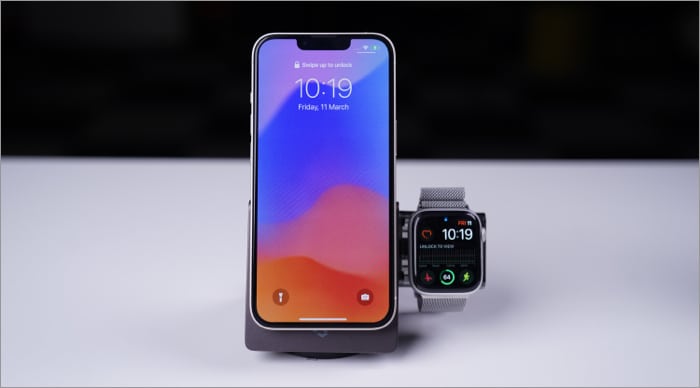 Should we count the power bank? – You can use the power bank separately and thus, count it as a separate entity. However, you can't charge the phone without docking the power bank, and it uses pass-through charging, so can you call it a 3rd device?
To dongle or not to dongle? – The dongle is sold separately, so can I call it the 4th device? Although, you can plug in a USB C cable there and charge your phone or other devices. But it just gives out 5V/1A power, which means slow charging at best.
Well, that's my two cents on the matter. What do you think? Let's battle in the comment section below.
Video: Pitaka MagEz Slider charging dock
Should you slide right to Pitaka MagEz Slider?
iGeekometer
Design
Functionality
User-friendliness
Value for money
Pitaka MagEz Slider is a smartly designed multi-device charger. Despite being mug-sized, it can easily charge up to 4 devices simultaneously. And I can't even tell you how fun it is to rotate, round and round.
However, I am slightly disappointed by the power quotient; you don't get fast wireless or wired charging. And considering all of that, the price point is a little steep.
Pros
Sophisticated, compact looks
Power bank and stand in one package
Power bank is small yet powerful
Rotation is quite smooth and fun
Cons
Slightly expensive
No fast charging
Only for iPhone 12 and 13 series
Price
Pitaka MagEz Slider – $129.00
Apple Watch dongle – $59.99
Readers like you help support iGeeksBlog. When you make a purchase using links on our site, we may earn an affiliate commission. Read more.
A self-professed Geek who loves to explore all things Apple. I thoroughly enjoy discovering new hacks, troubleshooting issues, and finding and reviewing the best products and apps currently available. My expertise also includes curating opinionated and honest editorials. If not this, you might find me surfing the web or listening to audiobooks.