Dock, Dock. Who's there? I know the joke starts with knock, knock; but when you are reviewing 'world's first Thunderbolt port expander,' wordplay is the least you can do. Designed to ease your port-related issues, OWC Thunderbolt Hub brings the power of multiple Thunderbolt 4 ports to your fingertips. And there's more…
OWC Thunderbolt 4 Hub has had a super successful, completely sold-out first production run. Now that it is available again and I got my hands on it, let's see what the hype is all about and if it is worth buying.
OWC Thunderbolt 4 Hub: Enhancing possibilities one port at a time
As the newer devices carry only the bare minimum ports, a hub is almost necessary, especially for desk setups and creative professionals. The Thunderbolt Hub by OWC is a one-of-a-kind option with Thunderbolt 4 USB-C and USB-A ports in its arsenal.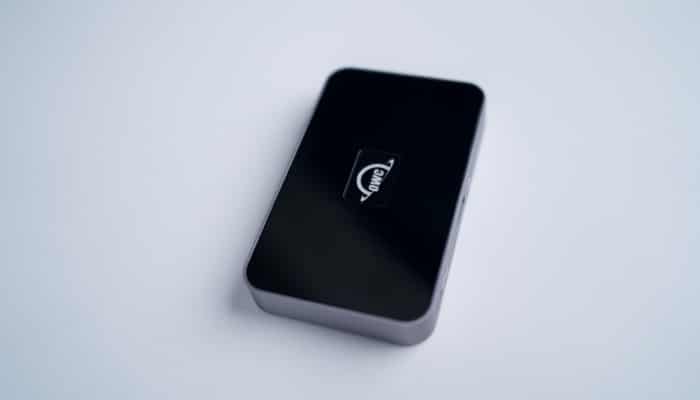 And thanks to the multiple Thunderbolt 4 ports, the hub can support an array of devices simultaneously while maintaining the speed and data transfer rates. Plus, it works flawlessly with M1 or Intel Macs and any Thunderbolt 4 PC.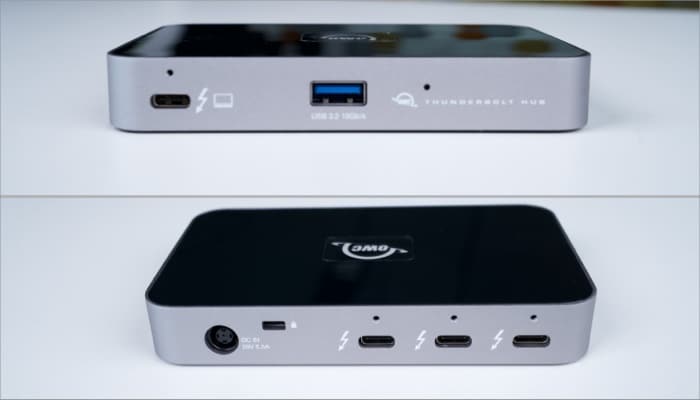 Port Tally
| | | |
| --- | --- | --- |
| Ports | Performance | No. |
| Thunderbolt 4 (USB-C) | 40 Gb/s | 4 |
| USB -A (3.2 Gen 2) | 10 Gb/s | 1 |
| Kensington Nano Security slot | NA | 1 |
What's so great about OWC Thunderbolt Hub?
After taking the OWC Thunderbolt Hub for a spin, I understand the appeal and why it was a sold-out item. A mix of design, performance, and security come into play; let's explore them one by one.
Design: Minimal and effective
OWC Thunderbolt Hub boasts a compact (11.8 cm* 7.3 cm*1.7 cm) form factor with about 209 g of weight. The space gray polycarbonate body matches perfectly with the Mac's aesthetic. Plus, the black glass top will look effortlessly chic on your desk.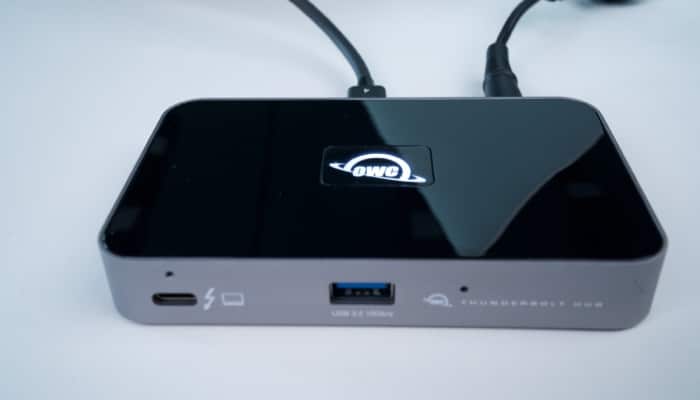 The LED: The glass top houses an LED light that glows white when the hub is powered and glows blue during active data connection. Incredibly, it is adjustable, i.e., you can manage its brightness as per your work setting.
Secure your workflow: Accidental shoves, movements can lead to cable disconnection, disrupting your workflow. And OWC has a neat idea to prevent it from happening. The small holes above each port are to accommodate OWC ClingOn.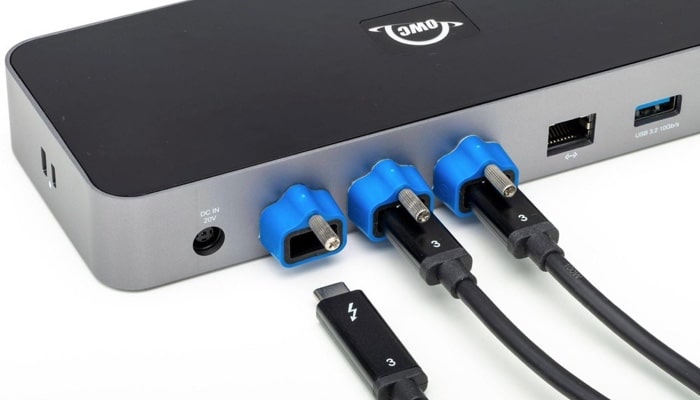 Sold separately, these little cable stabilizer secures the connection, ensuring a smooth connection even if your pet just jumped onto the desk.
Secure your hub: Thanks to the Kensington Nano slot placed next to the power source; you can easily install anti-theft cabling. So, no one can pick up the hub from your desk; it will be secured even if you are away from your device.
Rubber pads: Smooth rubber feet ensure that your desk is not scratched.
Performance: The magic of Thunderbolt 4
A massive plus with the OWC hub is the four Thunderbolt 4 ports that ensure speed, smooth connection, and enhanced video and data options. Plus, you can use any USB-C connector, making it an innovative multi-connectivity solution.
Hook them all: You can connect:
A/V mixers
High-performance storage solutions (including NVMe solution)
Display – up to two 4K, or a single 5K/6K/8K display
Phone/tablet
Accessories such as a mouse, keyboards, and more.
Interestingly, you can also use it with USB-C-equipped devices like iPads and Chromebooks and connect a host of devices from Keyboard, SSDs, to External display (may need additional USB-C adapter).
Just plug and go: OWC will not be a roadblock; it maintains the device compatibility to the T. Whether connected to the Mac directly or via the hub, it won't affect the support.
Power-up: That's right! It works as an efficient dock and can charge your Mac or other devices with up to 60W power delivery. When connected to multiple devices, each Thunderbolt 4.0 port can come down to 15W and the USB 3.2 Gen to 2 7.5W.
Amazingly, the hubs keep the power flowing, i.e., it will keep charging the connected device even if your Mac goes to sleep.
Disconnect securely: Don't put your data or external devices at risk; OWC brings a free-to-use Dock Ejector software that ensures safe eject/removal of connected drives.
Daisy-chaining like a pro
While easy to dream about, Daisy chains are complex to create and maintain. You can create up to three separate "tree branch" chains with OWC Thunderbolt Hub.
So, connect multiple Thunderbolt (up to 3), USB4, and USB-C bus-powered devices as per your need. And most importantly, remove devices from one chain without disturbing others.
OWC Thunderbolt Hub compatibility
M1 Mac; running on macOS Big Sur or newer.
Intel Macs with Thunderbolt 4 or Thunderbolt 3 ports; running on macOS Big Sur or newer.
Windows PCs with Thunderbolt 4 ports; Windows 10 64-bit Edition
Why oh why OWC?: The big miss
If you thought OWC Thunderbolt Hub was too good to be true, let me introduce you to the chink in the armor.
The chunky charger: I pointed out a similar issue while reviewing OWC's Thunderbolt 3 Dock. The power supply unit (PSU) is even bigger and heavier than the hub.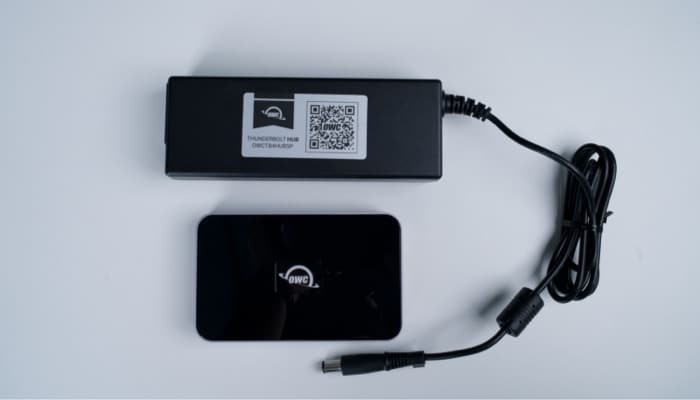 I mean, you can fix four Thunderbolt 4 ports into a compact hub, but you can't fix a smaller solution for charging. It literally snatches away the 'portability' quotient from the equation, and I am not pleased about it.
OWC Thunderbolt Hub: Is it the right port expander for your Mac?
iGeekometer
Design
Build quality
Utility
Value for money
If you are a creative individual who depends on multiple monitors, HDDs, or instruments that require immense power and speed, the OWC Thunderbolt Hub is the perfect gadget for you. Furthermore, if you have a desk setup, the bulky charger won't be that big of an issue; in fact, the sleek and compact look of the hub will be an add-on.
Pros
Adds 3 extra Thunderbolt 4 ports
Create up to 3 independent Daisy chains
4K – 8K displays
Backward compatible with Thunderbolt 3
Free dock ejection software
Cons
Bulky PSU (charging unit)
Only 60W charging
Price: $179.00
Read next:
Readers like you help support iGeeksBlog. When you make a purchase using links on our site, we may earn an affiliate commission. Read Disclaimer.