External storage devices – Some use/need it for backups, while some carry it around for extra storage space. Whatever your purpose, the OWC Envoy Pro Elektron SSD, winner of the CES Innovation Award 2021, can fit into everyone's list of requirements.
The device is compact, easy-to-handle, durable, and offers high-speed data transfer. But should you pick it or skip it? Check out my hands-on review for the answer.
OWC Envoy Pro Elektron SSD: An overview and technical specifications
Other World Computing Inc. (OWC) aims to incorporate the most advanced technologies into feature-full and handy products. And they have done the same with Envoy Pro Elektron USB-C SSD.
They call this device, "The fastest, toughest mini-sized USB-C bus-powered SSD enclosure in the universe."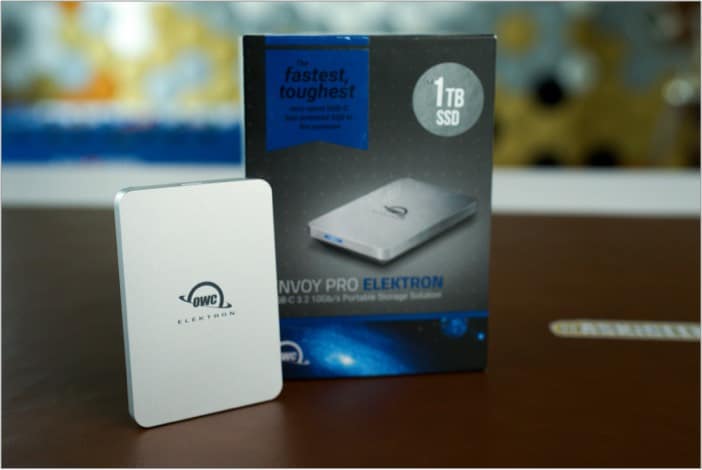 And I have to agree with them, at most points; it is mini, fast, and tough. Both the exterior and interior of the Envoy Pro Elektron are designed to lend a smooth and convenient experience.
Let's look at the device's technical specifications:
General Specs
Dimensions
L = 3.0″
W = 2.0″
H = 0.5″
Weight
85 g
Storage Options
240GB
480GB
1TB
2TB
Waterproof
IP67 rating
Port
USB 3.2 Gen 2 Type C
Power LED
Yes
Power Supply
Bus-powered
External power adapter
No
Plug and Play
Yes
Certifications
BSMI
CE
FCC
VCCI
RCM
OWC Envoy Pro Elektron for Mac: Design and storage
Crafted from aircraft-grade aluminum, Envoy Pro Elektron perfectly matches the silver finish of a MacBook. The pocket-friendly SSD is small enough to fit in my palm and weighs just 85 g.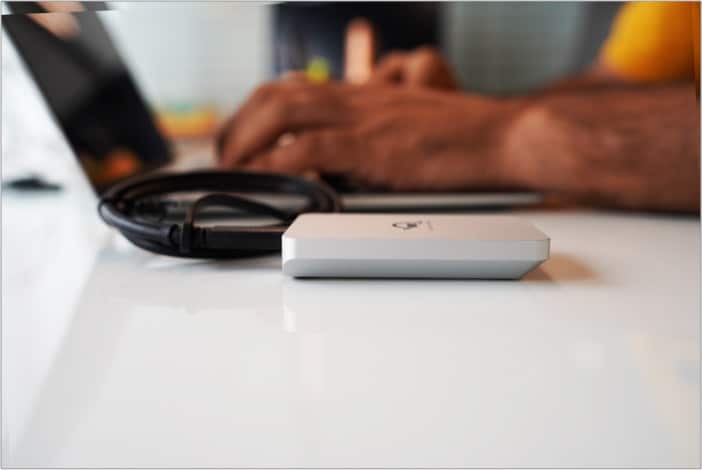 And despite the dainty profile, there is nothing delicate about it. On the contrary, the all-metal exterior offers waterproof, dustproof, and crushproof protection.
Furthermore, its rubber feet prevent the SSD from slipping and keeps your desk scratch-free. So, whether it sits at your desk at home/office or travels with you across seven seas, the Envoy Pro Elektron is well-suited for all occasions.
As for storage, there is no compromise there as well. Let me put that in perspective by illustrating some examples. My 1TB drive can hold up to:
4.3 million MS Office documents
200,000 photos
200 high-definition movies
41.6 hours of GoPro 4K footage
24+ PS4/Xbox games
OWC Envoy Pro Elektron USB-C SSD: Hardware and performance
OWC packs some of the best technologies currently available. Thanks to the Asmedia ASM-2362 controller and NVMe M.2 interface, Envoy Pro Elektron is roughly twice as fast as compared to previous generations of SSDs.
As per OWC, if all systems are a go, the drive can offer up to 1011MB/s sequential read/write performance. However, it fell a little short on the claim and averaged around 930MB/s read/write speed in our tests.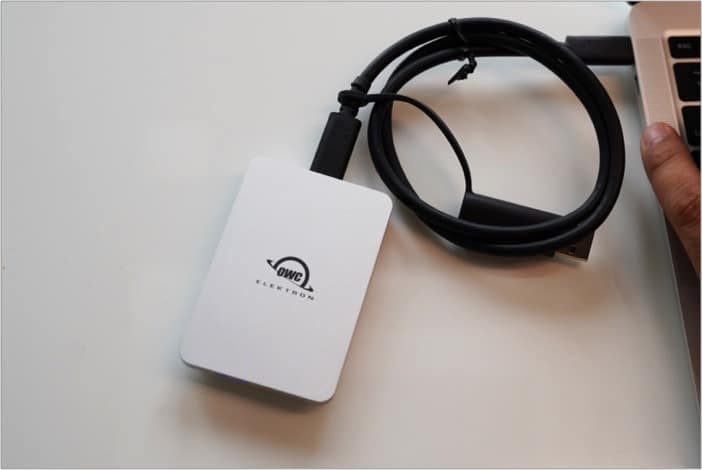 Notably, that's definitely not a bad score and at par with its competitors. And with these numbers, you can directly play your favorite game without lag, efficiently edit large videos on the run, and more.
OWC Envoy Pro Elektron SSD: Compatibility
A great thing about Envoy Pro Elektron is its wide plug and play compatibility, from Big Sur to Sierra, iPadOS to Windows.
Additionally, it accompanies a Type-C cable with a tethered Type-A adaptor to incorporate support for Thunderbolt 3, USB-C, and USB-A devices.
Host Port
Thunderbolt 3 or later
USB-C (10Gb/s recommended)
USB Type-A (10Gb/s recommended)
macOS
10.12 Sierra
10.13 High Sierra
10.14 Mojave
10.15 Catalina
11.1 Big Sur
iOS
iPadOS 14
iPadOS 13
Windows
Windows 10 64-bit Edition
Windows Server 2016
Others
Linux OS
Chrome OS
Android 10 or later
What's more? You can also boot the device as per your need, from single APFS, HFS+, exFAT, etc.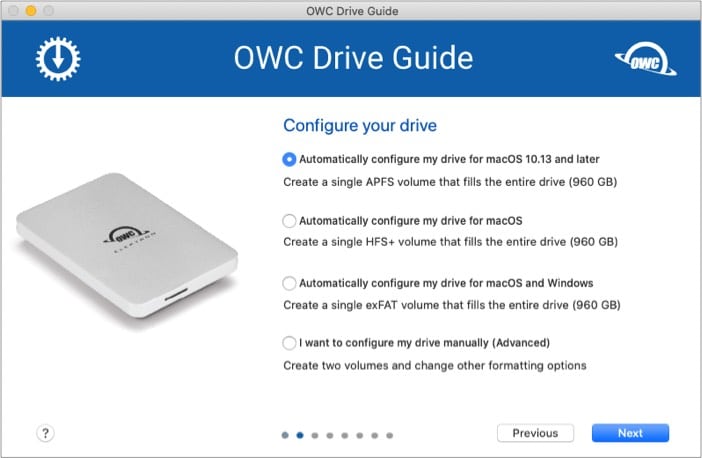 Envoy Pro Elektron also comes with Acronis True Image OEM software. It enables flexible backup options – weekly, monthly, or non-stop backups, and safeguards from data threats like malware, ransomware, or cryptojackers.
Our verdict: Is OWC Elektron SSD worthy for Mac users?
From the sleek, silver design and Thunderbolt 3 support to high-speed performance and robust build, everything on the OWC Envoy Pro Elektron feature list is on-point for a Mac user.
It fits equally well in an office environment and an adventurous hiking trip. You can calmly slip it into your pocket or bag without worrying about wear and tear. Although it is slightly expensive, the price tag is totally worth it.
Pros
Masterfully engineered form factor
3-year warranty
High read and write speed
Free backup and data protection software
Cons
A bit on the expensive side
Speed boost limited to compatible devices
Readers like you help support iGeeksBlog. When you make a purchase using links on our site, we may earn an affiliate commission. Read more.
A self-professed Geek who loves to explore all things Apple. I thoroughly enjoy discovering new hacks, troubleshooting issues, and finding and reviewing the best products and apps currently available. My expertise also includes curating opinionated and honest editorials. If not this, you might find me surfing the web or listening to audiobooks.