Not satisfied with Google Docs? Not keen on paying for PowerPoint? Need a spreadsheet editor that gets the job done? OnlyOffice editors are here to provide. This free suite of apps is everything you need for your next school or work project.
Besides, with the release of its latest version, the software now also supports Apple silicon Macs. Pretty convenient, right? Let's learn more about it.
How to use OnlyOffice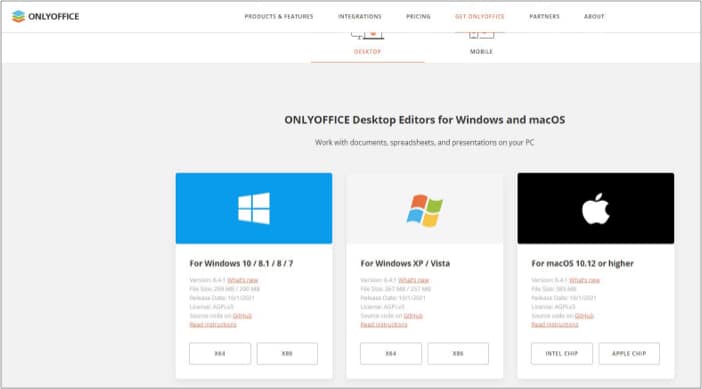 Download OnlyOffice Desktop Editors for your device, whether Windows, macOS, or Linux. Follow the setup assistant's instructions to install the editors.
OnlyOffice will open to an overview screen where you can choose what type of document you'd like to begin editing.
Document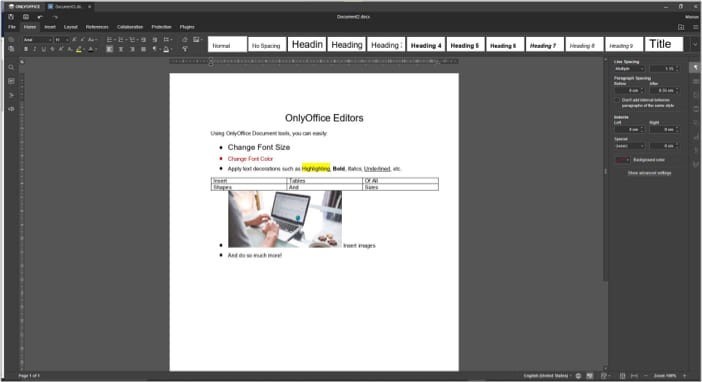 Click the Document tab to create a new text doc. The OnlyOffice Document editor comes fully equipped with a set of tools and enhancements to improve the look and feel of your project.
Whether you need to edit the font size or insert images, the toolbar is your go-to. Simply highlight some text and apply formatting options, or swap over to the Insert tab to add images, videos, charts, tables, and more.
Below are some more options you get:
Layout lets you dictate exactly how your document should look, from margins to page breaks.
References is a section for including citations, footnotes, table of contents, etc. This is a handy page if you're writing an academic paper and need to cite your sources!
Collaboration allows you to view, add, and edit comments on shared documents.
Protection allows you to encrypt your files with password protection or give them digital signatures.
Plugins are where you can make use of extra tools and addons created by the community.
Once done, use the default save keybind for your OS (such as Ctrl+S or Cmd+S) or click the save icon at the top left. Now, you can share your doc or open it up another time to continue working.
Spreadsheet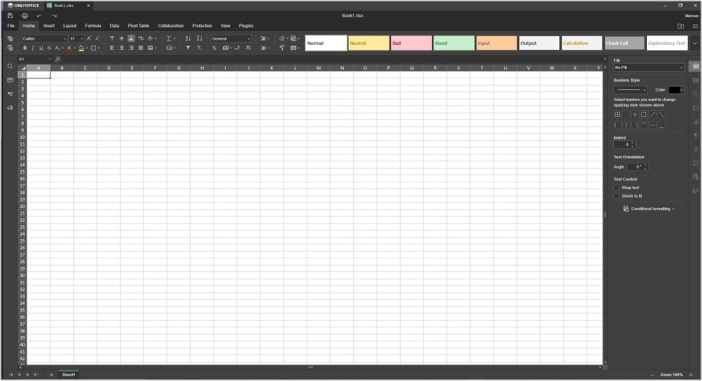 OnlyOffice's powerful Spreadsheet editor has all the tools you need to create invoices, record data, perform operations, and just about anything else you'd need a spreadsheet for.
The Home page lets you input and manipulate data, with other tabs such as Insert and Layout consisting of many of the same functionalities as included in the Document editor. The Formula tab is unique to Spreadsheet; it's capable of reading data and applying mathematical equations to extrapolate further information.
Much the same as when working in the Document editor, ensure to save your work so it can be shared or continued later.
Presentation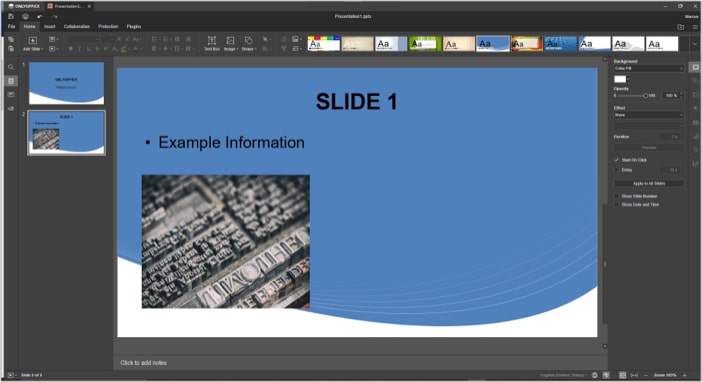 Presentation is exactly what you want from slideshow software—create and edit slides with ease. Insert images, charts, text boxes, and change your theme. When you're ready, save and share—all from OnlyOffice.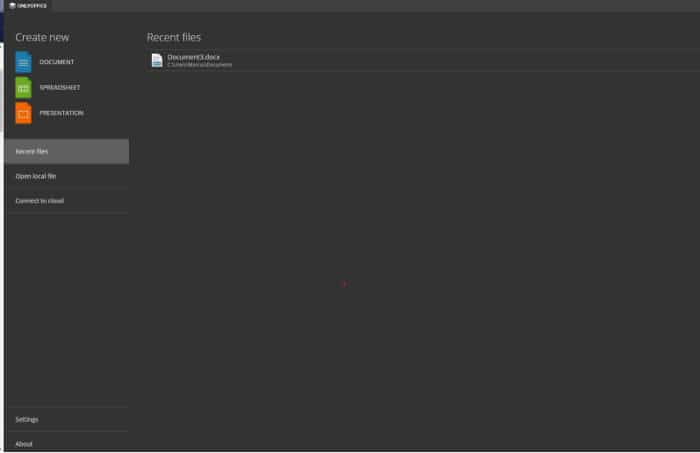 You'll see the Recent Files tab when opening OnlyOffice after the first time running it. This will conveniently display your recent projects and allow you to jump back in right where you left off. If you have a text doc on your computer that you want to edit with OnlyOffice, use the Open local file tab to do just that.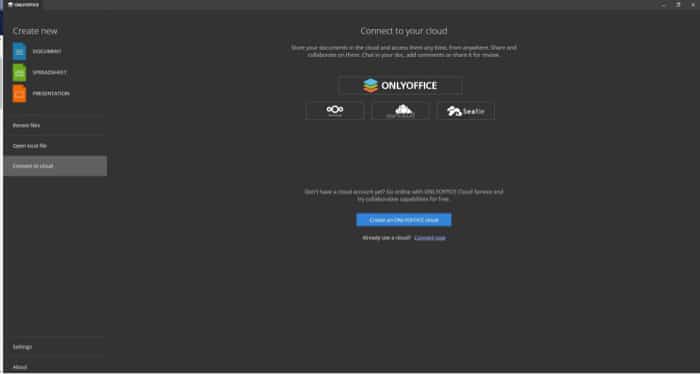 And if you're looking for a cloud storage option, OnlyOffice has you covered there, too. Head to Connect to cloud and create a cloud account to start saving storage space on your computer.
OnlyOffice features overview
Document editor: The Document editor rivals other word processors at an unbeatable price mark. Everything you need for work or school.

Spreadsheet editor: It can handle large amounts of data and produce accurate results when you apply formulas.

Presentation editor: A great way to get your point across. Need a slideshow for the office or classroom? OnlyOffice can lend a hand.

Cloud storage: Sign up for an OnlyOffice cloud account to keep your files safe in storage while freeing up disk space.

Multiple formats supported: docx, xlsx, pptx, odt, ods, odp, doc, xls, ppt, pdf, txt, rtf, html, epub, csv.

Plugin support: Add and manage plugins to achieve specific goals.

File encryption: Password protects your confidential files.
OnlyOffice Desktop Editors: Our verdict
iGeekometer
User Interface
Features
Performance
Value for money
OnlyOffice Desktop Editors are a solid suite of tools to accomplish nearly any file editing or presentation task you'd need to. And with a powerful free Community Edition, you can't go wrong trying OnlyOffice out.
Pros
A large suite of tools

Customizable plugins
Fast load times
Intuitive (if you've used word processors before)
Professional look and feel
Cons
Could be confusing to those who haven't used this type of software before

Limited settings options
Price: Free
What do you think of OnlyOffice Desktop Editors? We think it gets the job done and then some! Want to see us review another app? Leave us a comment below. We'll do our best to get back to you!
You may also like:
Readers like you help support iGeeksBlog. When you make a purchase using links on our site, we may earn an affiliate commission. Read Disclaimer.