With the launch of the iPhone 12 line-up, there has been a fair and composite competition to create cases to match the products. While numerous brands came with a range of iPhone 12 Series wallet cases and clear cases to lure the buyers, a gap remained unfilled to match the needs of those seeking luxury and durability. Mujjo iPhone 12 cases can be called a part of the segment. However, there might be a common question. Buy a case from the brand that will be an expense or an investment?
Well, I'm delighted to share that I got the opportunity to have hands-on and slip iPhone 12 devices in these full-leather and wallet cases, and here's what I found.
Befitting Synonym for Luxury at Its Best: Mujjo

Before we move ahead, it's essential to know a little about the brand and its vision. Since its inception, they have commendably kept a balance between luxury and durability. If we closely look at their product line-up, the same can be authenticated. However, considering that the iPhone 12 line-up is pretty recent, and it isn't necessary that old masters can be proficient with new trends, being dicey to an extent can be justified.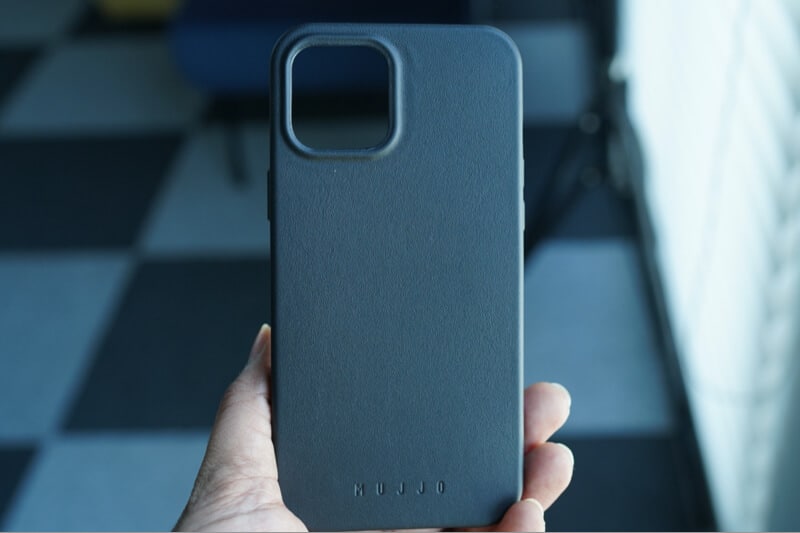 So, just in case you are juggling through 'Yes and No' with your decision to have a Mujjo case for your iPhone 12 device, let's together find the answers.
Mujjo Full Leather Wallet Case for iPhone 12 Series
I got the chance to try Mujjo leather wallet cases for iPhone 12, 12 Pro, 12 Pro Max, and 12 Mini. Before getting to the product, I would like to mention, these cases come wrapped in premium packaging, which is secured by a magnetic flap. Hence, the moment they reach, you can feel the brand's commitment to luxury and safety. 
Moving further, the fully wrapped leather wallet case feels exceptionally soft and has a sophisticated finishing. To ensure that your iPhone rests in a cozy bed, it has luxurious Japanese micro-fibre lining, giving it a satin-like finish.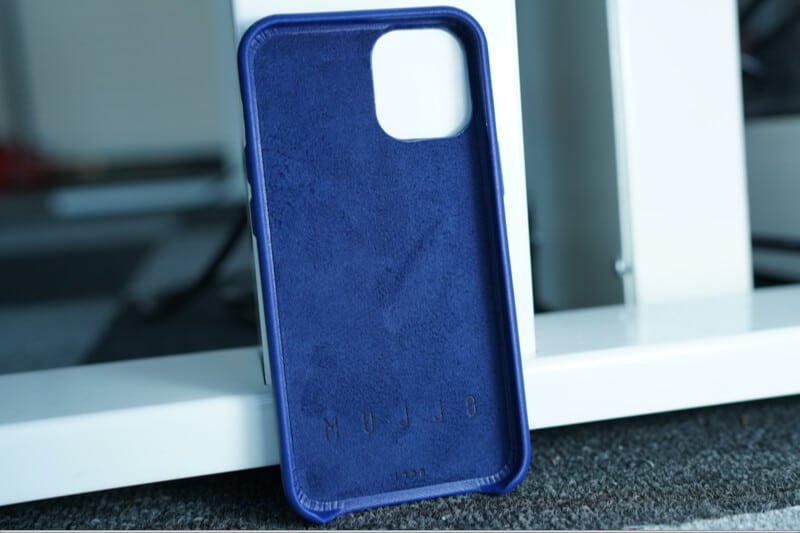 It also features curved edges running all through the front section to hold your iPhone steadily and with security.
At the rear, it has a flexible and soft leather pocket, neatly stitched with matching thread. This eventually makes it easy for your slip your card in it and access it with ease. Also, while the iPhone, 12, 12 Pro, and 12 Mini get the vertical pocket for your card, in the iPhone 12 Pro Max, you get a diagonal pocket featuring mesmerizing craftsmanship. The section lets you slide-in your card with much ease and looks pretty cool.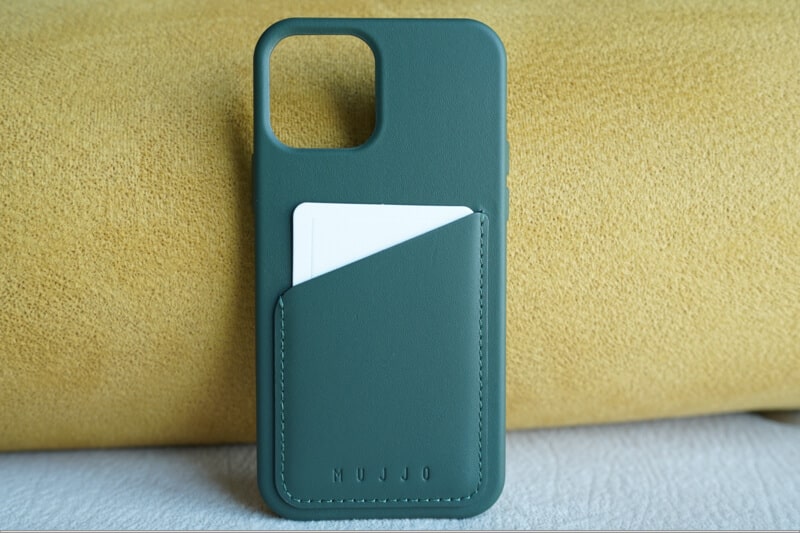 Don't forget the raised bezels surrounding the camera and entire front section, which adds to security against any direct impact or scratches while lying flat on a surface. 
Talking about color options. The iPhone 12 Pro Max and Mini get three color options, namely, Tan, Black, and Monaco Blue. However, iPhone 12 and Pro receive an additional option of Slate Green.
Key Takeaways
They are crafted using full-grain genuine leather.

 

They offer Premium and soft feel.

 

The leather pocket can comfortably house one card. I found it difficult to place more than that. Maybe with continued use, the soft pouch loosens, allowing you to add one more.

 

The Stitching around the pocket looks and feels sturdy.
You can use them with MagSafe after removing your cards. However, to leverage the best charging capacity, I would recommend you remove the case. If not the case, at least remove your card.

 

While the raised lips add to protection, the empty substructure might make your iPhone 12 prone to any bottom-faced direct fall.
Price: iPhone 12/12 Pro/12 Mini: $49.95 | iPhone 12 Pro Max: $54.95
Buy it from Mujjo.com – iPhone 12 Mini | iPhone 12/12 Pro | iPhone 12 Pro Max
Mujjo Full Leather Case for iPhone 12 Series
The case comes securely housed in a black box featuring a magnetic flap and iconic silver and gold touch-ups in a well-measured manner. Opening the flap, you'll notice the cautiously kept leather case for your iPhone 12 device. It is currently available for all four devices, precisely, iPhone 12 Mini, 12, 12 Pro, and iPhone 12 Pro max.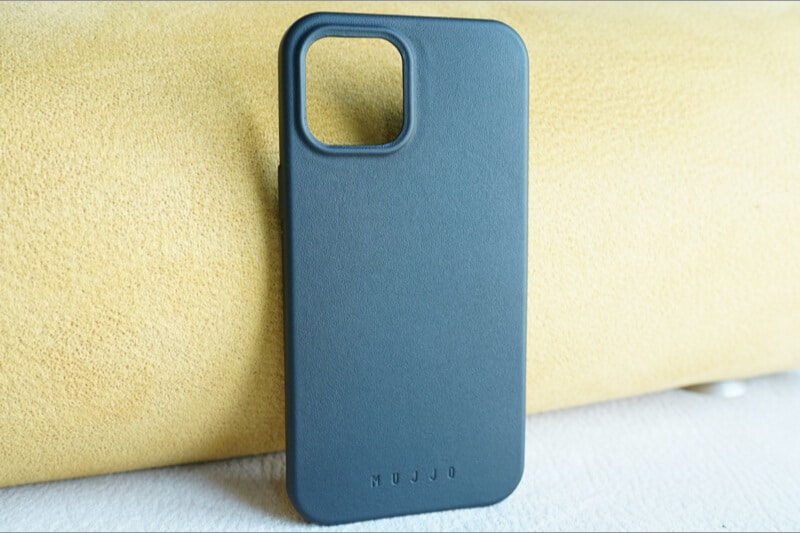 After taking the case out of its package, the first thing I noticed was the extraordinarily light-weight and unbiased work of craftsmanship sitting in my palm. Looking at the inside, there's a soft and luxurious microfiber lining to ensure that your case doesn't get affected while installing/removing it. The same work also ensures giving a cozy bed to your iPhone 12 device. Another thing that can be noticed here is the smooth finish around the lining. Even after touching, it'll be tough to find a loophole in the fishing they gave. This further makes it a comfortable space for your device.
Surrounding the section are inward-curved smooth edges to hold your device effortlessly. Along the sides, there are tactile buttons covered in soft leather to give your ease-of-access.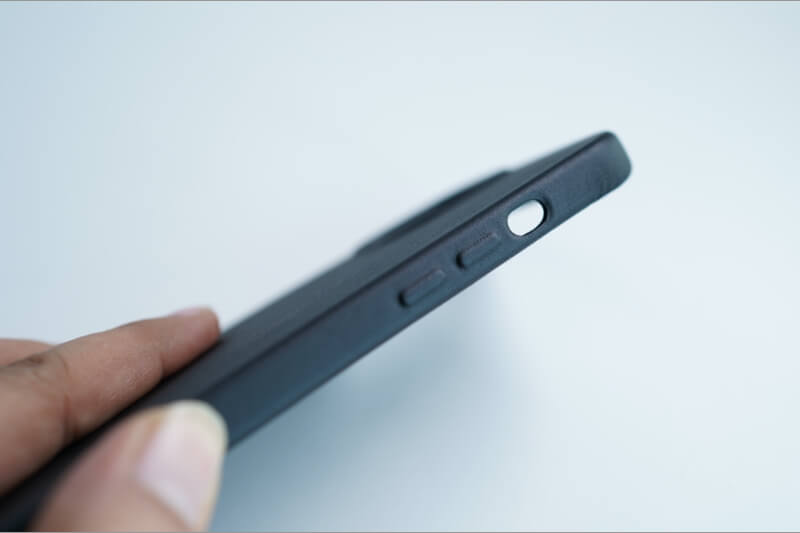 Moving to the rear portion, it carried the same raised bezels across the camera. However, the feel isn't as rich as in the wallet case.
The color options remain similar to wallet cases. The iPhone 12 Pro Max and Mini are available in Tan, Black, and Monaco Blue, while the iPhone 12 Pro Max comes with an additional Slate Green option. 
Key Takeaways
It uses the finest leather, wrapped with utmost perfection.

 

Soft micro-fiber lining for added protection and rich feel.

 

Little slippery in comparison to its sibling.
Seamless finishing leaving no loopholes.
While the cover can be used with MagSafe, the charging capacity may decline up to 7.5 W. Hence, it is recommended that to utilize the best power, remove your case before using MagSafe.
While the raised lips add to protection, the empty substructure might make your iPhone 12 prone to any bottom-faced direct fall.
Price: iPhone 12/12 Pro/: $31.75 | iPhone 12 Mini: $40.95 | iPhone 12 Pro Max: $40.90
Buy it from Mujjo.com – iPhone 12 Mini | iPhone 12/12 Pro | iPhone 12 Pro Max
Our Verdict
It's elegant and crisp, with equal attention to every minor detail. It's an investment you make to secure your iPhone 12 and not an expense.
Though I would like to mention two points here. Firstly, it might not allow you to charge with the said 15W speed. Secondly, the leather case has a different feel in comparison to the wallet. Maybe with continuous usage, it gives you an improvised feeling, but for initial days, you might find it slippery.
If you have sweaty palms, I'd suggest you consider a wallet case over a leather case. You'll surely fall in love with it.
You may also like to read these:
Mayank is a published author and a tech-blogger with over ten years of writing experience for various domains and industries. At iGeeks, he mostly writes about blogs that solve user-problems and guide them on unleashing the full potential of their Apple Device. He can often be found with his headphones on, typing to the rhythm of some country song.