Dear developers, is there anything more exhilarating than seeing your app in action? Testing that everything is looking and working as you want it to is fun and crucial before any release, and this is where emulators and simulators come into play. And as I test and review the LambdaTest iOS emulator, I invite you to join me and see if this is the app you are looking for.
What is LambdaTest? And how does it help?
LambdaTest is a cloud-based testing tool that helps developers test, screen, and debug their work manually and automatically. You could emulate and evaluate your app and website across 2000+ browsers and operating systems, thanks to an exhaustive infrastructure.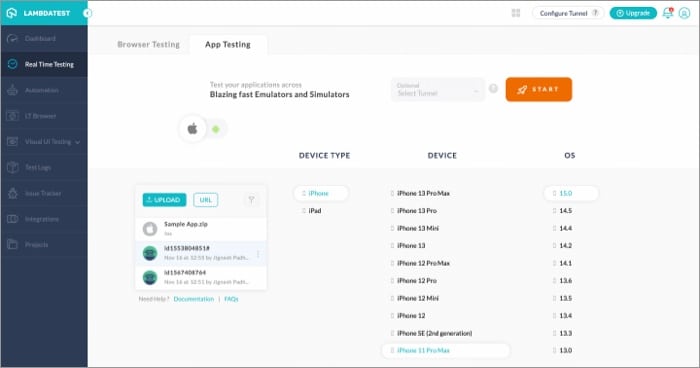 So, web developers can see how their website will look in Safari, Chrome, Edge, Firefox, etc. And if you are an app developer, emulate your app in any iOS and Android device across the various OS.
And this is all cloud-based, so you can quickly bring your team on board and collaborate in real-time, even if you are sitting miles apart. Moreover, you and your team can access LambdaTest, all past tests, and their results anytime, anywhere.
Now, lets' dig a little deeper and see what features LambdaTest has to offer.
Test your app in just three steps with LambdaTest
We are all well-versed with deadlines, and no one wants a complex testing setup to hinder their rhythm. So, LambdaTest makes it super simple with:
One-click upload – Click the Upload button and get your .apk file, .app, or .zip file on board. You can also turn in the public URL.
Launch emulator – Select the device type, device, and OS. Click Start and wait for a few seconds for the app to load.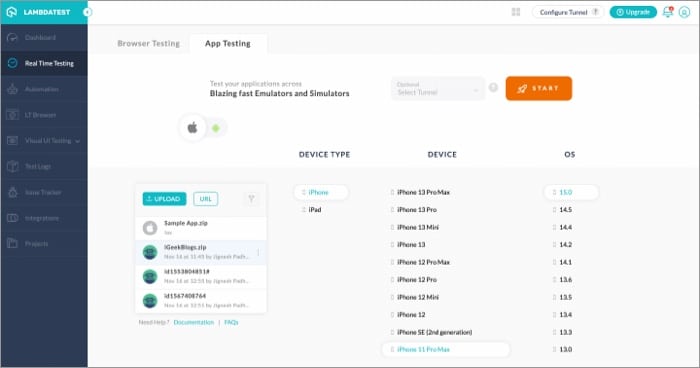 Test away – Explore the app to your heart's content and make use of some handy and helpful features to discover bugs or issues.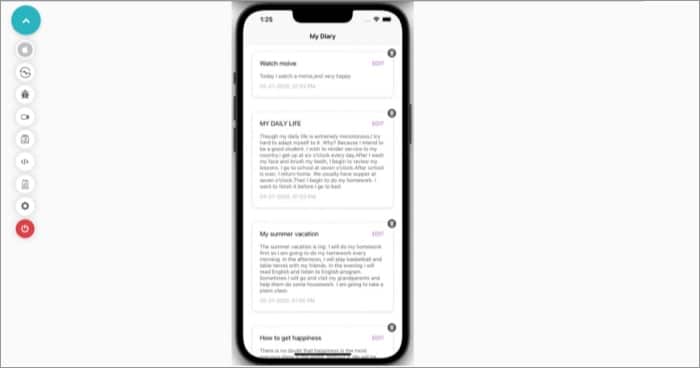 Amazingly, you can even install another app and run multiple apps in the same test session. Neat, right? Imagine comparing the app with a previous version or building apps that are well integrated.
Test on a wide range of devices
While it looks great on iPhone 13 Pro Max, does it look equally good in iPhone SE (2nd gen)? And what about those who haven't upgraded to iOS 15 yet? The idea is to make your app look flawless on every device and a wide range of OS.
The great thing is that switching between devices and OS is super simple; all you need is to click the Switch button from the sidebar.
Apart from that, you are privy to basic device controls such as device orientation, volume adjustment, or power on/off.
Capture bugs in action
I am no developer, but our whole team regularly tests the iGeeksBlog app. And instead of struggling with jargon or sending the wrong communication to the developer, the team relies on screenshots and screen recording.
Interestingly, LambdaTest has got these tricks up its sleeve. Click the Mark As Bug button and capture a screenshot; you can even annotate it to explain the issue clearly. Or you can record a video of the test session.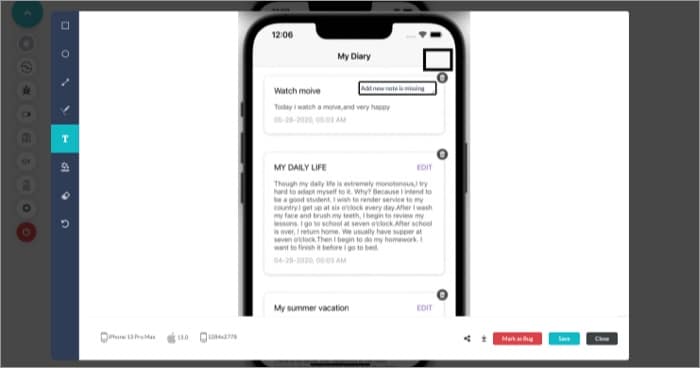 All screenshots and recorded videos are stored in the Gallery section; you can download and share them from here.
Real-time debugging
Another handy feature. Found a bug and know its solution? So, why wait? Use the Devtools to start correcting the issue instantly. Additionally, you could also view networks, app, and device logs with a click.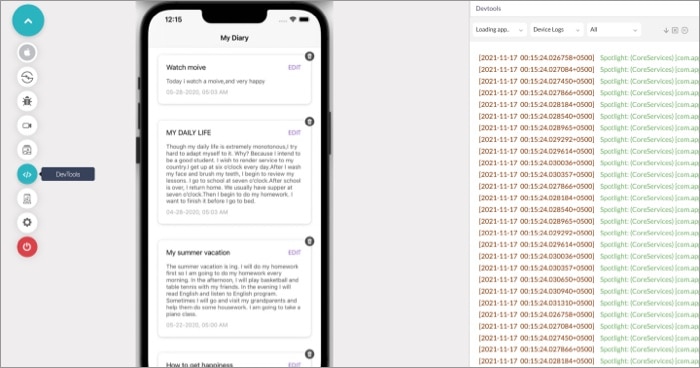 A cool thing is that all sessions are being logged, and you can track detailed test logs and insights. Whether looking into a past issue to find a solution or which team member made the changes, all can be done.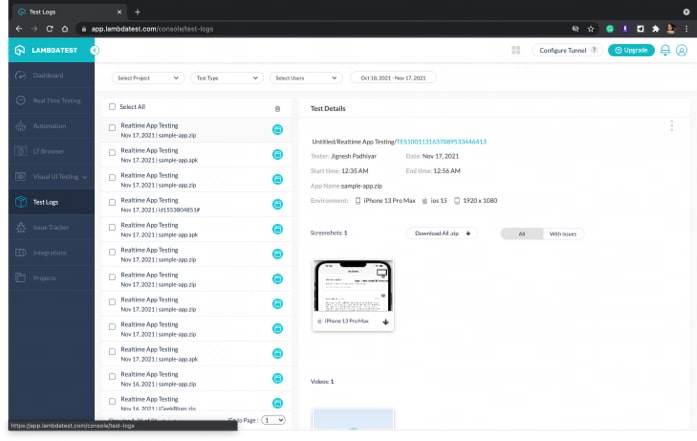 Geolocation testing across 50+ locations
The Settings section (gear icon) houses some fantastic gems, from setting an idle timeout, adjusting network throttling to changing location.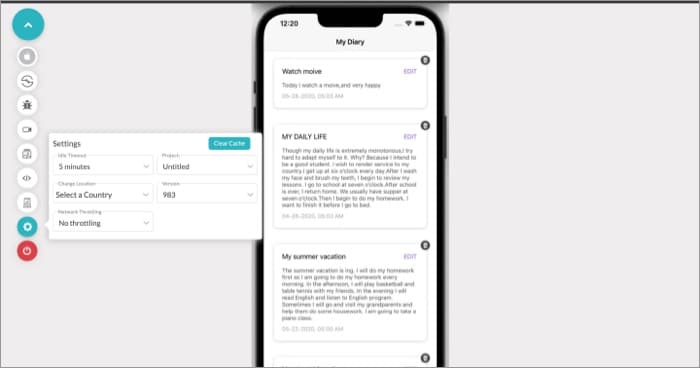 You can simulate the GPS or IP geolocation and observe the behavior of your app accordingly. The idea is to ensure that the app works seamlessly in your target market.
Moreover, you can also switch the device language, time zones based on a specific location and even change keyboards within a session. Now, that's an impressive array of features to have handy while testing, isn't it?
Third-party integrations
LambdaTest boasts an impressive array of integrations, including apps for project management, team communication, CI/CD, reporting, automation plugins, and more.
The idea is to make your workflow as seamless as possible. And with apps like Slack, GitLab, Circle CI, Asana, Trello, Bitbucket, Test Rail, etc., under its belt, you can manage all of that.
Should you Lambada with LambdaTest?
iGeekometer
User Interface
Features
Live testing
Integration
Value for money
LambdaTest iOS emulator is a great companion for a developer, and it's user-friendly and packs thoughtful and thorough features. Plus, the vast number of supported devices, OS, and browsers makes it lucrative.
On top of it all, it doesn't quote super-exuberant prices. In fact, it even has a free lifetime program that'll help you understand the app better before you take the plunge.
Quite like a great Lambada dance partner, it is supportive, encouraging, and trustworthy. Maybe that's why it has a fanbase of over 500,000 users.
Pros
Extensive range of devices & OS support
Screenshots and video recording
Automatic debug mode
Clear and helpful session logs
Price:
Lite – Free – 100 lifetime minutes for real-time native app testing
Live – $15/month (billed annually) – Unlimited real-time native app testing
Web & Mobile Browser Automation – $99/month (billed annually)
Web Automation – $158/month (billed annually)
Readers like you help support iGeeksBlog. When you make a purchase using links on our site, we may earn an affiliate commission. Read Disclaimer.