It's essential to have a good protective case for your iPhone. But most cases are made of environmentally harmful materials like plastics and leather, causing pollution and wastage. The great news is that you can be more eco-friendly with KERF wooden cases for iPhone 13, 13 Pro, 13 Pro Max, and 13 mini (as well as other devices).
I was delighted to try these out, and here's a detailed review to help you decide if they're the right choice for you.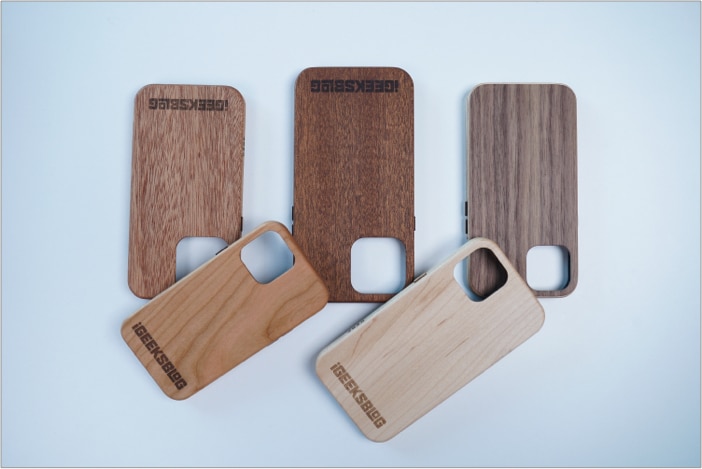 Design, look, and feel
KERF cases come in nondescript cardboard packaging. While it may not look the most attractive, the packaging is completely plastic-free, which won me over. Moreover, inside, the case is wrapped in a soft cotton bag that you can reuse to hold other stuff like an external hard disk, chargers, or even jewelry. Pretty neat!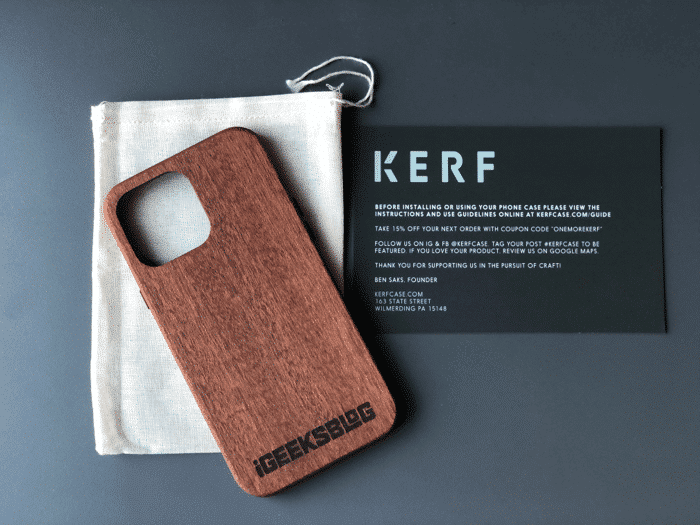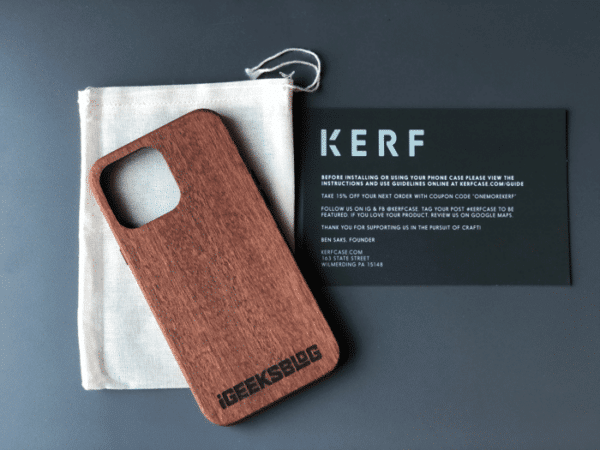 There are two types of cases you can choose from for the iPhone 13, 13 mini, 13 Pro, and 13 Pro Max:
KERF plywood cases
KERF wood cases
Both are available in different finishes (wood species) and customization options, as shown in the images below.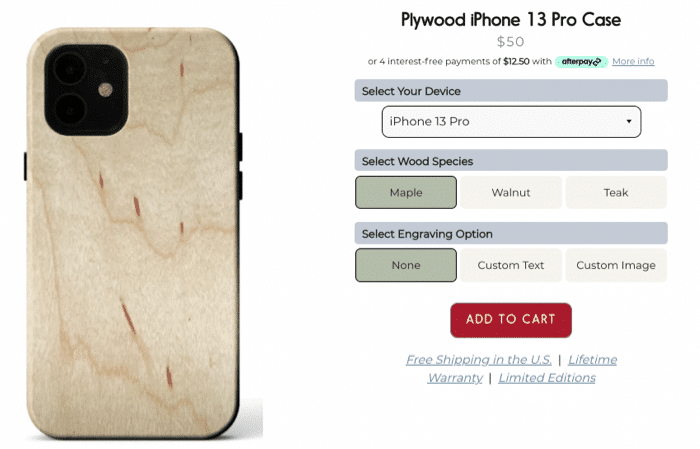 Here's a list of what I tried:
Cherry iPhone 13 mini case
Maple iPhone 13 case
Plywood walnut iPhone 13 case
Mahogany iPhone 13 Pro case
Figured Sapele iPhone 13 Pro Max case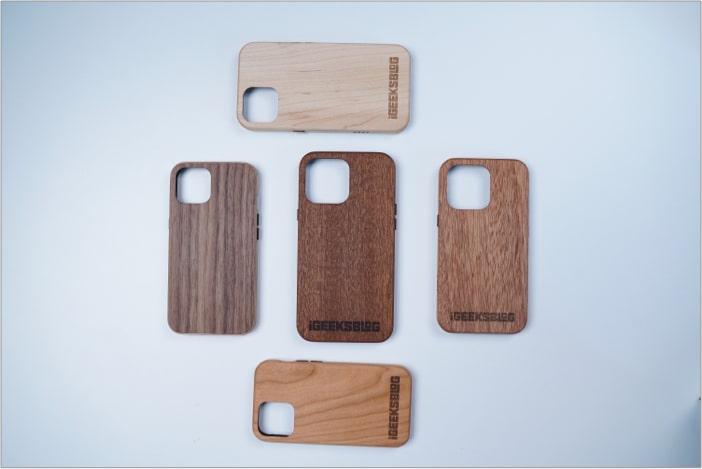 Each of them is unique and stunning! Moreover, they can be personalized with typography, as shown in the photos, adding to the style quotient.
Moreover, the cases are handmade out of 100% natural wood that's sustainably sourced. There are no plastic bits, seams, or interlocking parts. Even the plywood cases are made of FSC-certified ApplePly hardwood veneer core plywood, made entirely in the United States. These factors make KERF the number one choice for those who want a case that's sustainable, stylish, and secure.
Each unit is precisely crafted to fit snugly around the iPhone and elevate its look. It's super smooth to touch with no rough edges at all, which gives that premium feel.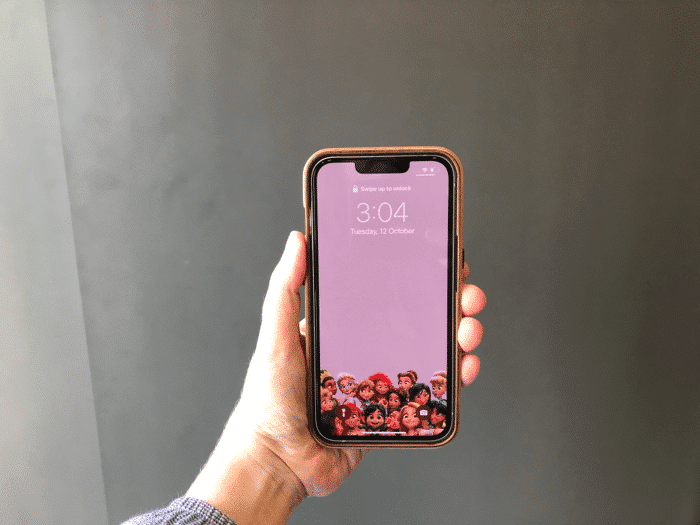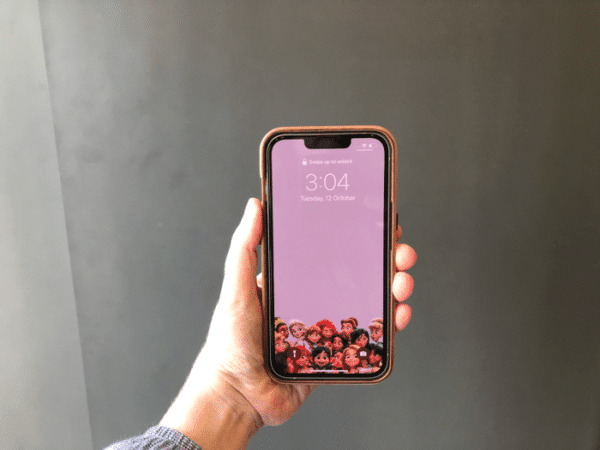 Protection
In woodworking, "Kerf" means the thickness of material removed from a saw blade. It's usually measured in 1/1000th of an inch and is all about precision and perfection. True to that, the cases perfectly protect your iPhone from everyday scratches and minor drops.
KERF's plywood cases offer 6 feet drop protection, while the wooden ones are sturdy enough to withstand everyday wear and tear.
Moreover, even if you damage the case, the brand stands by its products and offers free lifetime repairs to your case. Of course, this won't be possible in case of severe damage, but that's a rare scenario. The lifetime warranty makes these cases genuinely value for money.
A detail I loved is the soft Ultra Suede lining on the inside of the case that protects the back and edges of your device to keep it pristine-looking over time. It feels super soft to touch and adds a layer of plush cushioning.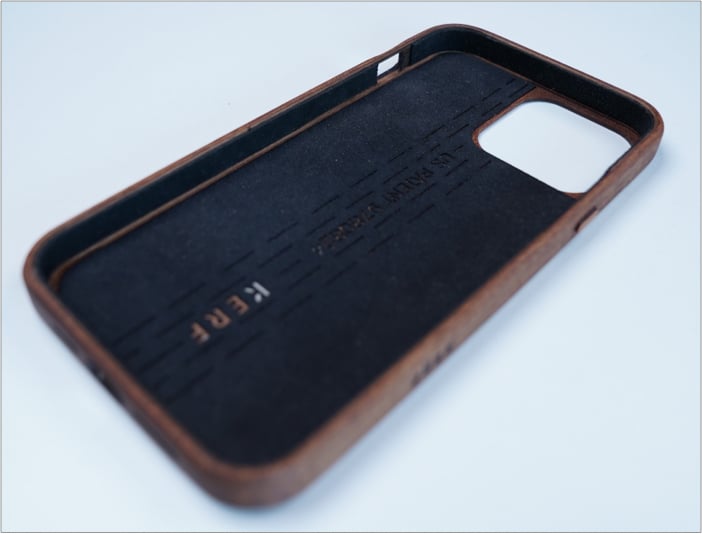 The case covers the buttons of your phone, too, while keeping them easy to press. The screen and camera are also protected from scratches by slightly raised edges.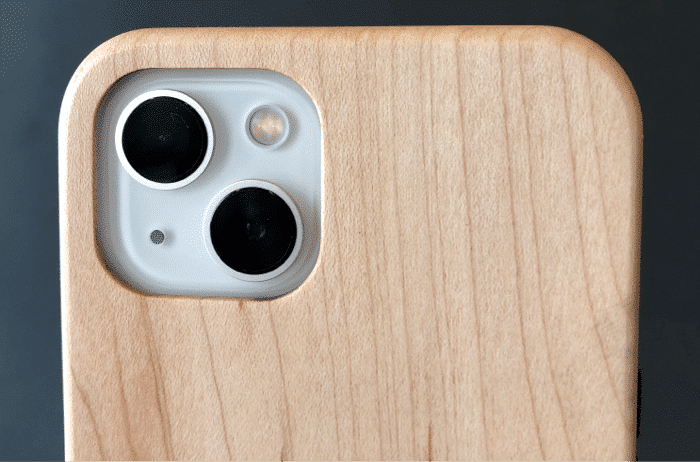 Overall, KERF cases are pretty sturdy and durable. Go for a wooden case if you're a primarily careful user and a plywood one for drop protection. For ultimate protection, you can try KERF's metal alloy case available for iPhone 13, 13 Pro, and 13 Pro Max.
User-friendliness
You probably use your iPhone a lot. So it's essential to get a case that doesn't detract from the experience. KERF scores excellent on this aspect. The wooden cases are minimalist and beautiful, fully compatible with MagSafe and Qi charging. You can also use Apple Pay and NFC without any problems.
The exterior texture of the case is super-smooth and feels good to hold. The buttons are accurately placed and easy to press for everyday convenience, with precise cutouts for the ports.
The only downside, in my opinion, is that these cases are pretty big and add a bit of bulk to your phone for adequate protection. This might make it a tad difficult to hold if you have small hands.
I also wish the grip was better because the wood feels slightly slippery, especially when your hands get sweaty. But this is not a big deal when you consider the protection factor.
However, KERF cases come with a lifetime warranty and free repairs. So even if you run into an issue, the company will help you fix it.
Our verdict: So good, knock on wood!
iGeekoMeter
Protection
Design
User-friendliness
Value for money
On the whole, I'm super impressed with KERF cases. They are sturdy, stylish, and, most importantly, sustainable. I appreciate the plastic-free packaging and love how the brand is ecologically responsible in everything they do. The KERF website provides more details about this. It's the best case for fellow eco-friendly souls who love tech but want to be kinder to the planet.
Pros
Aesthetic, minimalist design
Lots of wood grain choices
Plastic-free packaging
Sustainably-sourced wood
Sturdy and durable
Lifetime warranty
Free repairs
Value for money
Cons
Somewhat big and bulky
Feels a little slippery
Price: $50 for KERF plywood cases | $79 for KERF wood cases
Buy from KERF: Plywood case | Wood case
Read more:
Mehak has a master's degree in communication and over ten years of writing experience. Her passion for technology and Apple products led her to iGeeksBlog, where she specializes in writing product roundups and app recommendations for fellow Apple users. When not typing away on her MacBook Pro, she loves being lost in a book or out exploring the world.