Are you constantly worried about your iPhone battery running low? Well, here's an ingenious way to track it and never be caught unaware. In this article, I'll tell you about a pack of Dynamo wallpapers for iOS that automatically change according to your battery level.
So, every time you glance at your screen, the look of the wallpaper will remind you what the current state of the battery is. That is, whether it's charging (plugged in), low (below 20 percent), or healthy.
I've found this quite helpful. I no longer need to watch the tiny battery indicator at the screen's top. A mere glance at my screen keeps me informed. It takes home screen personalization to the next level!
But before we go further, check if your device supports these dynamic wallpapers.
List of compatible devices
You can download and use the dynamo wallpapers on the below-listed iPhones:
iPhone 6S and 6S Plus
iPhone 7 and 7 Plus
iPhone 8 and 8 Plus
iPhone X, XS, XS Max, and XR
iPhone 11, 11 Pro, and 11 Pro Max
iPhone 12, 12 mini, 12 Pro, and 12 Pro Max
iPhone SE (2016) and SE (2020)
Now, let's look at the wallpaper types and see how well they work.
iOS Dynamo wallpapers pack
The dynamo wallpapers for iPhone are available in two packs that boast three fun designs each:
Apple Pack: This includes three sets of wallpapers featuring the Apple logo, abstract faces, and a striped pattern. It looks unique and classy, as shown below.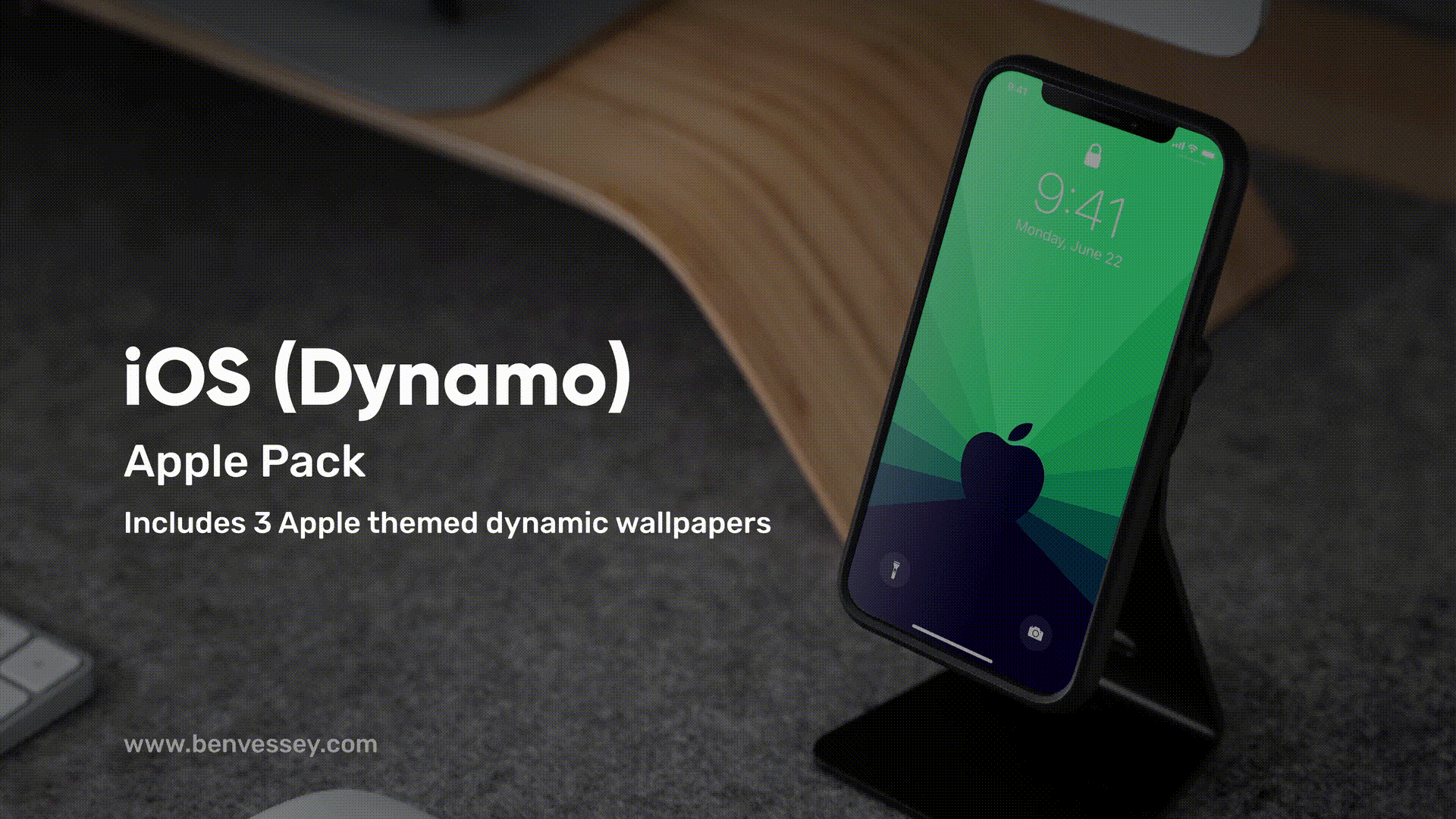 How to install iOS Dynamo wallpapers pack
Once you purchase and download a dynamo wallpaper pack on your iPhone, all the instructions to install and set it up are included in the downloaded folder with a PDF guide and video. The process takes about 10-15 minutes and involves two major steps:
You have to move the wallpapers to your iPhone's 'Shortcuts' folder.
Next, create and run automation in the Shortcuts app.
Watch the video below for step-by-step instructions:
How well do iOS Dynamo wallpapers work?
I must say I'm super impressed with the dynamo wallpapers and how they make it easier to track battery levels innovatively. It's an out-of-the-box take on wallpapers, and the best part is it does not require jailbreak or other complicated processes.
The creator has provided extremely clear and step-wise instructions that anyone can follow to get the automation running. Even if you're not great with technology, these dynamo wallpapers are easy to set up.
Once I set up and ran the automation in the Shortcuts app, the wallpapers changed seamlessly and kept me informed of my phone's battery level. This makes life convenient and helps get rid of those times when you suddenly notice you're running low! Pretty neat.
iOS Dynamo wallpapers a yay or nay? Our verdict
All in all, the wallpapers are innovative, well-designed, and affordable. They not only look good but function like a charm to visually communicate the state of your iPhone battery. I think it's a must-have for anyone concerned about keeping track of their iPhone battery, which, let's admit it, is almost all of us!
Try them out for yourself to see what I'm talking about. Leave a comment below to share your thoughts on these innovative wallpapers.
Price: Apple Pack – £3.99 | Faces Pack – £3.99
Download more wallpapers for iPhone:
Readers like you help support iGeeksBlog. When you make a purchase using links on our site, we may earn an affiliate commission. Read more.
Mehak has a master's degree in communication and over ten years of writing experience. Her passion for technology and Apple products led her to iGeeksBlog, where she specializes in writing product roundups and app recommendations for fellow Apple users. When not typing away on her MacBook Pro, she loves being lost in a book or out exploring the world.