Mac users often believe that their computer is hundred percent immune to all viruses. Though there is no denying that Macs are a step ahead in security, this does not lend them 360° protection.
When connected to the internet or some drive with malicious content, the Mac is just as exposed as any other computer. This is where an antivirus comes in.
In this review, we will be looking at Intego's Mac Internet Security X9 bundle, which includes two macOS apps – VirusBarrier X9 and NetBarrier X9. How do they work, and what are their benefits? Let's dive in and explore!
Intego's Mac Internet Security X9 – Why you need it?
Expanding on what I briefly mentioned earlier, Macs can get seriously affected. Cybercriminals or hackers often try to find backdoors via third-party apps connected to the internet. For instance, they might send packets via an app that collects and sends back personal information.
In short, once your Mac is connected to the internet (which is inevitable), it can open a window to all kinds of threats.
Intego's security bundle offers to protect you from such threats. Their real-time antivirus scans the files to ensure a malware-free experience. It can even scan and detect malicious files on your iPhone and iPad (more on this later).
Moreover, it also has an intelligent Firewall that blocks undesirable visitors to keep your Mac safe and function properly.
Let us learn more about these.

Highlights of VirusBarrier X9
Smart Mac antivirus
As evident from the name, VirusBarrier ensures your Mac is safe by scanning the files in real-time to ensure everything is malware-free. To keep you protected from various threats, VirusBarrier automatically checks for new updates giving you thorough security.
To use this, launch VirusBarrier on your Mac. You will see your computer in the left sidebar. Now, click the round scan button and choose Quick Scan or Full Scan.
With real-time scanning, it can even notify you via email when a vulnerability is found! Plus, you can also schedule scans, a handy feature.
To accelerate the scanning process, you can add specific static files and folders (that are not used daily) to the Trusted Files list that prevents them from being scanned every time.
Additionally, if you have a Windows malware-infected file, VirusBarrier will detect it and prevent your Mac from being a carrier. Clever!
Protection for your iPhone and iPad too
Do you also use an iPhone or iPad besides Mac? If yes, VirusBarrier has that covered as well. When you connect your iOS or iPadOS device to your Mac, it can scan and identify unsafe files, preventing them from transporting on to other computers.
For this, use the Lightning cable to connect your iPhone to the Mac and Trust it when asked. Next, you should see the iPhone in the left sidebar. If you do not, click VirusBarrier Preferences, and check the box for iPhone, iPad, and iPod touch.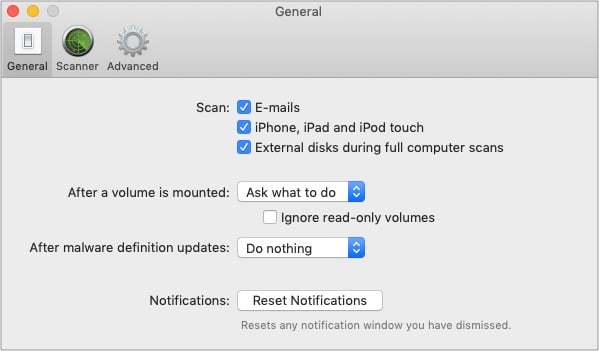 Bonus: VirusBarrier can also scan external drives you connect to your Mac.
Highlights of NetBarrier X9
In this age, our Mac is always connected to the internet. It is our window to explore the world wide web, which is a helpful place but equally full of harmful elements looking to collect your data.
NetBarrier acts as an intelligent Firewall that blocks unwarranted visitors and protects your Mac from dangerous activities.
The location-aware firewall ensures that you have the best protection irrespective of where you are – home network, work, or a public network.
Once you open the macOS NetBarrier app, you can see a beautiful representation of various options. Use the switches to allow or block certain connections. You can manually choose Home, Work, or Public profile at the top and adjust the settings accordingly.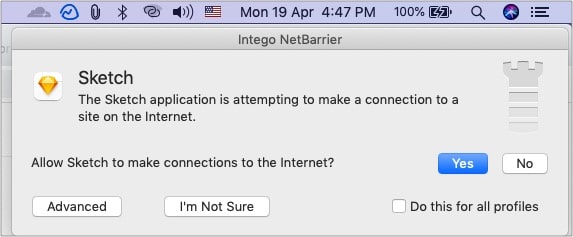 Next, click Applications to see the connected Mac apps. From here, you can choose to block the connection of specific apps by clicking Edit.
Our verdict: Is Intego Mac Internet Security X9 worth it?
VirusBarrier and NetBarrier seem to be helpful tools that require minimum system requirements and provide decent protection. They have been updated to work even with the latest macOS Big Sur. (Though, for some reason, they still use old iPhone 5 and iPad images on their website and the app.) In addition to Mac, Intego VirusBarrier is also available for Windows PC.
Overall, these are potent tools that ensure you have a safe Mac experience. Features like automatic repair attempt, ability to quarantine malware for later action, identifying applications trying to access the internet unnecessarily, keeping logs, automatic profile switching to protect you everywhere are some thoughtful additions.
The app is clean, friendly, and easy to use. Everything is visible clearly on the screen, and anybody can feel comfortable using it.
If you are a thoughtful user, you might already be taking precautions and implementing certain practices to keep your data safe.
Still, it is good to have the safety net to protect if you someday unknowingly use an infected drive from a friend or download some malicious file from the internet. And Intego's security apps will have your back!
You can definitely give this app a shot!
Price:
1-year protection for one Mac: $39.99
2-year protection for one Mac: $74.99 (More price options on the official website.)
I have been an Apple user for over seven years now. At iGeeksBlog, I love creating how-tos and troubleshooting guides that help people do more with their iPhone, iPad, Mac, AirPods, and Apple Watch. In my free time, I like to watch stand up comedy videos, tech documentaries, news debates, and political speeches.