Hundeo is an easy-to-use dog training app, and its main USP is the sheer amount of training videos and courses, game ideas, and healthy recipes. And even though most are locked under subscription, the organized and step-by-step tutorials are worth paying for.
Pros
Simple and organized UI
Over 300 tricks, games, recipes, and courses.
Smooth offline mode
Built-in clicker
Cons
The recipe section could be a bit better
Price: Free to download; subscription starts at $14.99/month.
Training your dog is a vital tool for the health and happiness of both the dog and your family. Luckily we have apps for that. And I am trying out hundeo dog training apps to give you enough information to decide whether this dog training app is right for you.
Hundeo app review: Dog training made easy
Hundeo offers a complete package for Dog parents, from training tutorials to food guides. It is curated by various experts, including certified dog trainers, nutritionists, veterinarians, etc.
The idea is to educate you about your dog's fundamental needs and how to meet them. It boasts a well-structured, easy-to-use UI at your beck and calls anytime and anywhere. And most importantly, it caters to all dogs, whether they are newborn or full adults.
Alongside adapting to your dog's age, the app also considers the dog's individual preferences, learning speed, health, etc. Moreover, the app also has a reminder system, so you can get alerts when it's time to train, play, or feed.
Many-many tricks up your sleeve
Everyone wants to share/show off their child's talent to friends, family, neighbors, Instagram/Twitter followers, and more. But before that step, we need to teach the dog those tricks.
Hundeo incorporates a wide range of tricks and games for you to explore, teach, and play with the dog. The tricks are neatly categorized into easy, moderate, hard, indoors, and outdoors.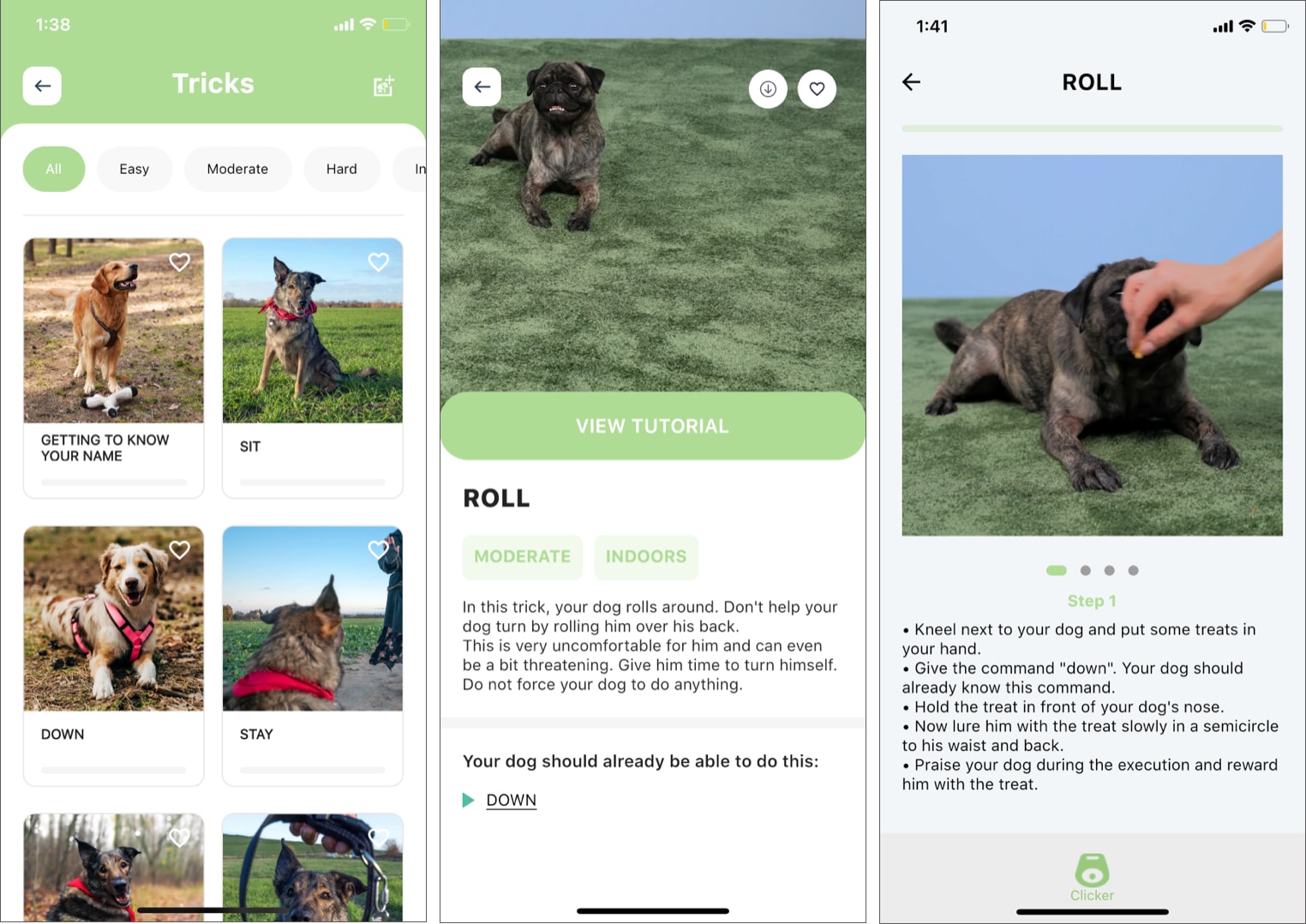 And the games are segregated into indoor, outdoor, sniffing, sporty, brain games, etc. Overall, it is easy to spot a suitable trick and game quickly and easily.
Moreover, each trick and game has an easy-to-follow, step-by-step video and written tutorial. Each video is designed so that just 5 minutes of daily training is enough. You can add them to favorites or take them offline (download) to view them at your leisure.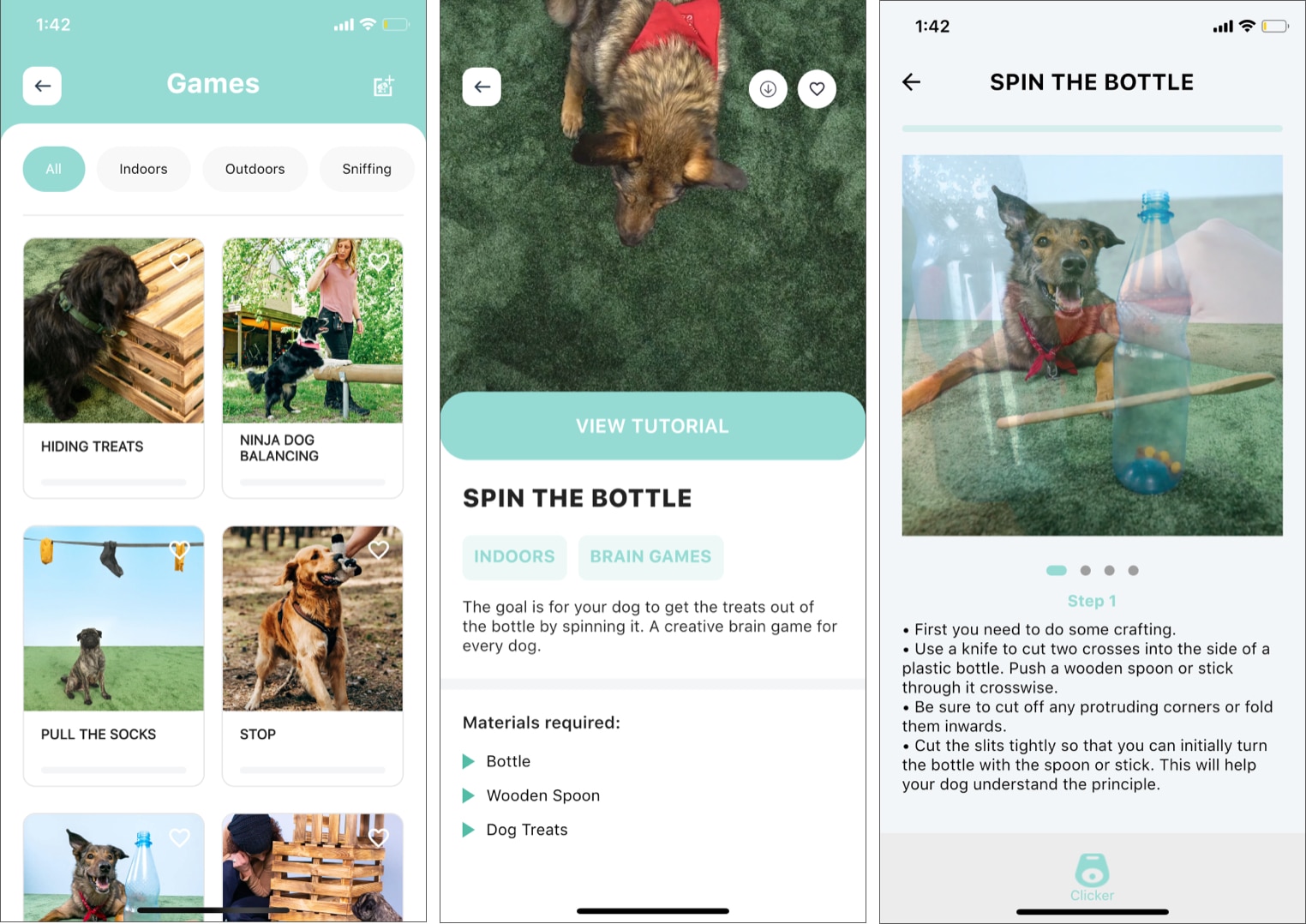 I also observed that many tricks mention if the dog needs to have a skill like they should be able to sit before you teach them to stay. And games have clear indication of the materials required to play or make the contraption.
Masterclasses for puppies to seniors
Depending upon your dog's age and experience, the app also offers courses such as Puppy Training Basics, Command Training, Clicker Training, Health Checks at Home, and more.
Each masterclass has carefully curated lessons further broken down into step-by-step tutorials (both written and video). After you've marked each lesson, the dog and you are eligible for a final exam on the course.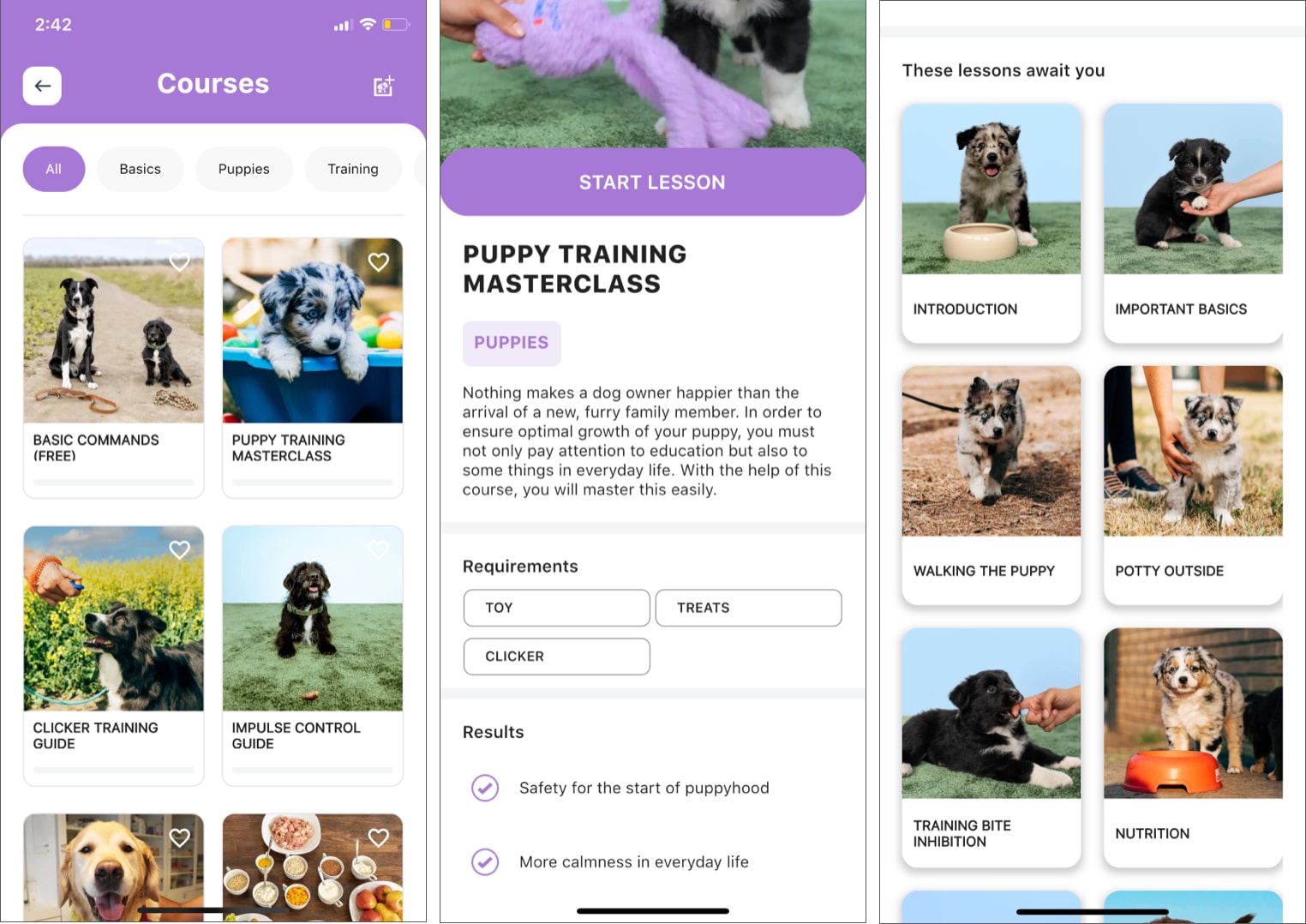 Again, you can save the lessons/courses to favorites and take individual lessons or complete courses offline.
Recipe ideas for a healthier and supple diet
Masterclass to Masterchef! While feeding the dog treats from the dining table is fun, it's not healthy. Moreover, prepping interesting meals for your dog is even more fun. And hundeo doesn't leave that box unchecked.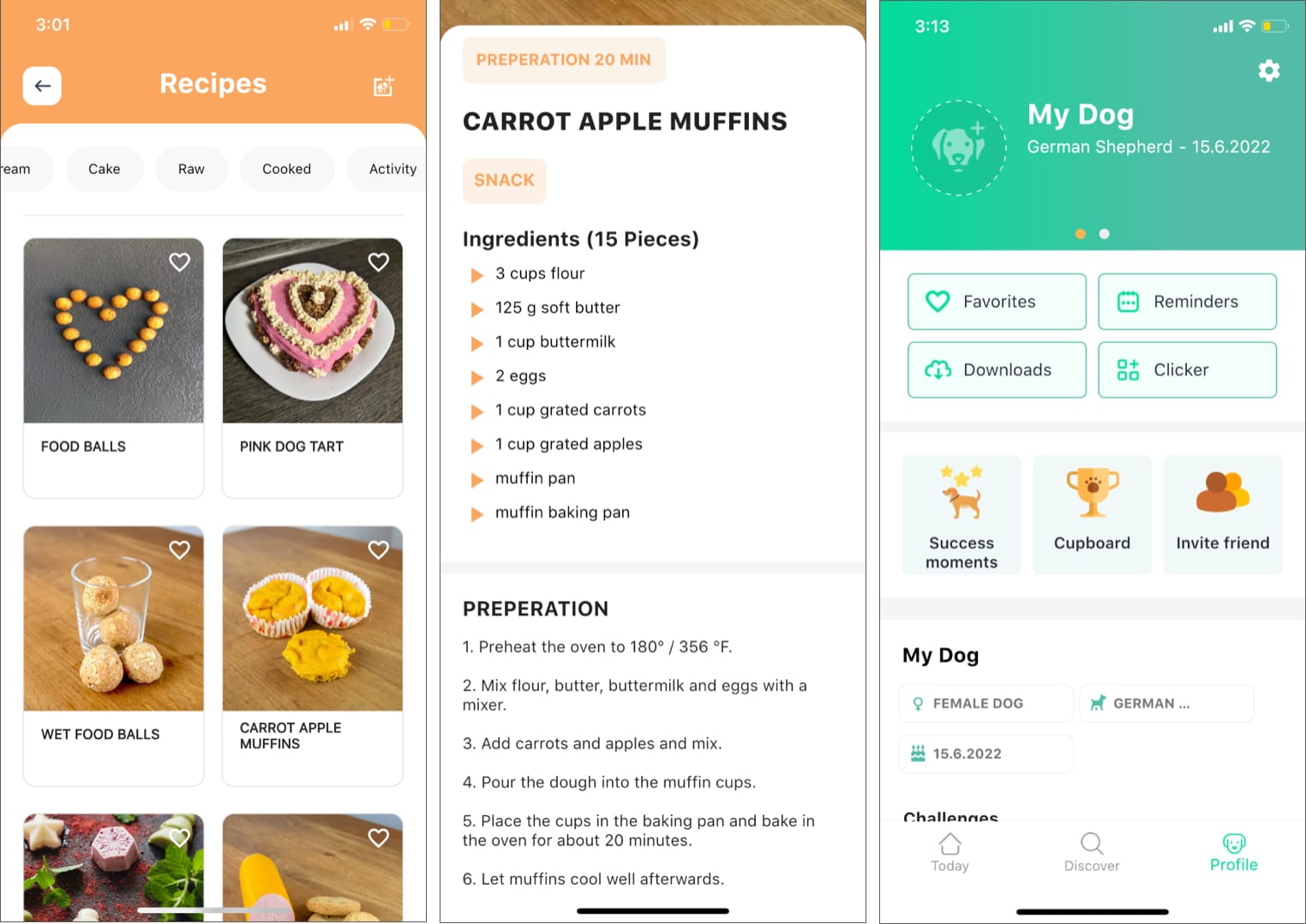 In fact, it offers plenty of variety ranging from cakes, cookies, ice creams, raw food combinations, and more. Link in other sections, the recipes are well-organized.
Plus, everything from preparation time to ingredients is clearly mentioned. Although we don't get videos here, just written instructions.
An always with you Clicker
Clicker training is considered one of the most simple and effective pet training methods. Hundeo intelligently incorporates it in every section of the app. So, the built-in clicker is always available whether you're going through a course, training session, or playing games.
So, you can use the clicker to positively affirm your dog that they are doing a good job every step.
Track and share progress on the go
The most fun part of learning is the rewards that follow. And though you'll be giving the dog treats here and there, some achievements deserve special rewards and recognition.
Keep track of your dog's progress by celebrating their success moments, cupboards (trophies), and even invite friends to share the happiness.
That also applies if you have multiple puppies or adult dogs. Create their individual profiles and keep track of everything your dogs have accomplished and still need to learn.
Hundeo dog training app: skip or download?
iGeekometer
User interface
Features
Lessons and courses
Value for money
Between the daily reminder system and so many features up its sleeve, hundeo is totally downloadable and explorable. In fact, I would suggest that you get the app and test it yourself.
The free version gives you a reasonable glimpse into what to expect. And considering the cost of a group or personal training sessions, I think the hundeo dog training app is quite affordable.
Price:
Monthly subscriptions – $14.99/month
Yearly subscriptions – $35.99/year
Read more:
Readers like you help support iGeeksBlog. When you make a purchase using links on our site, we may earn an affiliate commission. Read more.
A self-professed Geek who loves to explore all things Apple. I thoroughly enjoy discovering new hacks, troubleshooting issues, and finding and reviewing the best products and apps currently available. My expertise also includes curating opinionated and honest editorials. If not this, you might find me surfing the web or listening to audiobooks.