Like any other device, you can reset your AirTag too. This is especially important if you are planning to lend it to someone as this Bluetooth tracker can only be associated with one Apple ID for apparent reasons.
Moreover, it may even be trickier for your friend to unpair the AirTag without the connected iPhone nearby. Thus, it makes sense to reset an AirTag to factory settings and give it unless you wish to prank or give them a hard time. So, let's understand how to do it.
Note: Ensure the paired iPhone is in AirTag's Bluetooth range. Removing the AirTag from your Apple ID when out of the Bluetooth range will still need reset.
How to reset your AirTag
Gently press down the stainless steel battery cover of your AirTag.
Now, keep rotating the device counterclockwise till it stops rotating.
Remove the cover and battery.
Replace the battery and keep pressing it down till you hear a chirping sound.
Repeat this process 4 more times (5 times in total).
Make sure you hear the sound every time while replacing the battery.
Once done, get the cover.
You should see three visible tabs on the cover and three slots on AirTags.
Align them together and keep pressing them till you hear a chirping sound.
Now, rotate the cover clockwise.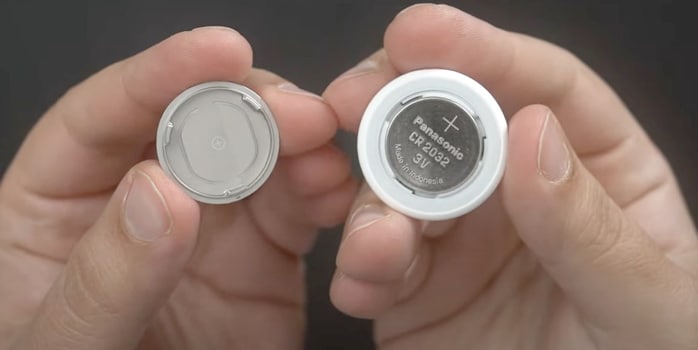 That's it! You have successfully finished resetting your AirTags. To connect it with another device, check our guide on how to use an AirTag.
Note: Try pairing it with another iPhone to confirm that your AirTag has been successfully unpaired. If it hasn't, repeat the process.
What happens when you reset your AirTag?
After resetting, the AirTag will be as good as new and ready to pair with a new device. However, ensure you connect it to the right device to avoid unpairing and re-pairing again. They are pretty daunting!
Can stolen AirTag be reset?
This may sound a little funny, but an AirTag can only be reset if the previous owner has unpaired it. Thus, stolen AirTags are a waste.
I am not sure if this is the case with AirTag alternatives as well.
Sadly, this is the only method to reset your AirTags.Thus, you have to be careful while counting the clicking sound because you'll have to repeat the process again and again if not done with precision.
You may also check out related posts:
An entrepreneur by heart, I am obsessed with the world of Apple. I survive on Apple products and their updates. Over the last five years, I have been writing all kinds of content that are remotely connected to Apple and sharing across digital platforms. When not writing, you will find me on the court playing basketball or in my room playing the sitar.