Live Photos on iPhone is one of the favorite features among amateur photographers across the world. It adds a unique quality to your simple photos as each live photo moves a bit when you tap on one from your photo library. However, when you edit a live photo, the feature serves you with more options to master your iPhone photography. From its arrival in 2015, Live Photos has improved a lot. If you want to edit live photos on your iPhone, follow this guide.
In iOS 13, Apple made a few changes in editing live photos. As a matter of fact, the process has become less complicated. People love to add some fun elements like bounce and loop and change the key photo. Without further ado, let's follow the steps to edit live photos on your iPhone.
How to Edit Live Photos on iOS 13 Running iPhone
Apple allows you to trim the length or mute the sound in Live Photos, apart from using filters or cropping a photo.
Step #1. Launch Photos app on your iPhone.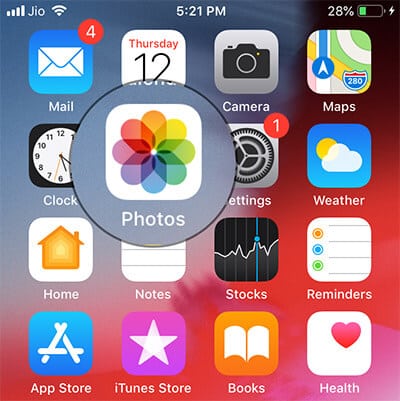 Step #2. Select a Live Photo you wish to edit. In your Photo Library, you may not have all your pics as Live Photos. So choose the Live Photo accordingly.
Step #3. Now tap on the Edit from the top right corner. You can see some tools and filters on your iPhone screen. You need to tap on the circle icon from the bottom menu.
Step #4. A white frame appears on the frame viewer. You can use your finger to slide over the white frame to Make Key Photo. When you stop sliding your finger, Make Key Photo tool-tip appears on the screen; tap on Make Key Photo and then tap the Done from the bottom right corner.
On the Edit screen, you can drag any one of the ends of frame viewer to select the frames your Live Photos plays.
You can turn off the Live feature by tapping on the Live button (in the yellow background at the top of the screen). This will make a Live Photo a key photo. Basically, it becomes a still photo.
Live Photos also records noise on your iPhone. To mute this noise, you can tap on the Mute button from the top left corner of the screen; tap again to unmute your Live Photos.
How to Add Effects to Live Photos
Step #1. Open Photos app → Select Live Photo.
Step #2. Now swipe up on the live photo, and you can see four options: Live, Loop, Bounce, and Long Exposure.
By default, it is a live photo; hence, you can add some fun elements by selecting Loop, Bounce, and Long Exposure.
If you select Loop, your live photo will turn into a repetition of action in a continuous looping video.
Bounce will rewind the action backward and forward.
And Long Exposure simulates a DSLR-like long exposure effect by blurring motion.
That's all, folks!
Where is your Live Photo?
While users love to take and store live photos on their iPhones, they should take note that these photos occupy more space. For this reason, iPhone owners use this feature judiciously. Take as many Live Photos as necessary.
Posts you may also like to explore…
How often do you capture live photos on your iPhone? Share your memories with us on in the comment box.
Jignesh Padhiyar is the co-founder of iGeeksBlog.com who has a keen eye for news, rumors and all the unusual stuff that happens around Apple products. During his tight schedule, Jignesh finds some moments of respite to share side-splitting contents on social media.