iMovie is an exceptionally powerful tool for creating movies and videos. However, the lack of pre-added music is one of its biggest weaknesses. Moreover, the pre-built music option doesn't gel well with various videos. Don't worry; I will tell you how to add music to iMovie on iPhone.
But before you add suiting music to iMovie and produce a video that truly represents your vision and creativity, here's something to keep in mind. If you plan to post your video online, your music might be subject to copyright laws. So, add only royalty-free music to ensure that your videos aren't taken down.
What is royalty-free music?
For the uninitiated or beginners, it's a kind of music license. To use this type of music, you must purchase the Royalty Free Music license once. After the first purchase, you'll be able to use all the music under the license for as long as you want.
Some royalty-free music licensing doesn't even require the first purchase. They almost act as open-source code, which you can download and edit to create your own version. However, even if the purchase isn't made, you must provide credit for the music composer and license in your captions. Essentially, royalty-free music is free of taxes.
How to find and use royalty-free music (without a paid subscription)
A great place to get royalty-free music is YouTube Creator Studio. However, you'll need a creator account to do so. You can also check out other great websites such as Snapmuse, Shutterstock, Incompetech, ccmixter, and Mobygratis.
Despite stiff competition from other royalty-free music sites, Snapmuse has been one of my personal favorites. Their large collection of songs is represented by the sheer range of genres they cover. For instance, Snapmuse features royalty-free music from rap, jazz, and rock genres.
I am going ahead with YouTube Studio for this tutorial; you can use the website of your choice.
Download royalty-free music from YouTube Studio on Mac
Open your browser and go to the YouTube website.
In the upper right corner, you'll find your user icon. Click on this.
From the drop-down box, select the YouTube Studio option.


On the left side of the screen, you'll find a panel with the option to "Create." Select this option.
You can search for the music you require from the Creator Studio audio library.


Using the YouTube Creator Studio provides quite a bit of freedom when creating your movie. Moreover, YouTube has a large audio collection that you can filter based on licenses, genres, and even audio lengths.
While the steps to download songs might vary, the process of importing royalty-free music to iMovie won't vary much. Gratefully, it's pretty simple.
Add downloaded royalty-free music to iMovie
On Mac
Open the iMovie app ➝ Media.
Click Import Media or the down arrow from the top menu.
Go to your download folder and select the tracks.
Click Import Selected.
Now use the royalty-free music as you will. If you want to import music directly to an ongoing movie project, click Project ➝ down arrow ➝ select files ➝ Import Selected.
On iPhone
If you're royalty-free sounds are downloaded on Mac, move them to your iPhone via AirDrop, iCloud Drive, or any method of your choosing.
Open the iMovie app.
Select Movie to create new or choose an existing one.
In the timeline view, tap + icon.
Select Files.
Locate the folder with music and select the music.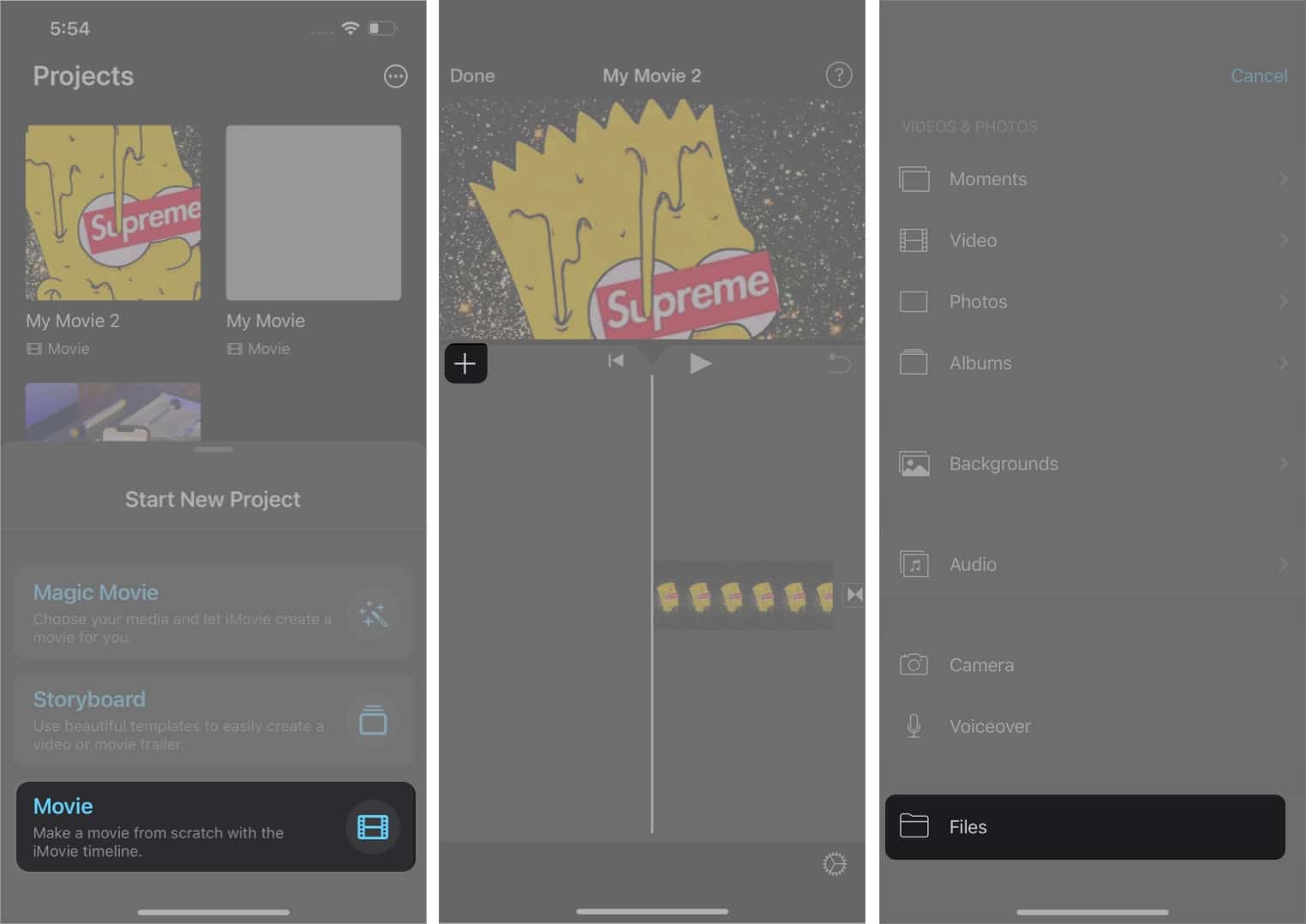 Final thoughts
Now that you know how to add music to iMovie on iPhone and Mac, you should be able to create the movie you want, replete with beautiful music. iMovie's creation tools are excellent. However, with just a few extra steps I've shown here, you'll have access to a much larger world of music. This will help you exercise your creativity to its full extent, resulting in some visionary works of art!
Read more:
Readers like you help support iGeeksBlog. When you make a purchase using links on our site, we may earn an affiliate commission. Read Disclaimer.