HitPaw is an AI video enhancer software that lets you enhance your low-quality videos into high-quality videos. You can remove noise from a video and improve it using different AI models.
Pros
Easy-to-use interface
AI-upscaling technology
Batch-convert videos
Available on Windows and Mac
Cons
Video processing takes longer than expected
A bit pricey
Editor's rating: 🌝 🌝 🌝 🌝

Pricing: $69.99/month | $109.99/year | $349.99 for Lifetime

Download
Smartphones have come a long way with cameras and their video quality. However, there are times when you don't get the desired results. Either you didn't record it in the correct resolution, or blurry. Whatever the problem is, you would want to enhance or upscale it. In such cases, HitPaw Video Enhancer is the perfect tool for you.
It's an excellent video editing app that lets you enhance videos using various AI models, depending on your needs. It's easy for beginners, provided you have no technical knowledge about upscaling or enhancing a video.
I used the HitPaw video quality enhancer on my MacBook Air M1 to see how it performs and if it stands up to what it promises. Here's a detailed review of the same.
Features and user interface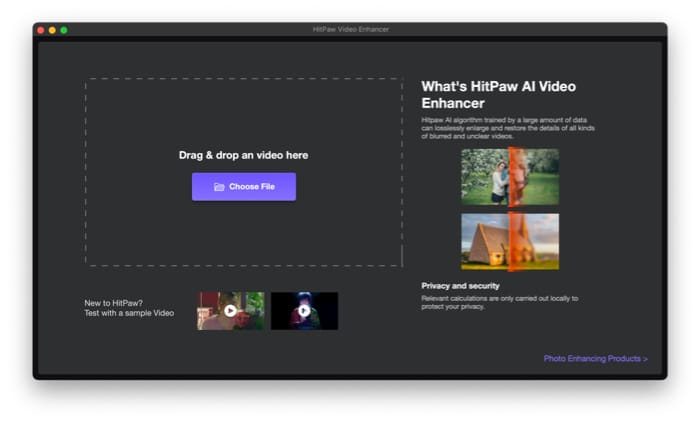 Once you launch HitPaw Video Enhancer, you'll get an option to drag and drop videos. Select the AI model for your purpose, and hit Export to start the video enhancement.
The user interface is straightforward on both Windows and macOS. Hence, it is easy to navigate even if you're a novice. As easy as it looks, HitPaw Video Enhancer has a robust set of features.
1. AI video upscaling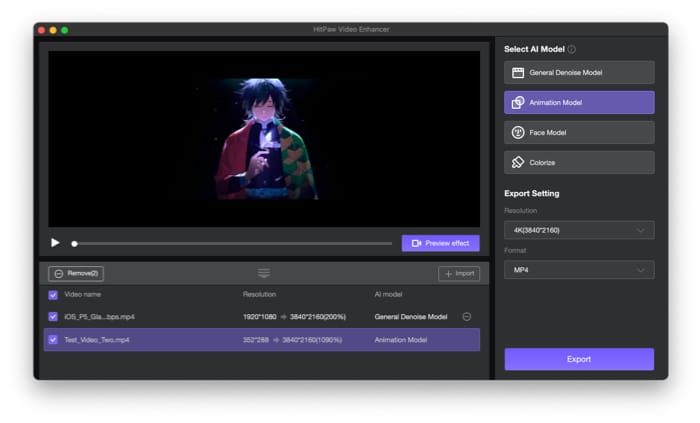 If you have a low-resolution video that you want in a higher video resolution, the HitPaw Video Enhancer can upscale it for you using its AI algorithm. As a result, you can easily convert it from SD to HD and even 4K if desired.
2. Built-in AI models
The AI models are what bring the video quality to your videos. The HitPaw Video Enhancer has four AI models: Denoise, Animation, Face, and Colorize.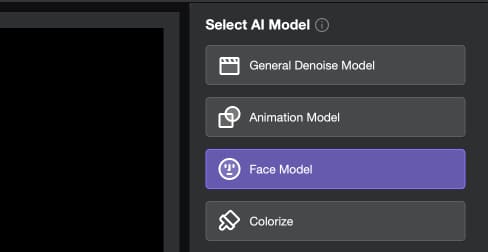 General denoise model: It's best to reduce the video's noise, which happens if the video gets recorded with a poor-quality camera. It's best for enhancing your old videos.
Animation model: If you want to restore the quality of an animation video, the Animation model will work best for you. It works like a charm, whether anime, cartoons, or any other animation video.
Face model: If you have a video that deals with many faces/people, the Face model will reveal the details, especially the faces.
Colorize model: The Colorize model, as the name suggests, adds color to your black & white or old videos so that you can take a trip down your memory lane.
3. Batch processing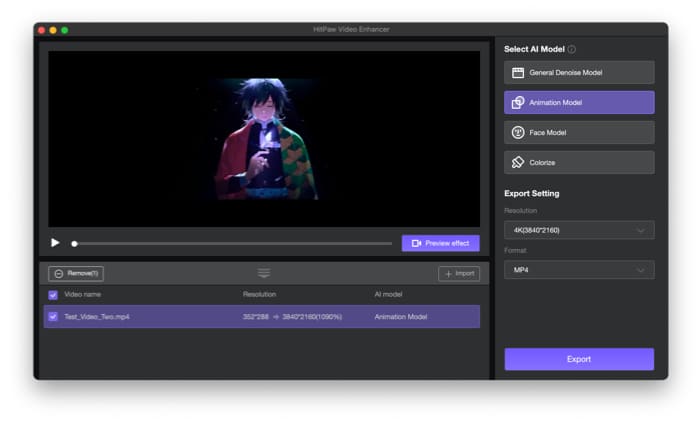 HitPaw Video Enhancer allows you to process multiple videos without waiting for the first one to finish. The videos process quickly, so you don't have to wait much longer. When you have multiple files to enhance, this feature saves you time.
4. Multiple formats support
You don't have to worry about importing a video file because this tool supports over 30 formats, including industry standards like MP4, MOV, MKV, AVI, HEVC, H264, and more. If your video is in a supported format, you can enhance it.
How to use HitPaw Video Enhancer on Mac and Windows PC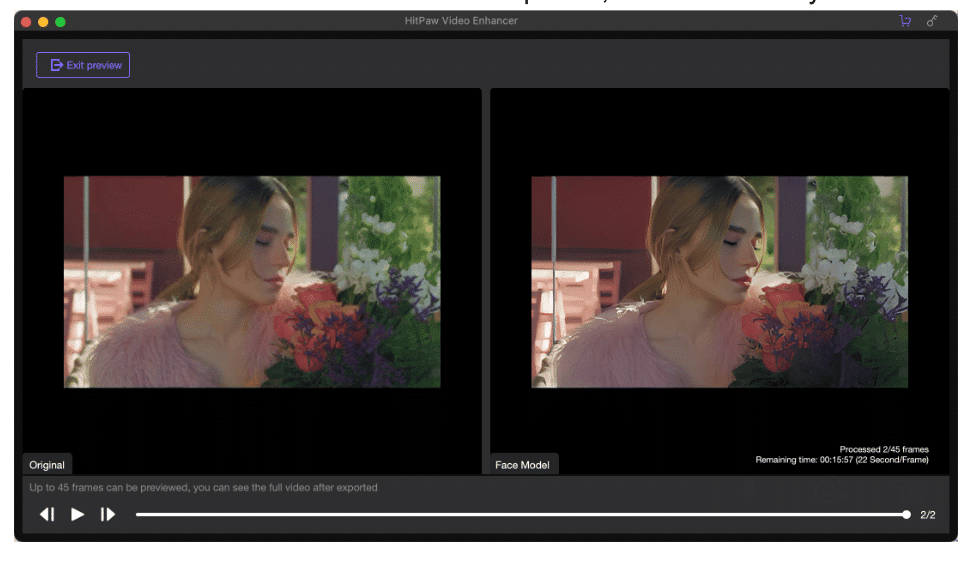 You can download HitPaw Video Enhancer for Mac and Windows from the official website.
Once downloaded, you can install it like any other program on Windows and macOS.
Open the EXE file on Windows or DMG file on macOS.
Follow the on-screen instructions to complete the setup.
Once installed, you'll have to drag and drop the file you want to enhance.
Next, select the AI model and output format that suit your needs and hit the Export button.
Finally, choose the output folder and wait for the file to convert. It won't take much longer and will finish quickly.
Should you get HitPaw Video Enhancer?
iGeekometer
User Interface
Features
Supported Formats
Value for money
HitPaw Video Enhancer is an excellent tool for enhancing your videos. It's perfect for creators, video editors, animators, and even you – if you want to relive your memories in color. Whatever the need is, HitPaw Video Enhancer will flawlessly work for you.
It supports a wide range of video formats but lacks on the output side, providing only two options. If HitPaw fixes this, it'll be flawless and recommendable.
Pricing
HitPaw Video Enhancer offers a free trial to try it out. If you like it, you can subscribe to their service for $69.99 per month or $109.99 per year. You can also choose the Lifetime option, which requires you to pay a one-time fee of $349.99 and then forget about it.
HitPaw Video Enhancer Review
HitPaw Video Enhancer Review
HitPaw Video Enhancer is a fantastic tool for enhancing or upscaling your videos and provides different AI models. It also supports various input formats but needs to add support for more output formats to justify the price.
HitPaw Video Enhancer is a fantastic tool for enhancing or upscaling your videos and provides different AI models. It also supports various input formats but needs to add support for more output formats to justify the price.
Readers like you help support iGeeksBlog. When you make a purchase using links on our site, we may earn an affiliate commission. Read more.
Sajid is an Electronics and Communications Engineering graduate who loves writing about tech. He's primarily interested in writing about Android, iOS, Mac, and Windows. You'll find him watching Anime or Marvel when he's not writing.