If you're on the hunt for an app that helps you clean up your Mac's storage for snappy start-up times, your search has come to an end. Freeing up GB of space is the game and BuhoCleaner plays it exceptionally well.
Use their intuitive, user-friendly UI to scan, identify, and manage user cache files, large files, apps that run on startup, and just about everything else you need to have your Mac running like it just came out of the box.
Here's everything you need to know about BuhoCleaner.
Get started with BuhoCleaner
First things first, you'll need to download and install BuhoCleaner from their official website. After following the link, click Download at the top right and you're good to go.
You may have noticed that they don't have an app on the AppStore. Why is that?
Take an answer directly from Dr.Buho: "Due to App Store review restrictions, some functions in BuhoCleaner cannot be published on the App Store (such as application uninstallation, etc.). But this doesn't mean BuhoCleaner is harmful or illegal."
So Apple disallows certain proficiencies of BuhoCleaner, but that doesn't mean you can't get the app from their website and use it on your Mac today!
You know where to get it, but what does BuhoCleaner actually do for your Mac? Let's break it down.
BuhoCleaner feature analysis
BuhoCleaner offers five main features that work to free up space and speed up your Mac.
Flash Clean
Flash Clean is the easiest way to use BuhoCleaner. Simply run the app, hit Scan, let it work its magic, and click Remove.
That's all there is to it! You just freed up (likely) gigabytes of space in a few clicks. If you'd like a detailed breakdown of the removed data, click View Details. This generates a list of the app data to be removed and the size of files from each app.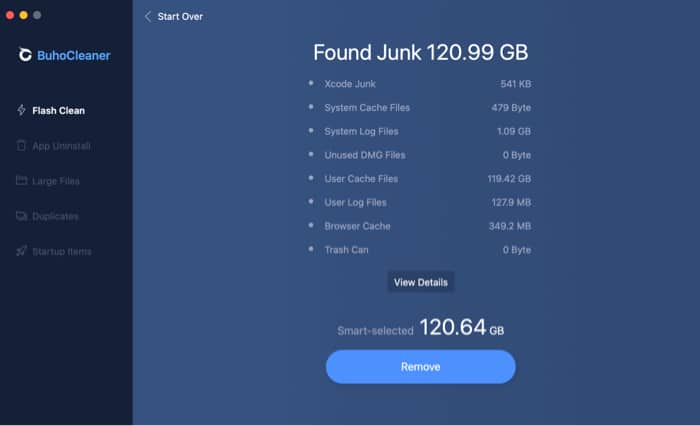 App Uninstall
App Uninstall is exactly what it sounds like. Having trouble locating a pesky app to remove it from your Mac? You can find it here. Just select the app you want to uninstall and click Remove in the bottom right.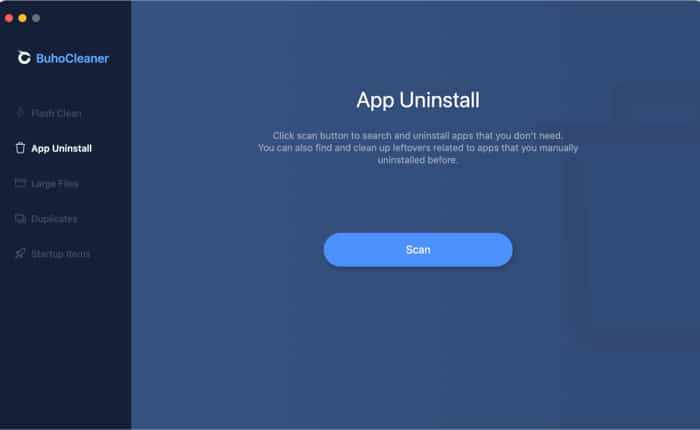 Large Files
Large Files is pretty self-explanatory, too. This is a list of the largest files on your Mac; whether you choose to remove them is up to you. Some may be important for work, gaming, or school, while others you've likely forgotten were ever on your device!
Like the other features from BuhoCleaner, this one is just as simple to use. Select the file(s) you wish to delete, and click Remove. Enjoy your newfound storage space!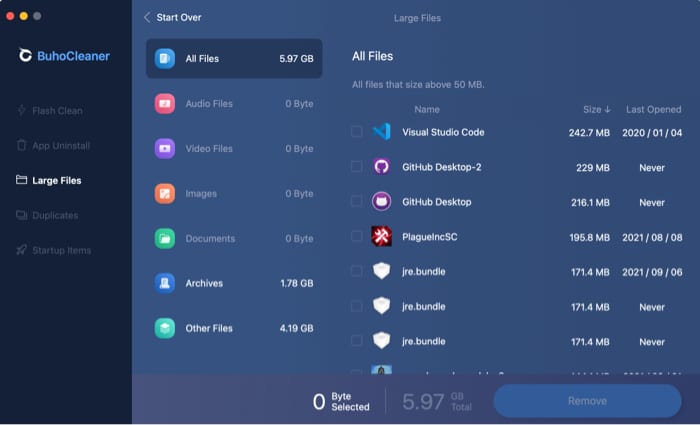 Duplicates
Duplicates allows you to select a certain folder on your Mac and scan for any folders of the same size and content (i.e, duplicates). These folders are doing nothing but taking up unnecessary space, and BuhoCleaner wants to get rid of them for you.
Simply click the + symbol to add a folder you think may have a duplicate and press Scan. If there are any duplicates on your device, BuhoCleaner will identify them and enable their removal with a click of the Remove button.
Startup Items
BuhoCleaner allows you to view the apps and processes that open automatically upon startup. Should you want to disable any app or process, just toggle your selection to off. That's it!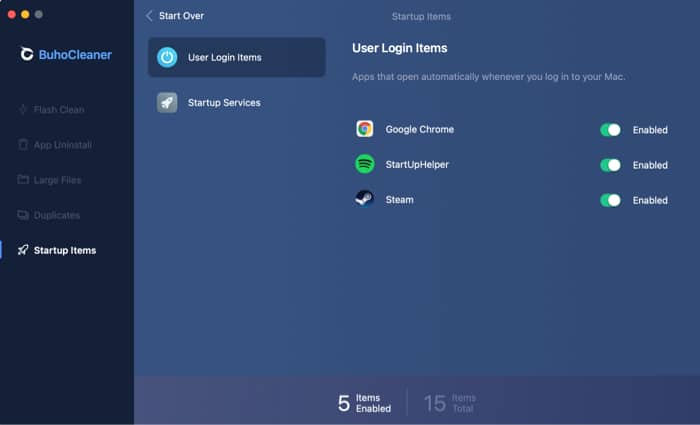 Learn more about Buho
What good is an app if the developers never update it? If you ask me, it's not much good at all. Luckily, Dr.Buho takes pride in their work, listens to the community, and rolls out frequent updates for BuhoCleaner. You can check the changelog on Dr.Buho's website.
Now I'll run through some frequently asked questions (FAQ) in case I missed anything in the review.
Q. Is BuhoCleaner compatible with M1 chip Macs?

Absolutely! The app is optimized to run on M1 Macs. You'll need to be running macOS 10.12 or higher.
Q. Is BuhoCleaner safe to use?
Definitely. I haven't had any problems after installing the app on my MacBook Pro, and I freed up over 120GB of space! If you want to uninstall the app at any time, it's as simple as dragging it from Finder → Applications directly to the trash bin.
Q. How do I know if BuhoCleaner worked?
There are a few methods to check, the easiest of which (in my opinion) is to give BuhoCleaner another run-through. Use Flash Clean to scan your Mac again and ensure it removed any unwanted files. If not, they'll be picked up by the second scan.
Q. Do I need to leave BuhoCleaner running or share my location to access the app?
No and no! You can shut down BuhoCleaner after use and open it only when you need it. The app does not require you to share your location, either.
If you have any more questions, please ask away in the comments!
BuhoCleaner takes care of your Mac
So, what do you think? Pretty useful, right? Easy as pie, too! Installing BuhoCleaner is a no-brainer if you want to keep your Mac healthy and speedy.
iGeekometer
User Interface
Features
Performance
Value for money
I loved how the trial version does not have a time limit attached to it, but you can only delete a maximum of 3GB of data at a time. To put it in perspective, I freed up over 120 GB of space running BuhoCleaner. You would need to run the app 40 times via the Trial Version.
Moreover, BuhoCleaner offers a 30-day money-back guarantee should you decide you're not satisfied with the product.
Pros
Intuitive UI
Extremely fast
Easy to use
Multiple features (not just a file-deleter!)
One time purchase, affordable pricing
Cons
Trial version has a 3GB file removal limit
Overall, I'm extremely satisfied with BuhoCleaner's performance and its snappy UI. I was shocked to see the prices that low for an app of this caliber!
Price:
Single License: $9.99 (one payment)
Family License: $14.99 (one payment)
Business License: $29.99 (one payment)
Additionally, although the brand is running a 50% discount deal on all their plans, our readers will get an exclusive 70% off on the Family License (only $8.99 for a family license + free lifetime upgrade) using our coupon code.
Coupon: IGB3C976B8
Note: Only the first 50 people will be able to avail of this exclusive discount.
So, hurry up! Visit this link to learn how to use the coupon code for your purchase.
Do you have any questions about the app? Perhaps you'd like to see another app reviewed by the iGeeks team? Let us know in the comments below! We'll do our best to get back to you.
You may also like to read:
Readers like you help support iGeeksBlog. When you make a purchase using links on our site, we may earn an affiliate commission. Read more.