Both iPhone 13 and iPhone 13 Pro are water-resistant but not waterproof! So, if you are a traveler, watersport enthusiast, or live in a place where it rains or snows often, it is essential to get yourself a waterproof case to prevent damage to your iPhone!
If you're wondering which case is right for you, I've curated this list of the best waterproof cases for iPhone 13 and 13 Pro to help you out. Let's jump in!
1. Temdan – Editor's choice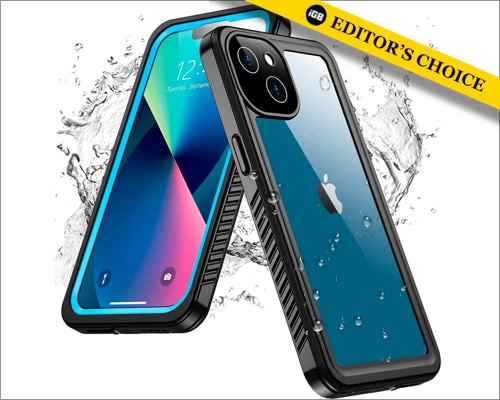 For the best waterproof phone case, you should look for all the required protection at a good price. The Temdan waterproof phone cases for iPhone 13 and iPhone 13 Pro deliver on those requirements exceptionally well.
It is IP68 certified and can handle water at a depth of 2m for 30 minutes. If you're into basic outdoor activities such as swimming, fishing, or casual water sports, this should suffice. There's also a built-in screen protector and a scratch-resistant back panel.
Moreover, the phone case also prevents shock damage due to sudden drops by adding Military Standards 810G-516 protection. It's fairly easy to install with two snap-on covers for a hassle-free installation.
The case fits well, but some users have reported it might hamper your calls, thanks to impediments to the speaker and microphone.
Pros
Fits well
Shockproof
Scratch-resistant back panel
Easy to install
Affordable
Cons
Speaker and microphone cutouts could've been more precise
Buy now: iPhone 13 | iPhone 13 Pro
2. Dewfoam – Best-in-class screen protection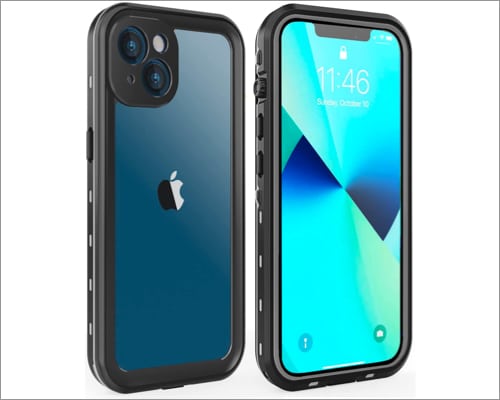 Many iPhone 13 and iPhone 13 Pro cases offer built-in screen protectors. However, these screen protectors tend to lack in some aspects – either they smudge too easily or attract scratches.
With the Dewfoam waterproof case, you don't have to worry about that. While it offers the basics at this price range with IP68 certification and protection from snow, dust, and drops (thanks to its double shockproof material), its main attraction is the built-in screen protector.
Further, the screen protector is precisely cut, scratchproof, and doesn't impede your interactions over FaceTime or when you're taking selfies.
Although the phone case has been advertised as providing wireless charging support, users have stated online that it only works with a few wireless chargers.
Pros
Excellent built-in screen protector
Protects from snow, dust, and drops as well
Precise cutouts
Cons
Wireless charging feature is sketchy
Buy now: iPhone 13 | iPhone 13 Pro
3. Fansteck – Complete drop damage protection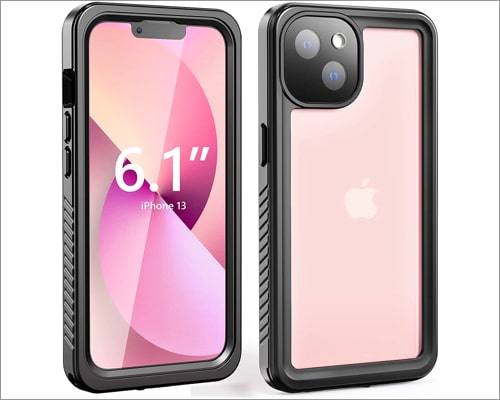 While waterproof phone cases offer elementary protection against drops and fall, none seem sturdy enough to withstand the shock from a higher degree fall. With Fanstack, however, you get complete protection from shock and drops.
It's got an IP68 certification and protects the phone from snow and dust as well. The iPhone was tested for over 2 hours in 6.6ft deep underwater with the case, and it came out without any water damage.
Regardless, the phone case's biggest draw has to be its build. It is made using TPU material with a frame as tough as nails. Once you put it on the cover, you'll notice the instant durability it adds to your Apple product. It's also quite ergonomic, despite the rugged build.
My only gripe with this case is that the built-in screen protector does not offer great touch sensitivity.
Pros
Heavy-duty protection
Build quality is excellent
Ergonomic
Cons
Built-in screen protector could've been better
Buy now: iPhone 13 | iPhone 13 Pro
4. LifeProof FRE SERIES – Eco-friendly
With the LifeProof FRE SERIES phone cases, you get one step closer to introducing eco-friendly products into your life. The case is made of 60% recycled plastic. And its polycarbonate material results in fewer emissions and reduced exposure to harmful chemicals.
Moreover, the phone case comes with a built-in screen protector. The cutouts are precisely made for the volume, cameras, and speakerphone resulting in a sleek design, giving your phone a gorgeous look. The manufacturers have also provided a year's warranty with this product.
Further, the case is submersible to 2 meters for 1 hour. It also supports wireless charging and can be connected to MagSafe; however, it isn't compatible with other MagSafe accessories.
Unfortunately, as with most eco-friendly products, this phone case comes with an expensive price tag.
Pros
Eco-friendly material
Good built-in screen protector
Sleek design
1-year limited warranty
Cons
Expensive
Doesn't have IP certification
Buy now: iPhone 13 | iPhone 13 Pro
5. Ghostek NAUTICAL – MagSafe-friendly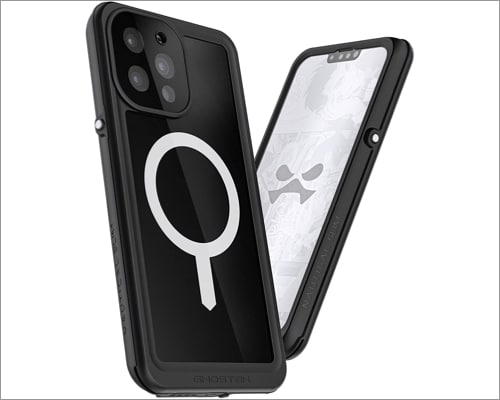 If you're looking for a waterproof case for your iPhone 13 or 13 Pro but need it to be MagSafe-friendly, Ghostek NAUTICAL is a perfect choice! It is IP68-certified and can be submerged in water for almost two hours without damaging the phone.
It also has a 360° full-body military-grade design that offers drop protection of up to 12ft. to your iPhone, without compromising call quality and ergonomics. The case also offers heavy-duty shockproof protection. Moreover, the case comes in two options: glossy black and transparent design. You can choose the one you want!
Unfortunately, since this is safe to use with MagSafe technology, the price is higher than most of its competitors.
Pros
MagSafe-compatible
Military-grade design
Durable
Ergonomic
Cons
Price is relatively higher
Buy now: iPhone 13 | iPhone 13 Pro
6. Transy – Lightweight and durable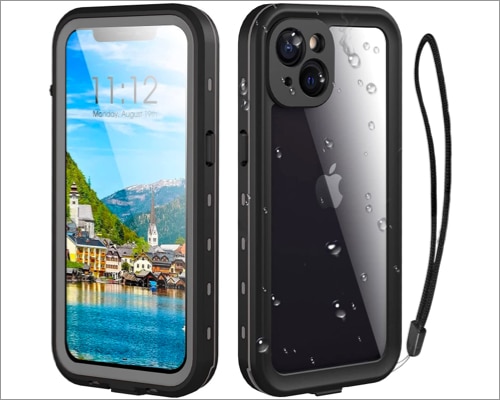 If you're looking for a waterproof case that offers durability and a slim form factor, Transy's waterproof case is for you. While being surprisingly slim, the case is made from a combination of TPU and PC. The corners have also been strengthened.
Further, the case is IP68 certified and also supports wireless charging. However, the biggest surprise here would be the case's weight at only 2.28 oz. Hence, you'll barely feel a difference after using the case with your device, making it easier to carry along.
The only caveat is that the back panel is too slippery and has poor grip. I'd recommend using a pop socket to avoid this.
Pros
Slim form factor
Durable
Wireless charging support
Lightweight
Buy now: iPhone 13 | iPhone 13 Pro
7. MOMOTS diving case – For underwater shenanigans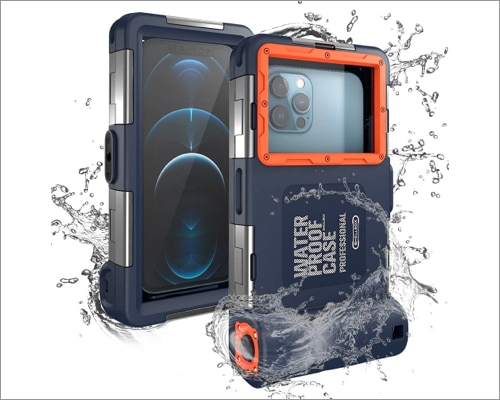 People interested in adventure sports will find something to like about this offering from MOMOTS.
The company has created a highly durable diving phone case for iPhone 13 and 13 Pro. If you're into extreme watersports like snorkeling and want to dive deep into the depths for capturing the best videos or shots, this case is for you.
The phone case is IPX8 certified and can handle water up to a level of 15m. The thick body of the phone case also helps the phone from dealing with the immense pressure present at such depths. The case provides 360° protection and is easy to use as well. Additionally, you also get a 1-year warranty!
Unfortunately, due to this heavy-duty build, it adds a substantial amount of bulk to the phone.
Pros
IPX8 certified
Can handle water up to 15m
Excellent for underwater videos and pictures
Durable
1-year warranty
Cons
Bulky
Not for everyday use
Buy now: iPhone 13 | iPhone 13 Pro
8. JOTO waterproof pouch – Universal compatibility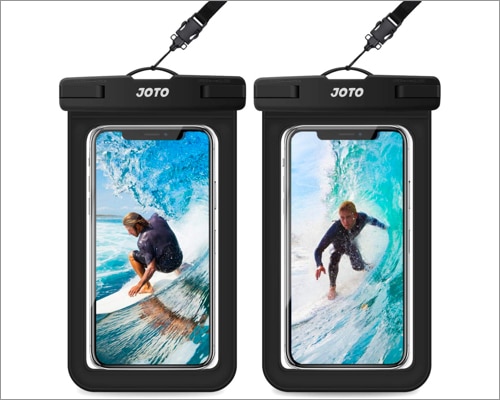 What if you need to protect your phone from moisture or water but don't want to spend too much money on a waterproof case? JOTO Universal Pouch is perfect for you! You can fit in any smartphone measuring up to 7″ diagonally.
It's IPX8 certified and supports your device for up to 100ft. deep in the water. On either side of the pouch, you'll find clean windows to help you use your phone effortlessly. The pouch also protects your phone in case of snow or extreme dust. Lastly, it's easy to snap and lock access and even comes with a neck strap to carry along easily.
However, several users have stated that the clean panel on either side has issues with reflection and overheating the phone if exposed to broad daylight for too long.
Pros
Cheap
IPX8 certified
Comes with a neck strap
Easy to use
Universal compatibility
Cons
Clear panels are reflective
Could overheat your phone if left out in the sun
Buy now: iPhone 13 and iPhone 13 Pro
That's it!
Whether you're using an iPhone 13 Pro or iPhone 13 Pro, it's always better to take extra precautions to protect your hefty investment. Hopefully, you'll find something appealing from this list of the best waterproof cases.
Are there any other cases that you prefer using to protect your phone from water? Let me know in the comments below!
Read more:
Anirban is a literature post-grad who delves in philosophy and postmodern novels when not writing on tech and gaming. His love for research is only trumped by his love for chai and heavy metal.