While the iPad is a magnificent device, it doesn't provide much storage space. Moreover, if you consider the image and video quality, storage space on iPads tends to run out sooner. What's the solution, you ask? An external hard disk! I've chosen a list of the best external hard drive for iPad for every budget!
Let's take a look at the entries!
1. Seagate – Editor's choice
Capacity – 2Tb
Reading speed – 120Mb per second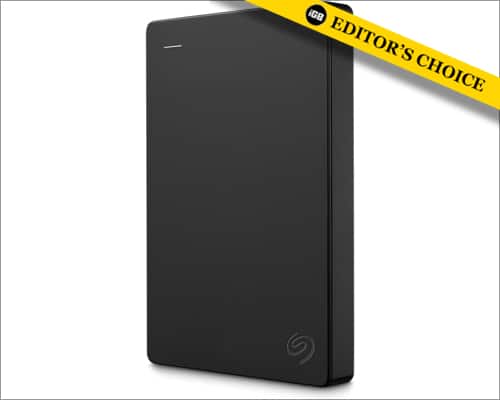 Seagate has been producing some amazing hard drives in recent years. More importantly, they have been a reliable source of additional storage space.
With this Seagate external hard drive, you get a respectable 2TB of storage space. When it comes to the design, the external hard drive keeps it simple and minimalistic as well. Whether you're using this for professional or casual scenarios, the hard drive will easily fit into either.
Another great factor about this hard drive is that you don't need to install any additional software to operate it. All you need to do is plug it into your iPad, and it will start working immediately. There's also an included USB 3.0 cable that's fairly long at 18 inches.
The only issue with this hard drive is that the build quality could've been better.
Pros
2TB storage
Sleek design
No software installation required
USB 3.0
Check out on: Amazon
2. iDiskk – MFi certified
Capacity – 1Tb
Reading speed – 6Gb per second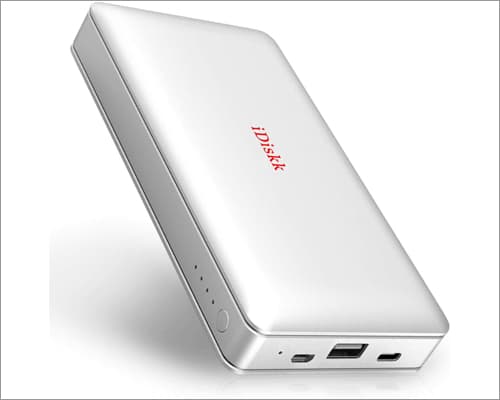 It's difficult to find external hard drives that are MFi-certified. Apple is compliant with its high standards, making it difficult for many products to get the MFi certification. However, with this offering from iDiskk, you can be sure that your data is in safe hands.
Its biggest advantage is that it lets you transfer all your files from the iPad quite easily. Unlike other non-MFi certified devices, the transfer speeds of this hard drive work best with iPads.
If you connect the hard drive to your iPad, you can back up all your data via a single key after installing the app. The process is instant and smooth, allowing you to use your iPad freely without the fear of less storage.
Besides, you don't have to install any additional software to operate the hard drive. It operates in a simple plug-and-play situation. Lastly, you get 18 months warranty with the hard drive! Lastly, it also functions as a power bank with a massive 10,000mAh battery!
Unfortunately, some users have stated that the hard drive is difficult to use initially. Hopefully, the manufacturers add clearer instructions in the next iteration. Furthermore, it's quite expensive for the storage capacity it provides.
Pros
MFi-certified
Easy to backup data
No extra software installation needed
18-month warranty
Functions as a power bank
Cons
Difficult to set up
Expensive
Check out on: Amazon
3. SanDisk iXpand – Maximum portability
Capacity – 128Gb
Reading speed – 130Mb per second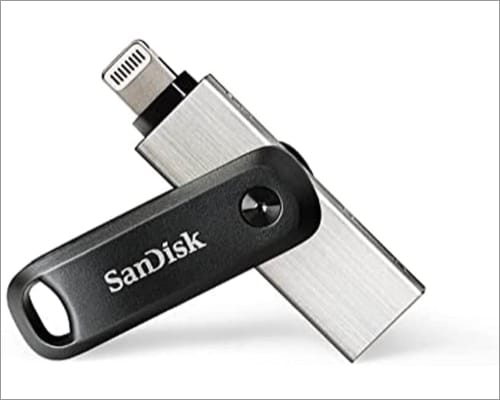 While external hard drives for Mac tend to offer plenty of storage space, they can be a bit clunky to use. Moreover, their size doesn't make them portable for daily commute. The SanDisk iXpand hard drive provides a solution to this.
While you will have to sacrifice the maximum storage space, you're rewarded with an exceptional level of portability. This hard drive from SanDisk is easy to carry, use, and provides 128GB of storage space.
You can easily connect this with your iPad and use it. All you have to do is install the app and change the settings for automatic backup. If you keep the hard drive connected to your iPad, you can shoot videos or take pictures directly stored on the drive.
Enjoy blazing-fast transfer speeds, thanks to the USB 3.0 connector. Lastly, the hard drive also protects your files, supporting the password-protection feature. Now, all your files will be easy to carry and safe to transfer.
The only gripe I have with this hard drive is its app. The user interface feels clunky, dated, and requires an immediate update.
Pros
Portable
Easy setup
USB 3.0 connector
Direct storage from iPad to hard drive
Cons
The app interface could've been better
4. LaCie Rugged Mini – Ultimate durability
Capacity – 4Tb
Reading speed – 130Mb per second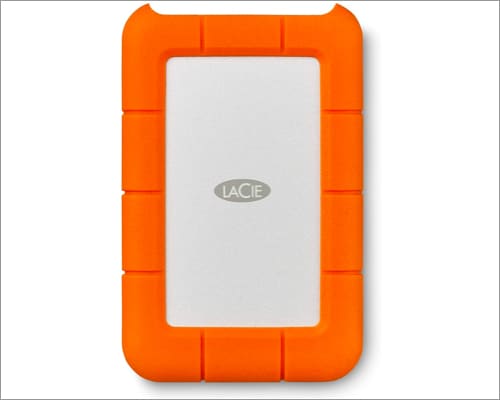 Most external hard drives for iPad don't have good build quality. Even if you pay extra for a hard drive with the better build quality, there's no guarantee that it'll work under duress. However, the LaCie Rugged Mini is one of the most durable hard drives.
This hard drive has a rugged external shell that runs around the body of the main drive. It protects the hard drive in all environments. It can also survive falls from up to 4 feet without a scratch. Furthermore, the company also claims that the hard drive is dust and water-resistant (with IP67 certification).
This external storage for iPad Pro also has password protection software, keeping your files as safe as possible. Moreover, it uses USB 3.0 for superior transfer speeds, and you also get a 1-month complimentary membership to the Adobe Creative Cloud All Apps plan.
The only major issue I can find here is that you have to reformat the external hard drive before it can work with Apple devices.
Pros
Highly durable
Excellent build quality
Resistant to dust and water
USB 3.0
1-month complimentary membership of Adobe Creative Cloud All Apps plan
Check out on: Amazon | Best Buy
5. SP Silicon Power Armor A60 – Water resistant
Capacity – 4Tb
Reading speed – 130Mb per second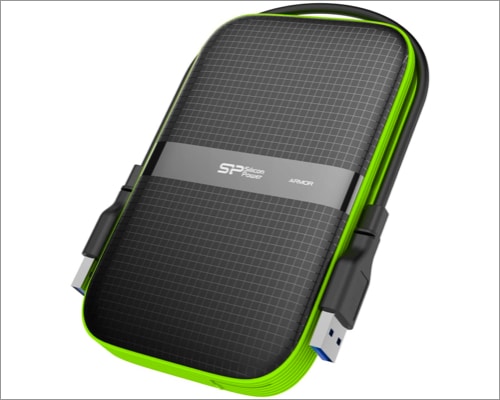 Even if you have an external hard drive for your iPad, the hard drive may not be safe from liquid spills. Unless you have a second backup, there's a good chance you'll lose all your files in this scenario. That's why you should check out this amazing offering from Silicon Power.
The Armor A60 variant from Silicon Power will protect your data from two things – water and drops. The exterior of the hard drive uses a rugged shell that's military-grade shockproof. Moreover, it has a proven IPX4 water resistance certification.
The hard drive also uses the proprietary SuperSpeed USB 3.0 interface for transferring files. This interface promises the fastest possible transfer speeds so that you can transfer all your important files in a hurry. Furthermore, with 4Tb of storage space, you won't run out of space for a long time.
This external hard drive also requires to be reformatted when being used with an Apple device. For those who aren't tech-savvy, this might pose an issue.
Pros
IPX4 water resistance certified
Excellent build quality
SuperSpeed USB 3.0
4Tb storage space
Cons
Have to reformat the drive before using
Check out on: Amazon
6. Toshiba Canvio Basics – Best budget option
Capacity – 1Tb
Reading speed – 150Mb per second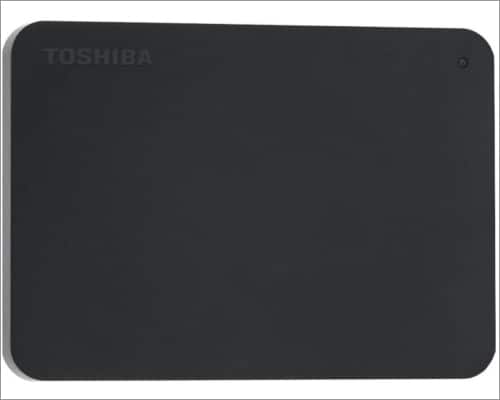 External hard drives for iPad can be difficult to choose due to the number of options available. Moreover, some of the good external hard drives are pretty expensive. Thankfully, with the Toshiba Canvio Basics, you get one of the best external storage for iPad that's both reliable and budget-friendly.
The external hard drive is small and has an unassuming design – the perfect look for efficiency. The hard drive's surface has a matte finish and is also smudge-resistant. Say goodbye to intense cleaning operations for at least one of your devices!
Furthermore, you don't have to install any additional software. You can just plug it into the device and start backing up your files and folders. It also offers 1Tb storage, a bargain at this price.
There are downsides to this hard drive, though. External hard drives use a different mechanism with Apple devices if they're not MFi-certified. Unfortunately, it's no different with this hard drive, as you will have to reformat the device before using it with your iPad.
Pros
Aggressive pricing
Decent build quality and design
No extra software installation required
Cons
Reformatting is required before use
Check out on: Amazon
7. Western Digital (WD) My Passport – Excellent value for money
Capacity – 4Tb
Reading speed – 130Mb per second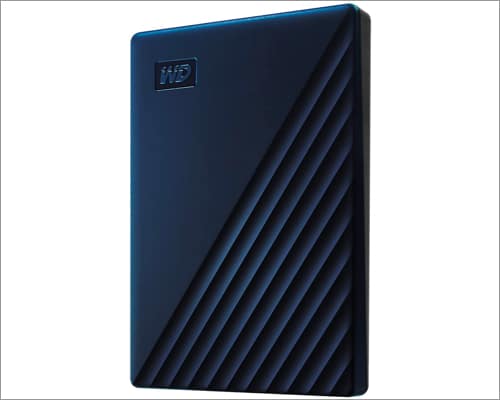 As budget-conscious consumers, we look for deals that provide us with the best value. With WD My Passport external hard drive for iPad, you get an excellent deal.
The first thing that you'll notice when using this hard drive is its unique look. The design aesthetic is minimalist yet elegant, adding ridges to one side of the hard drive for a different look. This hard drive has been specially designed for Apple devices, so it's extremely easy to use with an iPad.
WD also provides software to help you protect your files by setting a password. However, the software must be downloaded and installed to take advantage of password protection. Nonetheless, your files will be safe, thanks to the 256-bit AES encryption it provides. It works with a USB 2.0 port that can transfer files at 5Gbps.
You won't have to worry about storage capacity, though. This external hard drive ships with a massive 4TB storage space and a limited 3-year warranty.
While the design quality is good, WD clearly skimped on build quality. I'd recommend you keep the drive in a cozy corner so that it doesn't fall – its body is quite fragile.
Pros
Value for money
256-bit AES encryption
4Tb storage
Elegant design
Limited 3-year warranty
Cons
Build quality isn't great
Check out on: Amazon | WD | Best Buy
8. SSK NAS – Wireless portability
Capacity – 2Tb
Reading speed – 300Mb per second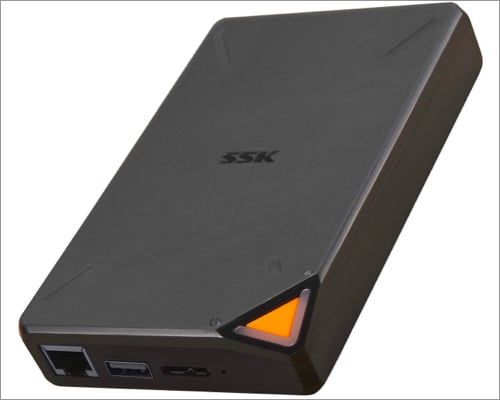 A major concern with most hard drives is that they require cables to connect to the device. With the SSK NAS, you don't have to worry about dealing with short cables again.
This beautiful device has a high storage capacity of 2Tb and can transfer files wirelessly. Moreover, the wireless transmission speed is satisfactory at 300Mbps. It uses P2P transmission mechanics to store the data and keep it safe through encrypted transfers.
The hard drive is powered by a 3800mAh battery. Therefore, it can also be used as a power bank. Quite handy, isn't it? Besides, the drive also comes with an app allowing more than one person to back their data without geographical limitations.
Furthermore, all devices connected over a certain LAN can back their data into this hard drive. As a plus point, it also supports Samba and DLNA protocols. Lastly, it has a USB Host port that can read all kinds of data through a USB cable.
The only issue is that you can't switch off the wireless signal it emits for transfers. While this is how the device functions, an option to turn off the signal when not in use would've been nice.
Pros
High storage capacity of 2Tb
Completely wireless
Can be used as a power bank
No geographical restrictions for transferring files
USB Host port provided
Cons
The wireless signal cannot be switched off when not in use
Check out on: Amazon
Summing up
Now, you can let go of all your storage woes with this list of the best external hard drives for iPad. Personally, these drives are a good option as our data often builds up over time. This clogs our devices' storage space and slows it down. While this could be considered an extra expenditure, I think it's a good investment.
What do you think of this list? Have you ever used an external storage device for iPad? If so, how was your experience? Post your thoughts in the comments!
Read more:
Readers like you help support iGeeksBlog. When you make a purchase using links on our site, we may earn an affiliate commission. Read more.
Anirban is a literature post-grad who delves in philosophy and postmodern novels when not writing on tech and gaming. His love for research is only trumped by his love for chai and heavy metal.