Starting with iOS 14, the iPhone has received a detailed built-in clock widget that most users find intriguing. But to make their user interface more compelling and give it a facelift, most users are turning to third-party clock widgets.
These are even more functional as they not only offer aesthetics that the in-built app lacks but also help keep a tab on your tasks. Here's my list of the best clock widgets for iPhone.
1. World Clock Time Widget – Editor's choice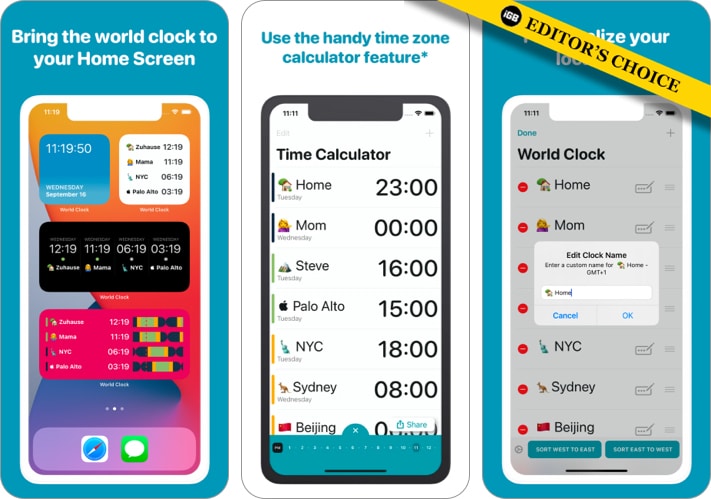 The World Clock Widget features customizable icons for viewing different time zones. It's a solid pick for tracking time zones for clients, friends, and families across the globe. The free version offers basic functions and doesn't limit available time zones.
When you select your preferred time zones, you'll be able to see and compare them within the widget on the Home Screen.
However, options to view the date, seconds, calculate time differences, or change the widget theme are only available with the premium version. Besides, you can't switch icons without a subscription!
Pros
The free version offers unlimited time zones
Customizable themes and icons
Ideal for comparing time zones
Cons
Customizable features like themes are paid
Price: Free (Subscription starts at $0.99)
2. Clock Widget: Custom Clock App -Most versatile theme library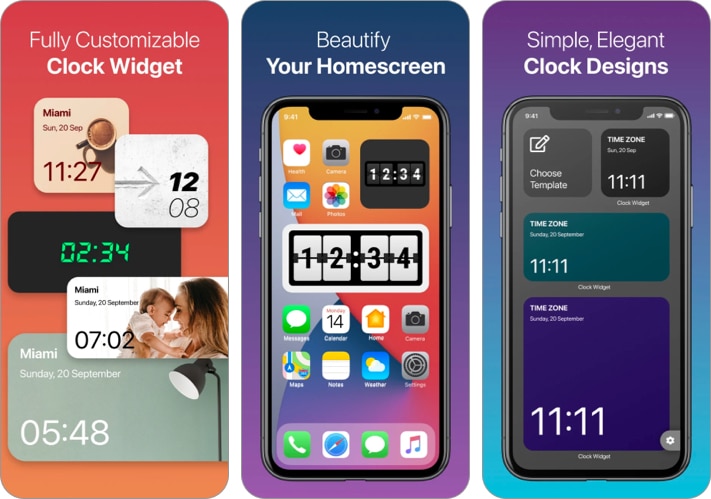 Digital watch lovers are going to love this. The Clock Widget offers many customizable digital clock themes and built-in templates. Hence, if you're unsatisfied with the widget's appearance, you can customize a template, i.e., change the background color or even use your photo as background.
However, you have to subscribe to a pro plan to use built-in templates. And while some clock templates only display time, others show date, time, and region name.
So there's something that suits everyone's needs here. Moreover, you can select your preferred time zone. But it doesn't allow time zone comparison.
Pros
Many widget template options
Use your photo as background
Captivating user interface
Cons
It can't compare time zones
Price: Free (Subscription starts $1.99)
3. Widget: Custom Widgets Gallery – Most customizable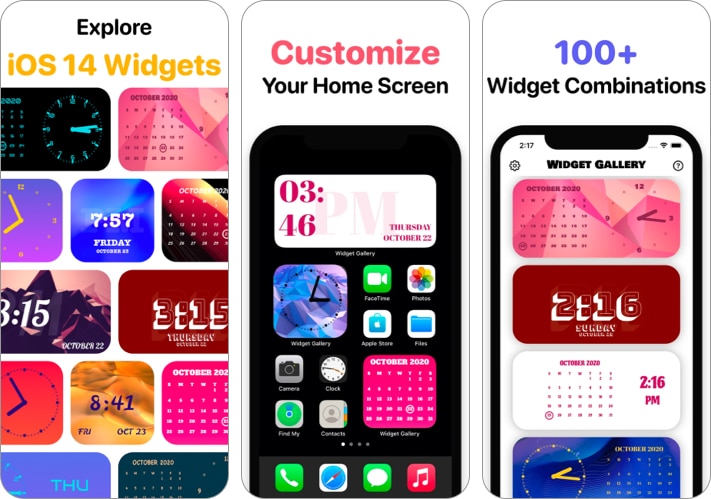 Custom Widgets is a full-featured clock widget maker. It features various custom options for changing text and background color. And you can import your photo as a background from the gallery if you like. Instead of creating a one-off design, you can design many widgets and store them in the widgets library.
When adding widgets to your device's Home Screen, you can choose from in-app themes. A downside of the app is that it's exclusively subscription-based.
Pros
Customizable widgets
You can use your photo as a theme background
Easy to use
Cons
You can't use the app until you subscribe to the pro version
Price: Free (Subscription starts at $2.99)
4. World Clock Widgets – Simplest design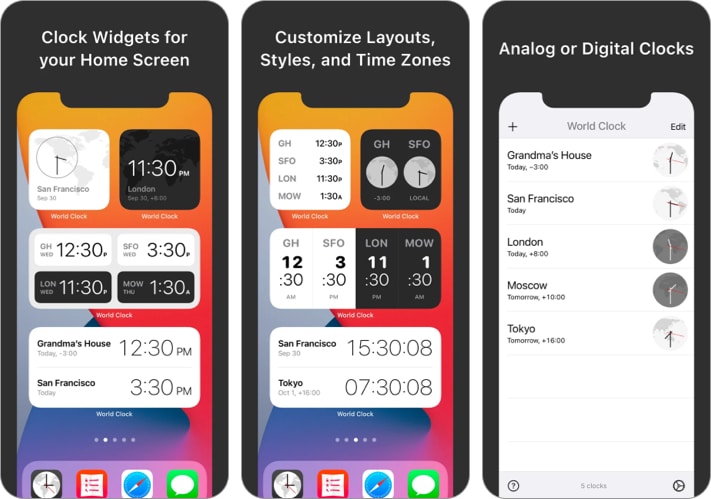 Here's another time zone widget for comparing the time in various regions. World Clock Widgets doesn't offer many special customization options regarding themes and design. But it presents you with the option to select your time zones. And you can also switch between digital and analog views.
When you finally add the widget to your Home Screen, it arranges each time zone in a way that makes them easy to compare. Although the app doesn't nag on subscription, the free version presents frustrating ads. You can remove these by upgrading to a premium plan.
Pros
Compare time zones
Straightforward
You can switch between analog and digital views
Cons
The free version contains in-app ads
Price: Free (Subscription starts at $2.99)
5. Desk Clock: Analog Clock – Most classic design
Desk Clock is a classic widget worth iPhone if you love to bring back the effect of old analog clocks to its Home Screen. Besides being analog, it also features a digital watch at the top. And you can also see the date and set alarms if you want.
The clock is also customizable. For instance, you can write your name on the clock skin by tapping the Set clock title button in its settings menu. It also offers various clock themes. But most of these are only available in the pro version.
Pros
Most features are available for the free version
View analog and digital clocks simultaneously
Personalize the clock with your name
Cons
The free version contains ads.
Price: Free (Subscription starts at $0.99)
6. Flip Clock: digital widgets – Best for productivity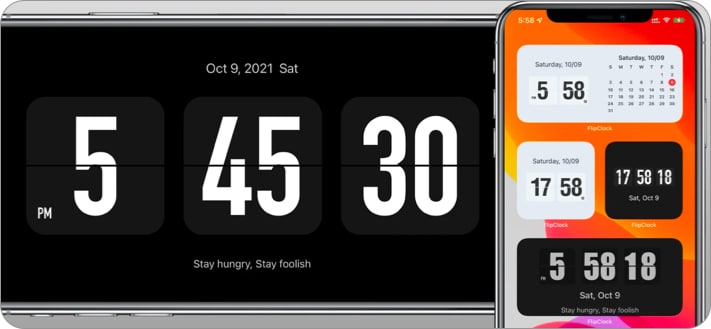 Flip Clock is a native digital clock widget for iPhones. You can adjust its text size by zooming in or out on the app's Home Screen. An intriguing feature of the app is its Pomodoro timer, a valuable tool for improving productivity.
Although there are free themes you can start with, most of them are only available in the premium plan. Besides various customization settings, it also has alarm and timer capabilities. You might also want to try double-tapping the app's home screen to switch on your device's torch.
Pros
Multifunctional
Access to many clock skins
Productivity features
Cons
The free version is limited to a few themes
Contains ads
Price: Free (Subscription starts at $0.99)
This wraps up my list of the best clock widgets for your iPhone. They not only improve your device's user interface but also makes it more sophisticated. Which of these widgets worked best for you? Let me know in the comment section below.
Read more:
Readers like you help support iGeeksBlog. When you make a purchase using links on our site, we may earn an affiliate commission. Read Disclaimer.