Do you forget wishing people on their birthday or anniversary? Don't be embarrassed; we are in the same boat. Let technology come to your rescue. There are several apps to help you remember dates with ease.
In this article, I'll be listing down some of the best birthday reminder apps for iPhone. Although iPhone's Calendar has an inbuilt reminder feature, these apps will make life easier for you. Let's dive right in.
What we considered before making this list
I made sure that these apps are good at what they're supposed to do, reminding you of birthdays (and other important dates, for that matter).
Second, the user interface. It must be easier to set up reminders in a few taps. While I also tried to look for free apps, not all of them turned out to be great. Therefore, the list also includes paid ones with better features.
I also ensured that the apps had add-on features such as a countdown timer, notification-based, flexible reminders for more convenience. Some of these apps will remind you of the birthday in advance for you to plan a party or surprise.
Best iOS apps to keep track of birthdays and anniversaries
1. Birthday Reminder & Countdown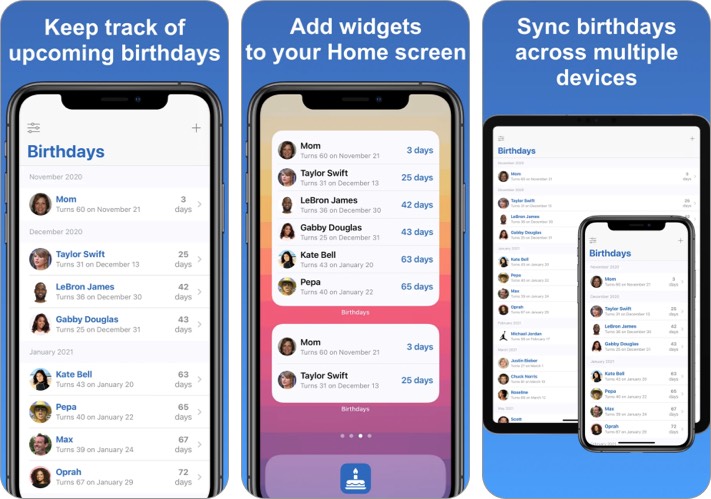 This app has a simple and easy-to-use interface that lets you create custom reminders for each contact. It also supports widgets, and you can add one with a countdown timer to the Today screen on your iPhone.
The widget will show the upcoming birthdays of your contacts. You can also import your contacts to the app, and it'll sync all birthdays with ease.
Finally, the app also supports iCloud sync, which means you can backup birthday reminders and sync across all your other Apple products.
Price: Free (In-app purchases start from $1.99)
2. hip: Birthday Reminder App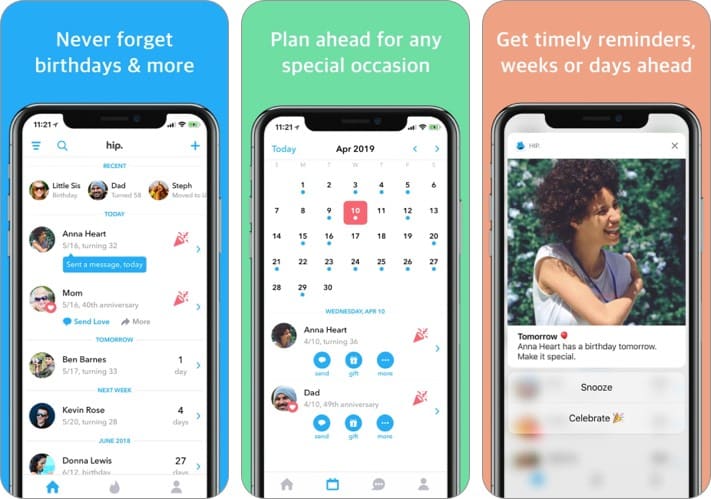 An excellent app that offers plenty of extra features to send birthday wishes, gifts, and more. It customizes reminders according to your need and it offers easy sync with contacts, Facebook, and Calendar.
You can add notes to your contacts to remember certain things, such as what they like. The app can send wishes directly along with cards, calls, gifts, balloons, flowers, gift cards, and more.
You can also ask the app to set reminders for all the different gifts. The app even lets you search for birthdays.
With a simple interface and extra features, this birthday reminder app is a great choice.
Price: Free (In-app purchases start from $2.99)
3. Birthday Reminder Pro+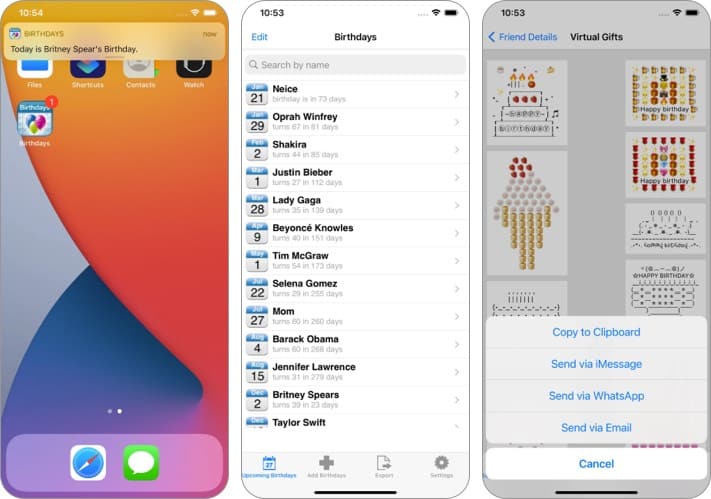 If remembering birthdays is super important to you, maybe you'd want to have the most effective app out there. The Birthday Reminder Pro+ app works the best. You can view a list of all the upcoming birthdays on the app.
It is easy to use and set up. Moreover, the app lets you add birthdays of people who aren't in your contacts and edit or delete them. The app also lets you send direct text messages, emails, or even make calls.
You can get multiple notifications for a birthday, which can be further customized.
Price: $0.99
4. Birthday Boss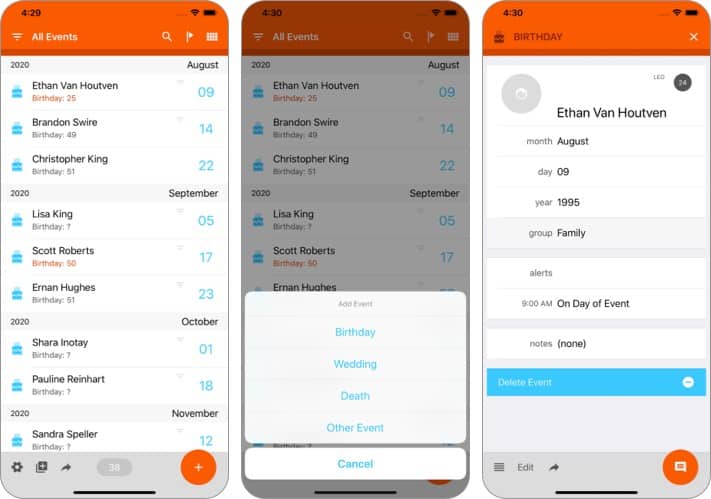 Birthday Boss is another paid app that does what it should like a boss!
This app lets you keep and manage all your birthdays, anniversaries, and other dates from one place. A simple list is provided with a calendar design for you to scroll through.
It supports contacts import, which means that all your birthdays are automatically added to the app. You can also add birthdays and other reminders for people who aren't on your contacts list.
It features a group function that lets you group birthdays for family, friends, etc., or even a custom group.
The app is a real savior in situations like learning the age of a person on their upcoming birthday or what anniversary you're supposed to be celebrating. Smart!
The notifications for reminders can be customized, and you get a yearly history log to plan things. You can share event details with others, send Happy Birthday emails or texts from the app, find birthdays using the search option, add a Birthday Boss widget to your Today Screen, and even enable iCloud sync as well.
Price: $0.99
5. Birthday Calendar Elite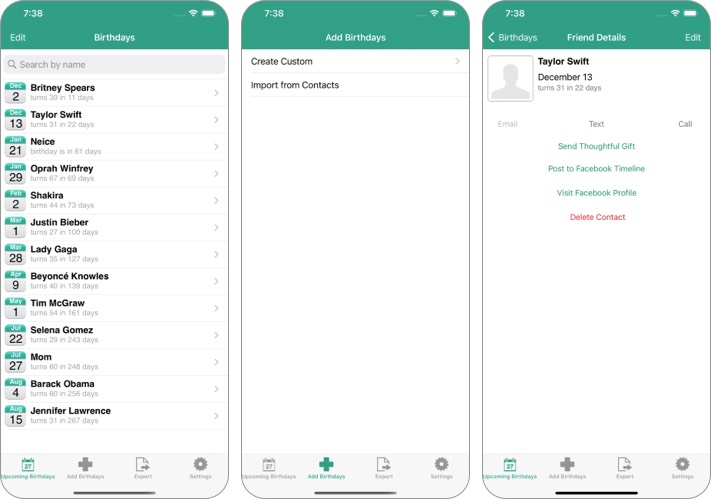 If you're looking for a straightforward birthday reminder app for iPhone, Birthday Calendar Elite is something you must try.
It is has a simple user interface and gets the job done. You'll never forget a birthday again, thanks to this app. You can easily view a list of all the upcoming birthdays, and it supports contacts import.
It also supports importing birthdays from Facebook contacts, and you can even add birthdays of those who're not on your lists.
Price: Free (In-app purchases start from $1.99)
6. Countdown+ Calendar (Lite)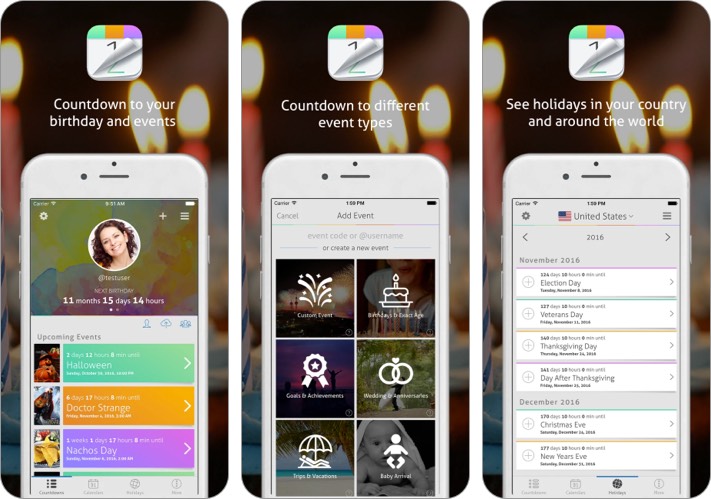 Another free app with plenty of good ratings that's available for iPhone. The Countdown+ Calendar (Lite) version offers countdowns to all kinds of events.
The app offers automatic reminders, planners, Facebook event countdowns, holiday calendars, and more. You can sync Facebook events with the app alongside birthdays. The countdown timer will remind you more frequently as the event gets nearer.
You can get many features if you pay for the app, but even the free version is good enough for all the basic birthday reminder needs. This app's main feature is the customizable countdown timers, which support image packs, and more.
The app also lets you share the birthday countdown cards with others and supports a sync feature.
Price: Free (In-app purchases start from $0.99)
Read more:
Readers like you help support iGeeksBlog. When you make a purchase using links on our site, we may earn an affiliate commission. Read Disclaimer.