Whether you are a professional or a student dealing with numerous PDF files, I'm certain you wish you could convert these PDF files into different formats to maximize productivity. But what if I told you that there's a tool that can ease your pain? I've found the perfect conversion tool – HiPDF.
It offers multiple free tools to convert, merge, and split files. But is it really a one-stop-shop for your PDF needs? Read along to find out about its features and if it is worth your money.
What is HiPDF?
HiPDF is a feature-packed tool for file conversion. It lets you not only convert, edit, and share these PDF files using iPhone or iPad but also use it on Mac, Windows, or Linux since it is a browser-based application. Besides, the tool offers free conversion!
However, if you're looking to convert PDFs in batches and other file formats, you'll need to subscribe to the Pro version, which comes with other perks. Let's have a look at what HiPDF offers.
You also get several image editing tools with HiPDF. Users can compress, crop, resize, rotate, and even extract text from images. Digital signatures are accepted widely, and you can add them using HiPDF. Once you've converted files, sharing them is a breeze.

What features of HiPDF make it even more appealing?
HiPDF is loaded with several features in terms of file conversion but let us look at the tool's free features, security, etc.
Free PDF to Word converter: Yes, converting a PDF to a Word document is free. The tool will advertise before it provides you with the converted file. An advertisement won't hurt as the tool converts PDFs in a few seconds.
Security: It takes immense trust to upload sensitive files on the internet, even if they are for work. With HiPDF, you can rest assured that your files will be safe as the uploaded files will be deleted within an hour from the website itself.
Supports numerous platforms: HiPDF is a browser-based application, so the tool will run smoothly no matter what device you are on. It supports Mac, Windows, and Linux. I tried the tool on my iPhone, and it works flawlessly there too.
Cloud services: You can choose files to convert not only from your device but also from Dropbox, Box, and OneDrive. Once converted, you can share the file link or even as an email directly from the website. Again, everything works seamlessly across the board.
PDF to Word API to developers: The team at HiPDF has made a PDF to Word API that Developers can use on their websites. They also offer a Chrome extension for the HiPDF.
Conversion formats supported
You can not only convert a PDF file into multiple formats but also convert multiple file formats into a PDF using the HiPDF tool. Listed below are all the supported formats.
You can convert a PDF to:
Word
Excel
JPG
PPT
HTML
PAGES
DXF
You can convert into a PDF:
Word
Excel
Image
PPT
TXT
RTF
PUB
How to convert files from PDF to Word or other file formats
Follow the steps below to convert your PDF into a Word File for Free. Even if you want to convert the PDF into any other file format or vice versa, the steps are similar.
Visit hipdf.com.
Click All Tools → select the PDF to Word option.
Or any other format you want to convert the PDF to.
Drag and drop the file or click Choose File to upload the PDF.
Once HiPDF extracts and converts the file, click Convert.
As soon as the file is converted, click Download and done.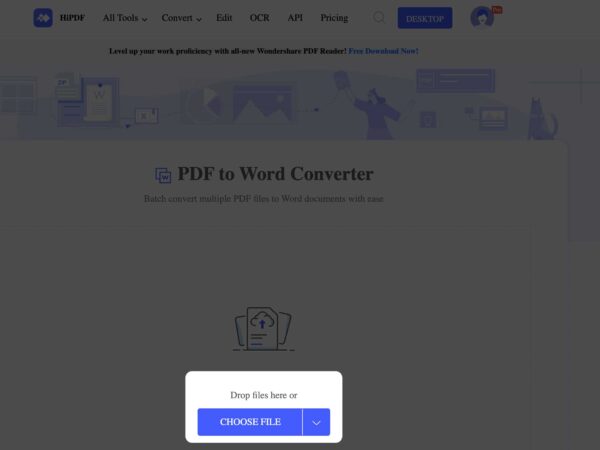 If you're still confused about how to go around this, here's a video that'll help you understand better.
💡 Additional HiPDF tools: You can also compress, merge, split, edit, and sign PDFs.
Is the free version of HiPDF enough for your needs?
The free version of the HiPDF tool is impeccable. It converts PDFs to Word files without any hassle, and if your work revolves around converting PDF files to word documents, the free version should suffice. However, the free version doesn't allow you to convert bulk files into Word format. This is where the software's Pro version helps!
Besides batch conversion, you get several other features at your disposal, like an ad-free interface, access to all PDF and image tools, unlimited file conversions, and more. The $6 spent will definitely be worth it if you constantly use those features.
If you're torn between HiPDF and the pro version, don't worry! You also get a week's free trial of HiPDF Pro to help you make a well-informed decision.
iGeekometer
User interface
Utility
Conversion speed
Value for money
Your search for a free PDF to Word converter should end with HiPDF. Going down the Pro path is recommended if your work involves a lot of converting files, etc. If not, the free tool is more than enough for occasional use.
Pros
Free PDF to Word conversion
Clean UI
It can be used on Mac, Windows, Linux, and iPhone
Supports Cloud services
All tools under one section
Cons
Free version doesn't support batch conversion
Price: Free (Pro subscription starts at $6 per month)
Readers like you help support iGeeksBlog. When you make a purchase using links on our site, we may earn an affiliate commission. Read more.
Consumer Technology and Motorcycles are the two things that excite Darryl the most. Why? Because Tech helps better people's lives, and solving people's problems related to tech is something he enjoys. And what about bikes, you ask? Well, drop a gear and disappear.