There are two types of people in this world – one who put cases on their iPhone and one who put 'the case' on their iPhone. If you're the second kind committed to one perfect case, I might have something worth your time. Join me as I review SUPCASE iPhone 13 series cases and see if they are as good-looking, protective, and durable as they sound on paper.
I got my hands on three of SUPCASE's offerings. And will review each of them individually; so you can decide whether they could be 'the case' for you or not. But first, what's SUPCASE?
Introduction to SUPCASE
I have always loved SUPCASE's story and vision. They wanted to design 'Super Cases,' which are drop-proof and yet fit into everyone's budget. And that they did. The trick behind that is ingenious engineering and high-quality materials.
Their signature Unicorn Beetle series is crafted to survive harsh environments, accidental drops, and unpredictable conditions. And while their iterations for iPhone 12 and earlier have impressed me in the past, I am keen to know if the cases for iPhone 13 series will enhance or shatter the sentiment.
Following are the three types of Unicorn Bettle cases we received:
Let's see how each of them fared on iGeekometer.
1. Unicorn Beetle Pro case: The all in one rugged cover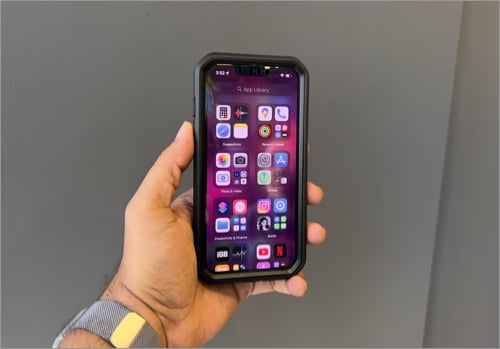 The UB Pro oozes ruggedness both in looks and protection. It has a dual-layered design with a back cover and screen protector topper. And thanks to this full-body form, you get drop protection exceeding the mil-grade drop test.
UB Pro also proudly boasts the title for CNET's annual drop test with the highest total feet. And that's not all; you get many goodies.
Design
SUPCASE employs shock-absorbing TPU and unbending polycarbonate to construct the UB Pro cases. And this choice is not only excellent for drop protection but also great for looks, hand feel, and grip.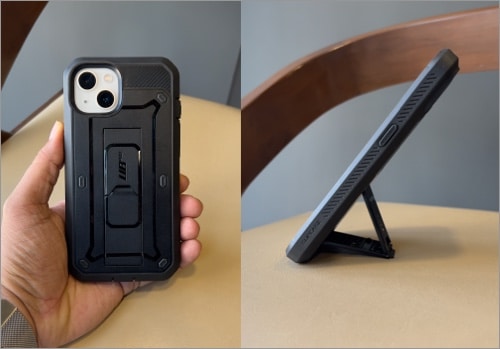 The case's back is smooth to touch, grip point on the back and the grove lines on the bumper lend good grip. All buttons maintain decent tactility, and port plugs are smooth and not too protruded.
Utility
Its time to reveal why I called the case all-in-one because it has a
A built-in screen protector that works smoothly and protects your screen.
The kickstand to support your iPhone in both portrait and landscape mode.
Free detachable rotating belt clip so you can take your iPhone on adventures.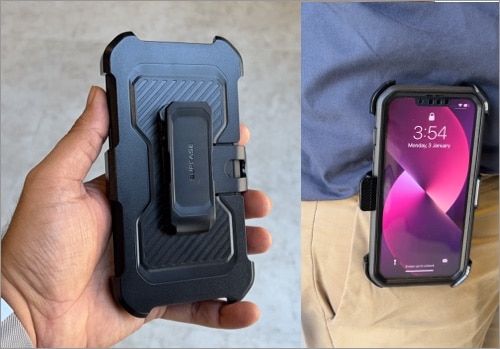 Protection
They say the proof is in the pudding and the UB Pro serves a mean pudding. The case feels quite sturdy and durable, the camera lips are quite deep, and the kickstand makes a satisfying snap when locked and unlocked.
iGeekometer
Design
Drop protection
Value for money
I am usually hesitant of full-body cases; their screen protector doesn't give the same feeling. And I had this complaint with SUPCASE in the past as well. However, the UB Pro for iPhone 13 hits different. It maintains the touch sensitivity and accuracy, so 100 points for that.
I also love the attention to detail, like the kickstand is slightly tough, so it doesn't keep falling out. And yes, it is bulky, but if protection takes precedence for you, this one might be the case you need.
Pros
360° protection
Screen protector is quite smooth
Great hand feel and grip
Built-in kickstand
Detachable belt clip
Cons
Bulky
Limited color options
Buy Now: iPhone 13 mini | iPhone 13 | iPhone 13 Pro | iPhone 13 Pro Max
2. Unicorn Beetle Edge: Bumper case with an edge
The Edge is SUPCASE's fortified clear case that lets you show off your iPhone while protecting it from daily wear and tear. It fits like a glove and maintains a lightweight and thin profile.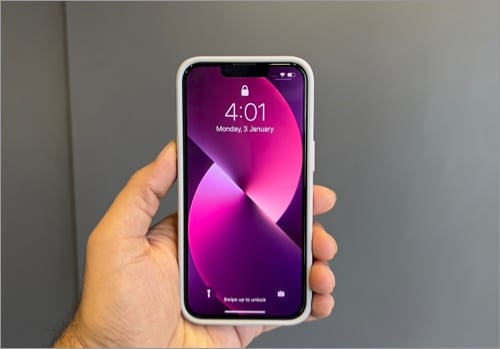 Design
Made from high-quality PC and TPU, UB Edge is a sleek and sophisticated case. The colored bumper frame lends a metallic feel that looks pretty amazing in hand and on-ear. As for the transparent back, it is crystal clear, allowing your iPhone to shine through.
There are tiny dots on the surface to keep air and moisture bubbles at bay. However, you can only spot them at a closer inspection, and once the phone is in, they magically disappear.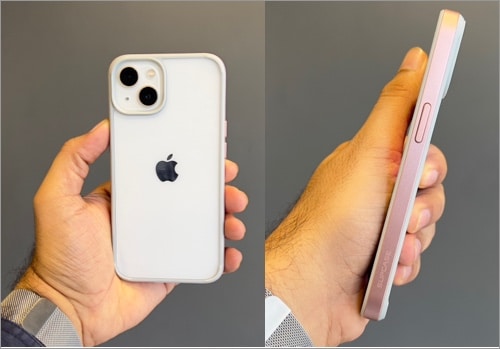 You'll be happy to know that the back is scratch and discolor-resistant. So, bye-bye to yellowing cases. Although it is a fingerprint magnet, so say hi to smudge marks.
Protection
Like other 'Super cases,' this one also blesses your iPhone with Mil-grade drop protection. You'll note a TPU extension around the screen and camera lens in the design. It creates deep bezels around these sensitive spots and avoids surface-related scratches.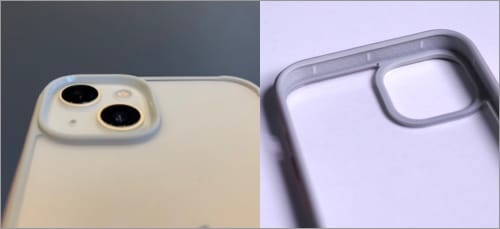 Moreover, the inside of the bumper sports a honeycomb design that'll lend additional shock absorption during an accidental fall.
iGeekometer
Design
Drop protection
Value for money
The UB Edge is a smart case in terms of looks and protection. The finishing is flawless, and the buttons have nice tactility. Interestingly, the extended TPU around the screen edges allows smooth installation and removal.
Overall, you don't have to worry or fuss around with this case, even if you're a little clumsy.
Pros
Good looks
Adequate day-to-day protection
Deep bezels around screen and camera
Scratch and discolor-resistant clear back
Wireless charge compatible
Cons
Fingerprint and oil/sweat marks show easily
No color options to match your iPhone
Buy Now: iPhone 13 | iPhone 13 Pro | iPhone 13 Pro Max
3. Unicorn Beetle Style: Hybrid protective case
This one takes a page out of Edge's book and adds some style quotient. The extra edging at the bottom lends the iPhone a more slender and sleek appearance. A subtle and smart way to make the phone stand out from the rest.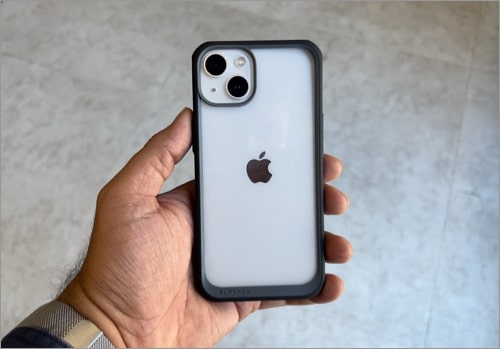 Design
It boasts a transparent hard PC back and shock-absorbent TPU bumper. And instead of the metallic look, this one offers a matte, toned-down finish. Even the buttons match perfectly, so the case looks luxe and stylish.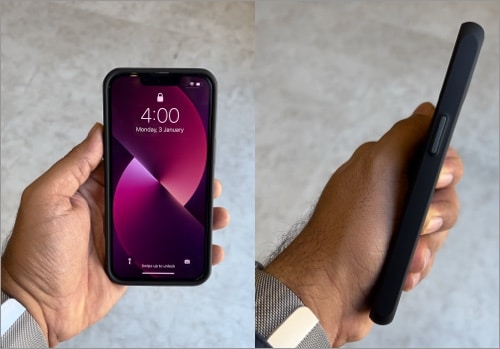 As you would expect from SUPCASE, the back is scratch-resistant, everything has smooth finishes, and the hand feel is perfect. Although, some grooves or friction designs on the bumper would have lent a better grip.
Protection
The UB Style case is a 15ft. drop test-certified by MET Labs despite its slim form. Alongside the hybrid materials used, some of the credit goes to air-cushioned corners and deep bezels.
iGeekometer
Design
Drop protection
Value for money
The design at the edges successfully tricks your eyes, making the phone look slender. And even though it is quite lightweight, you can feel the sturdiness of the case when you touch or try to squeeze it.
I even love the range of colors available, from tan to mint green. Check out the black and grey option; they look pretty classic.
Pros
15ft. drop test-certified
Scratch-resistant back
Deep bezels
Wireless charge compatible
Lanyard holes
Cons
Feels slippery in wet/sweaty hands
Fingerprint magnet
Buy Now: iPhone 13 mini | iPhone 13 | iPhone 13 Pro | iPhone 13 Pro Max
Is SUPCASE the case for your iPhone?
When selecting and reviewing cases, I depend a lot on my touch. Yes, to test the hand feel, but most of all to feel the product quality. And boy, the Unicorn Beetle series scream quality material and durability.
It doesn't feel flimsy even for a second, so kudos to SUPCASE for that. I also enjoy their price bracket, all the three varieties that I tested are value for money cases. And as per me, you should give these 'SUPer CASEs' a chance!
Read more:
A self-professed Geek who loves to explore all things Apple. I thoroughly enjoy discovering new hacks, troubleshooting issues, and finding and reviewing the best products and apps currently available. My expertise also includes curating opinionated and honest editorials. If not this, you might find me surfing the web or listening to audiobooks.