The iPhone 13 series boasts some pretty impressive features along with Apple's iconic design. All four devices in the series are powered by A15 Bionic and have some of the best camera setups. But before making the most of these premium devices, it's essential to invest in the right case that can handle life's ups and downs to keep your device in stellar condition.
Fortunately, Raptic offers a series of cases for iPhone 13, 13 mini, 13 Pro, and 13 Pro Max, promising an ideal blend of protection and style. So I decided to test them all out and see how much value they offer. Keep reading to find out!
Raptic cases for iPhone 13, 13 mini, 13 Pro, and 13 Pro Max
Raptic cases are available in four varieties for iPhone 13, 13 Pro, and 13 Pro Max, and I have tried them all hands-on!
Clear – Available for iPhone 13 Mini, iPhone 13, iPhone 13 Pro, and iPhone 13 Pro Max
Shield – Available for iPhone 13 Mini, iPhone 13, iPhone 13 Pro, and iPhone 13 Pro Max
Air – Available for iPhone 13, iPhone 13 Pro, and iPhone 13 Pro Max
Terrain – Available for iPhone 13, iPhone 13 Pro, and iPhone 13 Pro Max
All the options boast some similar features but differ in design and drop protection. Let's have a detailed look at them below.
Raptic CLEAR case
Key features
6-foot drop protection
Flexible TPU exterior
DropShield shock-absorbing polymer interior
This is Raptic's slimmest and most affordable case for the iPhone 13 series. It boasts some impressive protective features and 6-foot drop protection. The hard exterior feels incredibly sturdy and built to last. It fits like a glove around my iPhone 13 and does not add much bulk. At the same time, it has a smooth finish with a good grip that makes it a breeze to handle.
Further, the slightly raised edges around the screen and camera bump are helpful to prevent scratches. So, you can place your phone face up or down on any flat surface without worrying about the slightest damage.
I especially love the perfect transparency that allows me to show off my device's sleek look without compromising protection. Lastly, the case is compatible with Qi and MagSafe chargers at the maximum 15W speed. Apart from the transparent version, you can also get a grey, translucent one.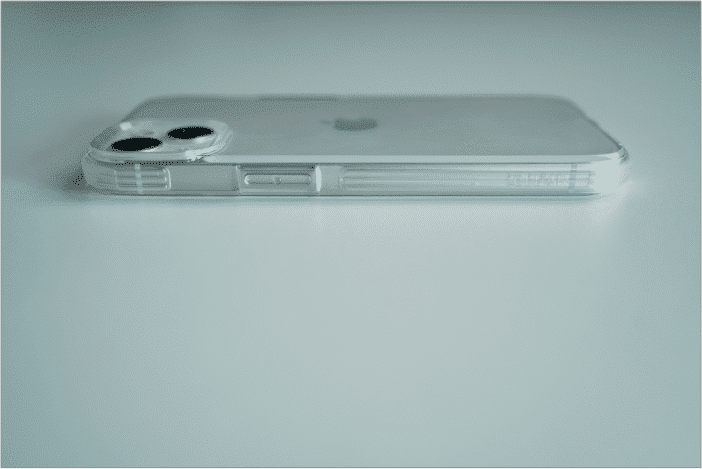 Price: $19.99
Raptic SHIELD case
Key features
10-foot drop protection
TPU & soft rubber shock-absorbing interior
Anodized aluminum metal frame
The Raptic Shield case offers 10-foot drop protection yet looks sleek and stylish. It's reinforced with machined aluminum metal while retaining a clear back to show off the original color of your iPhone.
The highlight is a soft rubber bubble pattern inside the case that absorbs shock and deflects impact away from your device. There's ample protection around the screen and camera bump too.
Further, the rugged back feels rock-solid and can handle all the bumps and falls it encounters. I especially appreciate the nodes on the buttons, making it easier to distinguish their location.
It's compatible with Qi and MagSafe charging for convenience. Moreover, the colored edges have a slight sheen to them that adds a touch of premium elegance. You can choose from six attractive colors, but my favorite is the blue one.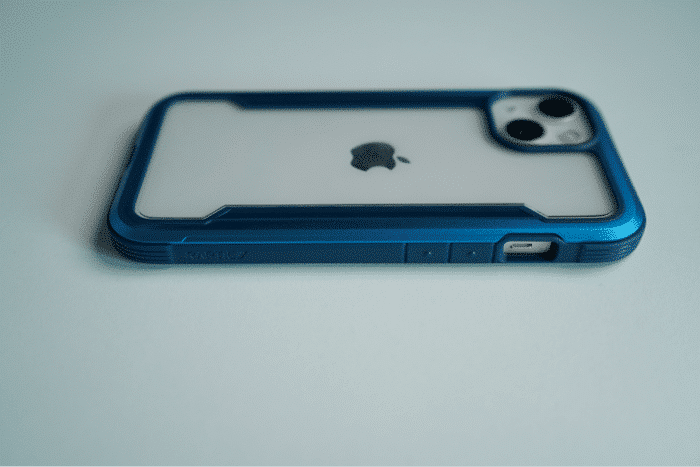 Price: $29.99
Raptic AIR case
Key features
13-foot drop protection
TPU & soft rubber shock-absorbing interior
Two heavy-duty machined aluminum bumper frames
For maximum drop-protection, check out the Raptic Air bumper case for iPhone 13, 13 Pro, and 13 Pro Max. It's slim, transparent, lightweight, yet super strong, with 13-foot drop protection. An aluminum frame around the edges creates a solid barrier against dings and dents.
On the inside is Raptic's signature soft bubble pattern lining that absorbs shocks. It's the perfect case for those who want to get the best protection for their iPhone, which still looks aesthetic and minimalist.
Of course, it also works with MagSafe and Qi charging like all the other cases in the series. Choose from five designs, including a fully transparent one.
Price: $39.99
Raptic TERRAIN case
Key features
10-foot drop protection
Made in the USA
Biodegradable product and packaging
Here's the perfect case for fellow environmentally-conscious people. To start with it, it's completely biodegradable, including its packaging.
Regular hard plastics take hundreds or thousands of years to break down, but Raptic's Terrain case has been tested to break down 22.5% after 365 days in a lab test simulation of a typical landfill environment. The packaging is recyclable and fully biodegrades in a year.
Moreover, it's made entirely in the USA, reducing the environmental impact of transportation that's part of manufacturing products abroad.
Incredibly, this case is still one of the best rugged cases for your iPhone 13, 13 Pro, or 13 Pro Max. It offers 10 feet drop protection, feels super sturdy and looks good. You can choose from three classic colors, which all come with a clear back to flaunt your IPhone.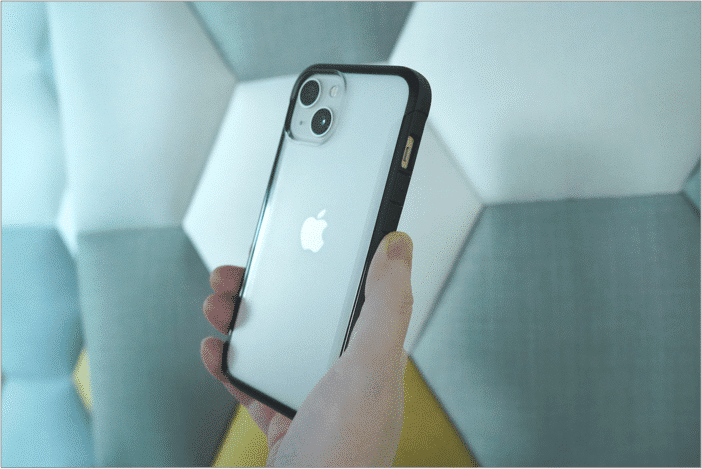 Price: $39.99
Features of Raptic cases
1. Drop protection
The primary function of a case is to protect your precious phone from scratches, bumps, and drops. All of Raptic's cases boast ample drop protection to safeguard your device in case of accidental slips, fumbles, and falls. Moreover, they protect the screen and camera from scratches when placed on flat surfaces.
As shown above, each case offers different drop protection from 6 to 13 feet. You can choose the right fit depending on your usage!
2. User-friendliness
Protective features are one thing, but how well do Raptic cases perform day-to-day? Well, I'm happy to report that they're super user-friendly.
All the cases can be quickly installed and removed from your device. They fit perfectly and have an excellent grip making it easy to handle your phone. At the same time, the buttons are easy to press, and there are precise cutouts for ports.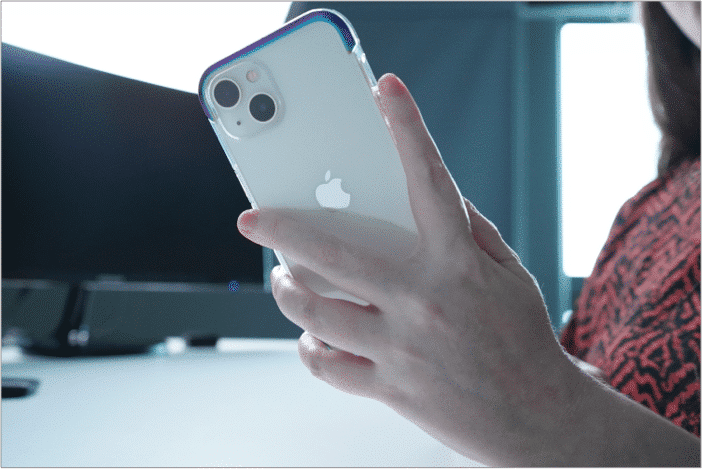 3. Lightweight
Further, although they are rugged and tough, they add minimal bulk and weight to your device, keeping it light enough to use for long hours. The high-quality materials ensure that the transparent back panels will not yellow or stain over time like cheaper cases.
4. Wireless charging
Lastly, compatibility with both Qi and MagSafe charging ensures everyday convenience as there's no need to remove your case when charging your phone. I quite like the overall look of all the cases because they add stylistic elements while showcasing the original elegance of your iPhone.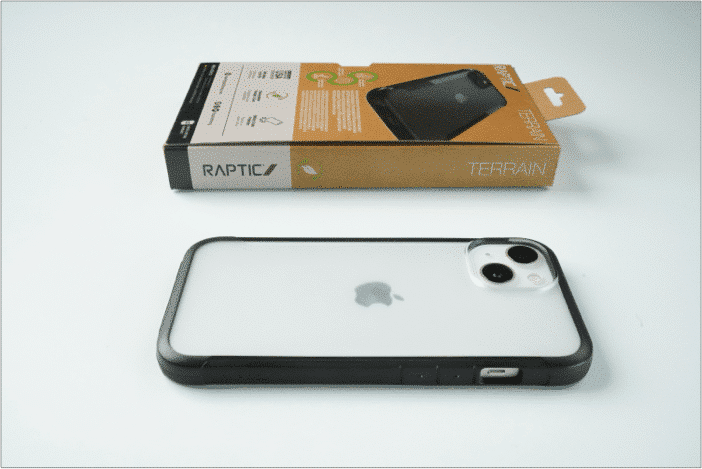 The only downside I found is that the transparent panels attract fingerprints quite easily. But these can be quickly cleaned by wiping with a soft cloth.
Verdict: Are Raptic cases for the iPhone 13 series worth it?
iGeekoMeter
Drop-protection
Design
User-friendliness
Value for money
I love how each Raptic case offers something unique while ensuring the best protection. It's evident that a lot of thought has gone into the design and manufacture of these cases.
Right from when I got my hands on the packages, I appreciated the attention to detail that the company has put into its products. Here's a look at the pros and cons.
Pros
Military-grade drop protection
Compatible with Qi and MagSafe charging
Sturdy yet lightweight
Raised edges for screen and camera protection
Stylish options
Eco-friendly option
Cons
Transparent back panel attracts fingerprint smudges easily
Not compatible with MagSafe accessories like wallets
Overall, I think the cases offer a lot of value at a reasonable price point. They're a worthy investment because they will guard your iPhone 13 for a long time to come while keeping it looking stylish. So, go ahead and grab one for yourself.
Read more:
Readers like you help support iGeeksBlog. When you make a purchase using links on our site, we may earn an affiliate commission. Read Disclaimer.