Want to play games or explore apps without location restriction? Or want to change your geographic location to tease your friends? Well, all I am asking is whether you would like to fake your iPhone or iPad GPS location for personal or professional reasons?
Well, join me as I test & review iToolab AnyGo, an easy-to-use location simulator that promises to transport your GPS location anywhere in the world without jailbreak.
iToolab AnyGo review: Can it really simulate any GPS location?
AnyGo is a handy macOS and Windows software designed to spoof iPhone's and iPad's location. That means I can be sitting in my office, writing this article, and my iPhone could be showing a far-flung location, let's say the Eiffel Tower, Paris.
Interesting right! But before exploring the app further, let's briefly see the use of faking your device location.
Benefits of faking your GPS Location
Hide your real location – Keep overtly nosy apps, services, or stalkers away from your personal affairs.
Play location-based services (LBS) games – Fool games that push you to explore outdoors or lock certain perks according to locations.
Unlock content – Working somewhat similar to a VPN app, it allows you to view location-based restricted content such as movies, music, and videos.
Fool friends & followers – Don't just post a throwback photo/video; let others feel that the adventure continues and you are traveling again.
Geo-specific testing – You might be sitting in the US building an app or service for someplace in Europe. GPS spoofing can help you cross the location barrier.
Get device software updates – Software updates are often rolled out in certain regions rather than globally. You can spoof your location and install the update on your device.
Now that we have established the why, it's time to get answers for the how.
How to fake iPhone GPS location with AnyGo
I thoroughly enjoyed making my device switch locations, mainly because it takes just three steps, or shall I say one click after installing it.
Launch AnyGo and connect your iPhone/iPad to the computer via USB cable.
Here, tap the search bar, type and select the location/address, and click Search.
You will now see the coordinates and distance of the location; click Go to continue.
That's it! The GPS location of your iOS device is simulated to the desired location. The software also fools Find My; see the screenshot below.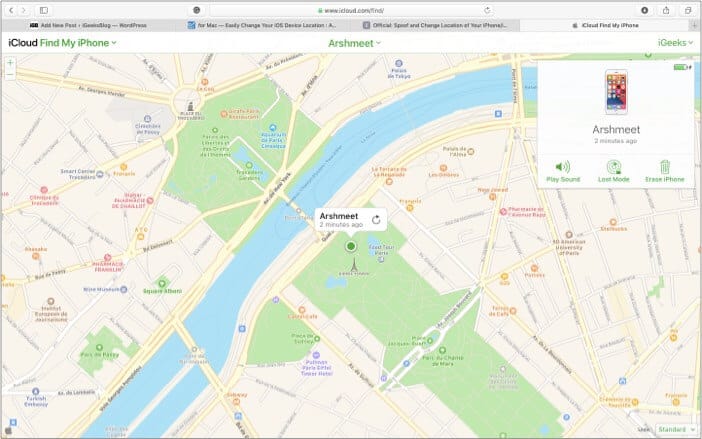 Yay! I am in Paris; well, at least my device could visit my favorite city. You don't need to be a tech expert to spoof GPS location. Anyone and everyone can do it with AnyGo.
While the app's main feature is to teleport your devices to the desired location, it has some fun features tucked under its hood.
Note: Ensure you have the AnyGo-supported device and software.
iOS – 7.0 and later, including iOS 14.4 and iPadOS 14.4.
macOS – 10.11 (El Capitan) and later, including the latest 11(macOS Big Sur).
Windows – Win 10/8.1/8/7/Vista/XP.
iPhone – iPhone 3G and later, including iPhone 12 Pro (Max).
iPad – All models of iPad Air, Mini, Pro, and iPad.
iPod – iPod touch 1 and later.
Features that make AnyGo even more intriguing
Simulate location with customized route and speed
Don't just randomly reach a spot; drive, walk or cycle virtually to cover the distance. This particular trick comes in handy while playing GPS-based games, like Pokémon GO. It is more convincing, and you get a chance to capture more Pokemon's on the route.
Two-spot mode
Select the icon from the map, choose the start and endpoint, set the speed – 3.6 km/h to 100 km/h, and click Go.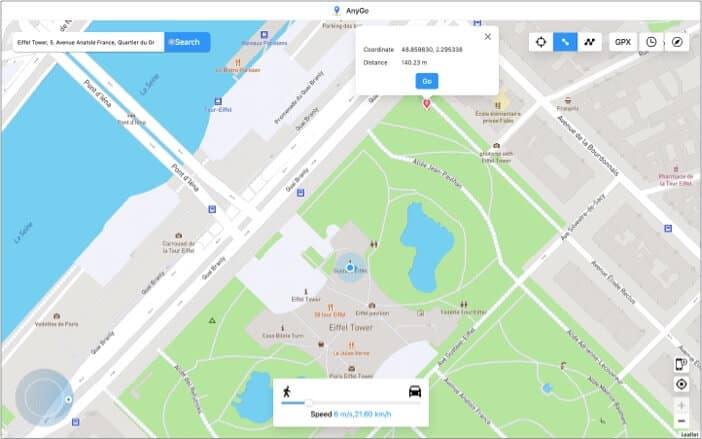 You can also decide whether you want to make the journey more than once. As you can see in the screenshot below, the software even shows you the route and where you have reached.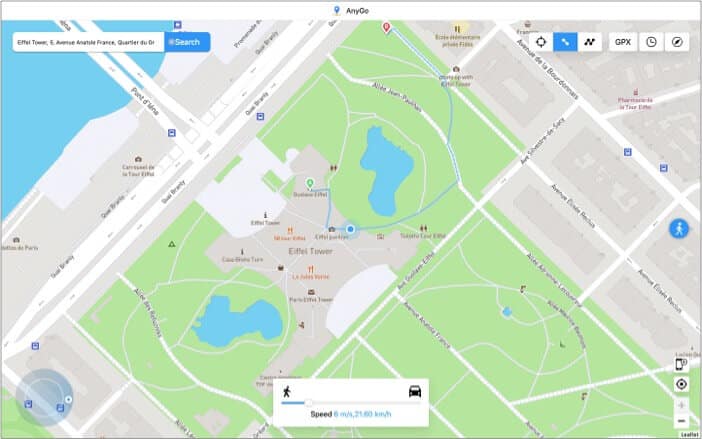 Multi-spot mode
As the name suggests, this one lets you select multiple stops along the way. This way, the journey looks more convincing, especially if you want to cover long distances.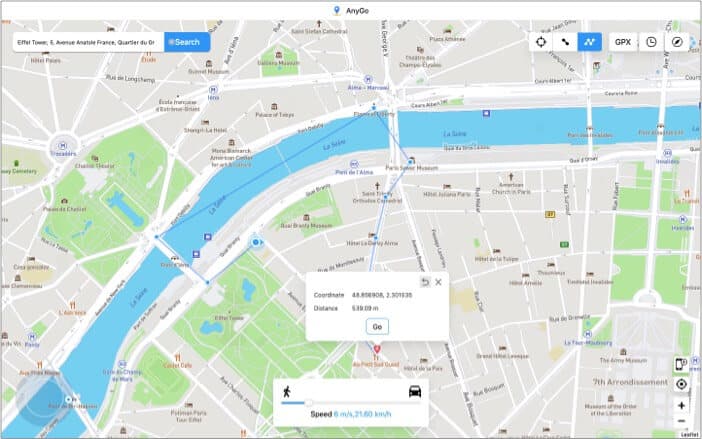 Joystick for precision
Dropping a pin on the map doesn't always give you the perfect location, even if you super zoom in to an area. So, AnyGo incorporates a Joystick mode that lets you move forward, reverse, left, or right with the screen's arrows.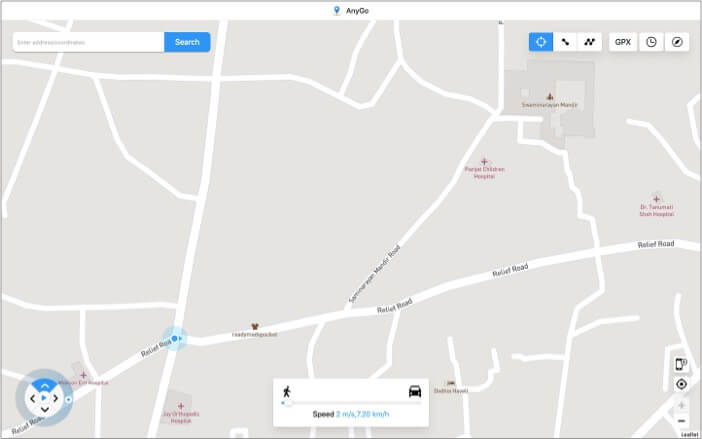 You can also control the GPS movement via your keyboard by pressing W, A, S, and D keys.
GPX file support
If you don't know, GPX files store GPS data along with longitude, latitude, waypoints, routes, geocaches, and tracks. The file type is commonly used in fitness devices and applications to track your running and biking route.
Now, imagine you are an app tester. You can easily import a route's data into the app to see how it is working from the comfort of your desk. Or you can import this data to follow a more realistic route while playing location-based games.
Fake location of multiple devices simultaneously
Want your iPhone to visit London while the iPad is roaming the streets of Rome at the same time? Connect both the devices to your computer and easily spoof GPS location simultaneously.
AnyGo also keeps track of your travels and the routes you followed, so you don't forget where you went this summer.
Works seamlessly with location-based AR games and apps
Whether you want to excel at AR games like Harry Potter: Wizards Unite or unlock profiles on dating apps like Bumble or Tinder, AnyGo can help you do all this and more.
Our verdict
The software certainly delivers what it promises. I love how everything is easy-to-use and adequately arranged within the app. I observed that my device got stuck once or twice at the fake location, but a simple restart resolved that issue quickly.
Overall I enjoyed AnyGo and its features. Whether you want to simulate a fake GPS location for fun or work, you should surely give this app a go (pun intended).
Price: Free to download (plans available for 5 devices and 1 Mac);
Monthly subscription – $9.95*
Quarterly subscription – $19.95*
Yearly subscription – $39.95*
Lifetime plan – $59.95*
*Discounted price. Use the coupon code: LABR8F to get 20% off.
Readers like you help support iGeeksBlog. When you make a purchase using links on our site, we may earn an affiliate commission. Read Disclaimer.