If you've been an Apple user for a time, receiving device updates is common. But an update Apple released on 4th October 2022 surprised many people and got them excited – another MagSafe charge firmware update. 
Apple doesn't give release notes for these firmware updates, so nobody knows what has been changed or updated. If you're wondering how you can update your MagSafe's firmware and check its version, I'll guide you through the same below.
Update Apple MagSafe charger's firmware
Apple released a firmware update. So what's all the fuzz about? Well, aside from the bug fixes and minor updates, people are speculating that the software is set to optimize the charger to make it compatible with a range of devices, including the newly released iPhone 14 and AirPods Pro (2nd generation).
So if you're using an old MagSafe charger, and compatibility has been an issue, then it would be good news for you. You can test it out and let us know in the comments below if it does!
There's no way to download and install firmware updates manually. Unlike iOS updates, you won't get any alerts for MagSafe on your iPhone's Settings.
The iPhone automatically fetches software updates for MagSafe chargers whenever the two are attached, and the MagSafe charger is plugged into a power source. So, leaving your iPhone charging overnight is your best bet.
Check your MagSafe charger's firmware version
While there's no sure way to download the firmware update, there's a way to know what firmware version and model number your MagSafe charger has. But before proceeding, make sure the MagSafe charger is attached to the iPhone and plugged into a power source.
Just head to Settings → General → About → Apple MagSafe Charger. Here, you'll be able to see your MagSafe charger's Model Number and Firmware Version.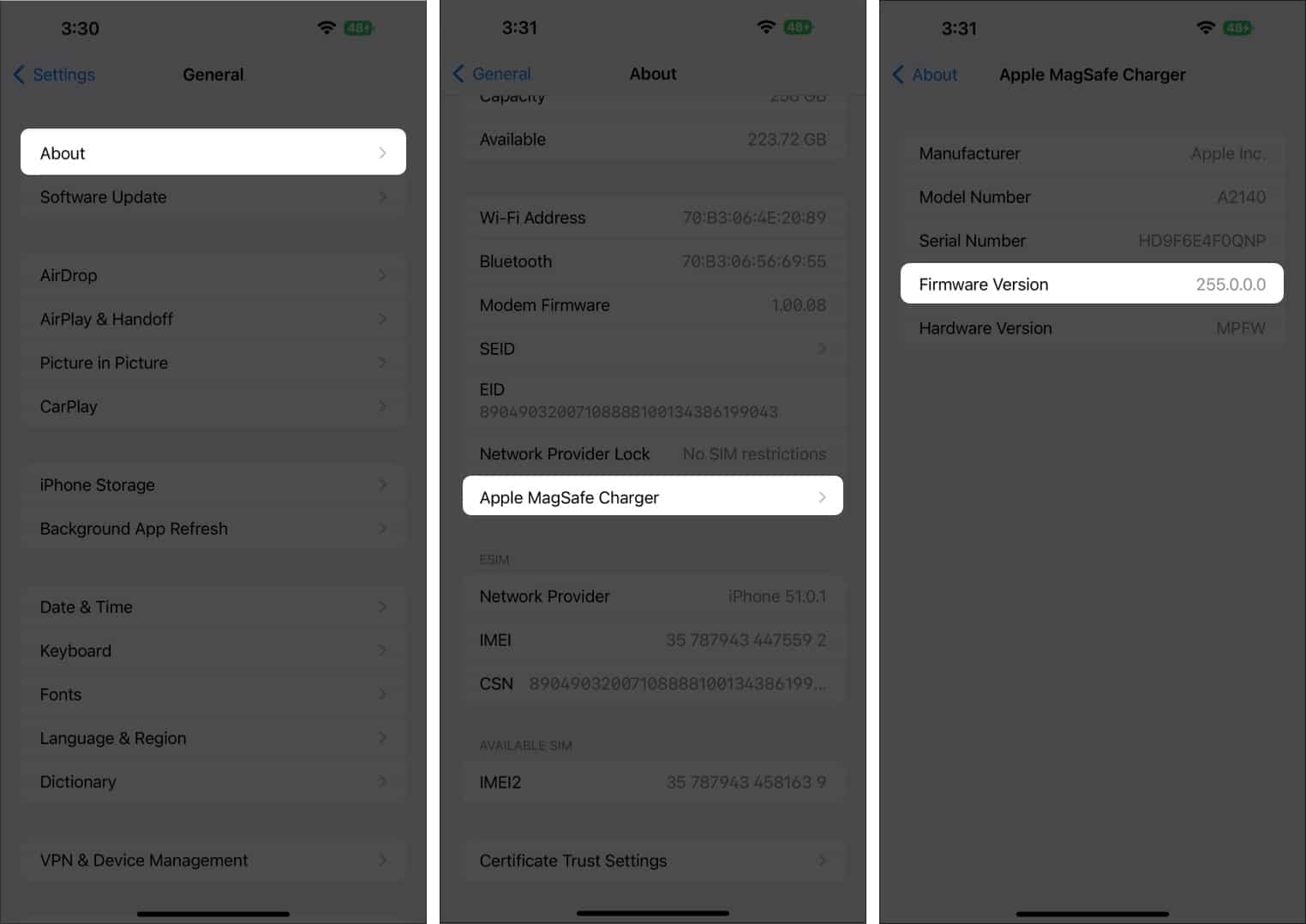 If you want to know whether you have the latest version of the MagSafe charger firmware, you should see MagSafe charger firmware 255.0.0.0 instead of 247.0.0.0.
Wrapping up…
Firmware updates often go in the background and do not get the limelight. However, many hope this new update will make their MagSafe charger compatible with newer devices.
There's really no way to download the firmware by yourself, but you can do something to initiate it. Checking the firmware version is also a good way to know whether your MagSafe is updated or not.
Read more:
Rachel loves anything Apple —from iPhones, to Apple Watches, to MacBooks. She is also a medical writer and a ghostwriter for various publications.