iPhone Apps to track movies and TV shows can be really helpful. Wondering how? Go back to the times when you made a mental note of a movie recommendation but forgot its name a few minutes later.
The COVID-19 outbreak has forced millions to stay at home, leading to massive consumption of TV shows and movies across streaming services such as Netflix, Amazon Prime, Disney Plus, Hulu, and more. Sometimes it gets messy to track your ongoing watching habits.
While note-taking apps can help, they don't offer additional and handy features like movie ratings or overview. I have done the hard work and compiled a list of the 7 best iPhone apps to track movies and TV shows to track your watching list efficiently.
1. TV Time: Track Shows & Movie‪s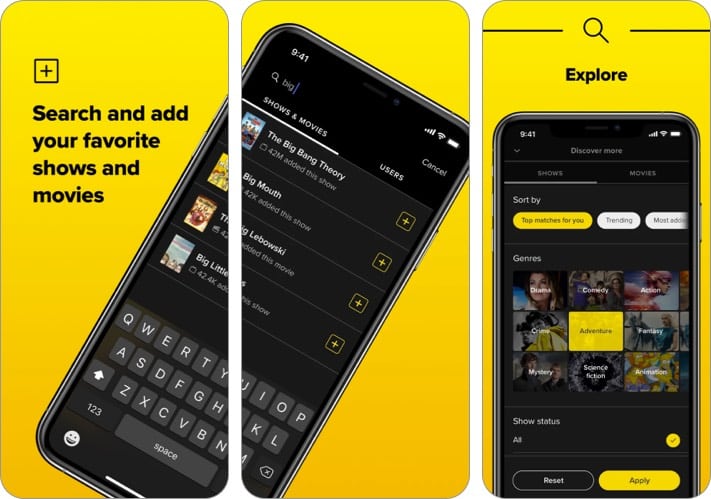 TV Time comfortably tops the list due to a couple of reasons. The UI is simple, and the app won't bombard with irrelevant TV series suggestions upfront. Go to the Discover menu to start adding shows and movies to your personalized section.
I love the detailed description for each TV show. Select your favorite TV shows and go to the About section. It displays all the relevant information with episode ratings and comments from other users. TV Time also showcases the platform on which you can stream the selected TV show or movie.
TV Time has nailed the social integration here. Users can create a playlist and share it with followers. You can also follow other people on TV Time based on mutual interest in watching habits.
The app also showcases the hours you have wasted on a sofa consuming TV shows and movies. Those detailed stats will undoubtedly be eye-popping for many out there.
Price: Free
2. Hobi Time: TV Shows Tracke‪r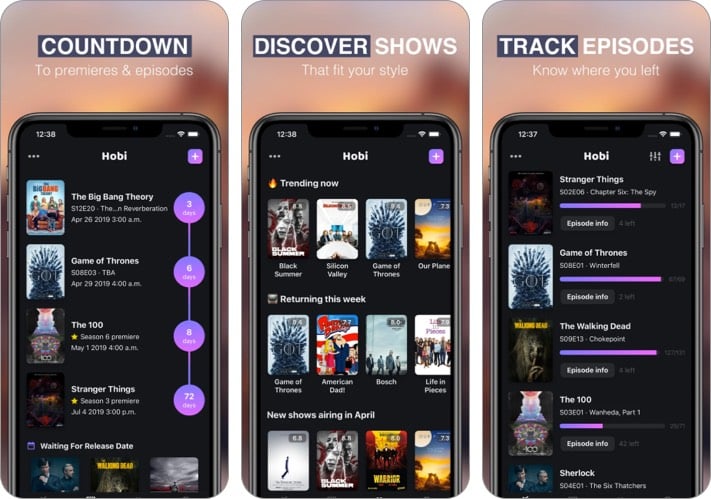 Hobi Time has the best aesthetics among all the TV shows and movie tracker apps on the iPhone. It features a beautiful UI with gradient touches among menus and options.
By default, it will take you to the Watchlist menu. Hobi offers seamless integration with Trakt service. With a single sign-in, you can bring all your watching habits to the app.
Hobi has a detailed Statistics menu. You can see how much time you have spent watching TV shows and how many episodes you have completed so far.
However, Hobi Time lacks Social integration. You won't be able to see comments from other users or follow them. The episode info is also limited compared to TV Time.
Price: Free (In-app purchase starts at $7.99)
3. Reelgood: Streaming Guid‪e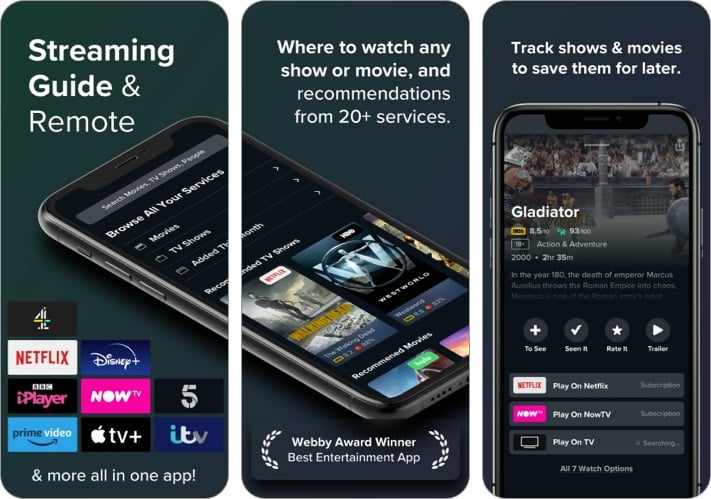 Reelgood is primarily designed to showcase the availability of TV series and movies on a supported network. For example, you can search for 'The Office.' It will display Peacock as the streaming partner for the Romcom series.
The ability to track TV shows and movies is an add-on here. From the discover menu, you can select the TV show and click Track to track the upcoming episodes with the date and notification reminders.
I like how Reelgood offers tight integration with IMDb (something that the majority prefer before starting a random series). You can quickly take a look at it and decide whether you want to track it or not.
Getting confused with endless options to watch? Allow Reelgood to take the matter into hands. The service will suggest TV shows and movies based on your watchlist. Neat!
Price: Free
4. Watcht for Trakt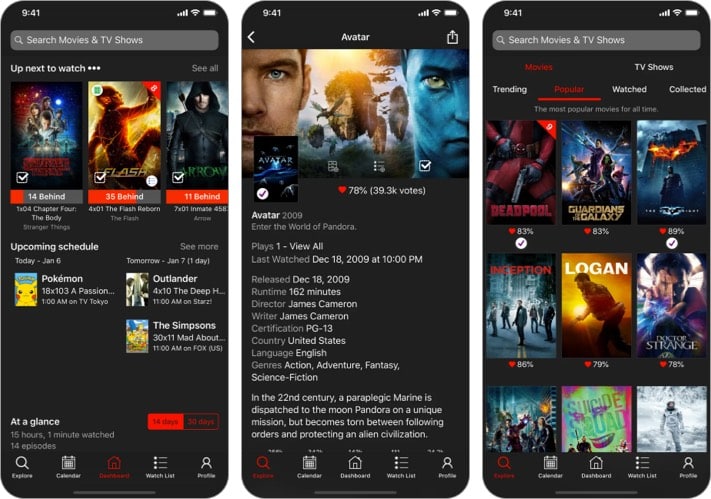 Watcht is relying on Trakt service to import your watching habits into the app. Once you connect the app with Trakt, all you need to do is start adding more TV shows and movies to the watchlist.
Watcht's dashboard is probably my favorite function. It's your centralized place that displays upcoming episodes, schedule, remaining episodes to watch, and stats for the last two weeks.
Based on your watching habits, I like how Watcht offers a detailed analysis of favorite genres. Mine shows 30% for Drama and 19% for comedy. Phew!
As for customization, Watcht allows you to change themes and app icons from the app's Settings menu.
Price: Free
5. JustWatch: Movies & TV Show‪s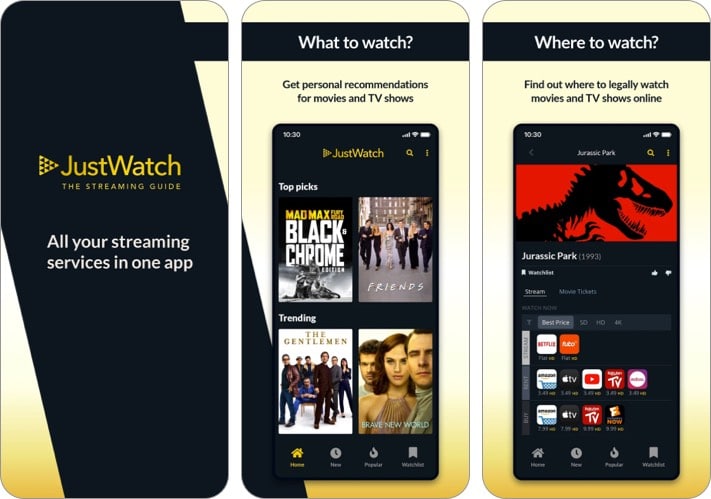 Primarily, JustWatch allows you to find out where to stream movies or TV shows online. The app list all offers for over 100 streaming providers in the US alone. But unlike Reelsgood, which is only limited to the US and UK, JustWatch works perfectly in countries like India.
JustWatch allows you to browse all the recently added TV shows and movies on your favorite providers, so you don't miss the latest episode of your favorite show or the new Netflix original movie.
As for tracking movies and TV shows, you can go to the Watchlist tab and start adding shows to it. At the time of testing, I found JustWatch to be slower to load the watchlist and other details. The customization options are also limited compared to rivals.
Price: Free
6. Letterboxd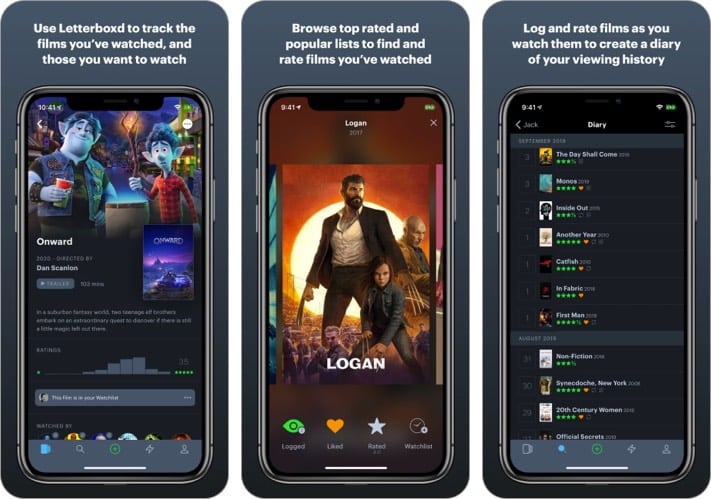 Letterboxd is a diary of your viewing history. The UI is beautiful and functional. The app allows you to browse top-rated and popular lists to find and rate films you have watched.
In each TV series or movie, you can view more details such as description, ratings, where to watch, crew, studios, genres, and cast. And with one click, you can share it on Instagram Stories as well. Nice touch there!
Letterboxd has a robust social integration as well. From the Reviews menu, you can see user comments on popular TV shows and movies released for the week.
The News section offers all the gossips and upcoming shows details for readers. It's something similar to IMDb, and I like how it seamlessly blends with the rest of the app's content.
Price: Free (In-app purchase starts at $18.99)
7. Sofa: Downtime Organizer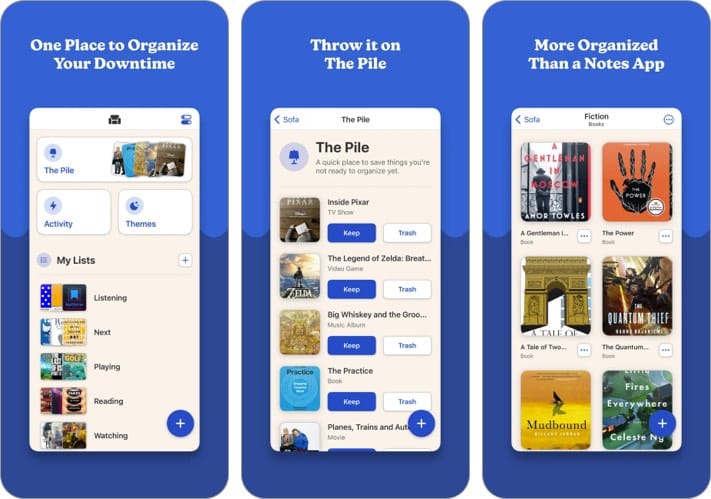 Sofa is the perfect app to organize and track not only your TV shows and movies but also apps, audiobooks, board games, and books to music albums, podcasts, video games, and almost everything.
Simply tap the + icon at the bottom and choose a relevant option. From each section, you can add new items and either mark them as done or unfinished. However, the info details are limited. They only showcase a small description with release date and length time.
Sofa works perfectly fine as a simple tool to organize your consumption habits. However, it lacks on several fronts such as social integration, stats, customization options, and more.
Price: Free (In-app purchase starts at $0.99)
I use TV Time on my iPhone to track shows and movies. It works best for me due to the social integration and allows me to peek into my friends' and family members' watching habits.
What about you? Which app fits your usage? Share in the comments section below.
You may like to read these articles:
Parth previously worked at EOTO.tech covering tech news. He is currently freelancing at iGeeksBlog, Guiding Tech, iPhonehacks, and TechWiser writing about apps comparisons, tutorials, software tips and tricks, and diving deep into iOS, Android, macOS, and Windows platforms.