Security is a big concern these days. And whether you are at the home, office, dressing room, staying at Airbnb, hostel, or hotel, hidden surveillance bugs can put you at risk.
Whether you just want to be safe or suspect that someone is monitoring and keeping track of your activities, investing in one of these hidden camera detectors would be a wise idea.
The best part is that you can turn on these devices anytime, anywhere, and scan the room or suspicious devices to ensure that no one is watching or hearing you.
However, an iPhone can also help you spot a spy camera, so why buy a separate device? Well, before I share the list, let me cross this bridge and explain the concept in brief.
Can your iPhone detect spy cameras?
Yes, your iPhone can be a substitute for hidden camera detectors. And it can do so in two ways:
Via iPhone camera: Your device's camera can catch infrared light emitted by a working camera. So, you may point it at a suspicious object and deduce whether it's clean or bugged.
Via third-party apps: Some apps fine-tune your iPhone's compatibility to scan bugs by enhancing the infrared and RF signals.
Although, if you are a frequent traveler or need to scan spaces quite often, a hidden camera detector can be a wise investment. The first con is that you don't get an auto-scan. You'll have to point your camera towards every possible surface. Now, this could be a massive task and not entirely fruitful.
8 Best spy camera detectors to keep peeping Toms away
1. Wattne anti spy detector: Editors choice
Frequency detection range: NA
RF detector: Yes
Magnetic detection: Yes
Infrared camera detection: Yes
Battery: Rechargeable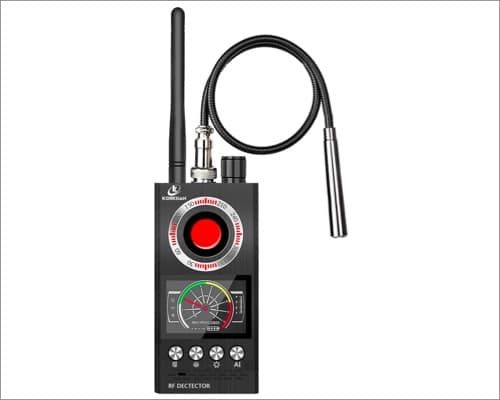 Wattne employs AI to identify, classify, and record dangerous signals and alert you about hidden wireless cameras, audio bugs, pinhole cameras, car GPS trackers, and more.
The all-in-one detector can identify radio waves, SIM card bugs (2G, 3G, 4G), wireless and wired camera equipment (1.2G to 5.8G). And thanks to the ultra-sensitive chips and a handy sensitivity knob, users can easily adjust the signal sensitivity as per their requirements.
Further, the LED display lends precise direction towards the signal source, helping you catch the bugs quickly.
Pros
All-in-one anti spy detector
Uses AI, infrared scanning, and magnets
Adjustable sensitivity
Cons
User manual doesn't cover step-by-step tutorials
2. Jepwco G4 Pro: Travel-friendly anti spy detector
Frequency detection range: 1Mhz – 6.5Ghz
RF detector: Yes
Magnetic detection: No
Infrared camera detection: Yes
Battery: Rechargeable, up to 25 hours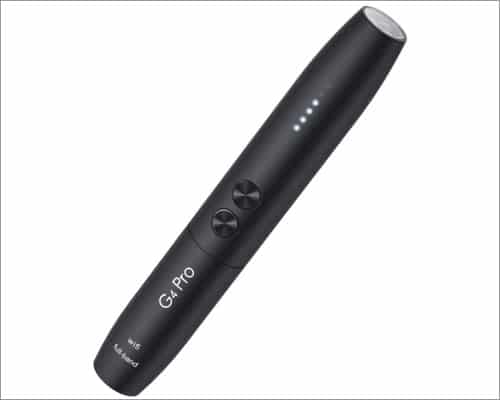 Designed to look like a pen, Jepwco G4 Pro is a perfect companion for your travel, home, or office escapades. Plus, it weighs only 30g, offers five levels of sensitivity, 6 cool white LEDs, and up to 25 hours of working time in an hour of charge.
The portable detector boasts a frequency detection range of 1Mhz to 6.5Ghz. Moreover, it can easily catch wireless cameras, eavesdropping devices, SIM card bugs, GPS locators, etc.
Along with that, it houses a strong laser lens with bright lights to quickly and precisely identify hidden wired or pinhole cameras. Moreover, you can switch between the two modes with one tap.
Pros
Portable and sleek design
Lighter than your phone
Easy to operate
Remarkable battery life
Cons
Doesn't support magnetic detection
The alarm is too loud
3. JMDHKK K18 RF detector: Best budgeted spy camera detector
Frequency detection range: Up to 8GHZ
RF detector: Yes
Magnetic detection: Yes
Infrared camera detection: Yes
Battery: Rechargeable, few months of standby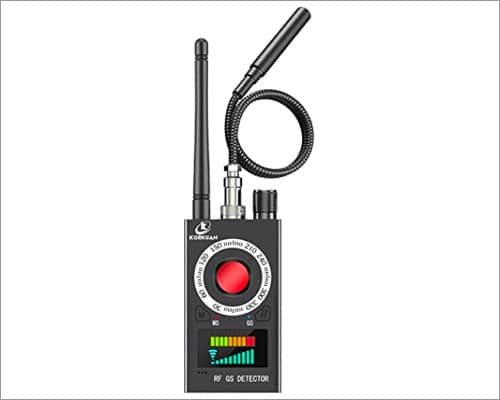 This is a 3-in-1 multipurpose device that sports RF signals detector, infrared scanner, and magnetic field detection. It could pick up RF signals with a frequency of 1MHz-8GHz, allowing you to detect most bug transmitters from cameras to GPS trackers.
Additionally, it can catch 1.2G/2.4G/5.8G wireless cameras, stealth miniature cameras, wireless audio bugs, body wire, wiretapping, phone taps, cellular audio/video bugging devices, and more.
And between the sensitivity knob, sound and vibration alarm, and the colorful LEDs for signal strength.
Pros
Easy-to-use
Affordable pricing
Cons
Too sensitive; you'll have to shut down nearby device to catch the real culprit
Frequency detection range: NA
RF detector: No
Magnetic detection: No
Infrared camera detection: Yes
Battery: Rechargeable, up to 8 hours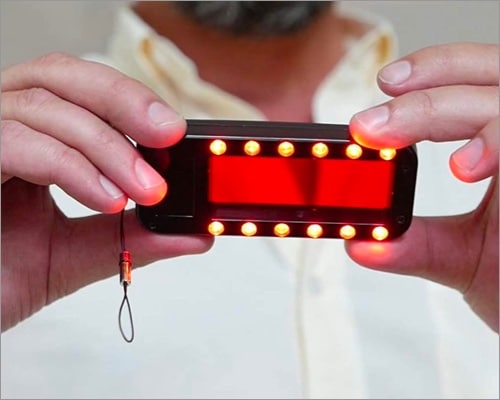 The palm-sized infrared spy camera detector not only looks cute but also gives you the right spy movie feels! It boasts a large 2.5″ by 1″ viewfinder, so you don't have to squint during the search.
And with 12 super-bright red LEDs and infrared filters, you can easily catch even the smallest spy cams. Furthermore, the LED controller offers three settings that can be adjusted anytime according to scanning distance.
Though quite efficient at catching hidden cameras, it can't scan for other audio or GPS bugs due to the lack of RF signal or magnetic scanner.
Pros
Compact, pocket-friendly design
Easy-to-use doesn't require setup
Up to 8 hours of continuous use
Cons
Very basic features
Only scans for hidden cameras
5. JMDHKK M8000: Advanced 4-in-1 bug sweeper
Frequency detection range: 1MHz-12GHz
RF detector: Yes
Magnetic detection: Yes
Infrared camera detection: Yes
Battery: Rechargeable, up to 8 – 10 hours of continuous work
The counter-surveillance device offers you 4-way protection from sneaks. It can detect RF signal, magnetic field, camera lens, and camera/AI auto-scan, covering almost all kinds of bugs.
An advanced high-speed microprocessor lends high sensitivity, a wider frequency range (1MHz-12GHz), an anti-interference, and a wider detection range. Additionally, a 10-level LED signal strength indicator helps you pinpoint the source's exact location.
On top of it all, M800 will automatically beep and light up when a bug is in the vicinity. As for battery life, it promises up to 8-10 continuous working hours and can last up to 7 standby modes.
Pros
Wide 1MHz-12GHz frequency range
Strongly built with duralumin casing
Lifetime warranty
Cons
Slightly bulky
Comparatively expensive
Frequency detection range: NA
RF detector: No
Magnetic detection: No
Infrared camera detection: Yes
Battery: AAA batteries
Find hidden wired/wireless and working/non-working cameras easily with this portable, pocket-sized detector. And despite its petite form factor, it offers a surprising detection range of 2ft to 45ft from the camera.
Moreover, it's super simple to use. Just push the button to activate the array of ultra-bright LEDs. Place it over your eye and slowly scan the room/suspected area or object for a hidden camera.
You can also adjust the LED controller between three settings depending upon the distance from the area of concern. However, I feel this one's a pricey affair, considering it only detects hidden cameras and not other bugs.
Pros
Pocket-sized, lightweight detector
Up to 45ft of detection range
Efficient and effective
Cons
Detects only cameras

Requires AAA batteries
7. Jepwco G8 Elite: Hypersensitive RF detector
Frequency detection range: NA
RF detector: Yes
Magnetic detection: Yes
Infrared camera detection: Yes
Battery: Rechargeable, up to 25 hours
From the house of Jepwco comes another pen-like, portable hidden camera detector. However, this one is crafted with four professional modes, 12 sensitivity levels, a more robust laser lens, a rectangular form factor, and a heftier price tag.
It boasts RF wireless signal detection, UG magnetic field signal detection, auxiliary lighting by flashlight, and camera detection. So, you can catch wired/wireless cameras, pinhole cameras, GPS locators, and eavesdropping devices.
The best part is that it weighs only 25g, almost 75% smaller and lighter than most standard bug detectors. And you can easily carry it in your pocket, handbag, luggage, etc.
Pros
Travel-friendly
Exclusive intelligent chip
Ultra-sensitive chip
Up to 25 hours of battery
Cons
Built quality could be better
Frequency detection range: 40MHz–4Ghz + 2.44GHz
RF detector: Yes
Magnetic detection: Yes
Infrared camera detection: Yes
Battery: Rechargeable, up to 20 hour
If budget is not a concern, you travel and stay at random Airbnb's or hotels a lot, or you often deal with sensitive, confidential information, this one will be the perfect pick for you.
It is designed to scan digital and analog transmitters ranging from 40MHz–4Ghz (main antenna), 2.44GHz (auxiliary antenna) frequency. It can detect wireless sources at a distance of 50cm-2m, thanks to a remarkable Bluetooth/Wi-Fi signal sensitivity.
DefCon DD1206 boasts a 16-segment bar graph indicator, loop-back effect, 2 levels of sensitivity (attenuator), and 4 work modes, namely silent, sound, vibration, and mixed to enable easy and quick detection.
Pros
Massive frequency range
Packed with awesome features
Pro-level bug detection
Cons
Quite expensive
Complicated to use
These were our top picks for the best hidden camera detectors. Confused about which one to buy from the list? Continue reading to find the most suitable picks, depending on your usage.
Finding the right match for you can be a task, even though my list is helpful (wink, wink). So, let me help you with the decision further with these key considerations.
Does it have a camera lens finder?

When flashing LED or laser lights are thrown towards a camera, it bounces back, giving away their presence. Naturally, your detector should have strong LEDs or infrared lights to accomplish that.

Does it have Radio frequency (RF) detection?

The feature enables detectors to pick up radio waves emitted by wireless cameras, audio bugs, GPS trackers, SIM card bugs, and more. So not just camera detection, you can detect tons of other surveillance equipment as well.

If you are interested in an all-in-one detector, then RF detection should be available on the device. Otherwise, just infrared detectors will suffice.

What is its Power source?

While not crucial, the battery is an important consideration. If it's a rechargeable battery, how long does it last? And if it uses disposable batteries, how much extra $$ will it cost you every time?

Ease of use

An important consideration. If you are a techie, a slightly complex design with lots of knobs and buttons works great. But if you are new to this, prefer a simpler one.

Some other points you can consider:


Does it offer auto-detection?
What are the frequency range and signal strength?
How will it alert me – sound, light, or vibrations?
Hacks to ensure proper camera detection
Turn off all Wi-Fi, routers, cell phones, and other such devices – Their signal can interfere with your search, especially if you are using a sensitive detector.

Divide the room into quadrants – It is wiser to take small areas and scan them individually. This allows a thorough inspection as the chances of missing a spot is smaller.

Take extra care when scanning bedroom and bathroom – For obvious reasons, these two spaces are the most sensitive and the biggest target.

Contact concerned authorities – Don't go on manhandling the bug. Be smart about it and either call the police or concerned authorities and make a formal complaint.
Hope our guide helped you out. If you have any queries or suggestions regarding hidden camera detectors, please feel free to connect with us in the comment section below.
Serious about your privacy? check out these guides:
Readers like you help support iGeeksBlog. When you make a purchase using links on our site, we may earn an affiliate commission. Read Disclaimer.