I love leather cases for their premium look and durability. But it's vital to get the right kind of genuine leather case that boasts quality and protection. So I was excited to get my hands on Bellroy's stylish lineup of iPhone 13 cases that look good while promising functionality.
This Australian brand has been around for a decade and is a Certified B Corporation. That means it meets the highest standards of verified social and environmental performance. But how well do its phone cases match expectations? Read my full review below to find out.
Design and features
I received three Bellroy cases for the iPhone 13 Pro Max, namely:
Leather phone case
3-card phone case
Mod phone case + wallet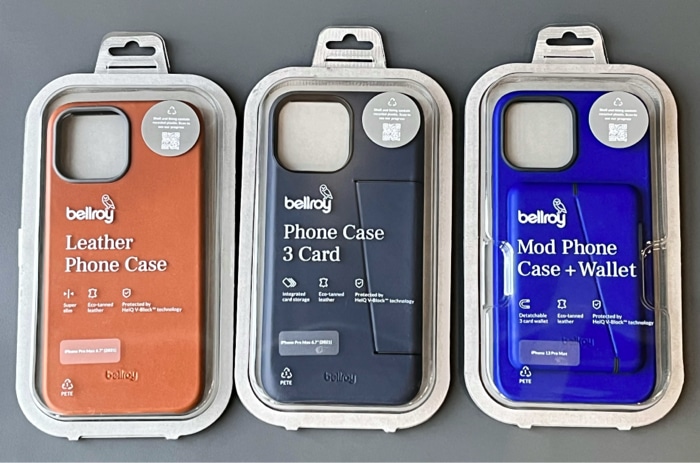 Right from the outset, each case had a sturdy and premium feel. They are crafted from smooth, environmentally-certified leather and polymer, with a soft microfiber lining plus chamfered edges.
Further, they feature a Swiss antimicrobial technology for non-toxicity and come with a 3-year warranty.
However, the three cases differ in terms of features and functionality. Let's have a look at each one below.
1. Bellroy leather phone case
This is a minimalist slim leather case for the iPhone 13 series. It's super lightweight and compatible with wireless charging for everyday convenience.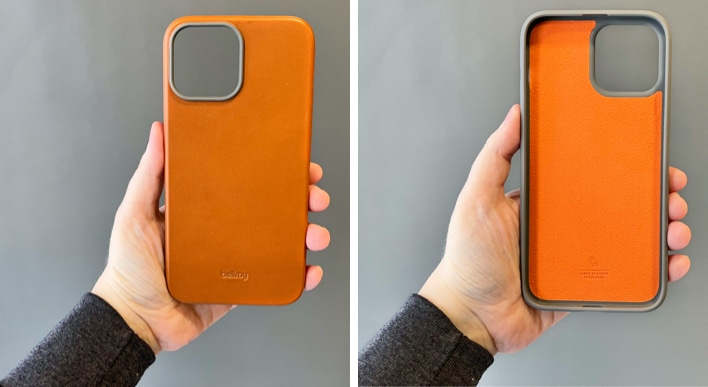 It fit like a glove around my iPhone 13 Pro Max and was easy to snap on and take off when needed. I appreciate how it barely adds extra bulk to the phone and feels comfortable holding for long hours.
You can get this case in seven beautiful color options that all look classy. 
Price: $45.00
2. Bellroy 3-card wallet case
This is a more functional iPhone 13 case that features a discreet card compartment at the back plus a SIM card holder on the inside. It fits up to 3 cards, and the flap is easy to access whenever you need them.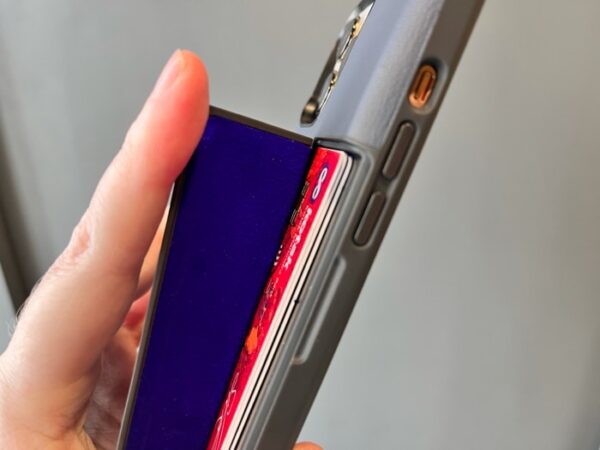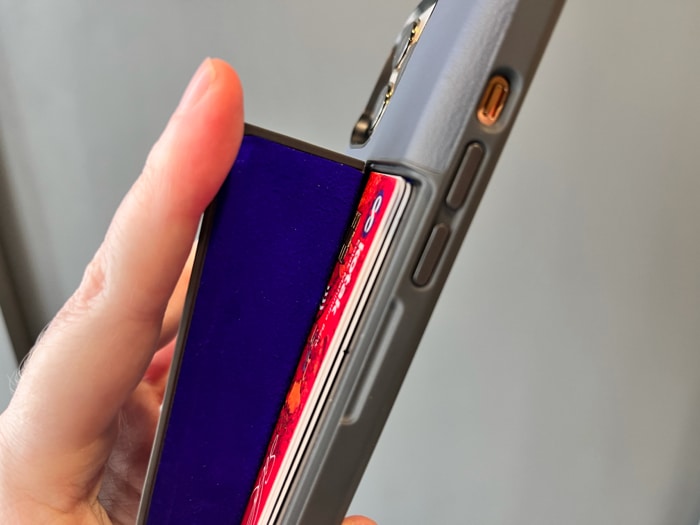 I prefer this design over other kinds of cardholder cases because it keeps the cards completely concealed to avoid unwanted attention from prying eyes.
It's comfortable to grip and has a tapered edge at the top that keeps the camera bump elevated when placed on flat surfaces.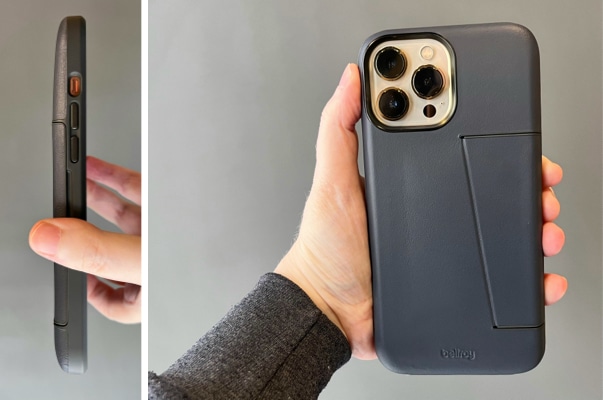 However, the downside is that you need to take the case off when using Qi or MagSafe charging. The case is also difficult to pry off, making it somewhat inconvenient for everyday use.
Price: $79.00
3. Bellroy Mod phone case + wallet
Here's one of the coolest leather cases that comes with a nifty detachable magnetic wallet. The wallet fits three cards, and you can carry it along when you need to or detach it to use the slim leather case on its own. I love the flexibility this offers and think it's perfect for everyday use.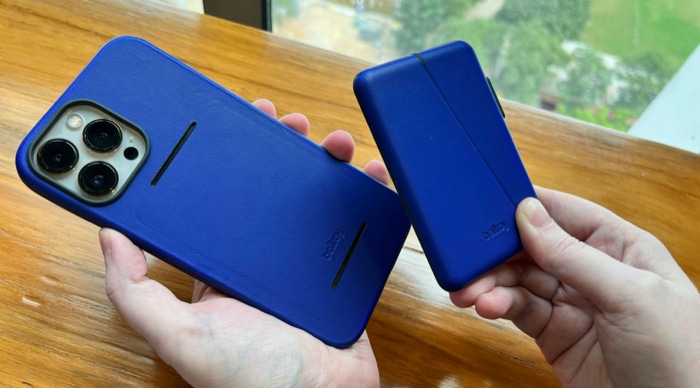 Further, the sturdy magnetic trapdoor keeps cards securely hidden yet easily accessible when needed. At the same time, Bellroy's magnetic ModRails system keeps the wallet firmly attached to the phone case when you're on the go.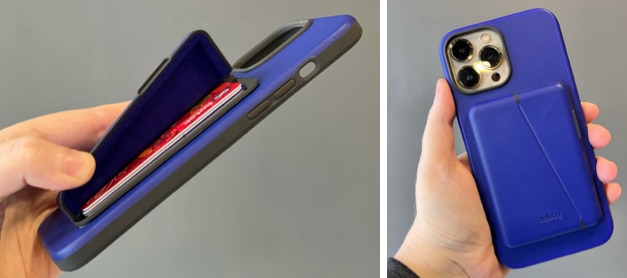 At the same time, it's compatible with MagSafe charging for ultimate convenience. The only downside of this case is that it can feel quite heavy when the wallet is attached. 
Price: $99.00
Protection
Now, let's consider the most vital aspect – how well do Bellroy cases protect your phone? All three leather cases described above offer adequate protection for most users. The sturdy exterior will keep away scratches and scuffs, while the inner microfiber lining keeps the back of your iPhone as good as new.
Moreover, they can also defend pretty well against the occasional drop. The raised edges around the screen and camera bump do their job of protecting the most delicate parts of the iPhone. Further, even the buttons are covered with leather but remain easy to press.
Verdict: The perfect balance of functionality and style
iGeekoMeter
Design
Protection
User-friendliness
Value for money
To conclude, Bellroy offers some of the best leather cases for iPhone 13, 13 mini, 13 Pro, and 13 Pro Max. I've loved using all three cases in turn over the past couple of weeks and can't decide which is my favorite.
I especially appreciate its sustainably-sourced materials, and the cases are built to last for as long as I have my iPhone.
Moreover, there's plenty of variety for every kind of user. So, whether you go for the slim leather case, the 3-card case, or the detachable wallet case, you get excellent value for money. From the premium finishing to the no-fuss 3-year warranty, everything about Bellroy cases is right on point.
Pros
Premium look and feel

Sustainably sourced materials
Variety of styles

Raised edges for screen and camera protection

Precise buttons and ports for ease of use
3-year warranty
Cons
Cardholder cases are somewhat bulky
Difficult to take off the cardholder case for charging
Read more:
Readers like you help support iGeeksBlog. When you make a purchase using links on our site, we may earn an affiliate commission. Read more.
Mehak has a master's degree in communication and over ten years of writing experience. Her passion for technology and Apple products led her to iGeeksBlog, where she specializes in writing product roundups and app recommendations for fellow Apple users. When not typing away on her MacBook Pro, she loves being lost in a book or out exploring the world.