As the Twitter world calls it, Apple's privacy 'nutrition labels' for Mac and iOS apps were introduced last December. With almost four months since their debut, it's now time to take a closer look at their significance and understand their positive developments.
Digging into the secretive working of privacy labels
It is a no-brainer that Apple has been very keen on security since its inception. When it comes to maintaining user privacy, Apple has always struck out as a clear winner. We have Face ID and other handy features for security; now, the tech giant further solidifies our privacy on App Store.
Why did Apple introduce privacy labels?
To better understand an app's privacy practices, Apple announced App privacy labels with a press release on December 14th, 2020. This helps the user understand the following things:
Data types that the app collects.
Use of the collected data.
To simplify it for you, privacy labels, just like 'nutrition facts' printed behind food packets, simplify the app's privacy policy and help you understand what will be done with your information in layman's terms. These privacy labels are categorized into three types; let's look at them briefly.
Understanding different privacy labels
Data used to track you:
They are giving you a clear understanding of how app providers use each data type.
For example, collecting an email address to authenticate you and personalize UX later to build your experience with parameters such as third-party advertising, product personalization, or app functionality.
Data linked to you:
The apps need to identify whether the individual data type is linked to your (user's) identity by them or third-party integrations and justify the reason.
This data is not shared with third parties and is only shared with the owner companies.
Data not linked to you:
The apps need to avoid certain activities after collecting your data to respect your privacy. These activities refer to linking your data back to your identity and manipulating it to break the linkage.
This kind of data helps the companies understand how people are using their app.
This is just a brief description of Apple's privacy labels. There are subcategories to each label, which mention industry-specific data disclosing information.
Here are a few categories from the extensive list:
Contact Info
Financial Info
Sensitive Info
Usage Data
Diagnostics
Health & Fitness
Location
User Content
Search History
Purchases
Other Data
To get a detailed breakdown of data collected, understand each category from Apple's website.
Using privacy labels to your advantage!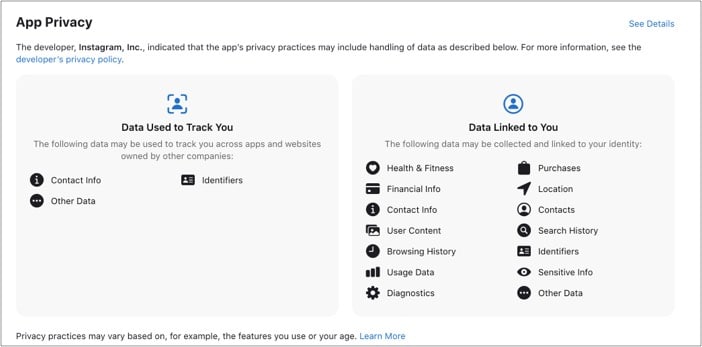 With the labels included, being a user, you now know which apps to use and avoid. Thus, Apple is providing adult supervision over your apps.
This means Apple does not tell you which app to trust. But, it gives you potential red flags about the company.
If you take your digital privacy seriously, you might want to go through the privacy labels for the already used apps. Needless to say that you will be checking the apps that you install.
If an app does not agree with your privacy standards, get rid of the app and start looking for alternatives.
Sounds convincing and resourceful? But all that glitters is not gold. This applies to the labels as well; they too have their setbacks. But does this mean that the labels are not helpful at all?
Are the labels flawed?
Many people found that the companies adding these labels are not honest about their privacy policies, killing the very purpose. Geoffrey Fowler from the Washington Post has covered an excellent review and spotted this false sense of security for consumers.
Many tech journalists have pointed out that the labels fail to give a sense of what and where the data is being used. But this shouldn't be the primary concern, for tech journalists understand a lot more about data privacy than ordinary people.
The main problem isn't Apple not showing a comprehensive source; the leading cause is lack of awareness! Most people using Apple devices may not be tech-friendly and aren't aware of labels' sheer existence.
This might be due to the odd placements of labels. One needs to scroll down past several actions, What's New, Preview, Ratings, and Reviews, to get to the labels. How many of us (unless we have to review the app) scroll to such extensive lengths?
What's the solution to this?
Apple needs to find the sweet spot between providing the user with enough information to understand what the user is doing with their data but not too much. The user misunderstands these labels as those terms and conditions documents and ignore their existence.
Another problem that Apple needs to address is the developer's honesty. Expecting the companies to be honest with the content is a dumb step. Apple should try focussing on some methods to cross-check the information with the apps in real-time and then update the label.
Now that would be pretty satisfactory, right?
Labels are meant to be helpful, not perfect!
Data privacy is everyone's concern, but you need not be consumer police by yourself. One should be happy because Apple initiated a bold move as such, and despite the labels having a few misses, it stands out as a valuable piece of information.
If I were to compare it to the nutritional labels across my food packets, how many of these do I truly understand?
Privacy: Here we come!
With the advent of privacy labels, Apple has shown unprecedented growth towards digital privacy for the tech world.
With the information available in a simplified format, people now will have a clear idea of what to look for before installing the app.
Apple has always been a promoter of transparency, and these steps further cement this message. I am looking forward to a more transparent tech world.
Read more:
Readers like you help support iGeeksBlog. When you make a purchase using links on our site, we may earn an affiliate commission. Read Disclaimer.