There are many requirements for running a successful business, including protection from cyber threats like data breaches and hacks. A task that is becoming increasingly necessary yet difficult with remote working. NordLayer, a Business VPN, promises to take that chip off your shoulder and offers a secure network access solution.
But is NordLayer the right solution for your business? How does it fare in comparison to its competitors? Should you entrust NordLayer or give it a pass? Let's find out.
What will NordLayer offer to my business?
Remote working or not, most companies rely on network access for communication, sharing files, research, day-to-day tasks, networking, etc. And while sharing and accessing these confidential files, chats, data, etc., they expose themselves to cyber threats.
NordLayer helps establish a secure network between all the employees, ensuring all network activities and data exchanges are secure from prying eyes. On paper, it works just like the VPN apps we use. However, this one is scaled to handle small to medium-sized businesses and teams.
Multi-layered network security features at your fingertips
Nord is one of the most prominent players in the VPN market. And NordLayer brings all that goodness of strong security, performance, and trust to the table.
It employs a multi-layered framework, SASE (Secure Access Service Edge), converging software-defined networking, and cloud-native security. Simply put, it helps avoid and eliminate any external and internal threats.
Plus, a Zero Trust policy, i.e., 'trust none, verify all' principle secures and limits access to the company network. And between the two protocols, NordLayer offers a host of security features listed below.
Additional security

2FA
Biometric authentication
SSO (Single sign-on) – Sign in via Google, OneLogin, Azure, or Okta
Auto-connect
Jailbroken device detection

Threat management

ThreatBlock – Protection from malware, ransomware, and viruses
Shared servers – Safely connect to 30 locations globally
Custom DNS

Network Management

Site-to-site – Dedicated gateways to securely access the company's LAN
Network segmentation – Limit access to specific resources like Torrents, social media sites, etc.
Dedicated IP / Fixed IP
Dedicated servers & Private gateways
Smart Remote Access
Note: The platform will soon also add NordLynx (WireGuard), that'll lend the performance benefits WireGuard, without affecting your privacy.
NordLayer user experience
Here's where NordLayer takes major points. Unlike its competitors, the platform is pretty easy to use. You won't necessarily need an IT guy to configure and set up things for you.
The beginner-friendly, hardware-free interface allows you to easily create an organization ID and log in. Plus, inviting your team on board is as simple as entering their email ID on the web dashboard. Upon receiving the invite, team members have to sign up with their email ID and download the compatible app for their devices.
The dashboard
The heart of NordLayer is its web dashboard. Here, you can add users, manage networks, and get an overview of your organization, teams, and team members. Plus, set the defaults that'll be followed by every device like enable kill switch or biometric authentication.
And if opted for the Advanced plan, you can even create custom gateways, dedicated servers and decide which data/services teams are privy to. Although NordLayer doesn't let you monitor user activity in detail, just the last login time and device name.
Apps
Let me start by appreciating that NordLayer has an app for almost all important platforms, iPhone, iPad, Android devices, Mac, Windows, Linux. So, almost all your employees will be more or less covered under the umbrella.
What's more? The apps are also super user-friendly. It doesn't ask for 10s of permissions or puts up jargon, allowing even a non-techie person to easily maneuver through it.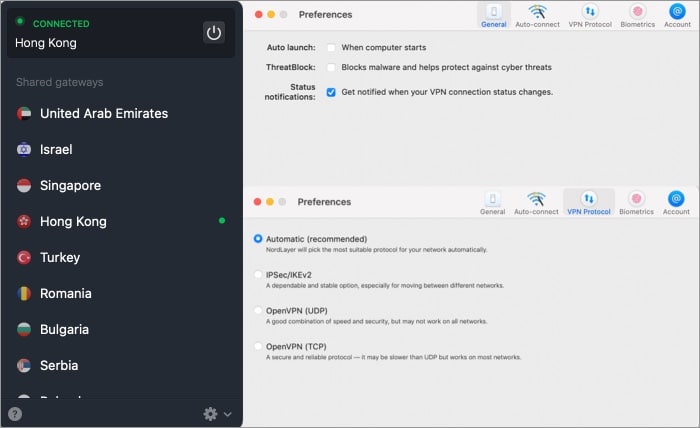 I should add that the app is pretty basic. You can enable/disable the connection and visit Preferences to turn on/off certain settings. And that's about it, no special features that you're privy to when using a personal VPN app.
Furthermore, each user can install and access the app on up to six devices, ensuring that they can access the server anytime and anywhere.
Speed, performance, and other features
No VPN test is complete without a speed test comparison. And while NordVPN offers one of the speediest VPN protocols, I had high expectations from NordLayer.
The speed with NordLayer Off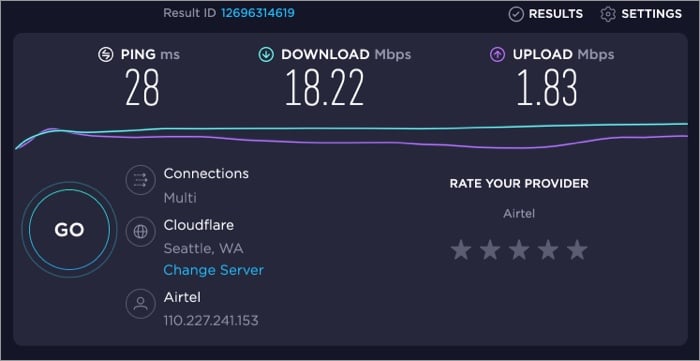 The speed with NordLayer On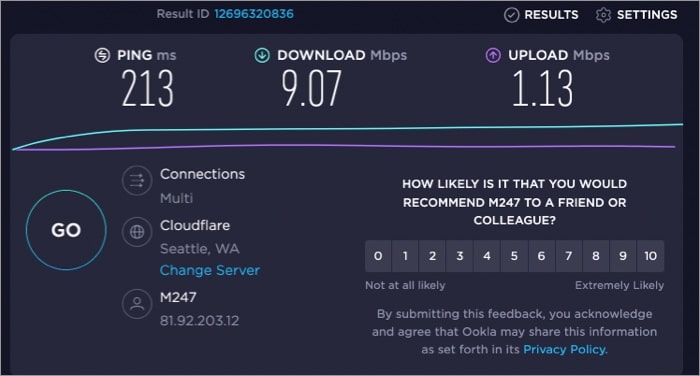 I observed a significant drop in speed during my multiple tests, which might be a bummer. (My internet wasn't performing its best on the day of the test, some backend issue from the provider, which could have affected the result.)
However, the silver lining to this dark cloud is that NordLayer will soon be implementing the WireGuard-based NordLynx protocol, known to deliver high speeds. So maybe, the speed might not be a problem for long.
Is NordLayer smooth enough for your business?
iGeekometer
User interface
Features
Security
Speed
Value for money
NordLayer is certainly a smooth sailing app; it boasts easy-to-use services and apps. The benefit is that the whole platform has almost a do-it-yourself feel, and even if the IT guy is missing, things can be managed.
However, the flip side of these is that you'll compromise on monitoring controls and features that other competitors and their pretty complex platforms have to offer.
Overall, the NordLayer is great for a budding organization or small–mid-segment businesses, who prefer user ease without compromising their privacy.
Pros
Easy to use
Multi-layer protection protocol
Compatible with multiple cloud services and platforms
Effective kill switch
Cons
Relatively limited servers
Limited monitoring controls for user activities
Price:
Basic – $7/user/month billed annually
Advanced – $9/user/month billed annually
Readers like you help support iGeeksBlog. When you make a purchase using links on our site, we may earn an affiliate commission. Read Disclaimer.