Aqara Camera Hub G3 is an AI-powered security camera with built-in support for Zigbee 3.0, IR control, and IFTTT protocol. It's super cute in looks, easy to use, and smart in its operations.
Pros
AI-powered motion, human, pet, face, and gestures detection
Intuitive app to control the camera
Works with HomeKit, (including HomeKit Secure Video), Google Home, Alexa
No subscription required
Cons
A bigger footprint than other cameras on the market
The app UI needs some work
Price: $109.99
Security cameras are no more a luxury; it has become a necessity. And while you're spending some $$, wouldn't you like a multifaceted product. And Aqara Camera Hub G3 is a multifaceted camera, figuratively and literally. If you want know-how, read through the review and find it yourself.
Aqara Camera Hub G3: A cute kitty to protect your home
I have the entire article to explain why Aqara is smart; for now, let me gush about how adorably cute Aqara Camera Hub G3 is. The all-white aesthetic and seamless curvy form factor look almost flawless. However, the rubber top with a cat-like ear takes the cake.
Although if you're not into cute aesthetics, you can remove the ears. I must say that the camera, microphone, and IR LEDs' placement are aesthetically done; it doesn't overtly crowd the space and goes with the theme.
If you want some privacy, G3, the camera face can be flipped to a privacy mode screen, equipped with closed eyes. There's also a smartly placed microSD card slot that supports cards up to 128GB. Everything gels well with the overall cat-like look.
There's also a button with LED lights at the base of the cat's body; it glows blue when active and red when streaming or recording videos. The slightly less bright white base looks sturdy and has a super-smooth rotating mechanism.
I must praise Aqara Camera Hub G3 for its noiseless motions; where the camera pans or tilts, every action is smooth and silent. The base also has a 1/4″ tripod mount to help you with your mounting needs.
I don't know about you, but these little design elements are impressive. It shows the cohesiveness of the design and how well-thought the product is.
And not just looks; Aqara Camera Hub G3 also has some smarts in its pocket. As we are done seeing the multiple faces of Hub G3, let's explore its multiple facets now. (sorry, not sorry 🙈)
It's friendly with everyone
Yes, what can the camera do and how well it does those things is important. However, compatibility takes precedence. And Aqara scores full marks in that department. The G3 offers all-around compatibility, i.e., it supports HomeKit (Apple devices), Alexa, and Google Assistant.
No subscription woes
Incredibly, Aqara doesn't come with a 'compulsory' subscription service clause. You can use its services without paying the company a monthly or yearly fee. It allows you to store the data locally on NAS, SD card, or third-party cloud storage like HomeKit Secure Video.
There's more, Aqara even provides free storage for the triggered event footage. That means in the case of a triggered event, such as an abnormal sound detection or an unexpected human motion, the camera records a short video clip (7-10 seconds) which will be synced to the Agara cloud.
Securing nooks and corners of your home
The cute face (camera module) boasts a 110° wide-angle lens. And in combination with a strong and smooth pan and tilt motors, you get to a 360° viewing angle.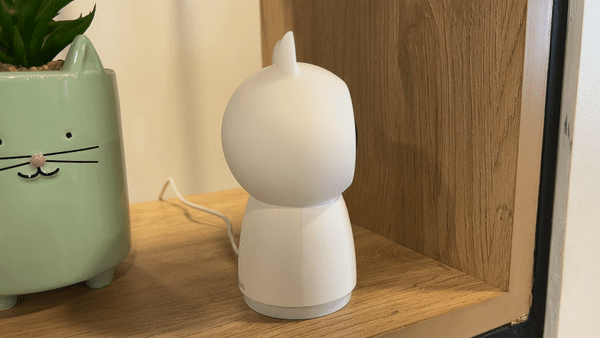 While the G3 camera doesn't have a security console, you can watch the video and control the camera with the Aqara Home app and Apple's Home app (limited functionality here). The cruise left/right or tilt up/down or set pre-defined positions and jump onto them with a tap.
Plus, there's also a Cruise mode. You can give the camera precise instructions, and the camera will automatically pan/tilt accordingly, allowing you to scan the scene. The only thing lacking here is a zoom lens, so while you can cruise the house within the app, you can't zoom in or out particular spots.
You can connect the camera to Alexa- or Google Assistant-powered smart display via a 2.4- or 5GHz Wi-Fi network and stream live activity. There's a lot of smart AI technology incorporated, but I'll discuss it in a different section.
Video quality matters!
Want a crystal-clear image? Aqara Camera Hub G3 houses a high-resolution 2304 × 1296 pixel sensor to handle that. You are privy to a 2K video incorporating dynamic bit rate technology, so even the cruise image is clear. Notably, if you're using HomeKit Secure Video, the recording will be in Full 1080p due to the HomeKit limitations.
And if conversations are important for you, the G3 enables two-way conversations. The built-in microphone is quite sensitive and picks up sounds clearly in the call mode. I am also impressed with the speaker; for a security cam, it produces much better sound.
AI that recognizes you and your gesture
Powered by an NPU-equipped processor, the G3 camera hub has plenty of detection options for humans, pets, abnormal sounds, faces, and even hand gestures. And that's to a local Al-powered recognition system; it does that perfectly. Here's a quick example.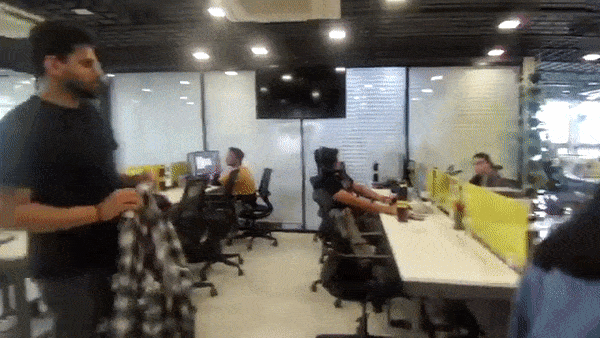 When the human or pet tracking is turned on, the camera instantly captures their activity and follows them. And as you can see in the video above, it adjusts the view as people join or leave the frame.
There's one problem, though, you can only use one mode at a time.; i.e., you can either use human tracking, face recognition, or hand gestures.
Face recognition
The camera has an incredibly fast and smart face recognition system. Although, unlike the iPhone, it doesn't scan your face; you must import your photos. But's what the benefit of it? Well, you can set triggers.
The Aqara Camera Hub G3 will perform specified actions when the person comes into view. For instance, you can set a push notification when your children come home or turn on privacy mode when you reach home. It's like setting personalized automation triggered by face.
Gestures
You can also use hand gestures to trigger some specified automation. There are five hand gestures, V sign, four, high five, ok, and finger gun. So, in total, you have five different action triggers. Notably, you can also enable a double hand gesture recognition mode, increasing accuracy.
A smart home controller
Remember the multifaceted comment? Well, this is the other side I was talking about. Apart from having a camera-specific feature, Aqara Camera Hub G3 also boasts the capability to double as a smart home control center.
Thanks to a built-in Zigbee 3.0 Hub support, it can connect up to 128 Aqara sensors and controllers, allowing you to enjoy home automation, remote control, and third-party ecosystem support.
There's also a built-in IR controller that makes your existing infrared-compatible devices smart and incorporates support for local automation. And if that's not all, you can also use IFTTT protocol and set specific scene automation.
And if all of these sounds a little complex, don't you worry; between the manual and app, things are explained step-by-step.
Privacy matters
Privacy is a major concern when it comes to a camera that records your videos, voice, and pictures. Aqara claims that it cares about our privacy, and it certainly walks the talk. For starters, the existence of a privacy screen, aka physical masking, can be turned on manually and automatically.
Then, you don't have a built-in subscription model, meaning your data is not going on Aqara's server. So chances of data breach or -leak from their end in minimalized.
Furthermore, the data streams are encrypted and supported by the latest Wi-Fi security standard, WPA3. And that the camera is certified and meets all security standards laid by Apple, Google, and Amazon, is a big feat in itself.
Should you bring the Aqara kitty home?
iGeekometer
Looks
Features and facilities
User interface
Value for money
The Aqara kitty, aka Aqara Camera Hub G3, is a one-camera-do-it-all product. It has good looks, high-quality camera and sensors, AI-recognition, smart home support, automation triggers, 360° viewing angle, noiseless motions, privacy protocols, no subscription compulsion, and more.
A whole lot of positives with very few negatives. Yes, I think the app needs to be more user-friendly, and tutorials could be part of it; but other than that, it's a picture-perfect camera.
Price: $109.99
Read more:
Readers like you help support iGeeksBlog. When you make a purchase using links on our site, we may earn an affiliate commission. Read Disclaimer.