Spotify is inclined towards becoming a no-substitute app for music lovers. Firstly, it comes with video podcasts, then the pet playlist feature, and now the oddly named product 'Spotify Car Thing' to have your music buds satisfied on the road.
Music will always be an integral part of all our road journeys, be it a ride to work or a road trip with your girlfriends. Spotify wants to capture that experience and ensure a seamless experience with the Car Thing.
Gone are the 'Hey Siri' days; it's 'Hey Spotify' now! While currently, it's an invite-only region-specific device, let me explain what Spotify Car Thing is, how to get it for free, and how it works.
What is the Spotify Car Thing?
Spotify Car Thing is a remote-like gadget that will let you stream music from your smartphone while you are in your car. Announced on April 13, 2021, Spotify Car Thing is a smart player that lets you play music, podcasts, news, and more and works with any car you own.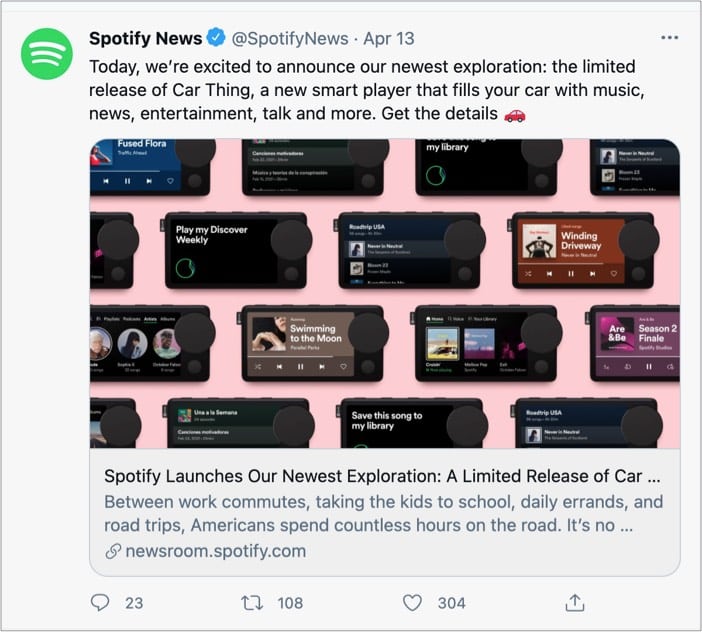 It is a limited release (yes, they are experimenting yet!), available only in the US for those who have a premium subscription and an invite.
What is the idea behind Spotify Car Thing?
Spotify believes you spend countless hours on the road for various purposes, be it running errands or dropping your kids at school. Considering the busy schedule, people these days prefer going on long drive dates too.
This is when they consume a lot of content; so much that Spotify claims to have 70 million user-generated, driving-related playlists on the app.
This was when Spotify decided to take the plunge and develop a device that can better your car experience.
Of course, the name could have been better; other than that, the gadget sure looks promising. Car Thing can be a perfect companion to set your mood right.
Spotify has taken a big step this time by jumping into audio hardware!
Is Spotify venturing into in-car infotainment?
No, Spotify has no plans of getting into audio hardware or in-car infotainment. It is instead focused on creating a frictionless audio experience for its users regardless of its means. Sten Garmark, Spotify's VP of Product, said the following about their ubiquity strategy,
The strategy is to make everything less complicated. It's reducing work that you have to do—making sure that you don't have to be technically advanced to get to Spotify wherever you are. We believe that we can take users on a journey to reevaluate audio and get more out of their lives with content from creators—in the right place at the right time. We think it's less about listeners aligning with our vision than it is about us aligning with their behavior.
Probably this is why they have launched the limited version of the gadget. As mentioned earlier, it is not available on a first-come, first-serve basis; it is an invite-only process. Let's get you invited if you want a hands-only experience at the gadget.
How to get the Spotify Car Thing for free?
As a limited product launch, you have to be one of the esteemed users who can access the invite. If you meet the following requirements, you are probably getting the device soon, or it will be rolled out to you in the next version.
Requirements
Premium Plan

Get a recurring Premium Plan to use a Car Thing. If you have a Family/Duo Plan, the owner can buy the device, but all the members will access the gadget.
Note: Premium plans purchased with a gift card are not eligible.
Phone
iOS 14 and Android 8 compatible.
Log in to your Spotify account with your credentials.
Car
Your car should have access to play audio on its speakers via Bluetooth, or AUX, or USB cable.
It is available at no cost for users. You will only have to pay for the shipping charge, which is still affordable. Once the company goes public with the launch, it will be priced at $79.99.
To get on Spotify's Car Thing waitlist:
Visit carthing.spotify.com.
Click the "Put me on the list" button at the top.
Sign in to your Spotify account.
How to set up Spotify Car Thing?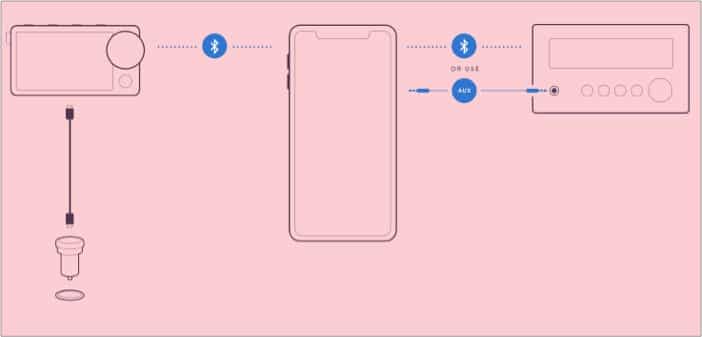 If you are using your phone to play music in your car while driving, this setup is a no-brainer for you.
Here is what you do.
Connect Car Thing to Power
Using the cable and power adapter, connect the device to a 12V power outlet
The steps are displayed on Car Thing's screen to start the setup on your iPhone.
Mount the device in your car.
Connect your iPhone to Car Thing
Press the Settings button on the top right of the Car Thing and select Phone Connection. You can:
Add phone: Add a new phone using this feature.
Change phone: To connect with a phone, you have already used.
Forget phone: To remove a phone from the paired devices.
How to Connect Spotfity Car Thing to Apple CarPlay
If you have been using Apple CarPlay already, you can use it with Car Thing. Connect your gadget to your car using a USB cable, and you are golden.
You can now control your music using Car Play.
How to use Spotify Car Thing?
'Hey, Spotify' remains my favorite feature; there are a lot more to explore. Here are some of the best ones:
1. Use Voice Commands to access your Library
Thanks to Google and Apple; we have been accustomed to voice assistants for quite some time now. Get ready to add a third voice assistant to this list.
Whether you want the news or listen to your favorite song, say "Hey Spotify" and be very specific about the instructions you give it.
The Car Thing is equipped with four microphones, which will make it easier for the device to capture your voice, even if the window is down. Just say, "Hey Spotify, play lose yourself by Eminem," and wait for your track to come up in no time.
2. Manually change the song
If voice assistants are not your jam and prefer the old-school hands-on experience, Car Thing has a dial for you.
Use the dial to quickly curate the playlist you need to get to or browse, select, play, or scroll the audio you are looking for.
3. Preset buttons for quicker access
The device comes with four buttons to save your time. Add your favorite content to these buttons so that they are always handy. I suggest you add your romantic song and a sad song for both moods.
4. Use touch screen display to navigate
The Spotify Car Thing is interactive and offers a touchscreen option to go through your Spotify Library.
Gear up for an in-car listening experience
Spotify's solution indeed looks enticing. It will streamline your overall experience, be a handy solution, and offer controls to ease out your ride.
FAQs
Q. How to get Spotify Car Thing invite?

If you want the limited edition Car Thing, then you can join the waiting list at carthing.spotify.com and click on Put me on the list. 
Q. How to get Spotify Car Thing for free?

Spotify Car Thing is available for free right now. You only have to pay for the shipping cost.
Q. What is Spotify Car View?

Don't confuse Spotify Car Thing with Car View. The former is Spotify's hardware product for streaming music on your road trip, whereas Spotify Car View is an Android-only app feature that detects your car's Bluetooth and changes the interface to a simpler one.
Q. What to do if my Spotify Car Thing is not working?

If your Spotify Car Thing is not working, reboot your device. If it still does not work, go to the Spotify Community page. This should answer your queries.
What are your thoughts on Spotify Car Thing? Share your opinions with me in the comments below.
You may also check out related posts:
An entrepreneur by heart, I am obsessed with the world of Apple. I survive on Apple products and their updates. Over the last five years, I have been writing all kinds of content that are remotely connected to Apple and sharing across digital platforms. When not writing, you will find me on the court playing basketball or in my room playing the sitar.