Touch ID has suddenly stopped working on your iPhone 6/6 Plus and you are looking for some quick solutions to make it work again? You might also be willing to find out why the fingerprint identity sensor has refused to function as usual. If you are on my expected line, then go through these solutions to cut the chase right away.
Coming back to the question as to why Touch ID may not be working on your iPhone, I would say you might have to blame sweat, liquid or even improper placement of finger. Though I won't rule out software glitch as well.
When iPhone 6(s)/6(s) Plus Touch ID Not Working…
Before we provide you any solution to your Touch ID problem, just imagine what makes your Touch ID fail or when Touch ID fails to work.
Calibrating Fingerprint Properly
One of the first mistakes happens when you calibrate the fingerprint. Even though the iPhone 6 or 6 Plus sends you a message that your finger has been calibrated successfully, there are some chances that the calibration is not done perfectly.
When you calibrate, hold your iPhone as you'd normally hold. Don't hold it "perfectly" because that's not how you hold it during normal use. Then, calibrate the finger.
While calibrating, please ensure that you put your fingers in all possible positions including edges & tips of your fingers; all parts of your finger should be scanned. Also, ensure that your finger touches the metal ring around the Home button. If you're using a case or screen protector, make sure it doesn't cover the Home button or the surrounding ring. If it does, remove the case or screen protector and try again.
This will help you later when you use your fingerprint to unlock your iPhone 6 or 6 Plus.
No Damp Screens or Fingers
In other cases, dampness, moisture, sweat, cold – all of this plays a role in preventing the TouchID from working correctly. This happens both ways: if your finger is damp or if the home button has some moisture over it.
Touch Lightly
Apply less force when touching the Home button of your device.
Keep Your Finger Dry
Make sure to keep your fingers clean and dry.
Clean Home Button
Use a smooth cloth to clean the Home button and your finger and try again.
Do not Cover Home Button
Ensure that screen protector or case doesn't cover up the Home button of your device.
Register Finger Properly
Your finger must be properly touching the capacitive metal ring and the Home button. Make sure to keep your finger at one place at the time of authentication.
How to fix Touch ID Not Working Issue on iPhone 6/6 Plus
Step #1. Launch Settings → Scroll down to tap on Touch ID and Passcode. Enter your passcode.
Step #2. Turn OFF iPhone Unlock and iTunes & App Store.
Step #3. Press home button to return to home screen and then restart your iPhone by pressing sleep/wake button and home button.
Step #4. Launch Settings → Scroll down to tap on Touch ID and Passcode. Enter your passcode.
Step #5. Turn ON iPhone Unlock and iTunes & App Store.
Step #6. Tap on Add a Fingerprint… and add another finger as usual.
If the above-mentioned method is not working, enable Rest Finger to Open. To do so;
Step #1. Go to Settings → General.
Step #2. Tap on Accessibility.
Step #3. Tap on Home Button.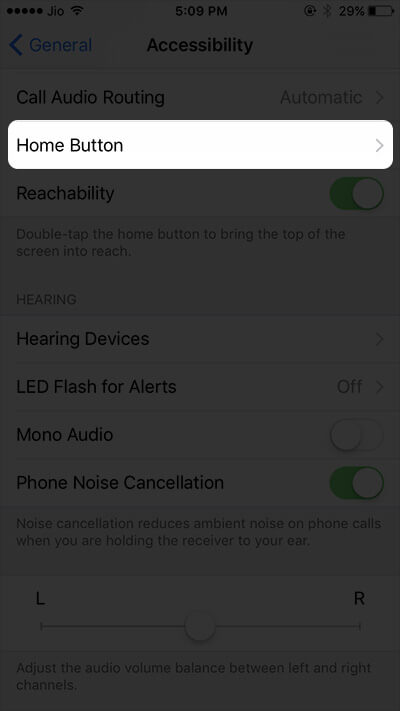 Step #4. Turn On Rest Finger to Open.
Solution #3. Update iOS
If none of the tricks mentioned above have fixed the issue, update your iPhone to the latest iOS version. It would not just make your device run more smoothly but also get rid of some miscellaneous issues. Settings → General → Software Update.
With the above steps, Touch ID will start working properly.
What if nothing work?
If Touch ID issue continues to haunt your device, then, you should contact Apple for help.
Wrap Up
Assuming you have been able to resolve the problem using these solutions. They have worked for many users, and I expect them to deliver the goods to you as well.
You might like to have a quick look at these guides as well: how to fix Bluetooth not working issue, how to bypass Activation Lock, and how to fix iMessage activation error.
Have any feedback? Share it in the comments below. To easily access more such troubleshooting guides, download our app and remain connected with us on Facebook, Twitter, and Google Plus.