Instagram is my most used social media app, so I have noticed how the moment I open the app, my feed refreshes without even giving me a chance to check out the posts. I soon realized that this is due to the background app refresh on iPhone.
This feature allows apps to constantly access the internet and update their content even when you're not using them. It ensures you get the most current information whenever you open them.
But it can be a bit counterproductive in Instagram's case as you may miss some posts that you might have wanted to check out. Moreover, it drains your iPhone battery and uses cellular data, which you might want to save if you are on a limited plan.
So in this article, I'll show you how to stop Instagram auto-refresh on your iPhone. While we're at it, we'll also look at other alternatives to saving data if you don't wish to disable this feature.
How to turn off Instagram auto-refresh on iPhone
Go to Settings → General → Background App Refresh
Toggle OFF Instagram.


Other options:
You can also turn off background app refresh for all apps by tapping it and selecting Off. However, this makes apps less valuable since they won't give you the most current information.


You can also choose to refresh only when connected to Wi-Fi to save the cellular data.
2 Other alternatives to disabling Instagram from auto-refreshing
If you turn off background refresh for Instagram or any other app, you will have to open it to go online and check for new information.
Although this helps conserve battery and data, it can be inconvenient as background app refresh automatically handles many useful actions. For instance, with background app refresh enabled:
Instagram and other social media apps can load the latest content as soon as you open them.
News apps can automatically get the latest headlines for you when you access them.
Grocery store apps would detect that you're at the store and ready the latest digital coupons.
Cloud storage services can sync automatically without you doing anything.
Apps can collect information in the background and track your data usage.
Given these benefits, if you wish to leave the background app refresh enabled, you can still save battery and cellular data using the options described below.
1. Low Power Mode and Cellular Access on iPhone
There are two other iPhone settings that you should know about related to background app refresh.
Low Power Mode
If saving battery life is your priority, you can turn on Low Power Mode to restrict your iPhone's processes. This saves power and makes the battery last longer.
It reduces screen brightness, disables email pushing, and turns off background app refresh completely. This option is preferable to disabling background app refresh itself because when you turn off Low Power Mode, background refresh will turn back on, and your apps will function as usual.
Go to Settings → Battery.
Toggle ON Low Power Mode.
Tap Continue on the pop-up warning.


Similarly, you can turn off Low Power Mode at any time.
Cellular Access
You can restrict specific apps' cellular access while allowing others to function as usual. For instance, you might want to turn off cellular access for social media apps and email while allowing news apps to function as usual.
Go to Settings > Cellular and toggle off the apps you don't want to use data.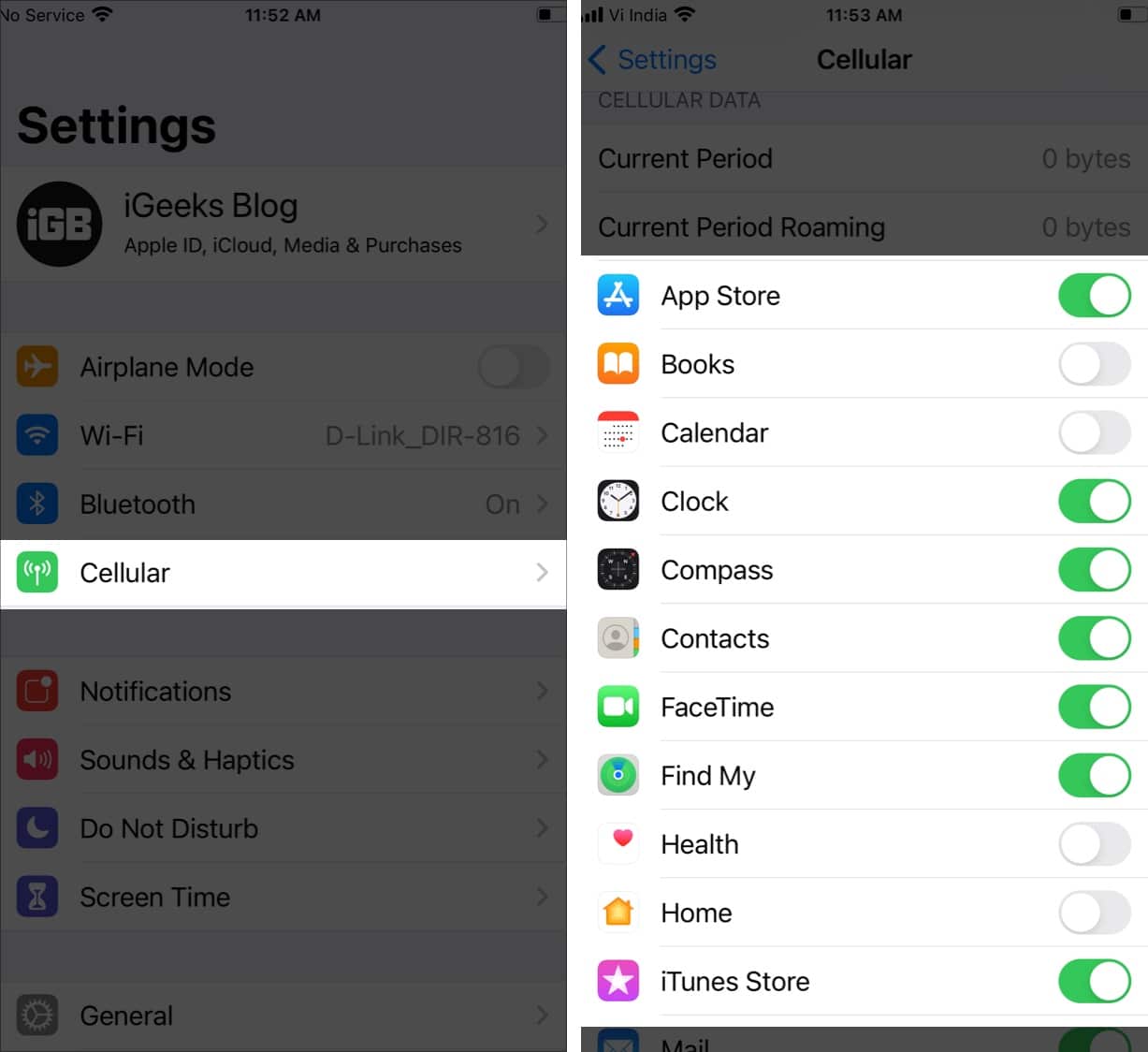 You can turn on cellular access at any time following the same steps above and toggling on the apps.
2. Turn Off video autoplay on Instagram
Finally, you can leave background refresh enabled and instead turn off autoplay for Instagram videos as they consume a lot of data in the background without you knowing about it.
Here's how:
Open Instagram and go to your profile.
Tap the hamburger menu (three horizontal lines) at the top right.
Tap Settings → Account.


Select Cellular Data Use and toggle ON Use Less Data.


This is also possible for other social media apps like Facebook and Twitter. Let me know in the comments below if you'd like to see an article about that. Also, drop any questions you might have, and I'll do my best to help you out.
You may also check out related posts:
Readers like you help support iGeeksBlog. When you make a purchase using links on our site, we may earn an affiliate commission. Read Disclaimer.