What to know?
Setapp incorporates a new Yac Remote Work Pack with 15 fantastic apps
The collection is designed to maximize the productivity of a remote team
All Setapp users have complete access to these apps.
The widely popular app subscription service Setapp adds some more feathers to its hat by collaborating with Yac, an audio-first messaging platform. Dubbed as Yac Remote Work Pack, the app collection aims to increase efficiency in common tasks and smoothen everyday workflow.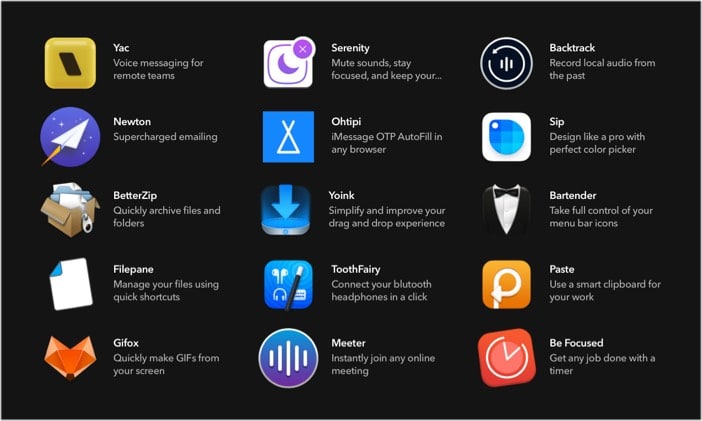 In the official press release, the CEO and founder of Setapp, Oleksandr Kosovan, pointed out interesting data:
"Remote work has driven an increasing demand for productivity solutions. The global productivity software market size is expected to reach an incredible $99.2 billion by 2026."
These numbers show the increasing acceptability and viability of remote working and hint towards a market vacuum. Starting now, professionals are looking for productivity-driven solutions to ease their workflow.
Moreover, this need will exponentially grow with time. The Setapp and Yac collection, with all of its 15 apps, is targeted to fill that void.
What is the Remote Work Toolkit by Setapp?
Setapp has over 200+ apps in its arsenal, and it bundles certain apps into a collection to make it easier for you to find the right one. The Yac Remote Work Pack is one such collection that combines five apps by Yac and ten apps from Setapp's existing bundle.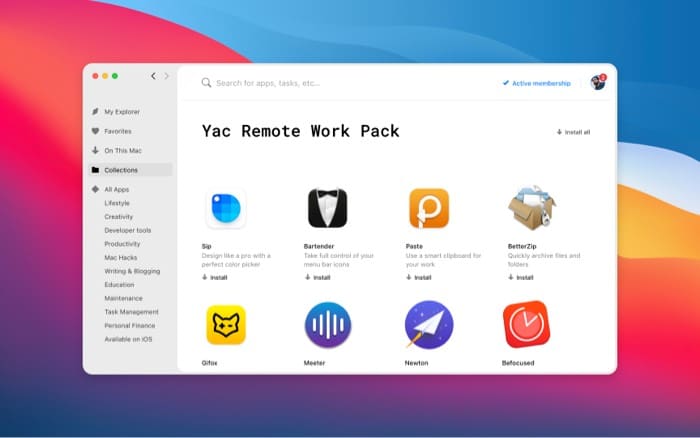 Impressively, the pack includes a few big guns and some unique apps for your Mac. Here's a complete list of apps available in the collection.
Yac – An asynchronous voice and video messaging service to convene communication within teammates.
Serenity – Notification management software to keep distractions at bay.
Ohtipi – Detects the dynamic passcode(OTP) from iMessage and auto-fills the respective field in your browser or other apps.
Newton – An award-winning email client for individuals and teams.
Sip – A robust color detector that makes finding the perfect shade a breeze.
BetterZip – A handy compression tool that lets you see, edit and manage files right in the archives; no need to uncompress.
Yoink – Lightning-fast drag-and-drop utility for Mac.
Bartender – A one-stop, minimal, and straightforward menu bar organizer for Mac.
Filepane – A lighting-fast file manager
ToothFairy – One-click Bluetooth assistant to connect, disconnect, or switch between devices in seconds.
Paste – A powerful cloud-based clipboard history manager
Gifox – The neatly designed screen recorder captures the chosen area of your screen as animated GIFs.
Meeter – A wizard that pulls meeting information from all corners of your Mac and packs it into one handy schedule.


Be Focused – A powerful planner and productivity timer to help you eliminate distractions.
Backtrack – The app listens, records, and overwrites audio throughout the day so that you can backtrack up to 5 hours in the past.
How to access the collection?
Any and every Setapp user will have complete access to the Remote Work Pack. Notably, you'll get full-featured, pro versions of all the apps mentioned above. Plus, all forthcoming updates to any app is free as well.
Of course, you will have to pay for Setapp's monthly subscription, which is around $9.99 per month. There are discounts available on annual, student, and family plans, so check those out too.
About Setapp and Yac
Setapp is a unique independent app subscription service for macOS and iOS. The service boasts a library of 200+ apps that helps you be productive, quicken the menial tasks, save time and energy, etc. And you get to use unrestricted versions of all of these at a single monthly fee.
As for Yac, it is an asynchronous messaging platform designed especially for remote teams. It embodies "this meeting could have been a message" to the core and let the short-form voice or video messages do the talking.
Though I haven't tried Yac with my team yet, I use various apps from the Setapp bundle. And I can attest from personal experience that they have made a difference in my productivity and overall performance.
I am excited to try out this new collection, and I insist you give Setapp a try. It might do wonders for you as well.
Readers like you help support iGeeksBlog. When you make a purchase using links on our site, we may earn an affiliate commission. Read more.
A self-professed Geek who loves to explore all things Apple. I thoroughly enjoy discovering new hacks, troubleshooting issues, and finding and reviewing the best products and apps currently available. My expertise also includes curating opinionated and honest editorials. If not this, you might find me surfing the web or listening to audiobooks.