iPad is a wizard; It has the comfort of touchscreen and mobility like the iPhone, and the power and performance like the Mac. Keeping that in mind, Pitaka has introduced Pita!Flow, a unique bundle of iPad Pro and iPad Air accessories that celebrates every avatar of the versatile tablets.
Pita!Flow harnesses the magic of magnets to build an ecosystem of products that work seamlessly with your iPad and each other. And regardless of where you are, it helps you work more efficiently.
Intrigued? Let's get to know the products and how they assist you in enhancing productivity.
Pita!Flow system for iPads: What is it?
The idea is to move your workflow as you move. Whether you are at your desk or commuting, planning to write a novel, or creating an illustration, switching between the roles shouldn't be a brawl of removing and putting on covers or attachments.
It should instead be a smooth flowing system. Pita!Flow is just that and more. It uses MagEZ Case 2 as a base and allows you to effortlessly switch between the MagEZ Stand, MagEZ Folio, and Magic Keyboard.
Let's go through each product in the bundle in-depth.
1. MagEZ Case 2: The MagSafe mediator
An ultra-slim, minimalistic, and versatile case that offers protection, magnetic connectivity, pass-through charging, no signal interference, easy port access, and Apple Pencil attachment.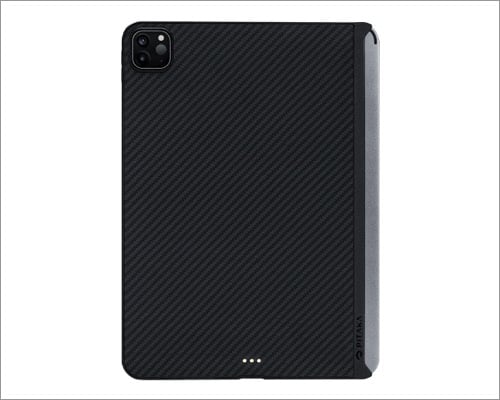 Its USP is the powerful, embedded magnets at the back that makes it compatible or, shall I say, easily snappable to:
Apple Magic Keyboard
Apple Smart Keyboard Folio
MagEZ Stand
MagEZ Folio
Pitaka's MagEZ Card Sleeve
Available for 11″ and 12.9″ iPad Pro 2018/2020 and iPad Air 2020, the MagEZ Case 2 carries Pitaka's signature woven aramid fiber material. So, you can proudly flaunt the good-looking, smooth textured surface anywhere and everywhere you go.
2. MagEZ Stand: Turns iPad into a monitor
A magnetic iPad stand to raise your tablet screen at a comfortable, ergonomic height for work, video chats, video watching, and more. And if the iPad is wearing MagEZ Case 2 or a metal sticker (included with the product), snapping it on/off the stand is a breeze.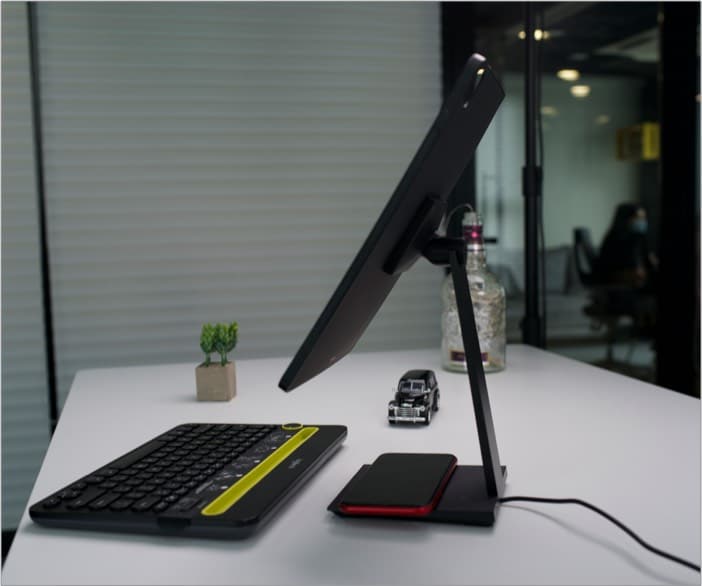 The best part, you can rotate and use the iPad in both landscape and portrait orientation. Plus, it tilts up (32.5°) and down (-5°) so that you can easily set it at an angle of your choice.
There's more! The stand's base also doubles as a wireless charging base so that you can charge your iPhone (7.5W), Earbuds (5W), Android (15W).
3. MagEZ Folio: Turns iPad into a laptop
When you are always on the go, a MagEZ Folio can be your best mate. The double-sided cover protects your iPad from scratches and accidental falls. And you can fold back the cover, making it a handy stand for hands-free viewing, typing, or drawing.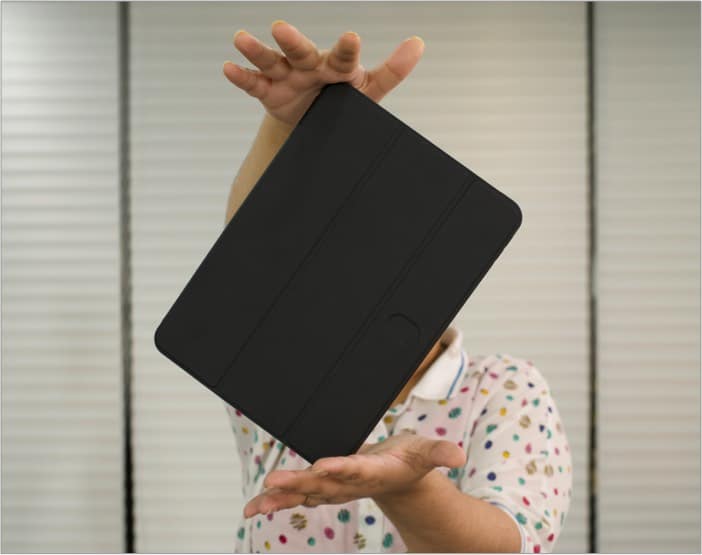 Along with dual standing angles and auto sleep/wake feature, the folio also supports magnetic attachment. That means it is MagEZ Case 2 Compatible, and you can snap on or off the iPad instantly.
Pita!Flow bundles: Who is it for?
Suppose you use the iPad as a primary device for work or entertainment, the Pita!Flow can be a boon. When you are at home or office, snap the MagEZ Case 2 either to the MagEZ Stand, Magic Keyboard, or MagEZ Folio and work or play comfortably.
And when it's time to leave, snap off the iPad, pack your bags, and you are ready whether you are an artist, developer, student, gamer, or bingers, the Pita!Flow is the perfect combination for you.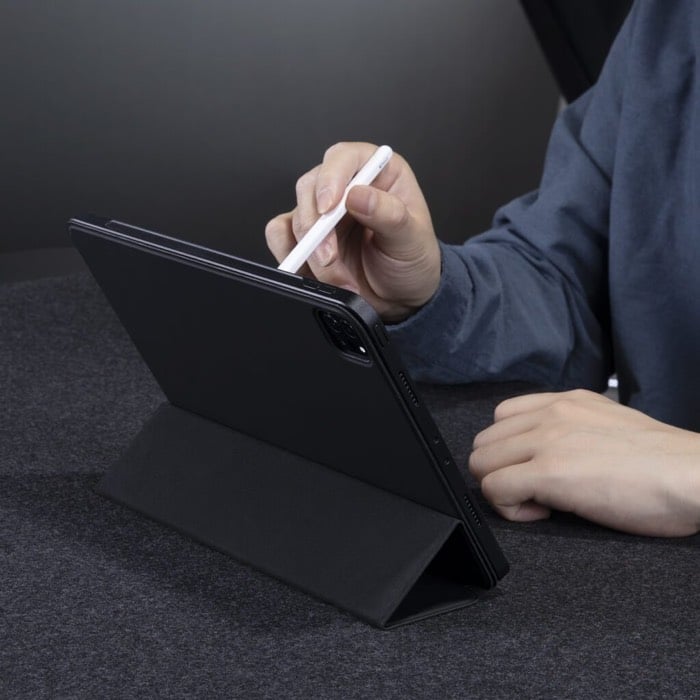 Depending on your usage, the utility of the Pita!Flow may vary; for instance, an artist or developer can set the iPad on the stand and use Sidecar with ease. And while on the run, the MagEZ Case 2 and MagEZ Folio combination can come in handy.
Pita!Flow for iPad: Should you pick or leave the bundle?
iGeekometer
Utility
Build quality
Value for money
Pita!Flow is a well-thought package of magnetic accessories to streamline your productivity. The good thing is that each item is so well designed and efficient that you would love to own them.
However, the real magic comes alive when you own the Pita!Flow bundle. Yes, it might be an expensive affair, but Pita!Flow system is worth the investment if you are an avid iPad user.
Moreover, it's not a compulsion to buy all three products; you can choose which one suits your requirement and choose accordingly.
Pros
Well-integrated bundle of accessories
Strong, dependable magnets
Good looking, light-weight, slim profile
Cons
No special discount when you purchase the bundle
Bundle price: Starts from $79.99 (12.9″ iPad Pro 2021 Case 2 + Stand + Folio = $169.99)
Check out the Pita!Flow bundle
Readers like you help support iGeeksBlog. When you make a purchase using links on our site, we may earn an affiliate commission. Read Disclaimer.